As we all know, content is a potent weapon to create impacts on social networks. However, with the current high-moving speed of social media, it is hard for brands to catch up with the constant flow of new and upcoming content. That's why brands need social content calendars.
Social content calendars sound like a big deal at first. Especially when people keep telling you how crucial it is to have one. Or you believe that you may spare some precious time just to create a real calendar with a bunch of notes. Those thoughts make the social content calendar more complicated than necessary. 
Social content calendars are simply the tool you apply to plan and organize content for your multiple social channels.
With a social content calendar, brands can handle the constant flow of new and upcoming content. Moreover, they can arrange social media channels properly with suitable content at the right time. 
In brief, the social content calendar offers brands undeniable benefits. Accordingly, businesses of all sizes and shapes should or even must have their own social content calendars.
A social content calendar can be flexible due to your social commerce businesses. It can be more complicated for big brands but also can be less complex and even simple for small ones.
Creating a social content calendar is not easy, but it's not impossible as well. Therefore, we are going to guide you through how to create a social content calendar that works in only 8 effortless steps.
4 Effortless steps to create a social media content calendar that works
Follow these simple steps to create your social content calendar that actually works for all businesses.
Step 1 - Know your audiences & what to post on social media
It is important to draw a bigger picture of what you are going to plan on your social content calendar. By that, we mean you must know your audiences first and what to post on social media before 
In a hustle and bustle life as nowadays, your potential customers are everywhere on social media. Your mission now is to pick all the most proper social channels for your businesses. Once you know where your potential customers locate, the next process is to learn and understand their needs. Knowing what customers are expecting from brands on social media is crucial to target and engage with them by content.
Don't forget that each platform will have different features, characteristics, and algorithms. Getting to know your social channels is also a key to optimize your calendar as well as content later.
Look like you already know your social channels and your prospective customers well enough, now you are able to craft a clearer picture of your calendar as well as what you are supposed to post.
Do not underestimate this step since it determines what your social content calendar will be like.
Step 2 - Plan & organize your posting schedules
Now, you have quite enough "ingredients" to begin with the next step - Plan and organize your posting schedules. 
To organize the posting schedule for your social content calendar, what you need to do first is to decide the timeline. It includes the publishing date and time as well as the posting frequency. 
Some social media experts recommend that you should post as much as possible to stay on top of your mind while others encourage you to focus on the quality of content each time. 
Both opinions are correct, but you have to balance them to get the best strategy. Instead of posting a lot, you should post with proper frequency at the right time on the right platforms.
The repetition of posting varies on each platform based on the users' behavior and many other factors. Here are some references from Sprout Social on how many posts you should publish: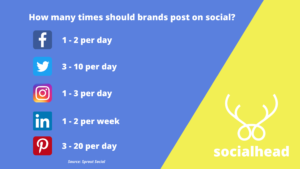 Besides the frequency, choosing the best time to publish content on social media is decisive as well. The best date and time to post on social is different for each channel too and really matters. Therefore, an old but gold tip is to always post content at the most favorable time to gain the best results. 
Note down the dates and times as well as numbers of posts per week you want, then you can proceed to put your social content calendar to good use.
Step 3 - Automate your social content calendar 
With a clear social content calendar in your hands, you are enabled to automate the scheduling and posting process from A to Z with a big help from Socialpublish. All you need to do is create content and schedule dates & time to fill your social content calendar.
Craft & schedule posts right in-app
Socialpublish makes social posting easier than you can imagine. 
You are allowed to craft and optimize posts to the fullest with images, icons, hashtags, etc.
With

Image Editor

, you are enabled to customize images as you want to get the best quality and effect.
When you already create a post with good-quality content and appealing images, you start to put it on your social content calendar by scheduling it. 
Once you set dates and times, your post will appear in your Post Center.
Publish content on social media automatically with 'Autopilot'
If you are consistent in the posting timeline, you can set up once and your content will automatically go on social media. 
Sound skeptical? With the Autopilot function of Socialpublish, you can actually do it.
Autopilot enables you to set up a campaign with the timeline in order to publish content on social automatically.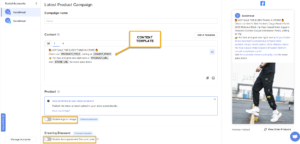 To set up a fixed social content calendar for auto-posting every time, go to Autopilot > Create Campaign > Latest Products/ Random Products/ Social Proof (Based on your content types and purposes)
There, you can apply the available templates or craft your own content templates. Adding logos and discount code generation is enabled as well.
Next, you schedule your posting timeline by choosing the timezone, publishing time.
Once you finished, your Autopilot campaign would take care of posting content automatically for you based on the timeline you set up. 
For more detailed instructions on how to use Autopilot, check it out here.
Step 4 - Keep track of your social content calendar
The next step is to keep track of all your posts including published and scheduled ones. This is the stage when you can slow down and take a closer look at your social content calendar. 
Firstly; by tracking and analyzing your posts, you will manage your content better as well as improve them in posting time, quality, or else. Secondly, your calendar will give you an overview of your content so that you can make changes if necessary. 
Socialpublish helps you not only overview your content easily but also switch and change content posting order if you want. 
With 4 simple steps just like counting one, two, three, you are enabled to create an effective social content calendar with Socialpublish in only 4 effortless steps. Or you can apply some of our most useful content calendar templates to manage your content and social posting better.