There's a lot to consider when running a business. Choosing which platform to focus your advertising budget on is a big deal - you definitely don't want to make the decision blindly. Google PLA and Facebook DPA both have major advantages. 
I'm going to show you which one to use based on what you want to get out of your advertising campaigns. 
Google PLA vs Facebook DPA - In a nutshell
If you're reading this then you're probably not a marketing expert. That's okay, most people aren't. I'm going to introduce these two platforms and clear up some of the technical jargon. 
Google PLA
Google PLA is short for product placement ads. These appear at the top of the SERP page when you make a search on Google. They're simple product placements that show a photo, the product title, the price, any special offers you have, and delivery information. That's it. Simple and direct. 
Google PLA is best for cold, hard conversions. This is because users making a product search on Google already know what they want. Your ad can appear at the top of their search and is thus likely to be clicked on. 
Google PLA only allows one product photo with a white background and no overlaying text. This keeps the focus solely on the product being shown. 
Google PLA is great for making sales. 
Facebook DPA
Facebook DPA is short for dynamic product ads. These appear in the Facebook News Feed, the Instagram feed, and on Messenger. These are more creative ads than their Google counterparts. You can include several pictures in the ad, including lifestyle photography and you can overlay images with text. 
Facebook DPA is best suited for raising awareness about a product or your brand. They're ideal if you're looking to get likes, follows, downloads, sign-ups, or promote content. Ultimately, they'll do a good job of increasing your brand's reach and driving traffic to your website. 
Facebook DPA allows several photos, including lifestyle shots, and you can have overlaying text. You can also use short videos. This gives more room for creativity and showing your products and brand in action. 
Facebook DPA is great for driving traffic to your website. 
Intent vs experience 
One of the key differences between Google PLA and Facebook DPA is how people see your ad in the first place. 
Google PLA is intent-based
Facebook DPA is experience-based
People see your Google product listing ad when they make a search for that specific product. This means it's intent-based. In other words, the person already knows they want your product and you're showing it to them in the hope they choose you over the competition selling the same product. 
People see your Facebook dynamic product ads based on their previous behavior on the social networking platform. If you run an ad for your new running shoes, you'll be able to display it to people who like running pages in the hope they'll engage with your brand. This could mean liking your Facebook business page, following a CTA, downloading a short video, or jumping to your product landing page and making a purchase. 
The lo-down: 
If you're trying to raise awareness about a new product, collection, or just do some good old branding, Facebook DPA is the way to go. 

Choose Google PLA if you're trying to sell individual products. 
Understanding the ins and outs of PLA and DPA
You should already have an idea of which advertising model is best suited to your needs. But before you pull the trigger on your ad budget, it's important to understand how each model works, how the ads are displayed, what information you can include in the ad, and how you can track the performance of your ads once they're live. 
How does Google PLA work? 
Google Product Listing Ads are managed through Google AdWords and the Google Merchant Center. Google PLA will appear in the Google Shopping feed or at the top of the search results page (SERP) when certain keywords are searched.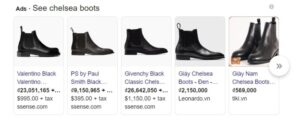 As you can see, Google product listing ads are simple and focus on showcasing the product and essential details. Google product listing ads consist of: 
One photo of the product with a white background

Product title and brand name

Product price

Link to the product landing page 

Special offers if applicable 
The idea is to focus on hard conversions. No flowery BS, no lifestyle photography, no overlaying text. Just simple listings for the user to click on.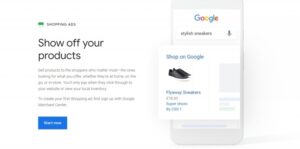 The Google data feed
Google uses the information in your data feed for each product you want to advertise to decide where and when to show it. The data feed includes information like: 
Product type

Product name/descritption 

Size

Weight 

Color 

Condition 

Price 

Country of origin 
This information must be resubmitted to Google every 30-days to keep your product listing ads active. This is to ensure product information is always up-to-date. You can keep this information updated on a live basis by syncing your Shopify product catalog with Google Merchant Center using the Socialshop app for Shopify. 
Filling out the data feed is one of the most important steps in creating effective product listing ads on Google. Make sure you fill out as many fields as you can to give your product the best chance of appearing in a user's search. 
Google Keywords 
Keywords play a central role in Google PLA. You need to make sure your product title includes words that a user will likely search for. This means that using the proper name of the product might be discouraged at times if a user wouldn't know what to search.
For example, when selling a watch for men, you might choose to put: 
Men's Japanese Automatic Seiko Watch Leather Strap 
Instead of 
Seiko SARB013 Automatic 21 Jewels 
The first title includes more general information that a shopper would likely be searching for. You don't necessarily need to include product reference numbers because most shoppers won't know what these mean. 
Choosing the right keywords is essential for Google product listing ads - you can use Google AdWords to help you find the most appropriate title for your product listing. 
I'd also recommend you take a look at what your competition is listing their products as and take some inspiration from this - after all, great artists steal. 
How to track Google product listing ads
To track the progress of your Google product listing ads, sign in to your Google Ads account and go to Ads & Extensions. There are three main areas to keep track of: 
Status:

Shows whether the ad is active or not. 

CTR (click-through-rate):

How many times your ad is clicked on compared to how many times it's seen. This is a key indicator of how successful your ad is. 

Avg. CPC (cost per click):

an average of how much money you're spending for each time someone clicks on your ad. 
A good product listing ad on Google will have a high CTR and a low CPC. You want as many people clicking the ad as possible to increase conversions and you want to spend as little as possible to get these clicks. 
How does Facebook DPA work? 
Facebook dynamic product ads are shown in the News Feed, as well as on Instagram and Messenger, as sponsored content. You can manage your Facebook DPAs in Business Manager.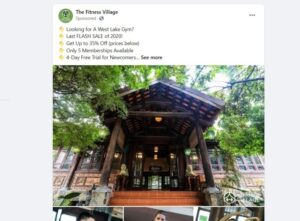 Facebook DPAs are much more flexible than Google product listing ads. You can use multiple photos, including lifestyle shots that don't focus on a product specifically. You can also include videos, event listings, links to downloads, and more. 
These ads are more suited to getting sign-ups and raising awareness of your brand. People aren't scrolling through Facebook to buy a new pair of sneakers, so it doesn't make sense to target them with product-specific ads. 
Rather, you should use Facebook dynamic product ads to build awareness of your brand and try to get more followers. This will increase your conversion rate over the long run, but it won't necessarily boost conversions on any single product straight away. 
Get creative, drive engagement
The best way to approach Facebook DPAs is to get as creative as possible. Video content is generally a winner, as are lifestyle photos that include your brand. A generic product photo with a white background isn't going to foster much engagement through Facebook - people want to see products in action so they can imagine themselves incorporating them into their lifestyle. 
Diversify your audience 
Facebook DPAs are an easy way to reach a large audience in a particular category like "people interested in sports" or "people who live in Seattle". You can target your ads to a local level and reach the kind of people who are likely going to engage with your brand. 
Facebook Pixel and SDK 
Installing Facebook Pixel on your website allows you to target ads at users who have visited your site and completed an action like adding a product to the cart. In this way, you can hyper-target ads at users who are more likely to convert because they've already engaged with your brand. 
Facebook SDK allows you to redirect people from your ad directly to a download. This is ideal if you're trying to get people to download an app. 
Instagram and Messenger
One huge advantage of Facebook's DPA is that ads can be seen on Instagram and Messenger as well as on the Facebook News Feed. This allows you to reach even more people across multiple platforms. 
How to track the progress of your Facebook dynamic product ads
To track the progress of your Facebook dynamic product ads, go to Facebook Ads Manager and click on Conversions Tracking. Here you can see who your ad reached and how many of those people converted. 
Using Google Analytics to measure ad success
You can use Google Analytics to track the success of your ad campaigns, whether you're using Google PLA or Facebook DPA. 
Check where your website traffic is coming from on Google Analytics, as well as the path users take to reach a conversion. This data allows you to see what other products visitors are interested in before making a purchase - this information could inspire your next product promotion or ad campaign. 
Facebook and Google's ad tracking is more effective when combined with Google Analytics. 
Facebook DPA vs Google PLA - Which is the winner? 
Ultimately, whether you use Google PLA or Facebook DPA will depend on what you're trying to do. Trying to sell products? Use Google PLA. Trying to drive traffic, increase sign ups, and raise awareness? Use Facebook DPA. 
Both are incredible tools that will increase your overall conversion rate. Both platforms are some of the biggest in the world and both ad tools are necessary at one point or another if you want to successfully scale your business.