On December 12th, 2021, the Socialhead team is so excited to release our latest version of Socialshop that helps your Google Product Feeds Approved much faster and easier
Socialshop Version 2.1 is expected to boost your feed performances on sales channels and more than that with all the crucial additional features including features that speed up product feeds approval process.
Let's see what you can do with the new version of Socialshop!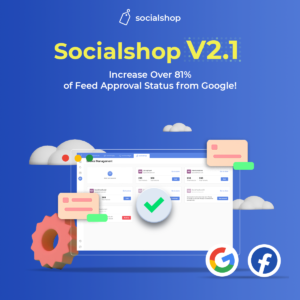 Internal Validation - Validate your feeds for Google Shopping before its uploaded
This is the breaking new feature that we mentioned in the title. For the very first time, merchants are informed of the possible problems leading to disapproval from Google Shopping when they first create their product feed.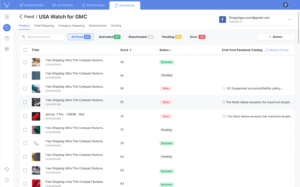 You can recognize the feed problems and definitely fix them immediately instead of submitting the feed to Google Merchant Center and waiting until the feed is disapproved and sent back. 
This crucial feature not only helps you spend less waiting time but also increases the chance that your product feed is approved by Google Merchant Center. 
How does it work?
When you finish creating your feed, a small notification will appear on your feed bar. Move your cursor to the notification to see your problems in detail so that you know how to fix them.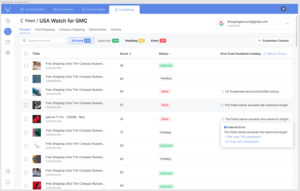 Google Shopping Category Mapping Version 2
In Socialshop V2.1, the Socialhead team focuses on improving the user interface and experience for better and friendly app onboarding. 
Furthermore, we have added 2 more useful features to optimize your product feeds to an advanced level:
Assign Google Product Categories on Conditions
This new feature allows you to make your products more discoverable on sales channels such as Facebook Shop and Google Shopping by assigning the categories to your products.
Choose a collection from product sources > Select Product Category > Save & Resync > Done
Or you can set your conditions to filter accurate products to assign category fields. You can add more than one condition.
Product Feeds Field Mapping Preview
This is a minor but very useful feature to check out your product category values simply. After assigning categories, you can preview category mapping in one click before saving and resyncing the product feed.
Product Filter for Google Shopping Feeds
Now, merchants are enabled to filter specific products right in their product feed in 2 different ways
To access Feed Product Filter, Click on feed > Settings > Product Source Filtering
Include Specific Products

: You can select specific products manually or insert product IDs.
Include Product by Rule: Very simple. You set the rule, then the products which meet the conditions will be included in the feed as you request. You can also set more than one rule to include products.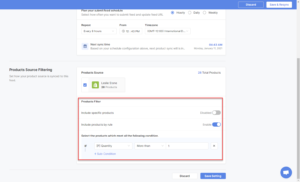 NOTE: According to the new policy from Facebook, merchants are requesteđ to activate Facebook 2-Factor authentication before you can give third parties access to their Facebook accounts.
Get the latest 'Socialshop V2.1' for FREE on Shopify App Store or on our Socialhead Platform.
If you have any questions or troubles when installing or using our apps, please contact us right away for support via our email support@socialhead.io or visit our website socialhead.io and talk to our support team via live chat. 
Don't forget to follow us on Facebook, Instagram, Twitter, Linkedin & Youtube for the latest updates of our apps.