Social media channels have been turning themselves from places to get news to places to sell. Especially, with many eCommerce stores showing up, online merchants find their way to sell on Facebook Messenger to increase conversion rates.
Facebook Messenger – Indispensable Selling Tool
With current 1.5 billion active users on Facebook Messenger and 60 million messages sent every single day, Facebook Messenger has become a very potential sales channel for social commerce businesses.
More and more social commerce businesses are leveraging Facebook Messenger to communicate with their customers. Now, Facebook Messenger even allows users to place orders and check-out right on spot.
Obviously, Facebook has been constantly developing its family of apps to buy merchants all the advantages and tools to sell online. Typically, Facebook has partnered with Socialhead to launch the Facebook Business Extension which allows you to set up a Facebook Shop simply within clicks.
Despite all the advantages of Facebook Messenger, it's not easy to manage messaging for multiple Facebook accounts or pages at the same time. Furthermore, you may run into trouble when there are too many messages to reply to. 
If you want to sell on Facebook Messenger and leverage it to the fullest, you should use Shopify apps to support your businesses.  And all you need to sell on Facebook Messenger easily and effectively is 'Socialreply'.
Socialrepy – One tool to sell on Facebook Messenger with smoother chat flow & higher conversion.
What is Socialreply capable of?
Socialreply is a Facebook Messenger Marketing tool that integrates your Shopify store with multiple Facebook pages and accounts. More than live-chat support, it is an app to make conversations that sell.
Socialreply enabled Shopify merchants to link unlimited Facebook accounts. By doing that, you can respond to all messages and comments across Facebook accounts and pages. Merchants can send product information to customers and place orders right in chat. 
More than just messaging and responding, Socialreply also provides additional useful features that allow merchants to auto-reply comments, auto-hide comments as you want.
Certain features to help you sell on Facebook Messenger are not enough. However, Socialhead keeps on upgrading Socialreply to version 1.21 for your better selling experience.
Create Your Own Chat Flow
For the very first time, merchants are allowed to design their own chat flow in Socialreply V1.21.
The app provides 3 available triggers for you to decide how your order processing via chat will be like. 
Placed Order

Fulfilled Order

Canceled Order
To craft your Chat Flow, you get 2 options.
Option 1: Use available templates
Go to Chat Flow section > Pick a template > Save > Done
There are 3 chat flow templates for you to choose from: 
Shipping Update

Order Confirmation

Order Cancellation
Option 2: Create New Flow
Step 1

: Go to Chat Flow section

>

Create New Flow

>

Name your flow & Click on Blank Flow

>

Create 
Step 2

:  Choose triggers to design flows

>

Drag & drop to add content, buttons, etc.
Step 3

:

Link triggers with each other to create a complete flow

>

Save

>

Done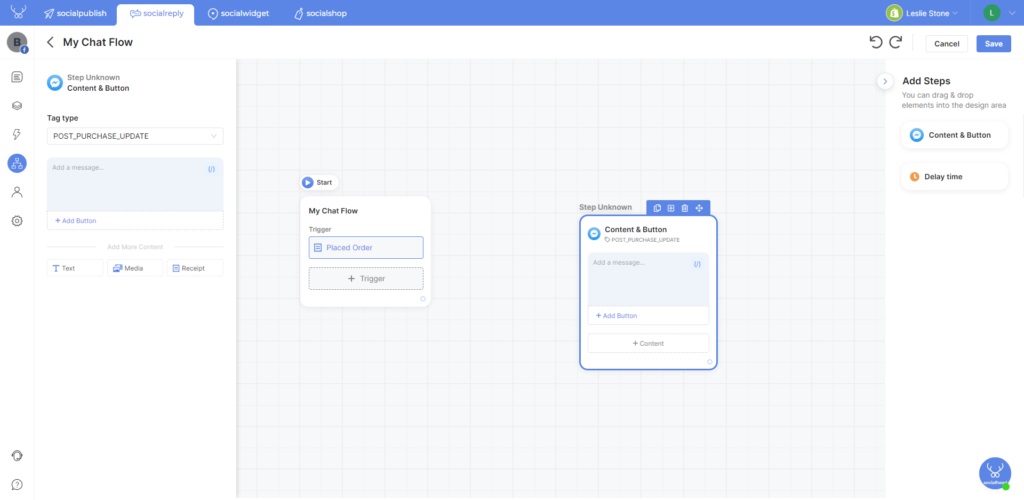 Copy the given snippet to your HTML where you would like the Messenger Checkbox to be displayed on Product Detail or Shopping Cart.
Or go to Opt-in Action > Choose a chat flow > Save > Done
If you want to best attract your customers' attention, you can customize your content in Facebook Checkbox. 
Conclusion
Socialreply is the best app for Shopify merchants to sell on Facebook Messenger. By providing multiple crucial features, Socialreply enables you to manage your Facebook Messenger effectively. No matter where you are or how many accounts you have, you can manage them all with ease.
In brief, Socialreply enables you to:
Connect and manage multiple Facebook accounts in one place

Chat and reply to all messages and comments across Facebook accounts

Set

auto-reply messages and comments

by conditions

Auto-hide comments

by rules

Create your own smooth chat flow

Grow customer list by Facebook Messenger subscription
And more upcoming features in the future.
Get Socialreply and other Socialhead apps for FREE on Shopify App Store or visit Socialhead Platform.
If you have any questions while using these features, do not hesitate to contact us via in-app live chat or email at support@socialhead.io or visit Socialhead Help Center.