Social commerce marketing is all about giving prospective customers information and accession to lead them through the purchase decisions willingly.
However, in an era of social as today, it is getting harder and harder to persuade customers with a bunch of marketing content and advertisements since the customers only trust what is genuine and beneficial to them.
Therefore, "eye-catching images" and "sharp words" won't be enough to make customers buy anything. Instead of throwing brand-provided information and promises to customers, social sellers should let customers do the convincing themselves by 'testimonials'. 
Why do customer reviews really matter?
Testimonials identify the current problems or beliefs that your ideal customers are facing when they go shopping online. Therefore, testimonials are really important to not only social commerce businesses but also customers.
According to Wyzowl statistics, 95% of people admit that the customer reviews actually influence their purchasing decisions whether they are positive or negative.
Customers find the products or social commerce brands trustworthy through positive reviews and vice versa since the testimonials are supposed to be recorded by genuine experiences.
In addition, 85% of customers consider testimonials or reviews as an essential resource to aid their buying decisions, and some shoppers even won't make a purchase without customers' reviews. 
To social sellers, testimonials are switching from "nice-to-have" to "must-have" and becoming an indispensable part of social commerce. If you still doubt the importance of customer reviews, then we are going to blow your mind with some undeniable benefits of testimonials to your businesses.
Grow customer credibility.    
Most of nowadays customers tend not to trust advertisements and "sweet talks" about a product, a service, or a brand completely; however, more than 59% of consumers determine to trust a brand only by reading no less than 10 positive testimonials.
Obviously, testimonials can cultivate customer credibility.
It was proved in 2014 that a typical social commerce business could convince 77% of online shoppers to buy products thanks to testimonials, and this percentage is kept rising until now especially in a world of social and online shopping at present.
Therefore, the more positive testimonials you gain, the more trustworthy your business can become.
Overcome skepticism.
Unlike repeat customers, new online shoppers have a lot of concern when it comes to making a purchase with a brand for the first time.
Even people already have demands, and they are searching for a product, somehow they still find it skeptical and doubtful.
Therefore, they read testimonials for some reason to buy. According to researchers, 70% of first-time shoppers will buy a product once they read no less than 10 positive customer reviews.
These consumers admitted that the testimonials help them overcome skepticism and be more willing to make a purchase or trust a brand. The testimonial is the best way to let the customers lead themselves through buying decisions.
Raise conversion and sales.
With the high ratings and persuasive testimonials, you are giving your customers all the explanations about how your products or services can actually resolve customers' concerns and problems.
Therefore, testimonials, in some ways, make it easier to convert your shop wanderers into new customers.
For that, testimonials boost your store conversion rate and grow sales at the same time. 
With some typical benefits of testimonials mentioned above, social commerce business especially social commerce merchants really need to pay attention to how important it is for businesses to have testimonials.
If positive customer reviews can drive your business so many benefits, so what about negative testimonials? How are we supposed to deal with unfavorable reviews?
Impacts of negative testimonials.
Before we answer that question, we think you should know the impacts of negative testimonials first. First thing first, if good reviews convince customers to buy, then bad customer reviews may "scare" others away.
Researches show that negative testimonials drive away 22% of prospects. Moreover, three unfavorable customer reviews make a business lose 59.2% of customers and even worse when the brand reputation is undermined as well.
Eventually, it leads to poor sales and revenue loss.
In brief, you may face these typical consequences when you have negative testimonials. However, it does not mean there is no way out. Learning about the consequences of bad customer reviews give you caution and motivation to handle them. 
How can you handle negative testimonials?
Apparently, no social commerce businesses ask for negative testimonials; however, they play a certain role in your customer credibility. In other words, unfavorable reviews are adding authenticity to your testimonials and contributing to building brand trust. 
"So many men, so many minds."
Accordingly, all your positive customer reviews mean nothing without some negative testimonials. Instead of hiding from them or being afraid that the bad customer reviews would turn shoppers away, you should face it.
'Embrace negative testimonials' is exactly the answer we are looking for or at least that the spirit merchants must have in order to settle the problems.
Here are some should-do actions you can take to handle negative testimonials:
Respond proactively.
Each and every business should respond to negative customer reviews proactively. This action will immediately please the review writers as well as show the readers how active you are and how much the customers' opinions mean to your business.
Be polite and helpful.
No matter how bad the testimonials could be, you should always treat the negative commenters with polite and helpful attitudes. 
Handle unfavorable testimonials with consideration.
You need to take all the negative testimonials seriously to see what are the reasons for customers to give negative testimonials like that. There, you can learn from failures and never make the same mistake again.
Or if you suffer from unfair customer reviews, you know how to deal with them in the future. In some cases, negative customer reviews do help you improve your products and services from what you cannot identify yourself.
Do customers always trust testimonials?
Absolutely not! Even research showed that 91% of customers tend to trust testimonials when shopping online, but it does not mean everybody believes in customer reviews since some unfounded, irrational, or even fake testimonials could be created on purpose to make profits from customers.
Customers may rely on testimonials, but they are not easy to deceive.
Testimonials are not only about quantity but also quality if you want most customers to trust reviews, but be warned again, they won't always trust testimonials. Therefore, understanding the role and advantages of testimonials is optional, but knowing how to use testimonials right is a must.
How to put testimonials to good use?
Leveraging testimonials is an art as well. As long as you follow these typical tips, you can use testimonials to the fullest for your social commerce business.
Be selective
.
As we said, testimonials are not only about quantity but also quality, so business owners should or even must select the testimonials that actually work. A worthy testimonial must be authentic first.
Then you can consider whether it is strong and persuasive enough to convince both first-time buyers and repeat customers or not.
A high-quality testimonial is more valuable than ten innocuous reviews, and a perfect testimonial.
Be strict and selective in choosing testimonials to assure customer credibility. Pay attention to positive testimonials from influencers because it will help your brand a lot.
Visualize testimonials.
"Show, don't tell." 
Ratings and customer reviews should be eye-catching before they can actually convince some customers.
To do so, you can visualize testimonials in multiple ways such as review videos, testimonial infographics, etc. More importantly, you should add faces to reviews and make them lively.
That makes customers feel more interested and confident in what you are claiming. In brief, testimonials should also be visualized and beautified.
Display testimonials far and wide.
Do not forget to showcase all the great testimonials across your social channels and websites to catch customers' eyes anytime. You need to display your best testimonials everywhere; however, make sure that you put them in the nicest designs and most visible places on your websites. A good story requires a great teller, and so do testimonials.
Don't fake testimonials.
'Tricking customers with fake testimonials is like playing with fire.'
You may gain some purchases with fake testimonials, but you are putting your brand trust and reputation at risk.
Sooner or later, unrealistic customer reviews will fail customers' expectations, and customers have no more trust or confidence in your brand. Eventually, a fake testimonial ends up even worse than a negative review.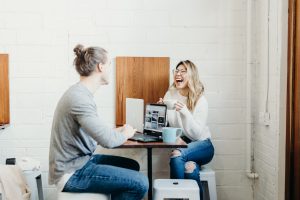 What else should you do?
Last but not least, you should encourage your customers to leave testimonials for every purchase.
If you want to add a layer of credibility to your social commerce business, you should build a wealthy resource. Don't just wait for customers to write customer reviews themselves but ask them to do so.
The more testimonials customers contribute, the more resources you have to grow brand and sales. Make sure that you approach customers in the nicest and most polite ways for testimonials. 
Conclusion.
In conclusion, testimonials are fundamental to grow brand trust and sales for social commerce businesses.
Before you can acquire the various benefits of testimonials, you need to understand the role as well as the impacts of both good and bad customer reviews first.
In addition, social commerce businesses need to learn how to optimize their positive testimonials as well as handle the negative ones. With helpful information, social commerce businesses surely put testimonials to good use.