Did you know that Shopify used to be a snowboard-selling business in the first place before it turned into one of the world's biggest social commerce platforms on the earth? Accordingly, more than anyone, Shopify understands all the concerns and obstacles of Shopify merchants, especially how to increase sales.
Because of that, they have created the Shopify App Store as a support center where developers build thousands of useful apps that are available for merchants to start, run, and grow their businesses better.
However, among thousands of Shopify apps, including free and paid, it's really hard to pick the apps that bring you the guaranteed results or have the worth-paying factors. That's why we are going to highlight the 10 best Shopify apps to increase sales steadily in 2020 in this blog.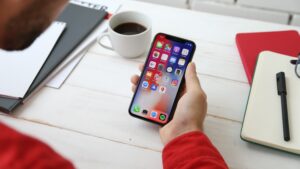 Socialhead is a full package of 4 Shopify apps with multiple social commerce solutions for all Shopify merchants worldwide to increase sales easier and faster on social media.
Socialhead, including Socialpublish, Socialshop, Socialwidget, and Socialreply, is trusted by +10,000 Shopify merchants worldwide and recommended by +500 5-star reviews on Shopify.
There will be no app-switching when you can get the full functions of 4 big apps and more crucial features included just on one platform. Each app will provide Shopify merchants with several specific features and benefits.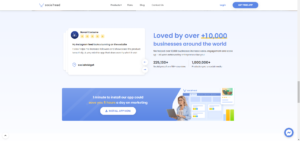 In general, it's like you are having a whole social media team to take care of your Shopify businesses when you get Socialhead's apps by your side.
Socialpublish will always ensure that your latest products and discounts will be published and updated on your social media platform with the best appearance to drive traffic and boost conversion.
Socialshop allows you to list, sync, and optimize your product lists on Google Shopping and Facebook Shop like a piece of cake to promote your products to more customers and raise brand awareness.
Moreover, Socialwidget will build customer trust by embedding your best-performing Instagram feed on your websites, while Socialreply is a 24/7 customer support channel to help merchants respond to all messages and comments across Facebook accounts. Eventually, all these solutions will lead to one and only fundamental purpose – to increase sales.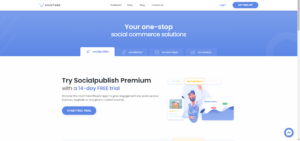 Besides the specific benefits of each application, Shopify merchants can save up to 90% of the time from manual work, cut down on human resource cost, increase sales & revenue by 30% just by using Socialhead's apps.
In addition, Socialhead also provides Shopify merchants with various plan options including Standard, Premium, Platinum, and Forever Free. More conveniently, you are given a 14-day free trial for the Premium plan to experience all the functions before deciding to upgrade.
In brief, Socialhead is a must-have full package of social commerce solutions that all Shopify merchants, especially newbies, should try. Find out more information about the Socialhead full package here.
Oberlo is a stunning Shopify app to increase sales by finding suppliers and products for all Shopify merchants.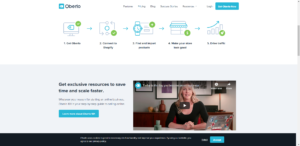 Find the winning products & add them to stores.
This is one of the core functions of Oberlo to help Shopify merchants to discover millions of potential products from AliExpress. Then you can import the selected products with the full available description, variants, images & prices to your Shopify stores. All you need to do is pick, import, and sell.
More conveniently, Oberlo allows the product price to automatically update when cost changes as well as edit the products' information. You can also take advantage of Oberlo's network of vendors to select the best products with higher selling opportunities.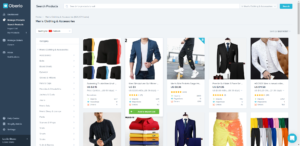 'Never worry about shipping'.
With Oberlo's help, you can ship the products straight from your vendors' warehouse to your customers' doors whenever you get an order. Moreover, Oberlo helps you keep track of orders effortlessly even when you won't ship or handle products yourself.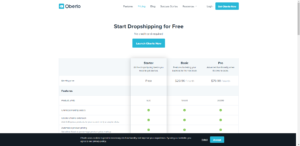 Besides that, there are more advantageous features such as sales dashboard, 24/7 customer support, product page customization, etc, that Shopify merchants can gain when they use Oberlo for their stores. In brief, Oberlo is a must-have Shopify app for all merchants who just start social commerce businesses and do not know where to find vendors or products. More importantly, Oberlo provides users with the Forever Free plan, so you can equip your stores with Oberlo and begin to increase sales easily. Find out more information about Oberlo here.
If you are searching for Shopify apps that can leverage the impact of the customer reviews, then you definitely cannot miss Ali Review.
This Shopify app empowers more than 40,000 Shopify merchants worldwide for strengthening social proof and increasing sales by displaying reviews thorough shoppers' journeys.
If you are still wondering about the great impacts of reviews or why you must leverage the authentic testimonials to increase sales, read this.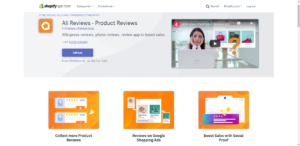 In general, Ali Review will enable you to import customer reviews in bulk from AliExpress and CSV File at a time so that you can use the fresh reviews to brighten up your store and boost conversion by displaying triggered review popups. Grab shoppers' attention by publishing product reviews and ratings on Google Shopping Ads.
You are also free to do the customization for the review layouts and displays so that they best convert your customers. More than that, you can collect more authentic reviews via email campaigns.
New reviews will be auto-updated into feeds with manual operating, and more stunning minor functions are included. Shopify merchants are offered a 14-day free trial to experience Ali Review and you can choose the plans from $9.9 per month afterward. Find out more information about Ali Review here.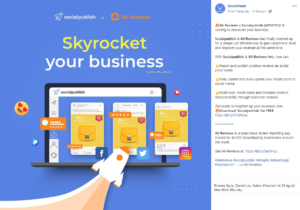 An interesting bonus function for you is that Ali Review has collaborated with Socialpublish to enable Shopify merchants to import and publish reviews as posts on Facebook and Twitter right in Socialpublish. This function is called Ali Review Integration.
Unlike the other usual analytics apps on Shopify, Conversific does more than just provide merchants with store sales data. Conversific is a new thorough solution for actionable profit analytics and traffic optimization in order to increase sales.
Conversific will take care of your store data from A to Z. In general, Shopify merchants can fully monitor their store data including sales, traffic, conversion, visitor count, etc in one single place.
Conversific will request to access your Google Analytics data to deeply analyze your business in detail.
With all the data you need, you can take data-driven actions to increase sales and grow your businesses better. For more detailed information about the functions, you can visit the Conversific page on Shopify App Store.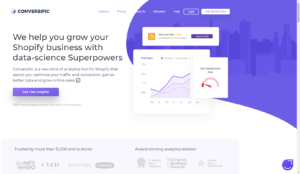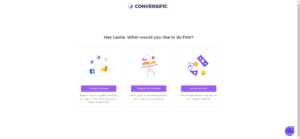 Besides the benefits, Conversific offers Shopify merchants 100% free accounts with full access to all features.
Therefore, all merchants who are seeking for a data analytics tool must try Conversific at once because it's easy, handy, and free. It takes you only a minute to create a Conversific account or you can sign in with your Google accounts.
ReferralCandy – one of the best Shopify apps for referral programs has grown sales for more than 30,000 online businesses and even more.
It helps Shopify merchants to create referral campaigns so that you can raise brand awareness and conversion by having customers recommend your brands or products to other customers.
For each customer that buys, the referrers will get the rewards in return. This is a very stunning way to increase sales through word-of-mouth marketing. 
For detailed instructions on how to use ReferralCandy, please watch this or learn more about functions here.
With the main function to generate sales by advocacy, ReferralCandy is an ideal app especially for Shopify merchants who are in the scaling up period. Currently, ReferralCandy is offering customers a 30-day free trial before being charged. 
Gorgias is an all-in-one help desk for Shopify stores with more than 400 positive feedbacks from customers currently. Gorgias empowers Shopify businesses to increase sales by optimizing your customer support via chat with some mind-blowing functions.
Manage all chats in one place.

Check out customer order history for accurate information.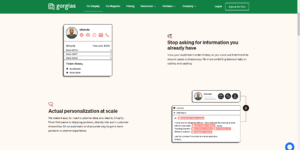 Automate up to 40% of customer support tasks.

Update Shopify orders directly from the help desk if customers add more products to their carts.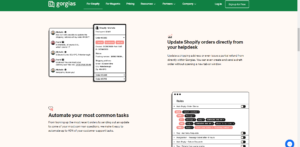 Intelligently detect the intent of what customers are asking for.

For details, merchants can access the Gorgias app's page on the Shopify App Store. Shopify merchants can experience Gorgias for free in 7 days. To social commerce businesses, Gorgias is the right tool to reach a higher state of live-chat customer service and grow sales, and it is worth trying.
Known as a virtual employee of your business, Kit is built to help you with some necessary marketing activities and drive more sales. You can actually communicate with Kit for work like a real partner. Watch how Kit works in this video. Kit will enable you to do these actions:
Create Facebook & Instagram Ads easily.

Target the best audiences for ads to boost conversion.

Send personalized thank you emails to customers for higher engagement.

Generate & promote discount codes to grow sales better.

Check out sales & marketing performance by quick reports.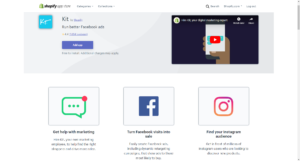 This Shopify app is very suitable for social commerce businesses especially for Shopify newbies who do not owe a marketing team. With all the helpful features and more than 1400 5-star reviews on the Shopify app store, Kit deserves a try from all Shopify merchants. More information about Kit & its functions can be found here.
Trusted by +50,000 Shopify merchants worldwide, PageFly offers social commerce newbies a powerful yet easy-to-use drag and drop page designer. This package of features is brilliant for anyone to build beautiful and highly-converted all kinds of pages on their own without paying for a real designer to do so.
With PageFly, Shopify merchants can create multiple types of pages such as landing pages, homepages, contact pages, FAQs, pricing, etc in just one and only app.
Obviously, PageFly will provide you with all the essential design features to create, build, and customize your pages to the fullest.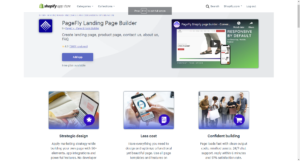 Do not worry if you are a stranger to page design since PageFly is very user-friendly and easy to integrate with drag & drop editor & no coding.
Pages created by PageFly integrate with other top Shopify apps like Loox, Yotpo, Ali reviews, Judge.me, TRUST, Rivyo, Opinew, etc.
More importantly, PageFly is offering a free plan for all Shopify merchants. PageFly is such a good start for new merchants to design pages. More details can be found here.
To break the language barriers and increase sales across the globe, Shopify merchants should and even must use Transcy – a powerful multilingual translation and currency converter. Transcy provides exclusive functions that you hardly can find anywhere else.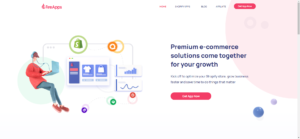 Multilingual translation.
Translate product info, front-end content, photos, images, etc.

Manage & translate store languages to target the right customers.

Allow to manually edit or translate the content as you want.

Instantly translate and auto-update newly added content to save time & effort.
Currency converter.
Convert currency on your store into customers' local currency.

Accurate exchange rates are updated daily.
Friendly language & currency switcher.
Auto-detect visitor country.

Auto-detect devices to display responsive switchers.

Able to choose switcher styles and positions to fit your store's theme.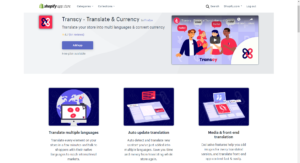 Transcy is providing free plans for all Shopify merchants, you can access Transcy's website or app page for more information. 
You may not know that post-purchase support is very important to increase sales and customer retention, so we highly recommend AfterShip for Shopify merchants who are in need of tracking service. What AfterShip does is enable merchants to fully control delivery tracking and engage with customers after sales via the Branded Tracking Page.
At the same time, AfterShip always keeps customers updated about the shipping status with proactive notifications.
Besides the key functions, AfterShip will help you to improve SEO ranking by as well as drive organic traffic auto-generated links to your websites, and more features are included.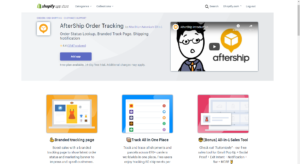 Having AfterShip by your side, you not only can increase sales effectively with happier customers and less or even no complaints about order & shipping status. In addition, AfterShip generously welcomes all Shopify merchants with forever free plans and the 14-day trial for premium plans. Visit the AfterShip app page for more details.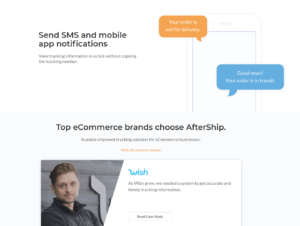 Conclusion.
In conclusion, it's challenging or even impossible to tell you which apps are the best for your businesses. Therefore; in this list, we just recommend you with the top 10 best Shopify apps to increase sales steadily in 2020. Each app will have specific functions to support Shopify merchants to start, grow, and scale businesses in multiple aspects. In conclusion, we are going to list down the core functions of 10 apps so that you can pick the right ones for your own businesses. 
Socialhead

(All-in-one social management solutions)
Oberlo

(Find products to sell)
Ali Review

(Social proof)
Conversific

(Data analytics)
ReferralCandy

(Referral program)
Gorgias

(Live-chat help desk)
Kit

(Facebook & Instagram ad virtual assistant)
Transy

(Language translator & currency converter)

AfterShip

(Order & delivery tracking)
If you have more stunning Shopify apps to increase sales, please share with us and other merchants in the comments below. Good luck with your business and happy selling.