Did you know an average online shopper only takes 50 milliseconds to determine whether they like your website or not and whether they should stay or leave?
Most online store owners are attuned to the utmost importance of their website design in this day and age. Therein lies a popular website design trend- utilizing the badass Parallax effect!  
To put it simply, the parallax effect is a scrolling effect where the background moves slower than the foreground. Therefore, when viewers scroll up & down, it adds a 3D effect to your content, making them much more appealing. As a result? Your customers will spend more time on-site and are more likely to purchase.
That's why we curated these top 15 Shopify Parallax Themes to liven up your website.
A picky store owner who wants to power up all the bits and pieces of your eCommerce site? We bet you could hardly ever find a better theme than Posture (like, for sure!).
Frankly, Posture is one of our all-time favorite Shopify parallax themes! Why? It is modern, spacious, mobile friendly and most importantly, can fit any business of all shapes and sizes! Posture comes with irresistible parallax scrolling banners, infinite design capabilities, and loads of marketing features. 
What's else? If you have a social footprint on Facebook, the theme also allows you to add a Facebook Messenger Live Chat on your site so that you can assist customers better throughout their buying journey. It's high time you turned one-time visitors into life-time customers!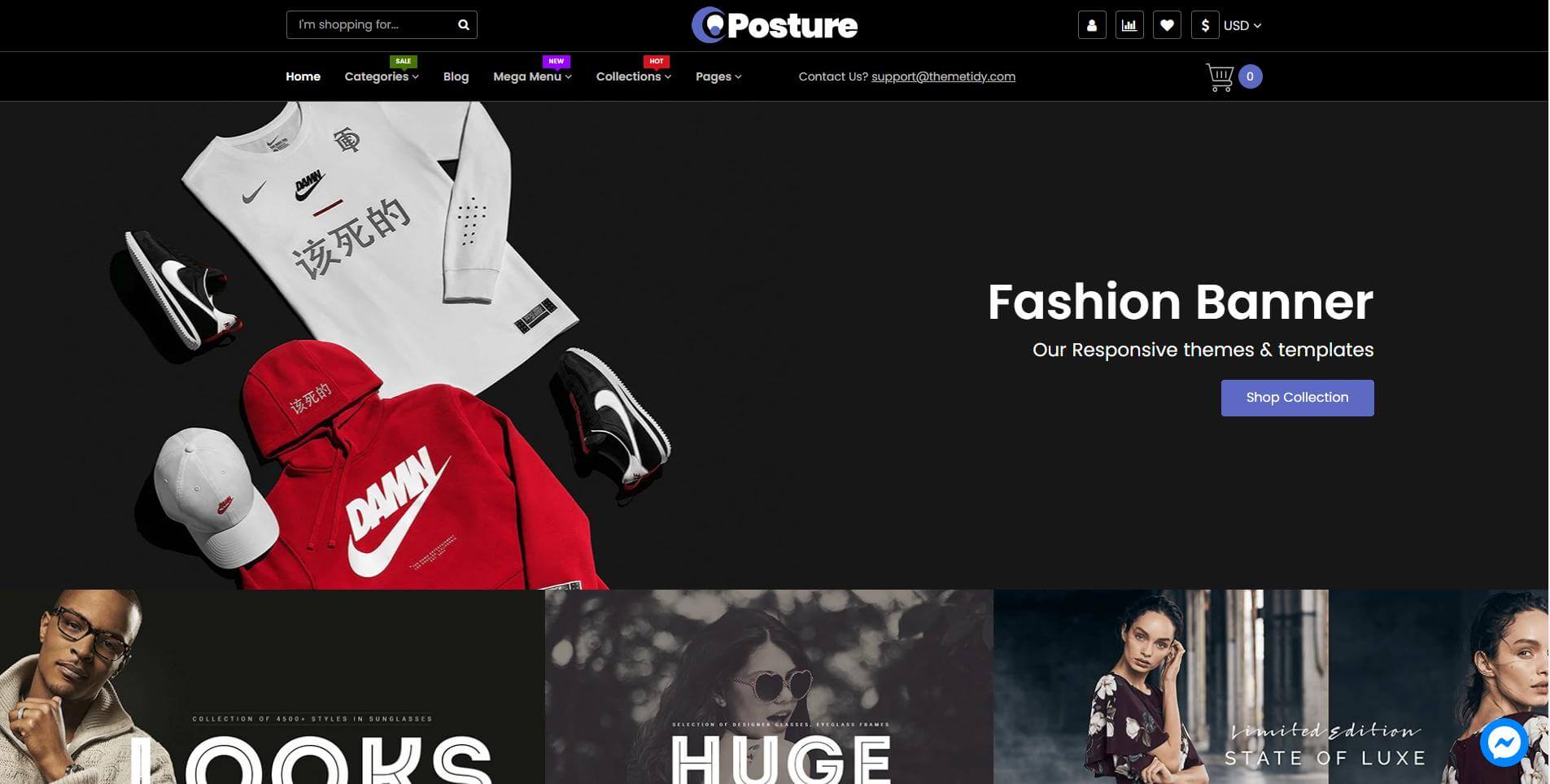 Top features of Posture
Embed a Facebook messenger chat on your site

Beautiful sticky drop-down mega menu

Fully-customizable sidebar filter 

Enable customers to put lookalike items side-by-side with 'add to compare' button

Quick buy button 

Product swatches on catalog and product detail pages

Smart search-bar that gives suggested search results as customers type in

Make your store looks busier with countdown timers, real-time site visitors 
An ambitious confectioner who wants to impress your customers with an astonishing and engaging website? If Drippy is not the theme you've been looking for, then we don't know what it is (seriously!). Well, it's cute, modern, and to be honest, it's like a whole package!
Yup, this theme should be a top choice for ice-cream, bakery store or any food and beverage shop who want to add a sweet visual intrigue to their website, making it look like a masterpiece. Though this theme is up to $1250 for an Extended License, if you want a well-polished website with awesome effects then Drippy is worth your trying! 
This is one of the best Shopify parallax themes that are SEO-optimized and come with dozens of badass marketing features for you to play around with. To name a few, the theme supports ajax shop functionality, product swatches, countdown timer to trigger your customers' fear of missing out, etc.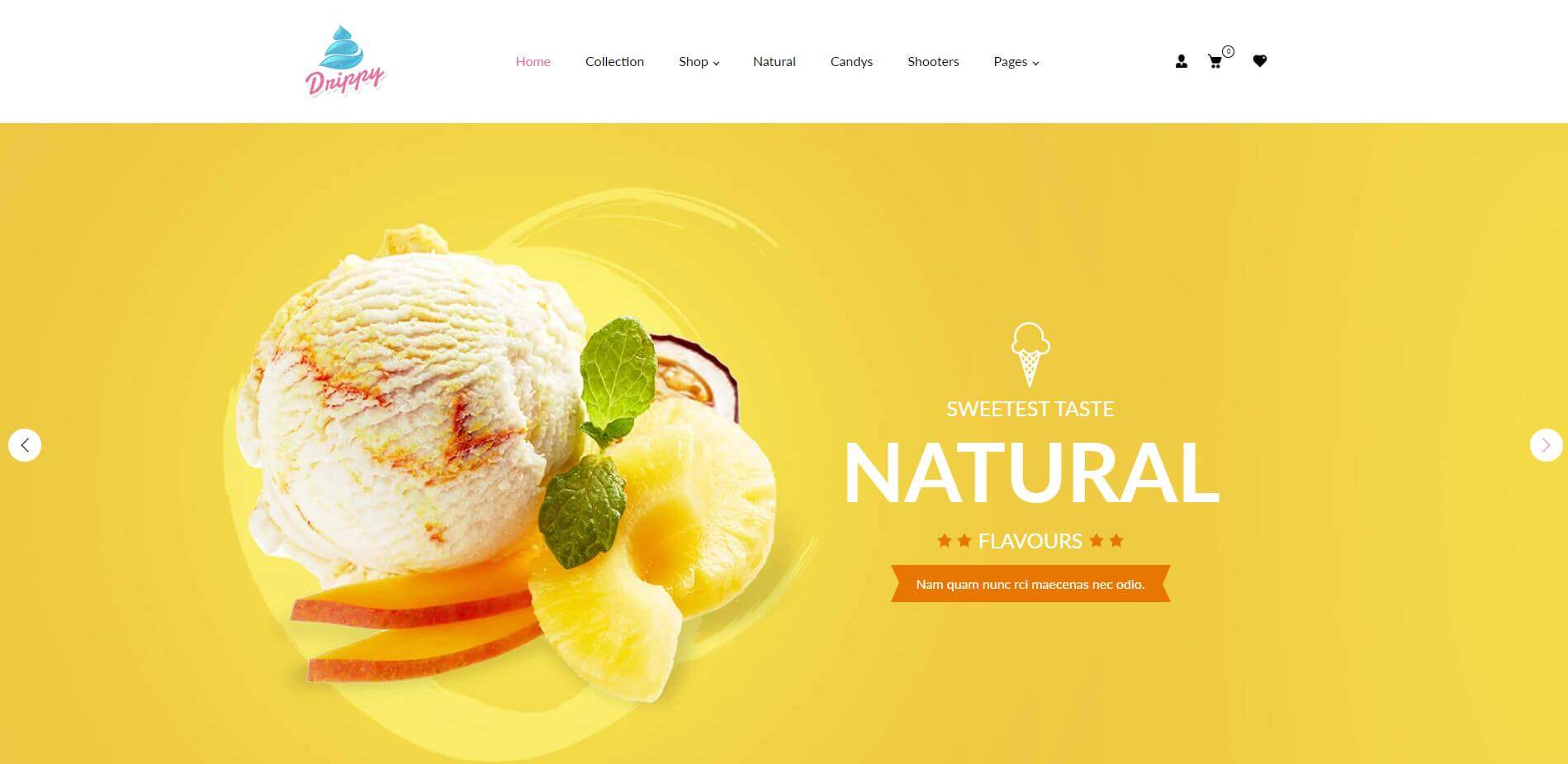 Top features of Drippy 
SEO-friendly for product listings 

Mega menu with shoppable banner (up to 5 styles for you to choose from)

Product owl carousel 

Currency switcher support

Stunning product variants swatches on any page 

Breadcrumb on product page so that your customers know where they're at

Sidebar ajax filters to help online shoppers find what they want in a flash

Countdown timer to stir up a sense of urgency

Best-sellers section to increase your average order value
If brand awareness matters to you, then you should know that your visual storefront is the very first thing your potential customers and strategic partners would see. Hence, make your first impression count with a professional & modern website!
If you are considering adding parallax effects to make your website look more vivid, Parallax by Out of the Sandbox is one of the best Shopify Parallax Themes right now. This theme is coded for stores with a large catalog who want to fully customize their visual storefront to the fullest.
This theme allows you to create stunning full-width parallax scrolling images, videos, testimonials, etc.  along with many marketing features such as promotional banners, sticky drop-down menus to create a more seamless shopping experience for your customers.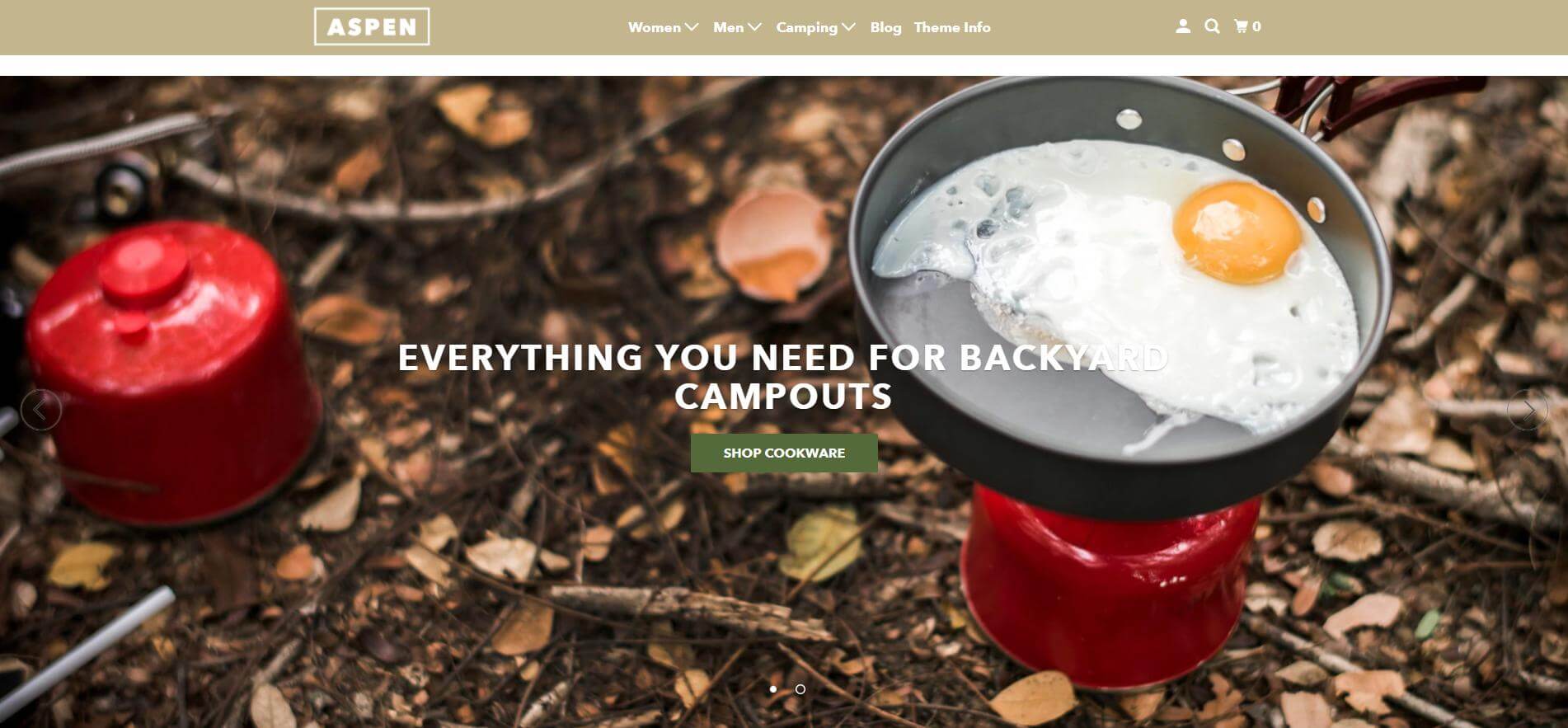 Top Features of Parallax
SEO-optimized to ensure fast loading speed

Sticky drop-down mega-menu 

Cart-drawer for a seamless shopping experience

Quick shop without jumping to product pages

Parallax scrolling full-width banner 

Breadcrumbs on product detail pages for customers' better navigation
With tons of Shopify theme developers creating thousands of themes that cater to online stores of any niche and size, what would you do to pick up the theme that screams your brand personality then? Test out each one of them? That sounds time-sucking, money wasting and well, impossible. Instead, why don't you take a look at Ella – Multipurpose Shopify Sections Theme, one of the best Shopify Parallax Themes? 
With +22 homepage layouts, +09 shopping pages, numerous footers and headers, Ella is one of the best all-in-one Shopify Parallax themes that can satisfy even the most meticulous merchants. That means Ella will work perfectly for your site whether you're selling electronic devices or apparel or pet accessories, etc.
What's truly incredible about this theme is that it offers infinite design options so that you can customize your site to the fullest and can still enjoy fast-loading speed. Not to mention the theme's robust marketing tool sets such as upsell bundles, promo banners and a bunch of other cool stuff you must try out!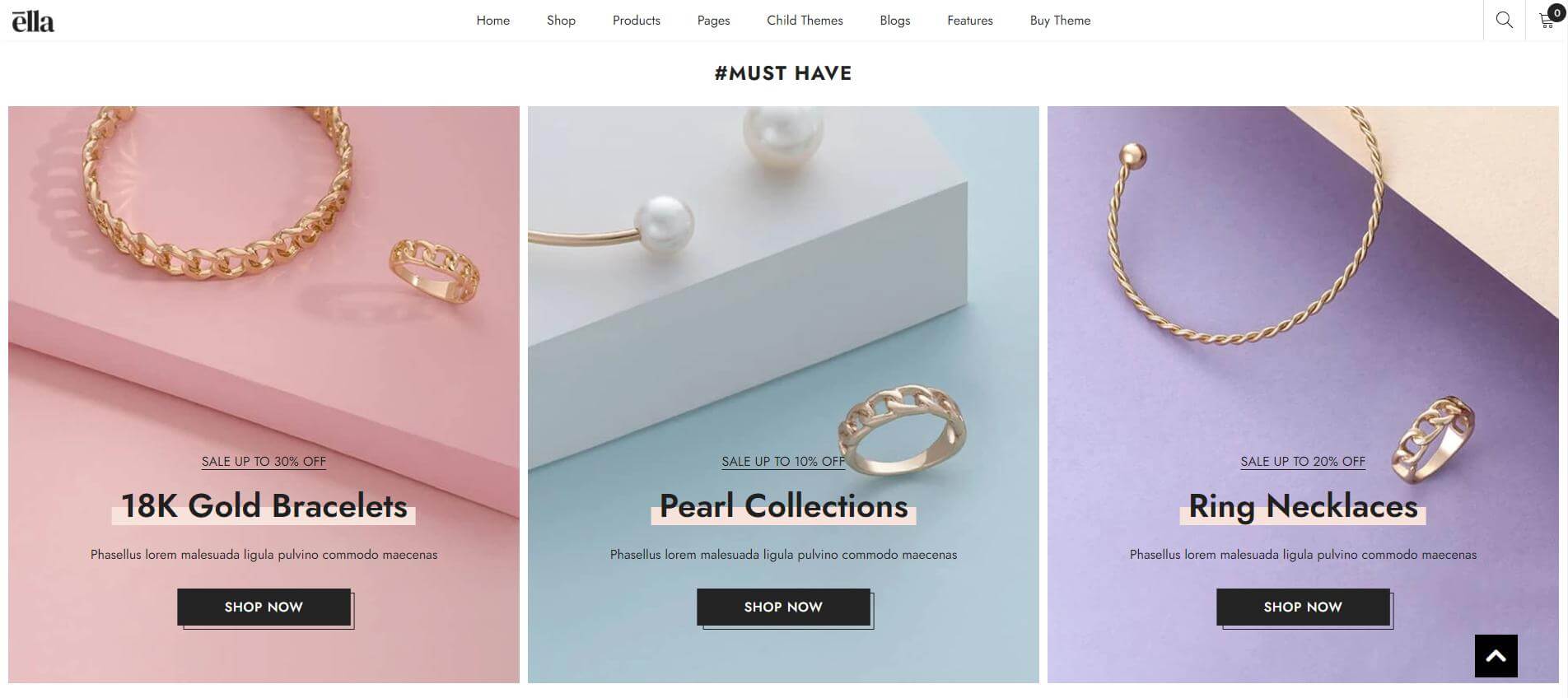 Features of Ella 
Full-width parallax banners

An abundance of templates from homepage to product page and collection page, etc. 

Show available variant (colors, size, etc.) on collection or homepage

Cart drawer for an utterly seamless shopping experience

Mega menu with shoppable banner

Shortlist trending tags and popular products in search bar

Low-stock indicator, current pageview to make your site look busier

Product badges to make your featured items stand out
Cossa is an astonishing mobile-friendly parallax-enabled Shopify theme that is sure to grab your customers' attention at the very first sight.
Some themes can be so stunning to look at, but unfortunately they only work for a certain niche. With Cossa, you can rest assured that it works perfectly for your store whether you're selling footwear, sporty clothes or even furniture, electronics, etc.
Being one of the most well-performing Shopify parallax themes, Cossa comes with multiple pre-made templates, easy-to-configure header & footer. More importantly, this handsome  theme gives you a full Ajax shop package and robust marketing features such as product swatches on the collection page, cross-sell section and many more!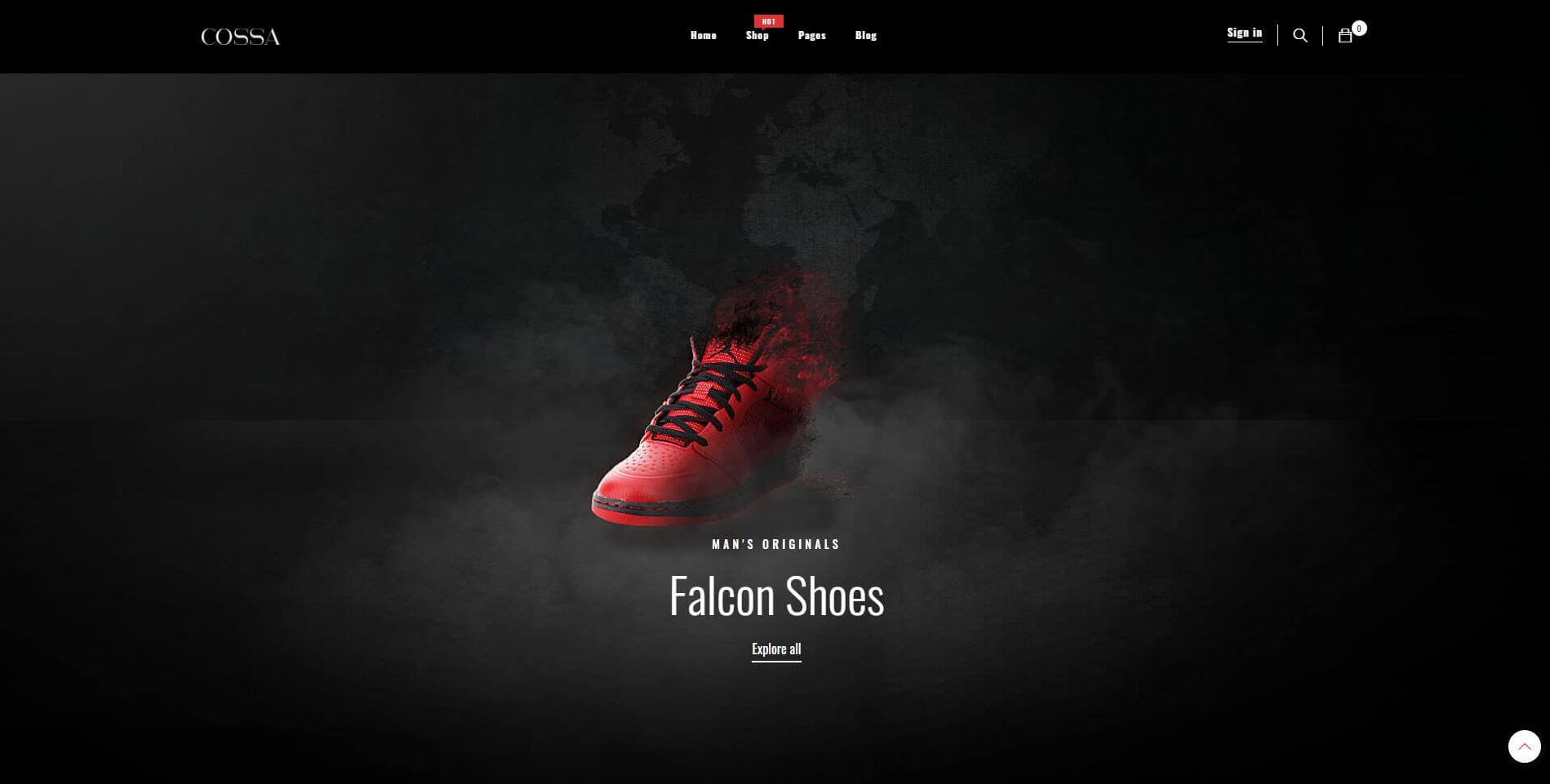 Top features of Cossa
Beautifully-designed drop-down mega menu

Powerful product filters to make it easy for customers to find their way to what they want

High-resolution full-width parallax banner

Banner and product hover effects

Product swatches on homepage & collection page

Cross-sell & upsell with product owl carousel 
Have you been searching for a way to add a visual intrigue into your skincare and cosmetics store? Then there is no way you could miss out on the amazing Sofee | Cosmetic Shopify Theme. 
Regarding that one theme for stores with a sophisticated product catalog, Sofee is one of the most worth-trying Shopify Parallax Themes. In more detail, this theme empowers you to create a super smart and high-converting product page with numerous upsell features that are sure to increase your average order value.
On top of that, this theme is also SEO-optimized and responsive on any device from smartphone to tablet or laptop. Also, you'd definitely love the hover effect this theme offers on CTA buttons, promo banner and product images. 
Plus, this theme also supports currency-switcher, making it one of our top picks for ambitious merchants who want to expand their business to the foreign shore.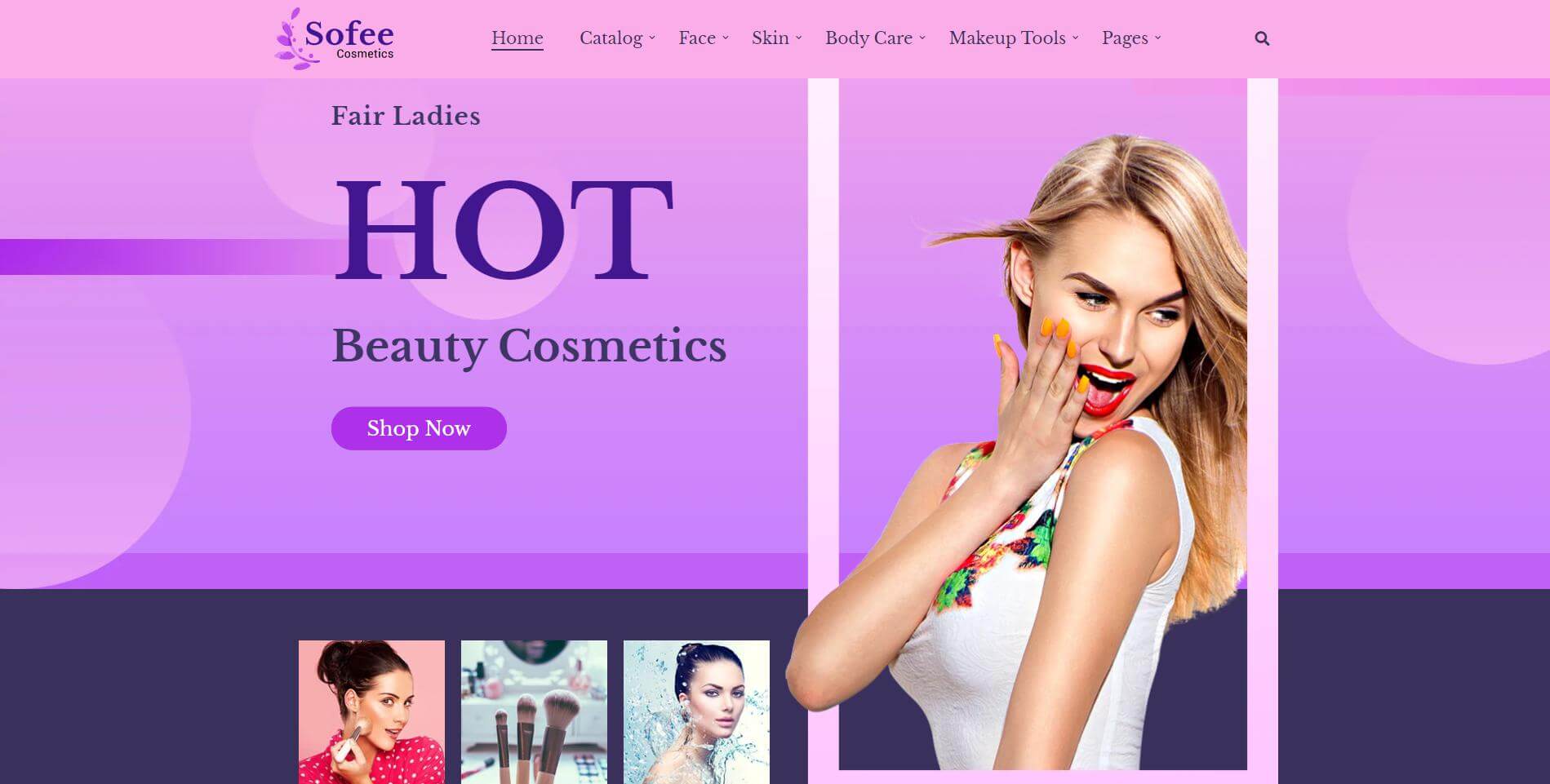 Top features of Sofee 
Mega menu with beautiful layout

Slideout testimonials to leverage social proof

Ajax cart to cut down on the step your buyers have to go through

Hover effect on multiple objects (product images, banners, icons, etc.)

A professional product page layout with a bunch of upsell and cross-sell features. This includes the sidebar product carousel, hot deal section, recently viewed products, etc. 

Currency-switcher (10 currencies supported) 

Add countless social media buttons to make it easier for your customers to share your products
Sometimes less is more! Did you know that leaving your eCommerce site some fresh space is actually a top trending design principle recently? If you strive for a delicate, super fast-loading theme with the savage parallax effect, we highly recommend you Moleez- Minimalist Shopify Section Theme. 
In a nutshell, Moleez is one of the top Shopify Parallax Themes thanks to its sleek, modern design accompanied by robust marketing and conversion-oriented features that will bring your eCommerce game to a whole new level!
Similar to some Shopify Parallax Themes we mentioned above, Moleez strives to code a SEO-friendly theme so that your store can rank higher on Google search results.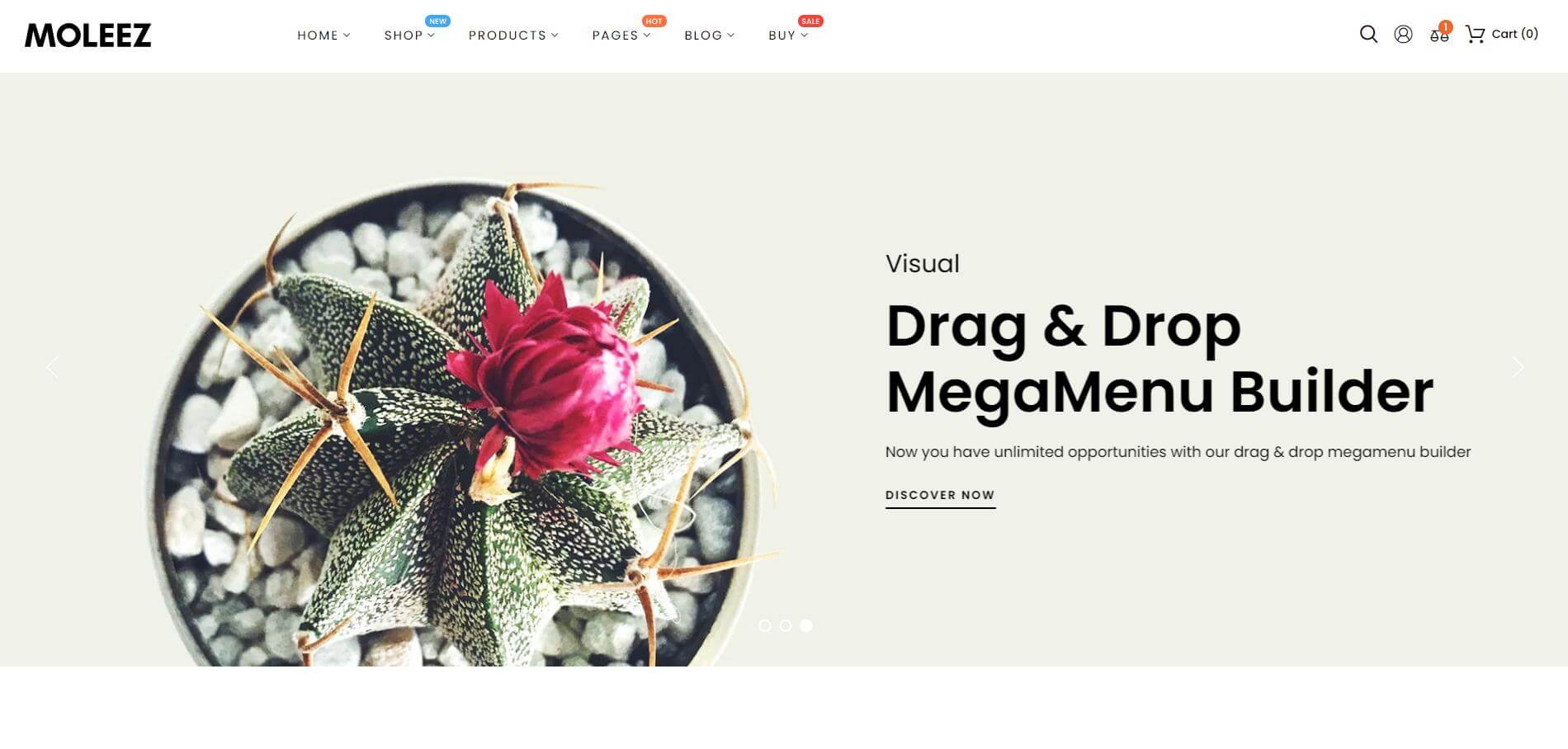 Top features of Moleez 
Responsive on any device 

Built-in mega menu

Powerful ajax product filters (customers don't have to reload the page after ticking the filter boxes)

Quick buy button to reduce cart abandonment rate 

Product variant swatches to make your product page look much more professional

A full package of upsell functions, including low-stock indicator, countdown timer and Free-shipping progress bar to trigger more sales

Stunning hover product effects

Display your product in 360 degree
Been looking for a fashion theme that can draw in people's attention right away and convert them in a minute? If that is the case, scream a big YES to Lynk+Co – Fashion Parallax Shopify Theme– one of the best Shopify Parallax Themes for your store. 
Despite the theme's name, this theme should work nicely for any business niche owing to its various layouts from homepage to collection page, product pages, etc. What's awesome about Lynk+Co is that it is 100% SEO friendly and comes with a myriad of premium features.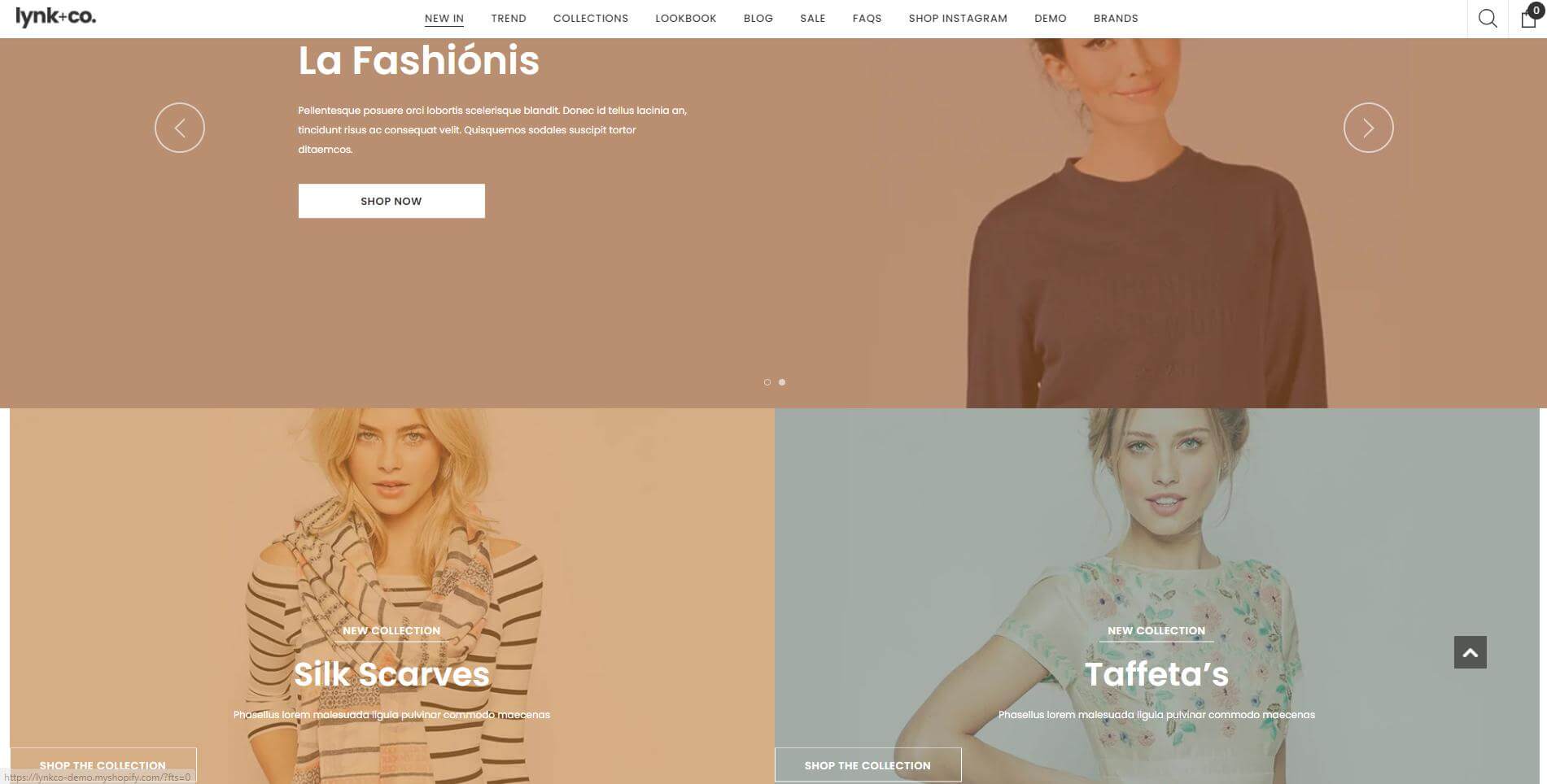 Features of Lynk+Co 
Improve your customers' on-site experience with product variant swatches everywhere you feel like

Promotional product badges to boost more sales for your strategic items

Beautiful mega menu for ease of navigation

Custom CMS block to showcase anything on the sidebar of your product page (e.g: featured products, banners, etc.)

Sort filter on collection pages

Product pages upsell tool set to help you sell like crazy: low-stock indicator, current viewers, countdown timers, upsell bundle widgets, etc. 

Smart search bar to suggest customers relevant items
It's as easy as a pie of cake to find a Shopify theme for your store, but to find the one that makes your site shine and bright is another story! 
And for that, we highly recommend Seiko – Shopify Theme, one of the most versatile Shopify Parallax themes in the list today. What sets it apart from other ordinary themes is that Seiko supports an absolutely professional mega menu, along with language translation and currency converter. 
More importantly, the theme also offers a bunch of gorgeous premade layouts for you to choose from. If you're into a sleek and modern parallax-enabled Shopify theme, then Seiko won't let you down for sure!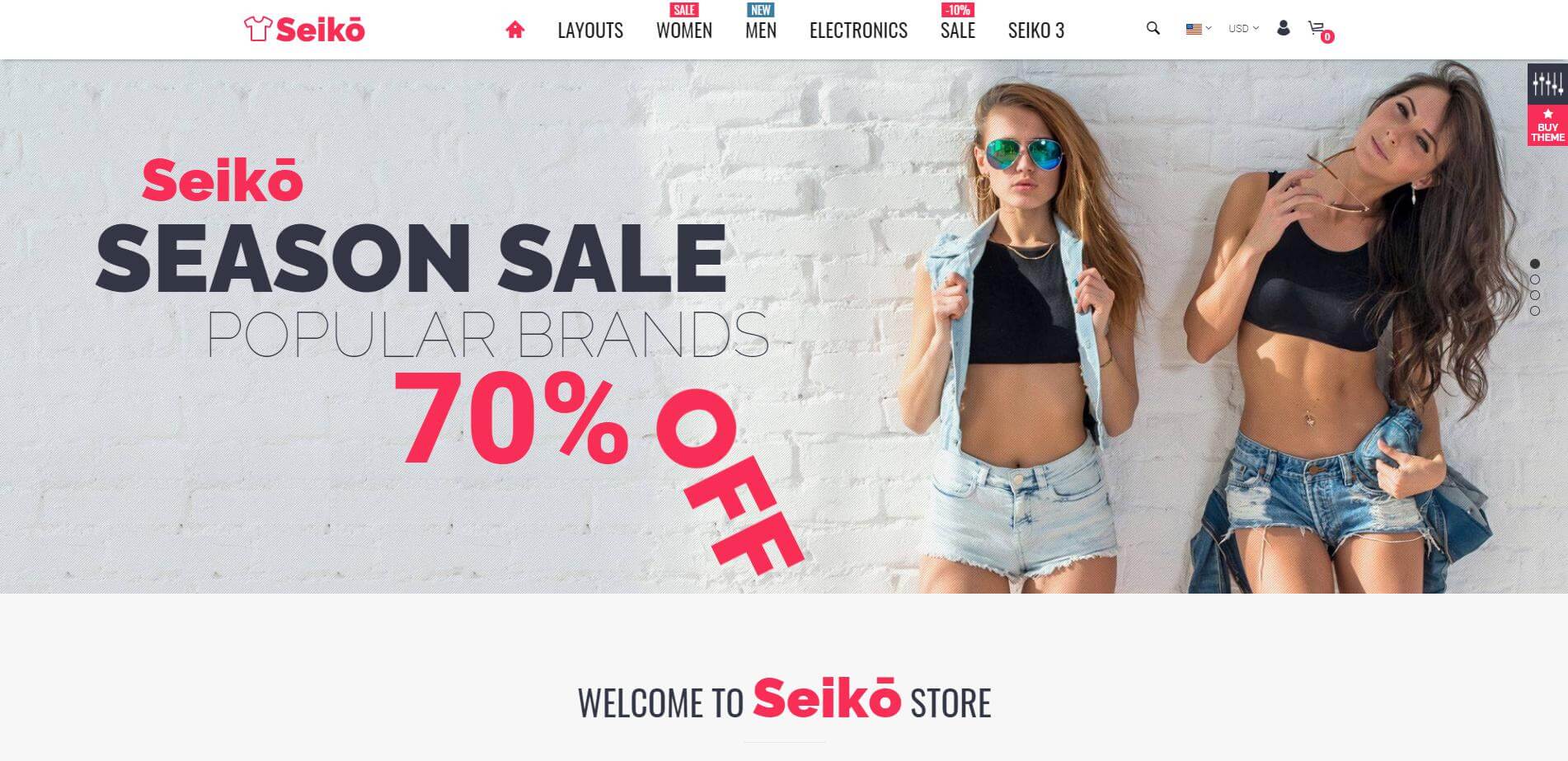 Features of Seiko 
Simplistic full-width parallax banner

Add product videos to empower your customers to have a better look at your items

Let your customers shop in their own familiar language and currency with currency and language switcher 

Product variant swatches 

Quick buy button for your customer's shorter & better shopping experience

Countdown timer to urge your customers to purchase
Veggie – Shopify Multi-Purpose Responsive Theme is another parallax-enabled Shopify theme we want to introduce you today. This is one of the top-notch Shopify Parallax Themes as it comes with multiple well-polished layouts for you to play around with.
Although its name suggests that Veggie is multi-purpose, if you specialize in food and beverage in general and organic fruits in particular, then Veggie is surely everything you've been looking for. 
Apart from ready-to-use templates, this theme also offers you numerous design options so that you can gain complete control over your website's look and feel.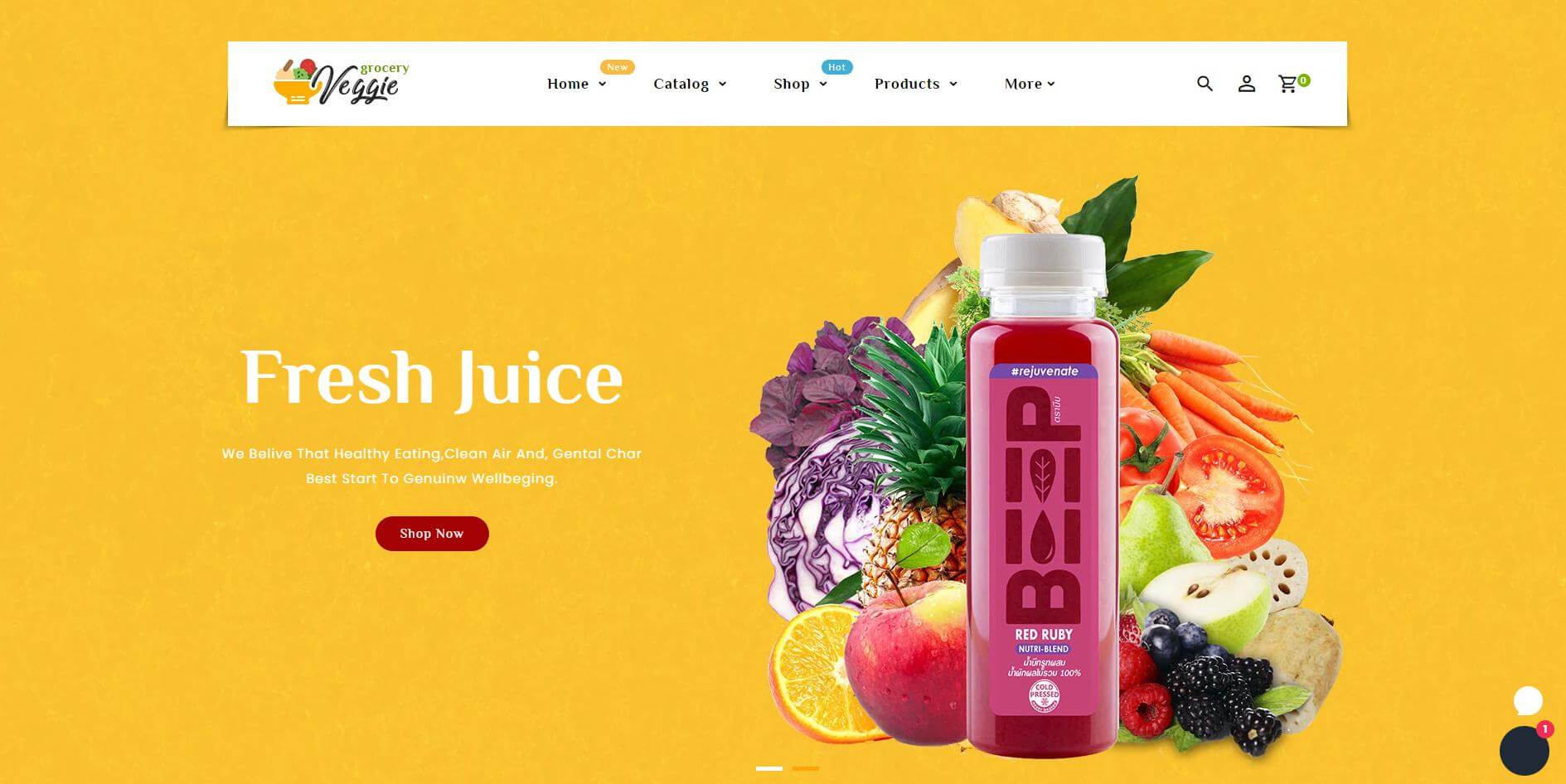 Top features of Veggie 
Product 360 degree view

Stunning hover effects on product images

Robust multi-level menu (support product carousel) 

Product comparison to allow customers put lookalike items side by side

Fully ajax cart to unlock customers' seamless shopping experience

Feature top categories on homepage 
Want to utilize some engaging visual effects to make your clothing store second-to-none? Melory can be your absolute life-saver then! This is one of the best Shopify parallax themes developed specifically for fashion sites with a large product catalog.
Melory is optimized to be friendly with Google search engine to guarantee online shoppers find their way to your shop more easily. On top of that, this theme has a lot of layouts from homepage to collection page and menu, all designed to optimize your clothing items' visibility on site. 
Additionally, you'd love Melory's sidebar filter, ajax cart, product owl carousel, and a bunch of other website design options that make your visual storefront responsive to all popular screen types.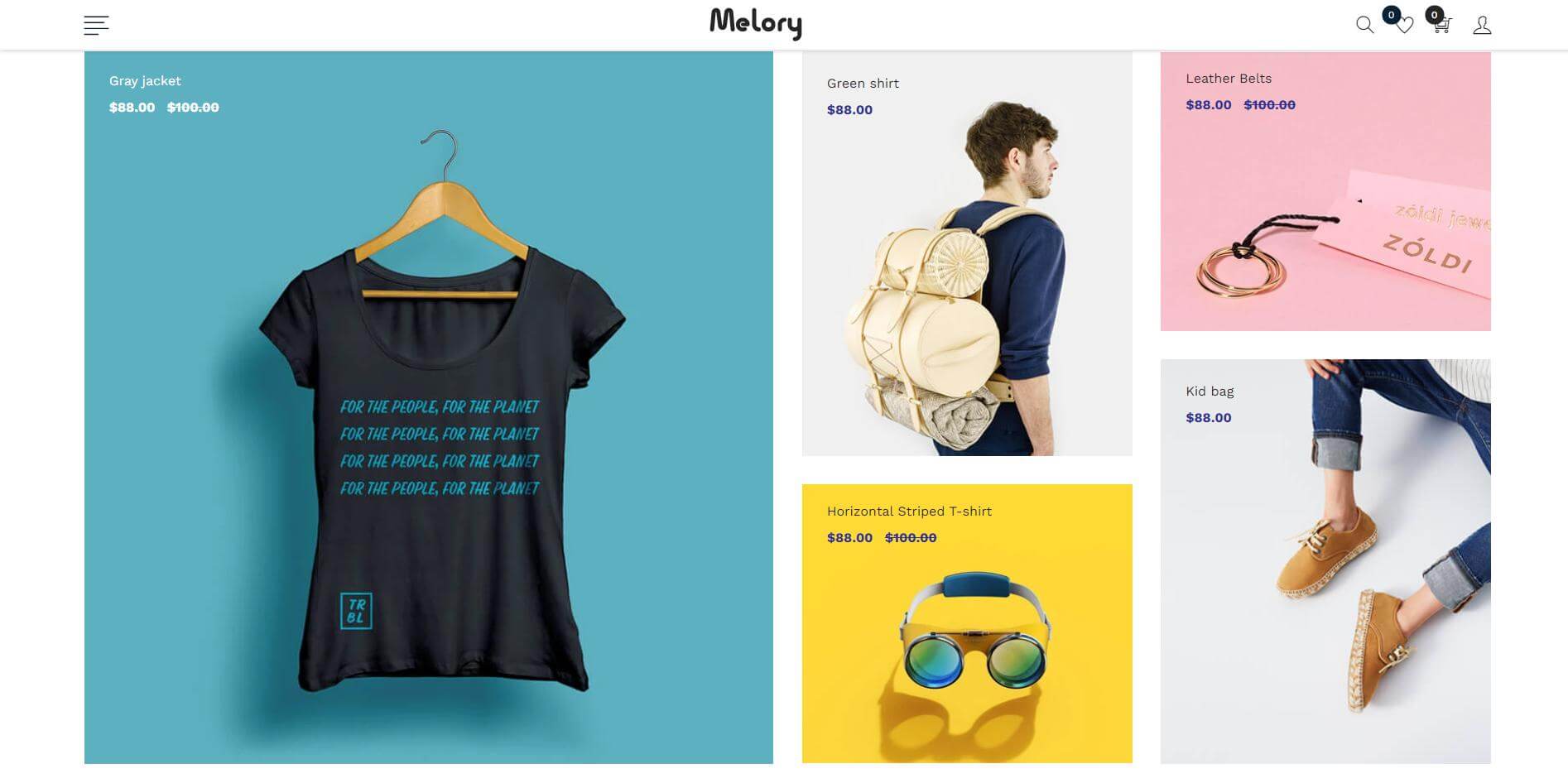 Top features of Melory
Various layouts to choose from, including 8 homepage layouts, 9 product layouts and 12 blog layouts

SEO-optimized for maximum loading speed

Multi-style mega menus

Sophisticated sidebar product tag filters

Cross-sell on product page with relevant items displayed in a product owl carousel

Product hover effects
Want to go extra and make the first impression count with your customers by a supremely elegant website? Check out one of the most worth-investing Shopify Parallax Themes, Bazien – Shopify Retina Theme!
Low-resolution images will scare your potential customers away! The developer of this theme gets that. That's why the theme is coded to be SEO-friendly and at the same time, responsive on multiple devices and browsers.
What also sets Bazien apart from other Shopify parallax themes are its SEO-optimization and dozens of conversion-focus functionalities to help you gain an edge over your competitors.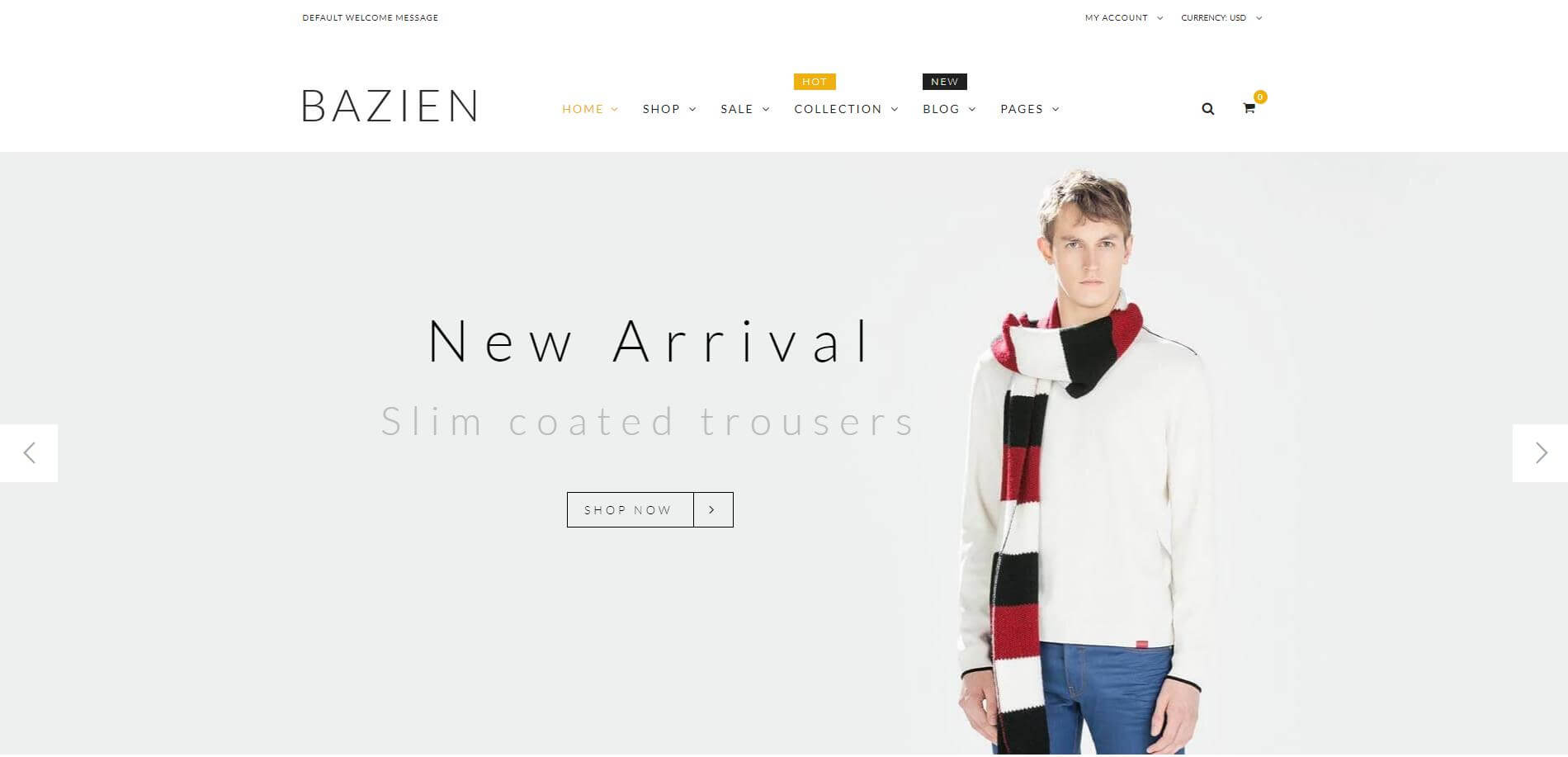 Top features of Bazien 
Parallax scrolling banners

Product image hover effect

Low-stock bar to make FOMO on your product detail pages

Powerful sidebar product filter on collection pages with modern design

Show relevant items to boost more sales with product owl carousel
Want to turn your tedious website into a piece of artwork with enraptured visual effects? Woo hoo! Logancee is specially designed and coded for you. 
Logancee is one of the top trending Shopify Parallax themes that will win your customers' hearts in less than a second. The theme is minimalistic, simplistic, classic and most importantly, so calming to look at. 
With this mobile-friendly theme, you can pick your store theme from multi-style pre-designed homepage templates to make sure it matches perfectly with your brand personality. In addition to that, Logancee also comes with many sale promotion features round up your bottom line.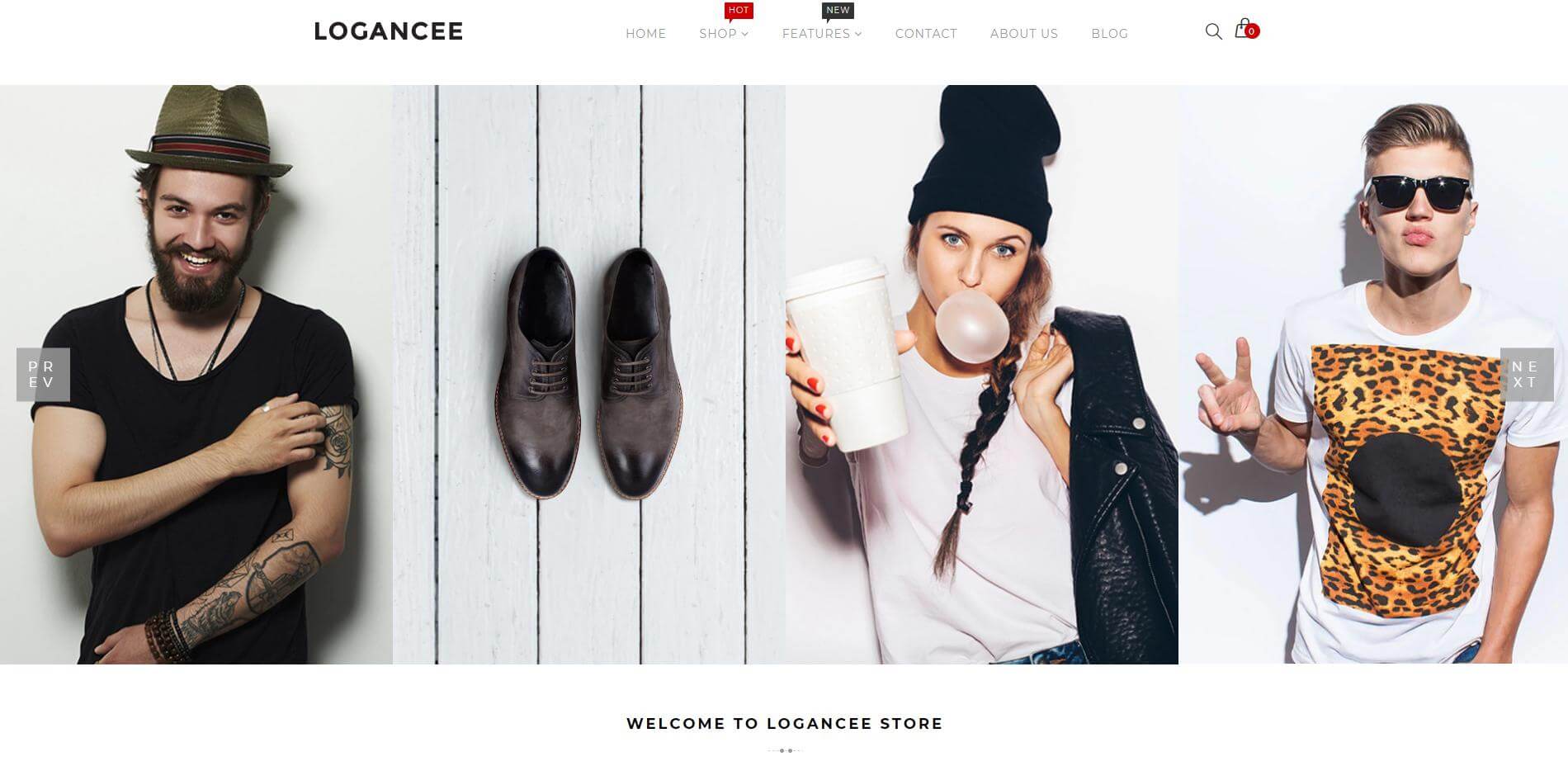 Top features of Logancee
Sticky mega menu

Parallax-enabled full-width promo banner

Product image hover effects (rotating, zoom in & out, etc.)

Sidebar filter selection

Sleek product breadcrumb banners   
It is so cool that you are selling a wide range of good stuff at flexibly good prices. But hear us out! The truth is most visitors still exit immediately after arriving at your site if you have a messy visual storefront with slow loading speed.
Hence, perhaps you would love to look at one of the most powerful Shopify parallax themes in this list- Automotive Auto Parts Store. It is indeed an excellent match for Shopify merchants who specialize in auto parts. 
Similar to any Shopify parallax themes in this list, Automotive lets you fill your homepage with stunning parallax scrolling images to increase customers' time on site. Besides, the theme also offers you a robust sale-booster package consisting of many cool features.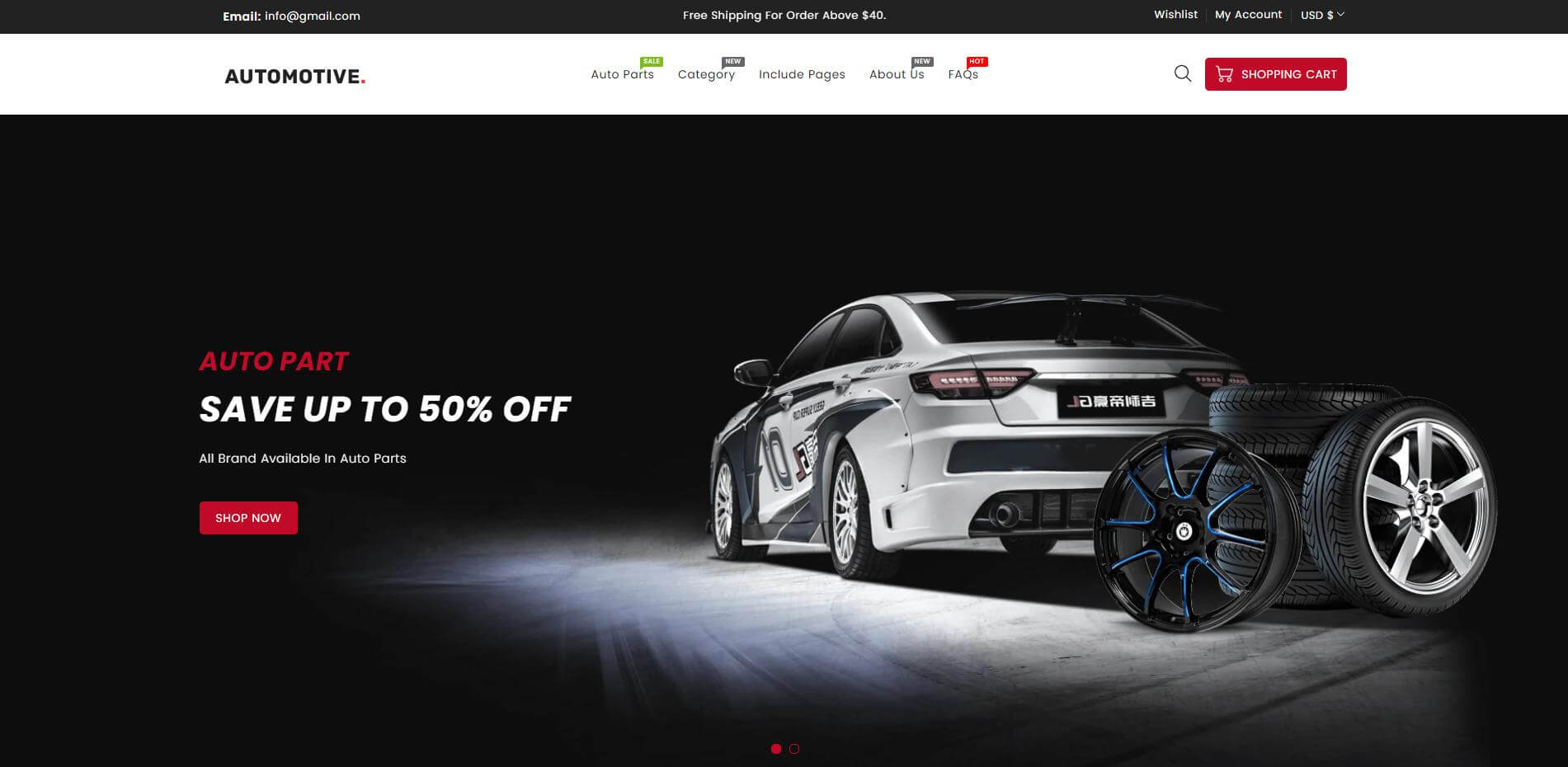 Top features of Automotive Auto Parts
Beautiful & simplistic sticky mega menu

Multiple hover effects to keep customers engaged

Allow customers to filter out the items they want with sidebar filter on collection pages

Sidebar featured items

Countdown timer on flash sale items 

Parallax background images  
Want to build a highly functional, captivating eCommerce website that is sure to convert? Then you would fall madly in love with Hermes for certain!
Hermes is one of the most versatile Shopify parallax themes that are going to fit your store's niche, whatever it is! The theme comes in 9 professional pre-made templates which are easy to configure to your likings. 
However, being one of the top-notch Shopify parallax themes, Hermes is not just for decorative purposes. This theme is customized to abide strictly by SEO standards and it also includes a whole deal of promotion and marketing features.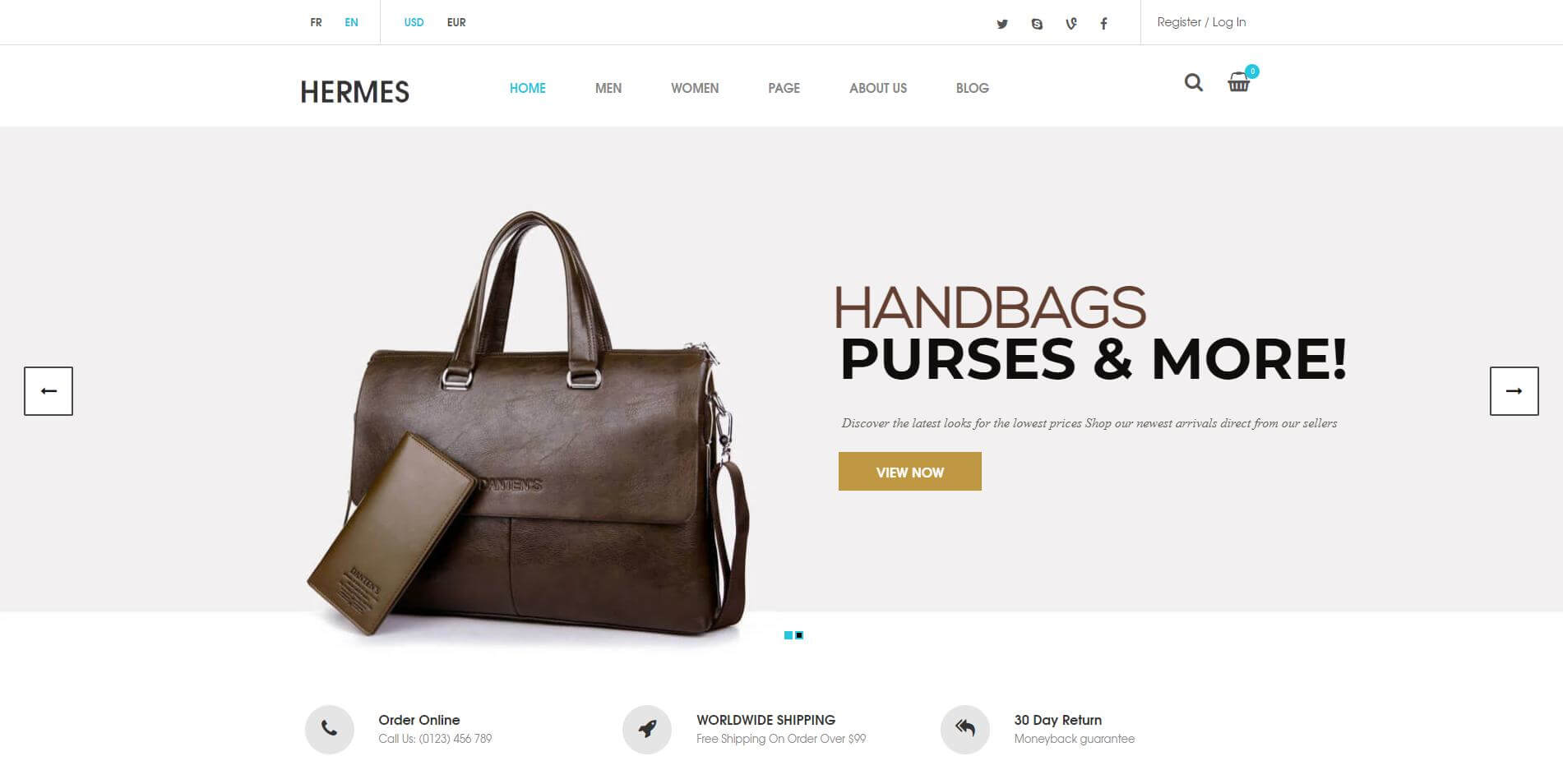 Top features of Hermes
Clean and fresh mega menu design

Rotating hover effect on product images and promo banners

Quick view & add to cart

Sidebar upsell and cross sell product carousel

Display promotional badge on selected items
Decide on which theme to choose yet?
The number of eCommerce websites is still proliferating and shows no sign of stopping yet! That includes the online stores that specialize in the exact same niche as yours. 
Thus, if you want to make your website stand out from this dog-eat-dog game, investing in improving your visual storefront should be your top priority! And we genuinely hope you could find your perfect match in the Shopify parallax themes we compiled above.
If you're interested in our Shopify themes series, check out our relevant posts right below!