There are multiple Google Shopping feed types built to serve different purposes of sellers. Based on your needs, you can select one or several feed types to support your e-commerce business.
06 types of Google Shopping Feed
Depending on merchants' purposes, there are now 6 main types of Google Shopping feed that you can leverage to rock your sales on Google Shopping channel. With each Google Shopping Feed type, we're going to tell you what it is and how to use it for the sake of your business.
Type 01: Google Merchant Center Feed
This is the most familiar Google Shopping feed type to merchants who are selling on Google Shopping.
Google Merchant Center Feed or Google Shopping product feed contains all the information about your products. Merchants can use this Google Shopping feed type to advertise and sell their products on Google. 
To create a Google Shopping feed in Google Merchant Center, you can follow the instruction below:
Create Google Shopping Feeds Manually
Log in to Google Merchant Center > Products > Feeds > Click on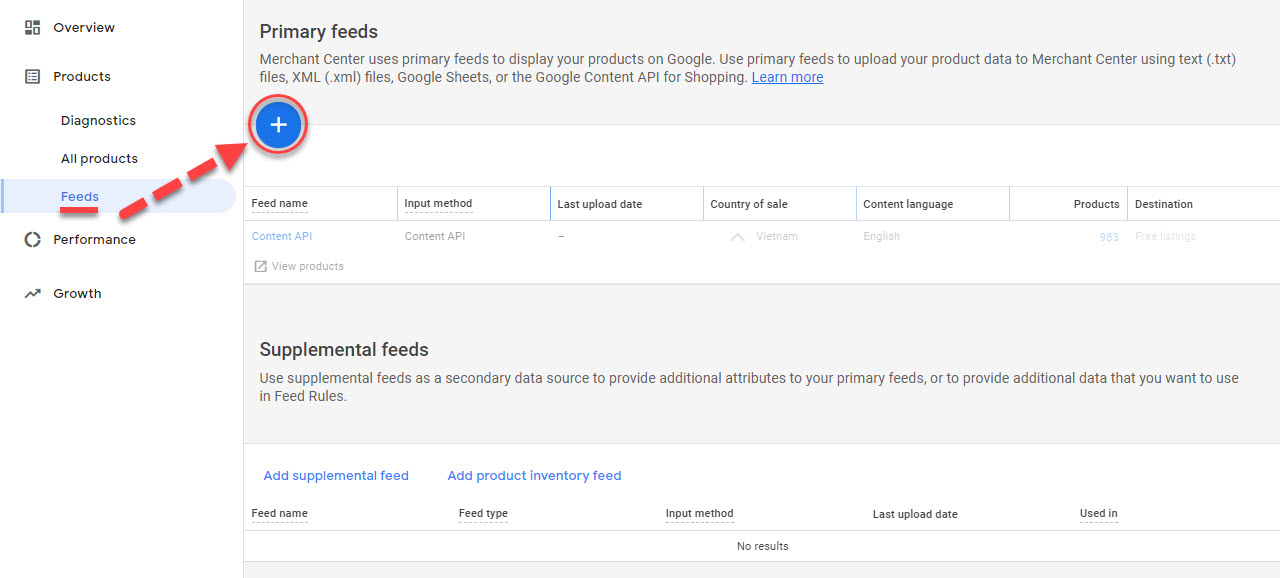 Step 1: In New Primary Feed > Select Language and Country Of Sale > Check all desired destination
Step 2: Name your Google Shopping feed > Decide how to set up your feed and connect your data to Google Merchant Center
Google Sheets
In this stage, if you want to update your product data in a Google spreadsheet, then you can select Google Sheets. All the changes you make on your spreadsheets will be applied to your account.
Once you choose Google Sheets, you will be able to decide to generate a new Google spreadsheet from a template or select an existing Google spreadsheet.
Import your available spreadsheet here.
Scheduled Fetch
If you submit your Google Shopping feeds via SFTP, FTP, or Google Cloud Storage, you can select to schedule the fetching time.
You have to fill in a file name, set up the frequency. schedule time and input file URL. If your URL is protected, you need to log in to continue. 
Finish setup and your Google Shopping feeds will be updated as you scheduled.
Upload File
Merchants can also upload the file manually to import your product data to your Google Shopping feed. 
One click to sync Google Shopping feeds to Google automatically
In case, you already have your product feeds on other platforms specifically Shopify, WooCommerce, or BigCommerce, and you would like to bring them to Google Shopping.
You can automatically sync them to Google Merchant Center in minutes with Socialshop.
This app enables you to automate the product feed uploading process for Google and even Facebook.
It helps you save the maximum amount of time spent on manual work in exchange for higher productivity.
All you have to do is go to Socialshop and connect your stores, then you can sync product feeds to Google and Facebook in no time. 
After you create and sync your product feeds successfully to Google Merchant Center, you can optimize Google Shopping feeds with 7 best practices recommended by Socialhead.
Type 02: Google Promotion Feed
This Google Shopping feed type is one of the best ways to engage with prospective buyers by offering promotions. Not only driving traffic to your product pages, but you can also boost sales and get more returning customers.
To create a Google Promotion feed, you must own at least one approved Google Shopping feed first. Then follow the simple steps below:
Step 1: Go to Google Merchant Center > Promotion > List> Click on

> Select country & language > Choose Promotion categories > Continue
Click on

, you will be able to set up the language for your promotion feed.
Step 2: Add more information for your Google Promotion feed (Promotion title & ID, Products, Promo Code, Start and end day) > Save > Done
Type 03: Google Local Inventory Ads Feed
The Local Inventory Ads Feeds enables merchants to list and display their product information to local shoppers on the Google search engine. When the buyers click on your Google Shopping ads or free listing, they will directly access your local storefront. This Google Shopping feed type is the perfect way to drive local traffic and sales to both your online and offline stores.
To craft a Google Local Inventory Ads Feed, follow the instruction:
Step 1: Sign in to Google Merchant Center > Growth > Manage Program > Get started with Free Local Product Listing
Step 2: Select the country you want to list products > Confirm qualifications > Save > Done
In this stage, you can change certain information (such as Business Information, Google My Business, add logo).
After that, you proceed to local inventory verification. Once you finish, click on the Save button. Please note that you can add one or more countries to sell your products by clicking on

Type 04: Google Product Rating Feed
It is one of the crucial Google Shopping feed types that enables merchants to sync feeds to Google with detailed customer reviews and ratings. 
With Google Product Rating feed, you have more chances to convince your potential customers even the difficult ones. By giving them realistic testimonials from other customers, you encourage customers to consider your products and make purchases. 
Before you start making your own product rating feeds, you need to own over 50 reviews at least.
Go to Google Merchant Center > Growth > Manage Program > Product Rating > Get started > Fill in the Product Rating Interest Form > Click on

to add a Product Rating feed
When you create Product Rating for the first time, you have to fill in the Google Product Rating Form before proceeding to the next step.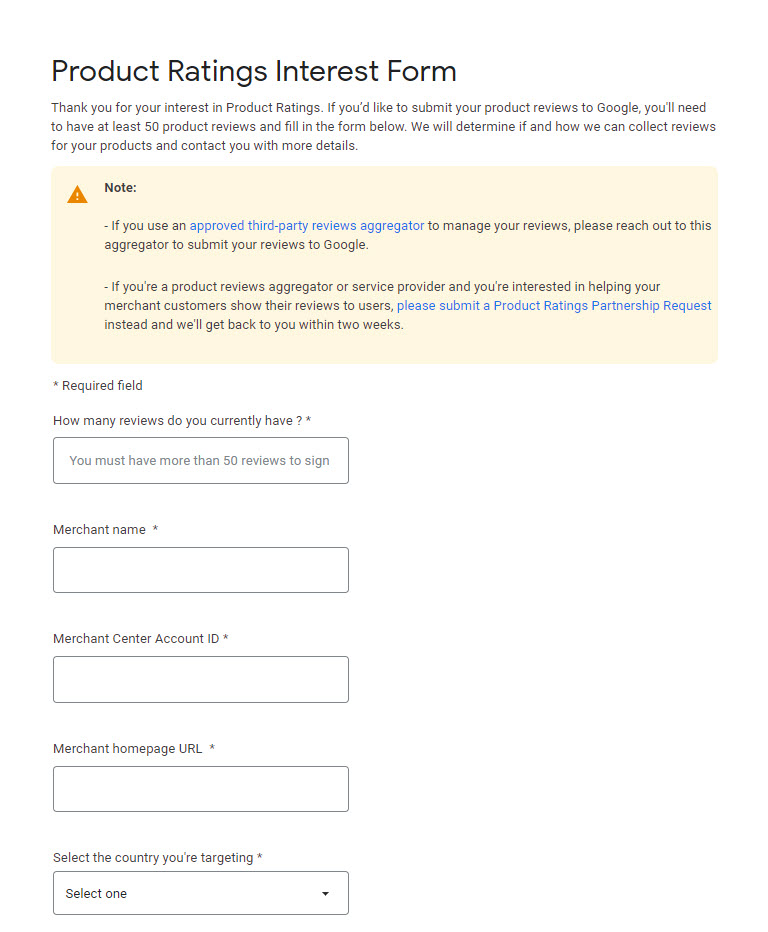 Type 05: Dynamic Remarketing Feed
The ultimate goal of this Google Shopping feed type is to retarget missed customers by displaying ads that are relevant to what customers visited before that. 
Google Dynamic Remarketing Feeds have a recommendation engine to decide the best product collection for each ad based on what the shoppers searched or visited previously. 
Moreover, Dynamic Remarketing Feed also offers sellers multiple advantages:
Predict the best dynamic ad layout for the shopper, placement, and platform where your Google ads show up

Create ads that can scale up with your products

Real-time bid optimization.
To create your Google Dynamic Remarketing feed, check out the instructions here.
To enable Dynamic Remarketing Feed in Google Merchant Center, follow these steps
Go to Google Merchant Center > Growth > Manage Programs > Dynamic Remarketing > Enable > Done
Type 05: Google Manufacturer Feed
This is also considered as one of the Google Shopping feed types which are built to enable manufacturers and brand owners to have more control over their products and ensure that their products are listed accurately on Google and other Google services.
You need to complete some compulsory product fields required for your Google Manufacturer Feeds.
ID

Title

Description

Image Link

Brand

GTIN (Global Trade Item Number)
These are the must-have attributes you have to go through when creating this Google Shopping feed type. However, there are some other attributes that you should also do to improve your product data such as:
Should-have attributes: MPN, Product Line, Additional Image Link, Feature Description.

Good-to-have attributes: Product Name, Product Type, Disclosure Date, Release Date, Video Link, Product Page URL, etc.
To create this Google Shopping feed type, go to the Manufacturer Center and follow the instructions.
Final Thoughts
In conclusion, there are 6 Google Shopping feed types that will support merchants in multiple aspects. 
By understanding how they work and what they are capable of, merchants can leverage these types of Google Shopping feeds to empower their businesses one way or another.