Did you know 40% of the US online shoppers are actively looking for father gifts on the Internet for the upcoming Father's Day? That means if you're already planning for this big event, you're literally leaving your sales on the table!
So let's roll up your sleeves and get prepared to kick-start your sales on this big fat occasion with our proven-working Father's Day promotion ideas. 
Why Should You Think Up Father's Day Promotion Ideas? 
Similar to Mother's Day, people go crazy about Father's Day as well! Numbers never lie so take a quick look at the Father's Day consumer spending statistics this year!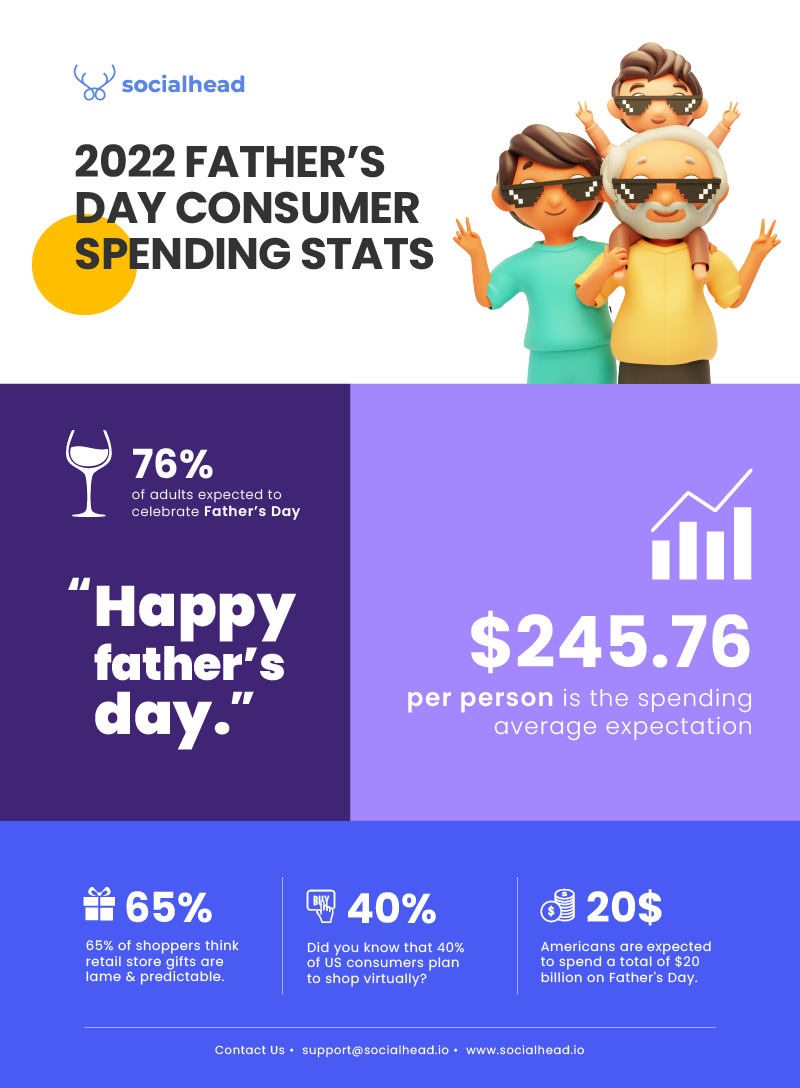 Now that you reckon Father's Day's endless selling opportunities, let's spend some minutes defining your product compatibility, your target audience, and channels to approach them on this grand occasion.
Questions To Ask Yourself Before Putting Your Father's Day Promotion Ideas Into Practice!
To run a successful campaign, there are quite a few questions you have to answer first:
What product you're providing?

Bear in mind that it's Father's Day we're discussing so the first question you should ask yourself is whether your merch could make a perfect gift on this special day or not. And what key message do you want to convey through the products you're about to promote?

Who is your target audience?

The next question is a portrait of the audience whom you want to target. Are they women who would love to surprise their hubbies or young adults who want to honor their daddies? This will help you personalize your campaign's message specifically to your target audience, increasing your chance to convert them.

Where can they be found?

Next, ask yourself where can you reach your target audience? This will help you allocate your limited resources to the channels that actually work.

What has & has not worked on Father's Day 2021?

If you already have run a promo campaign on Father's Day for years, then sit down and brainstorm with your team about what seemed to work last year and whether you can scale it up this year or not. 
Now let's jump straight into the best 7 Father's Day promotion ideas! 
#1. Get Started Early 
Father's Day lasts for one day only; this year, it falls on June 19, 2022. And similar to any seasonal campaign such as Mother's Day, Valentine or Christmas, to run a successful Father's Day marketing campaign, you need a well-thought-out plan ASAP with timely actions. 
This is quite understandable: most online shoppers would actively scout for a perfect gift for their beloved dads days or even a week or two before the 'due' day rolls in. So, you must be ready when potential customers visit your eCommerce site.
Inform your followers about your upcoming events so they know what to expect. Besides sending email, warming up the game with a social post might be of great help.
And don't forget to breathe the father vibe into your e-site! Take a look at Zazzle's absolutely on-theme homepage they decorated weeks in advance in case you're looking for some ideas.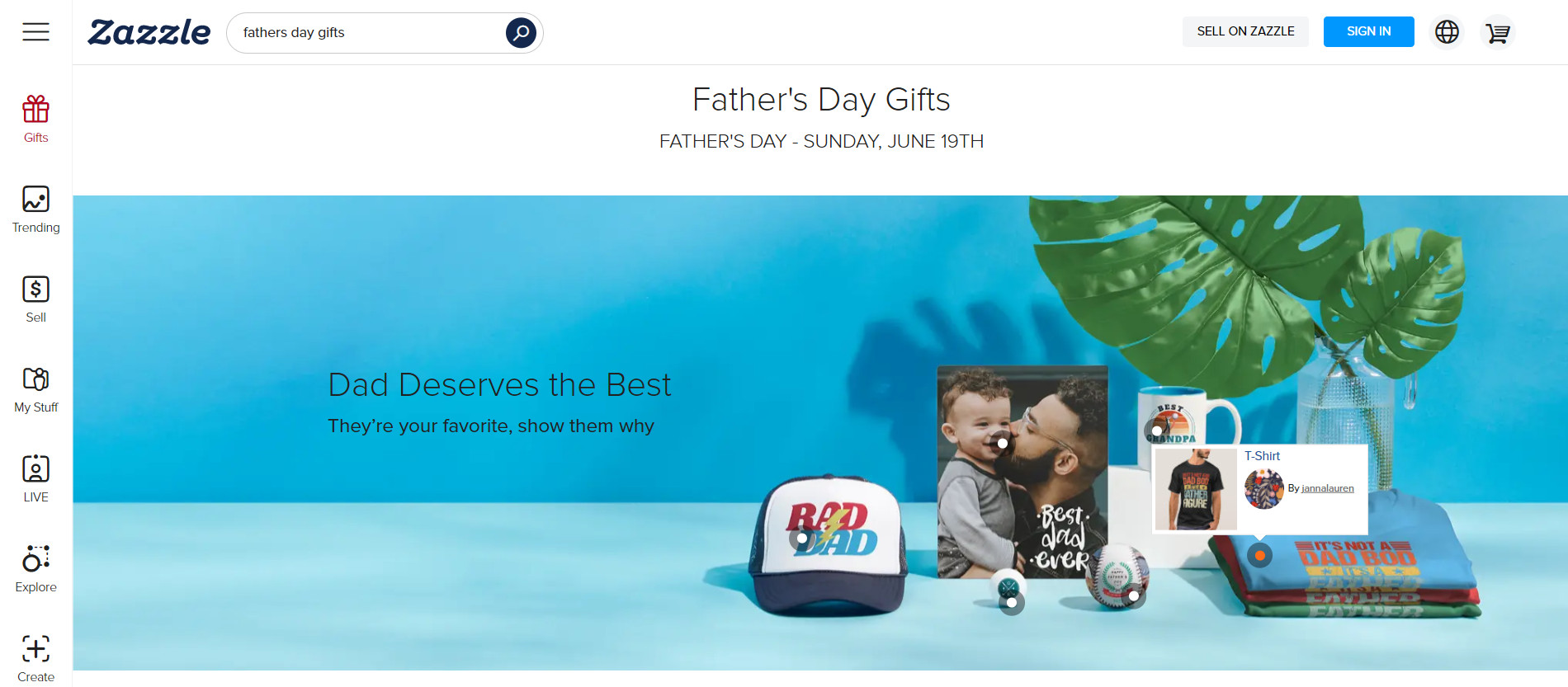 Just navigate through their site a bit, and maybe you'll learn something from their dad-centric collection that takes a prominent space on your Homepage; their special dad kits, time-sensitive discounts on collection page and product page, etc.
#2. Writing Relevant Blog Posts
According to Omnichannel Holiday Study, 53% of 2 billion online shoppers do research so they can make the best choice.
Certainly, the figure must be higher when Peoples TV buy their well-respected daddies presents. So, do your SEO research, and brainstorm all the holiday keywords.
In this case, think of the general keywords like:
Gifts for dads 

Gift ideas for Father's Day
Then think of more specific, niche keywords like:
Funny/witty gifts for Father's Day

Best father's day gifts for the rich dads/ the dads who have everything

Best Father's day gifts for cool dads

Tips to buy a perfect gift on Father's Day
Which keywords have the most search volume? Can you promote your products in a natural way with these keywords? 
#3. Build A Stunning Landing Page 
Though you can refurbish your Homepage, this can be a bit time-consuming since you will have to reverse everything back to its pre-holiday status. Plus, if you use a template, high chances are that you won't have much room to get creative. 
Therefore, building a whole landing page dedicated to your Father's Day campaign could be one of the best Father's Day promotion ideas. 
With a separate landing page, you can run the promotion for specific products and feature them all on a page, reducing the chance of your customers jumping around and getting lost.
But creating a highly-functional landing page is not an easy task, especially for those who don't have much hands-on experience with web coding. 
If you're using Shopify to host your e-site, give OneUpSell a shot. This app allows you to bulk discount all products at once and feature them all on a well-responsive landing page. 
The awesome thing about OneUpSell is that you don't need any coding skills or technical expertise to create a sale landing page with the app.
#4. Send Out Father-centric Emails 
Email marketing is one of the best Father's Day promotion ideas since you can personalize your messages and bring them to the well-segmented list, informing the right leads of the campaigns they're likely to be interested in.
So a perfectly-crafted email sequence with father-centric messages should be a strategic key to boosting your sales on Father's Day.
Just think about it, by sending an email reminder, you can remind your prospects about the upcoming Father's Day. With a 'gift guide' email, you're giving your prospects shopping ideas they haven't thought of yet and finally convert them with time-sensitive discount codes. 
We love this reminder email from Williams Sonoma, which boldly reminds their subscribers of the 'due' day, adds a sense of urgency, and includes a no-brainer gift guide right below the CTA button.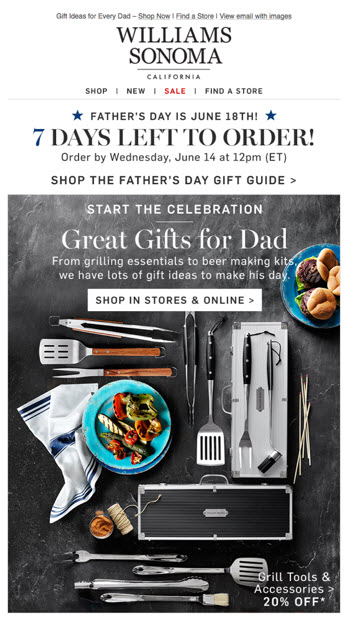 Or the pastel vibe email from Etsy with an absolutely inspiring message 'from your heart to their hands' and a neatly-curated gift guide.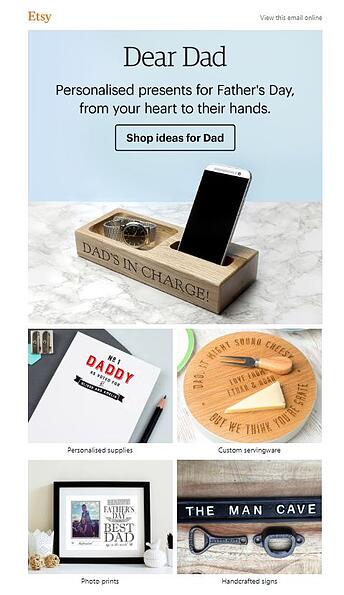 #5. Host A Social Media Contest
If you want to hack more sales on Father's Day, an effective contest on social media can be one of the best Father's Day promotion ideas you can ever think of.
Everybody loves the idea of getting free gifts. So if you want to boost your social engagement, Father's Day can be a great occasion to host a giveaway contest.
You can require participants to follow your account, comment, share their experience or simply ask them to retweet just like Berger Paints did with their Father's Day photo contest campaign.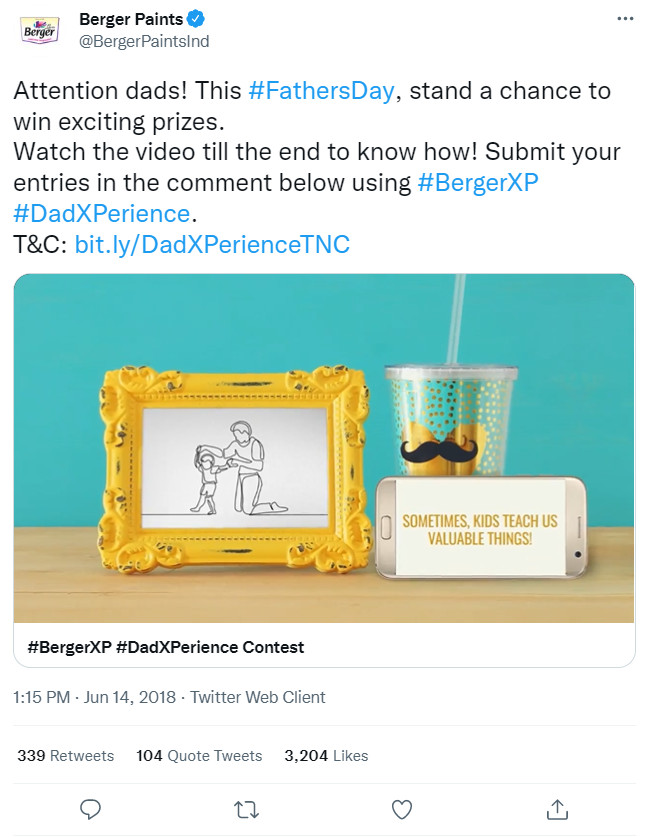 #6. Offer Free Gift Wrapping 
Father's Day only happens once a year so be generous with your customers! Besides a giveaway contest on social media, offering your customers free gift wrapping could be one of the brilliant Father's Day promotion ideas to rock your sales on this very occasion.
This promotion trick requires a bit more work in your order fulfillment process but the result it brings can be far beyond your recognition. When customers browse multiple websites to find a perfect gift for their dads, the sites that offer free gift-wrapping will certainly stand out.
#7. Run Local Inventory Ads 
Setting and running Local inventory ads on Google could be a brilliant way to promote your product and your brick-and-mortar store this Father's Day. 
Since Google Local inventory ads help bring your products to nearby shoppers who want to make an immediate purchase, setting your product feed for Local inventory ads can be a clever Father's Day last-minute sale tactic.
💡 Click here for more information on Local inventory ads & the countries where it is supported.
Ready To Hit New Sales Records This Holiday? 
Father's Day 2022 is rolling in, we hope this article could help you better prepare yourself to grow more sales this holiday season. Have any other Father's Day promotion ideas to share? Leave us a comment!