Starting from email marketing to shipments to secure checkout, there are A LOT OF things to perform when you're straightly the owner of any eCommerce store. Chances are you won't be able to run your own business effectively and profitably if you aren't familiar with the best Shopify apps to increase sales.
To think about your needs, I've come up today with the top 18 must-have Shopify apps for eCommerce. I've listed out their jaw-dropping features along with the price ranges they offer.
The best Shopify apps for eCommerce list gives special priority to the Google Channel as it reaches customers way quickly, and at the same time, discovers multiple products lists on Google properties.
Why Do You Need Shopify Apps?
Whether it is selling products online, store pages, drop-shipping, merchandising, or anything else; Shopify apps always come in handy! One single app allows users to add plenty of different functionalities and features, assisting them in improving customers' experiences.
So if you're someone who needs to cross-sell or upsell different products and stuff, tons of Shopify app stores can be found from multiple sources, and I'd love to call them useful apps for Shopify.
Best Shopify Apps to Increase Sales in 2022
Looking for the best Shopify apps to increase sales? Let's cut to the chase! In this article, you'll get to know some of the top Shopify apps for eCommerce, including their features and pricing rates. So let's see which one makes a great match with you and your business.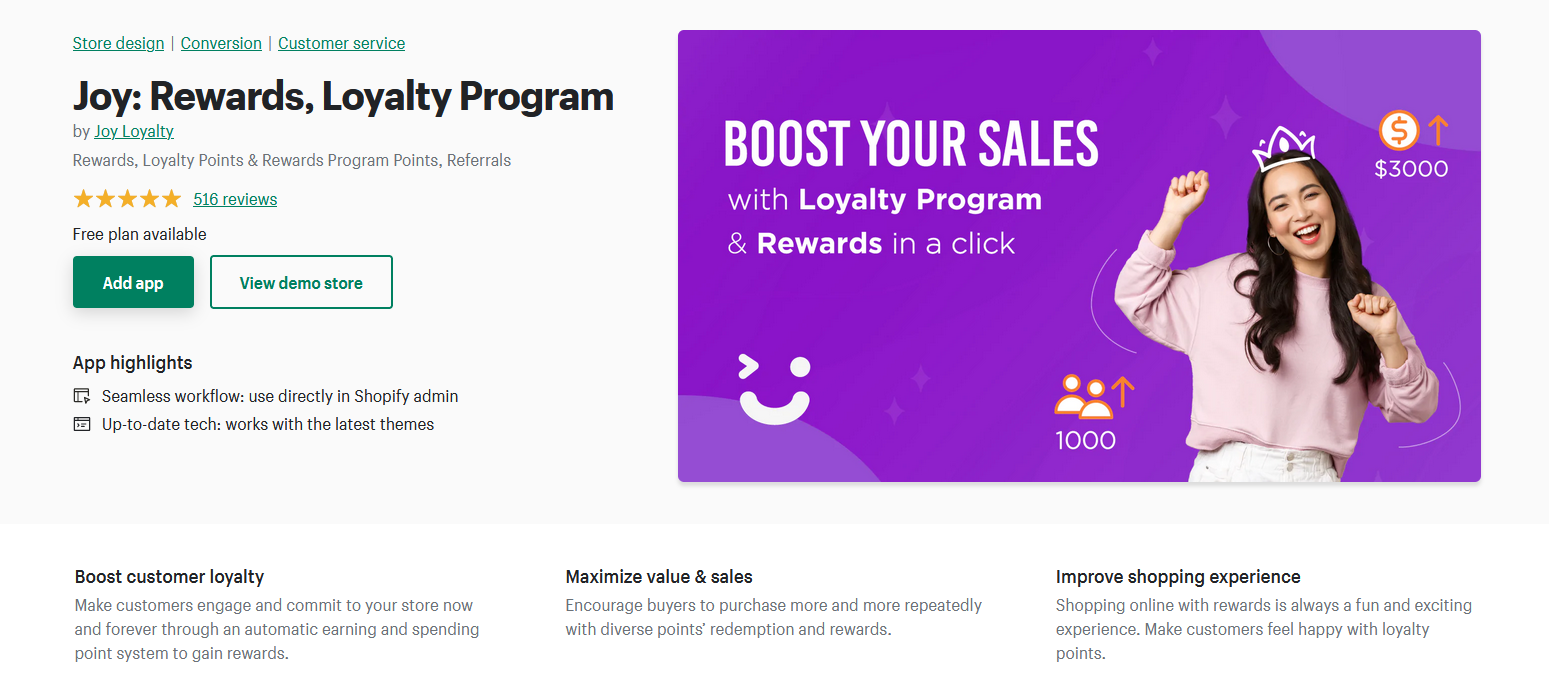 If customers interact less with your store and only come back when needed, the Joy: Loyalty Program will help you retain them and increase revenues with an impressive reward system. Admins can create rewards to attract purchasers via diverse earning and spending rules. These activities, such as getting points from daily signing up or completing an order, will undoubtedly improve customer experience and build loyalty. Furthermore, this app offers point redemption and expiration functionality that motivates buyers to make more purchases.
Trusted by thousands of Shopify merchants, the Joy: Loyalty Program brings a user-friendly program, customizable design, all-in-one customer management, etc. Let's experience the powerful Loyalty and Rewards app to strengthen customer relationships and grow your sales today.
Highlighted features
Automatic reward point system (earning and spending rules)
Earn points from leaving feedback and sharing social networks
Customizable design for brand identity
Track and edit customers' activities and reward points
Support POS Integration
Pricing
Free plan available. With only $29/month, you can experience unlimited orders and more benefits.

UpPromote Affiliate & Referral is the top-recommended affiliate/referral marketing app on Shopify store. It is an all-in-one marketing tool to support you build, track, and manage your affiliate/referral marketing campaign. You can build a professional affiliate campaign and approach potential affiliates easily with UpPromote.
Highlighted features:
Customer referral feature allows your customers to refer your products to their friends and family and earn a small commission. This helps to boost your sales while building a network of loyal customers.
UpPromote Marketplace: Get explored by potential partners/influencers by listing your offer on the UpPromote marketplace.
Auto-generated referral affiliate links and coupon codes: Affiliates will automatically receive a unique link and coupon code after registering, which they can use to promote the merchant's shop.
Reliable real-time tracking process: Up-to-second tracking system is constantly improved to ensure accurate and instant update.
Pricing: UpPromote offers a free plan as well as a 14-day trial for any paid plan priced between $29.99 and $199.99 per month. These plans are suitable to support stores of any size.
More information about UpPromote can be found here.
Adroll earns a pretty good name in boosting ads on Facebook, Google, Instagram, and 500+ other networks.
Highlighted features:
Allows both remarketing and advertising campaigns

Boasts add on multiple social media to generate sales and traffic
Pricing:
Both free and paid trials are available for users' convenience. Depending on your requirements, you're allowed to go for a paid trial that costs you $25 each month for excellent advertising and marketing features.
With the wonderful feature of editing bulk images, Hextom gives you the chance to customize every design and image quite precisely and quickly! 
Highlighted features:
Hextom earns awesome customer ratings by offering lots of striking features. 
Along with the customization, it aids in optimizing images in order to suit almost every channel related to social.

You'll become successfully able to change the overall size of a bulk amount of photos, and that too without destroying the image quality! Really, the name speaks for itself.
Pricing:
From free trials to the advanced, 4 different plans are available for you. Talking about the free trials, you can edit 50 images each month, while the advanced plan costs you $49.99 per month to let you edit 10,000 images. 
Free plan for editing 50 images each month.

Basic plan costs $9.99 per month for editing 1000 images.

Professional plan requires $19.99 for 3000 edits.

Advanced plan takes $49.99 for 10,000 edits (monthly).
Uploading and organizing images will be a snap with the Cozy Image Gallery which has served more than 13 million images since 2019!
Highlighted features:
Provides caption, link, and lightbox facilities

20+ hover effects can be found right here

Easy to both organize and upload several images
Pricing:
The free plan gives you a 21 days trial to enjoy this wonderful app. But to get more fun, spend an unlimited pack that costs you $5.99 to offer unlimited benefits!
Socialwidget offers shoppable feed solutions to grow more sales online. You can drive social proof and add stunning feeds from both Instagram and TikTok as shoppable widgets onto your Shopify store. More importantly, Socialwidget lets you easily create, customize, translate, and embed Instagram feeds and TikTok video feeds anywhere on your pages without any coding.
What makes it a good fit?
Socialwidget brings stunning templates for merchants to display high-converting shoppable Instagram & TikTok widgets on their Shopify stores. Everything is customized and managed in one place to fit your store's themes and responsive to both desktop & mobile screens with no technical bugs or glitches.
Highlighted Features:
Group Instagram photos/videos/carousels or TikTok videos into widgets and embed them on the website, even on product detail pages.
Add product tags to your Instagram & TikTok media to make them shoppable.
Embed Instagram Stories widget onto your website as 'highlight'.
Instagram & TikTok made-to-use creative widget templates.
Sort media sources from other Instagram accounts and hashtags.
Automatically translate your widget's language with one click.
User-friendly dashboard, suitable for merchants of any technical background.
Pricing:
Free Plan Available | Paid Plan Starts at $9.90 to $49.90 per month
These days, Growave plays a significant role in empowering Shopify stores with wishlists, product reviews, referrals, loyalty programs, and so on, making it one of the best Shopify apps to increase sales.
Highlighted features:
With its innovative functions, you're allowed to run both of your medium and small-sized Shopify stores. Feel free to manage reviews, wish lists, loyalty and rewards. 

The unique part? You won't have to pay for any separate apps at all in order to manage those stuff, yes.
Pricing:
You'll be able to achieve the starter plan at a rate of only

$19

where you're allowed to provide a support of

100 orders

. This is basically suitable for those who are running a comparatively small business. And interestingly, you'll find almost every prime useful feature at this range of price! 

On the other side, if you're interested in growing a bigger plan or supporting no less than 1,000 orders, make sure to choose the "growth plan" that costs you around $99.
When we talk about any marketing platform related to social proofing, the name of Stamped.io appears around the top category.
Highlighted features:
Stamped.io aids in boosting up your traffic and sales through informative, top-notch reviews and sharing all of them to different social media like Facebook, Instagram, and so forth.
What's more? It also promotes customers making content and reviews, for which anyone can have a clear and detailed knowledge on which product or item they're going to get.
It publishes social proof to multiple platforms related to social media

Plays a key role in collecting reviews from Klaviyo, AliExpress, and more
Pricing:
To get average feedback from this app, it's okay to go with its free trial of 7 days. But if you want to work like a pro, it's necessary to get the plan of $23 per month.
The Shopify Multi Carrier Shipping Label app allows you to display exact shipping prices at checkout, print labels with a single click, and track orders directly from the Shopify dashboard, saving you time and cost.
This app, as the name implies, supports all major carriers such as UPS, USPS, FedEx, DHL, Stamps, Aramex, Blue Dart, Australia Post, Canada Post, and others. You may also select from a list of main shipping carriers' domestic and international shipping services. This way, you won't need to use numerous shipping solutions to send to different locations.
Some of the additional features are listed below:
Multiple Parcel Packing Methods
Shipping Cost Adjustment for Shopify Shipments
Automatically Choose The Cheapest Shipping Services
Estimated Delivery Date on Checkout
Carrier Pickup Requests & Manifests
Pricing:
Even before you buy any subscription plan this app gives 14 days free trial and familiarizes you with the settings and features. Then based on your requirement you can choose from their $9/mo, $29/mo, $49/mo, and $99/mo subscription plans.
With the help of this Shopify eCommerce store app, you get the ability to ask your customers for reviews and provide discounts in order to incorporate videos and photos.
Highlighted features:
In general, Loox is well-known for gathering social proof as well as aiming to create brand awareness. By promoting customers in a proper way, anyone will be capable of generating reviews of videos and extra images.
In short, there are 2 key features:
Collects social proves

It lets you generate reviews of videos and pictures

 
Pricing:
Like the other best apps for Shopify store, Loox also gives you a free trial of 14 days to enjoy this wonderful app. But to get more striking specs, spending around $9.99 per month will be needed.
Judge.me is liable to aggregate and gather your products' reviews, for which your customers can give them a look before any purchase.
Highlighted features:
I don't think it is necessary to give you any detailed knowledge on why product reviews are crucial! Most of us rely on the reviews of products to get clean knowledge about that; this is what Judge.me offers.
Collect reviews from autopilot
Display reviews on your site in different ways

Free photo and video reviews

Question and Answers (Q&A) and custom forms, questions
Pricing:
Thankfully, its free plan delivers you access to some of the exciting features you're looking for. 

However, the $15 paid plan has to offer you a few more unique features like automatic reminders, full customization, reward coupons, and more.
As the name suggests, ReConvert gives the chance of making both cross-sells and upsells, allowing you to earn commissions in the best way possible!
Key features:
Unlike the typical Shopify apps, this one right here enables users to convert a "so-called thank-you page" to cross-selling or upselling machines! 

Besides that, you're allowed to optimize different confirmation pages of orders, thanks to its effective tools.
Pricing:
49 orders for starter plan

$7.99 for 50 to 99 order

$14.99 for up to 199 orders

$29.99 for no less than 499 orders
Hands down, Vitals is a versatile app designed to meet your different requirements. And note that this app has got the trust of 20000+ stores, boosting sales as much as needed.
Highlighted features:
Whether it is reviewing, cross-selling, upselling, optimizing conversation, or even live chatting, Vitals can do it all! That's why many people are shifting to this multi-functional app these days to get the optimal result. 
Pricing:
Enables users to use the app full-free for 30 days at a stretch

Requires $29.99 to achieve the paid plan
What if you get unlimited subscribers without even spending a single cent? This is what the PushOwl Shopify app offers to its customers. It also gives you chat support to solve any issues related to selling or exchanging.
Highlighted features:
With the assistance of the "push notification scheduling," users will be capable of driving re-engagement. Welcome notifications, conversation tracking, and even subscriber details can be found activating the paid plan.
Pricing:
As you already know, PushOwl lets its users get so many features without any charge.

But if you have the ability to spend $19 each month, you'll enjoy A LOT MORE striking features and options!
When it comes to choosing the best Shopify apps to increase sales, the list will stay totally incomplete if I didn't incorporate Privy right here! As you know, two common things that are generally available to make money include enhancing sales with popups and collecting top-quality leads. And guess what? Privy is what is going to give these two supports at once!
Highlighted features
Privy allows its users to collect several leads, and at the same time, manage marketing campaigns of emails, texts, and such things. 

Moreover, it assists in getting those quality leads required, which eventually convert.
Pricing
Interestingly, two exciting features such as flyouts and popups won't cost any charge! This is applicable if you're using the free plan of "100 mailable contacts. So this might also be one of the

best free Shopify apps to increase sales

. 

But when the rate of mailable contacts rises from 101 to 250, you'll have to pay around $15 each month. There is also a giant plan available that enables 500 textable and 3000 email contacts. 
What if you switch your hand-picked buyers to your daily customers? This is what Seguno helps you to do by delivering welcome emails to them. Furthermore, it also produces some "thank-you emails," allowing your new customers to remember the brand you have.
Highlighted features:
With the help of the automated system, Seguno allows you to send either thank-you or welcome emails. 

Alongside it, this will produce a number of discount codes, for which you can attract your customers by giving them a discount on numerous items.

 
Pricing:
Free service for 250 subscribers and less

Cost you $10 extra for 251 – 1000 subscribers
If you ask me to show you a single platform that manages both SMS and email marketing so nicely, I'd love to show you the Omnisend instead of typical choices.
Highlighted features:
Omnisend powers eCommerce merchants of more than 70,000.

Besides, it lets you send some fantastic newsletters and such things. And thankfully, its flow of automatic email and SMS marketing is icing on the cake!
Pricing
Although free plans are available for Omnisend, you better spend $16 each month to have the flexibility of using this excellent app for top-class selling and marketing.
Nowadays, a lot of Shopify stores have been using this wonderful app to continue with SMS marketing more effectively!
Highlighted features:
Many customers find it so annoying to get heaps of texts from a single location. Considering this fact, Postscript additionally offers a unique feature named "safe send.". 

Besides that, this single app is useful for any campaigns related to SMS marketing (automatic)

 
Pricing:
I've found the free trial of Postscript pretty lengthy due to its 30 days duration.
But if you're running a small-to-medium business professionally, spending $25 per month won't be a bad idea I guess.
Thus, you can both publish and manage content on apps and other popular sites to highlight what you want to, including code blocks, images, products, buttons, sign-up forms, and more.
Highlighted features: 
In terms of creating beautiful pages or offering a visual editor, Builder.io can do it all. Even a few users have mentioned they were successfully able to build their template libraries, including animations and 3D videos.

Alongside it, if your goal is only to preview your handmade content, you can easily do it on multiple screen sizes.
Pricing:
Free trial lasts for up to 14 days only

Paid plan takes $20 every month
Last but not least, I'm going to wrap up the comprehensive list of the top Shopify apps for eCommerce with Gorgias, which is designed to offer an extra customer support hub.
Highlighted features:
Ensuring better customer support is a vital part of almost every online business. And the good thing about this app is, it minimizes as much response time as possible helps you manage your customers more professionally, which results in making some extra money as well.
Pricing:
Unfortunately, no free plans are available for the Gorgias. This will take around $60 each month from your pocket to give you excellent facilities. So if you're looking for the best free Shopify tool, this shouldn't be your go-to. 
Final Words!
Heaps of different apps made you confused while choosing the best Shopify apps for ecommerce. But from now, it'll seem to be easier than before as I've shown you only the top-notch apps right here.
Most of these have got excellent customer ratings and jaw-dropping specs to put a smile on your face! So feel free to make your final decision straight away by choosing one from here. And don't forget to try out the paid plans to maximize the app's power!
 Author bio:

Jacob Wyatt is the Content & Digital Marketing Head at Clipping Path Studio – one of the best 24/7 photo editing agencies. Alongside marketing, Jacob has been involved in multiple roles like photography instruction and branding for 7+ years. Jacob's expertise helps brands like Bplans.com create content that gets them the targeted audience.