Over the past ten years, Instagram has constantly updated itself with miscellaneous features. However, when it comes to boosting engagement with local communities, Instagram Geotag might have been overlooked by many brands.
Therefore, we are now walking you through everything you need to know about this old but gold feature for your sake.
What are an Instagram Geotag and the Benefits it Brings?
An Instagram geotag is simply a geographic location tagged in your Instagram post or story. Here is a sneak peek of this feature on Instagram:
Adding a geotag to your post allows that tagged post to live in the tagged location. When other Instagram users search for the same geotag or click on it in another photo, your post will possibly be found. That's why Instagram posts with a geotag receive 79% more engagement than those without any.
Not to mention that if you own a brick-and-mortar store, adding your location tag can help local followers find their way to your physical store much more easily! 
How to create an Instagram Geotag?
Since Facebook and Instagram are well-integrated, the geotags from Facebook are synced to Instagram. For that, here's how to create a geotag for your business via Facebook:
Create Post > Select the Location icon > Type in your location > Scroll down and click Add > Type in the Location's exact address > Tap Save Custom Place to finish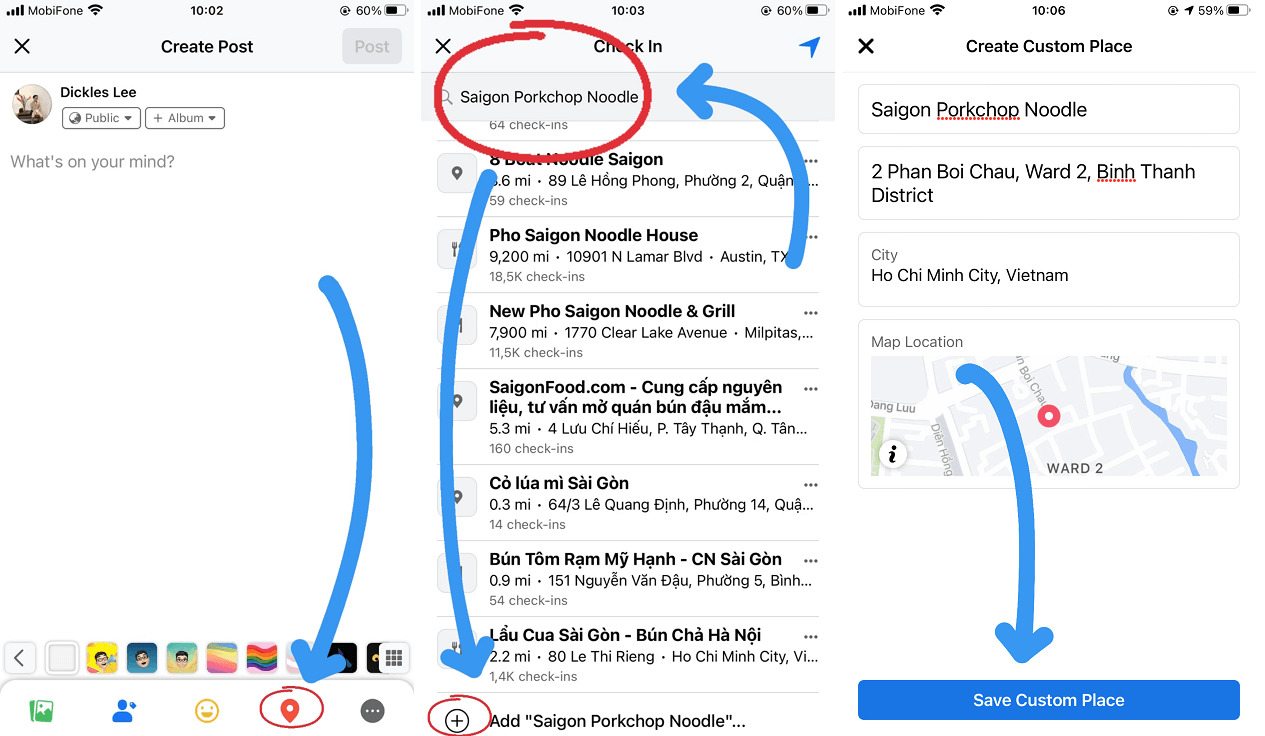 Hold on, a quick note! If you are not at your geotag location while creating it, make sure you position the location icon to the correct location on the "Map Location" in the "Create Custom Place" section.
Creating a geotag is as easy as a pie of cake! However, using that Instagram geotag in a clever manner to boost engagement with local followers is not that easy! But worry no more! We got you back with these handy tips below to utilize Instagram Geotag to your advantage!
Tips to use Instagram Geotag to engage more with local followers
Partner up with local influencers
Supposing that you've just created your Instagram business geotag, you might not find a lot of people using it on the platform. In that scenario, scout out the influencers in your vicinity and team up with them!
Here's how you can hunt local influencers in your neighborhood:
Open Instagram app > Tap Search > Choose Places > Click at Near Current Location
As we observe, Instagrammers love to check in at tourist attractions or restaurants. Thus, find these sorts of locations to look for local influencers could be a good idea.
After choosing a nearby location, select the Top section to view the posts that receive the most engagement. From here, you can scan all the posts and select which users would be a great fit for your business. Give them a direct message to show your interest in working together or make a phone call (if they leave their contact info in the bio).
Take a look at a local bar in Ho Chi Minh City teamed up with a foreign Vietnam travel blogger to boost their visibility in the local community!
View this post on Instagram
This Instagram user apparently doesn't have a massive number of followers but she has a strong impact on local people here. That's why if a user nearby has a few thousand followers but they've been receiving lots of reactions from local Instagrammers, you might want to invite them to come by and check-in at your physical store.
Use location-based hashtags
Besides Instagram geotags, location-based hashtags are also a sharp tool to increase your visibility in the local community. So why not use them both? This tactic could help you have a higher chance to stay on the radar because when a local Instagrammer searches for a geotag or a hashtag, they can still chance upon your photo.
Here's an example of a local bakery in my vicinity incorporating an Instagram geotag and various location-based hashtags in their stunning product photos such as #saigonfood #saigonfoodie #anvatsaigon
View this post on Instagram
Bear in mind that quality triumphs over quantity. When you use too generic hashtags, your posts will get lost amid thousands of other users' content quite quickly. For instance, if you have a brick-and-mortar apparel store in Ho Chi Minh city, you could use the hashtag variations such as #vietnam #vietnamfashion #vietnamfashiondaily #hochiminh #saigonvibes 
Incentivize your customers to use your Geotag
When people tag your physical location on their Instagram posts, they are doing free advertising for you. And for your info, people tend to trust content from individuals they know rather than branded content. Thus, make sure user-generated content is a part of your geotagging strategy.
Take a look at this waffle restaurant in my neighborhood. Every once in a while the restaurant will encourage patrons to check-in at their location for tempting discounts on the whole menu.
The fun fact is that this restaurant doesn't publicize its Instagram business profile. Nevertheless, the restaurant has still been running its business really well thanks to this minor tactic.
Actively engage with your followers
The great thing about Instagram geotags is that they are incredibly versatile. As we said earlier, when you pin a geotag on your Instagram post, it will put your business location on the radar, and thus, increase your chances of getting discovered. 
However, you can also actively search for the local Instagram users who have used your geotag and engage with them. Well, we don't mean you have to stalk 24/7 every single user who's used your geotag (that's indeed a bit creepy though) but it could be a good idea to comment on some users' posts to express your gratitude. 
"All great things have small beginnings". If you just launch your business, replying customers' Instagram posts could be a great way to build on local awareness between you and your community.
Conclusion
In brief, Instagram Geotags could be a life-saver for brands with brick-and-mortar stores in boosting engagement and build a closer connection with local followers.
Apart from Instagram geotags, using hashtags is another brilliant tactic to increase your reach on the platform. That's why we'll leave right here our blog on how to use Instagram Hashtags for the best results.