Are you drawing up a marketing strategy to increase brand awareness for your Instagram business? If that is the case, put Instagram hashtag campaigns on top of your to-do list! 
Unless you rub them the wrong way, Instagram hashtag campaigns can be highly beneficial in expanding your organic reach and acknowledging your presence on the platform.
In this article, we'll walk you through: What are Instagram hashtag campaigns & their benefits and How to run successful hashtag campaigns for your sake. 
What are Instagram hashtag campaigns?
The concept of an Instagram hashtag campaign is that you pick a hashtag that best reflects your marketing campaign then promote it. 
You may consider hosting a giveaway contest to incentivize followers to use your hashtag.
Or you can frequently share content featuring the hashtag to get your audience familiar and start using it (this may not work well since your followers aren't motivated enough).
However, you don't need a brand-new hashtag anytime you want to execute a hashtag campaign. 
For instance, you can save your team some extra works by hopping on trending hashtags to voice over ongoing social issues (#StopAsianHate or #BlackLivesMatter to name a few).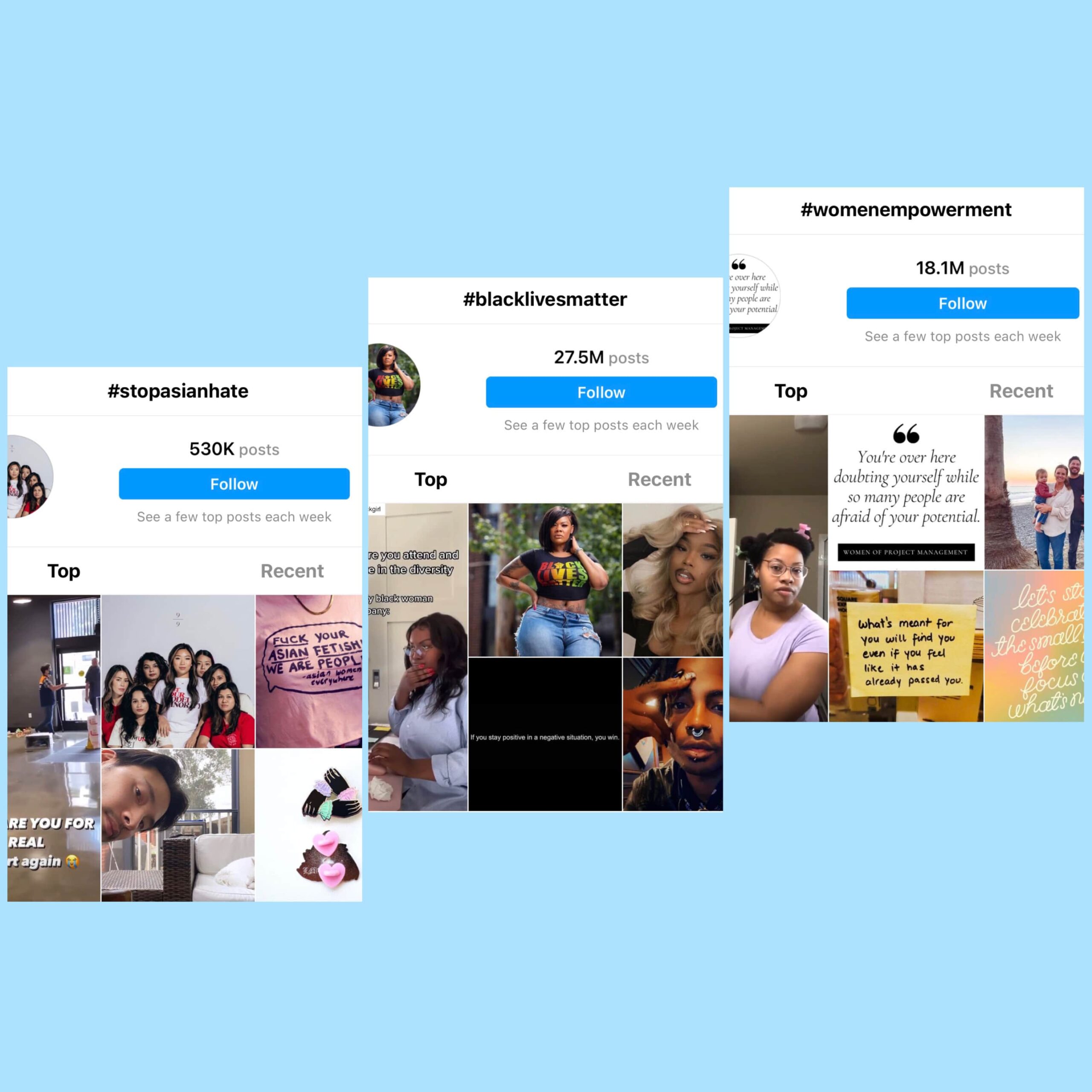 If you nail all things skillfully, a successful hashtag campaign can help you get so much more organic reach, increase conversions, build brand awareness and so much more! 
Let's dig down more about the benefits Instagram hashtag campaigns can bring, shall we?
Why do Instagram hashtag campaigns benefit your brand?
Are you thrilled at the treasures you're gonna get from your hashtag campaigns? Well, you should! (because they are huge)
Here come the perks you will certainly enjoy from successful Instagram hashtag campaigns:
Maximize brand exposure
What sounds so promising about the phrase Instagram hashtag campaigns to you? Personally, we think it's the middle word: 'hashtag'.
Hashtags are not geographically restricted. That means if your hashtag campaign goes all the rage on Instagram, you have extended brand reach and exposure. 
A real-life example would be MAC Cosmetics with its widely used #MACTrend. The cosmetics brand features this hashtag frequently on their Instagram posts.
View this post on Instagram
Anyone who uses MAC products (whether it's lips gloss or makeup spray) can feature this hashtag on their photos. Also, the word "trend" does tempt people to use it (who doesn't want to be a trendy artist?)
That probably explains why it gains massive popularity among makeup-aholics.
Leverage User-generated content 
When you convince Instagrammers into using your hashtag successfully. That means you now have access to very precious user-generated content. 
Here are two ways to make the best use of them:
Share UGC on your Instagram
Whether you're a fan of Apple or not, we cannot deny the success of the tech giant's hashtag campaign called #ShotoniPhone.
View this post on Instagram
The reward Apple offers those using the hashtag is a chance to appear on their official Instagram posts. In return, Apple leverages UGC to show how stunning pictures shot with their iPhone are.
Display UGC on your website to convert more sales
If you have an eCommerce site (do you?), the UGC from your Instagram hashtag campaigns is gold! (seriously)
Why? Because you can feature Instagram posts with your hashtag on your website to increase your social proof and convert more sales.
"Placing user-generated content on product pages can increase conversions by 64%"
Suppose you're selling electronics on Instagram, encourage your followers to share posts featuring your hashtag. (a coupon perhaps?)
Next, import posts using your hashtag. Then drag-and-drop them onto beautiful templates and finally embed the widget on your eCommerce website.
What will it look like? Cool like this:
All the things above can be done (100%) with Socialwidget: Instagram Feed. Impressed enough? Click HERE to claim what you deserve!
NOTE: You can also tag multiple products & product variants on each photo/ video that you just import from your hashtag campaign with our proud app.
Build your community around a hashtag
Instagram is filled with content from billions of users, which makes it highly challenging for brands to cut through the noise. And to build up their own "tribe" on such a crowded platform, many brands start to leverage community hashtags. 
Because your hashtag is searchable, it allows your community members to connect (liking, commenting, or following each other) when they search for the hashtag. That's why if your campaign rocks, it creates a direct line to your brand advocates.
Take a look at how Calvin Klein builds a playground for their brand advocates with the #mycalvins campaign.
View this post on Instagram
The apparel and accessories brand describes this hashtag as a hashtag to connect "Our Family". With 892,000 Instagram posts featuring the hashtag right now, Calvin Klein has embraced it as a part of its long-term marketing strategy.
Efficiently promote products and events
Apart from bringing your brand to the mass for maximum exposure, you can also exploit Instagram hashtag campaigns to promote your products, services and events. 
Take Starbucks' viral hashtag campaign, for instance. In April 2017, Starbucks launched a limited blended sugary vibrant beverage. 
View this post on Instagram
Though this drink was available for 3 weeks only, the hashtag #UnicornFrappuccino is linked to more than 150,000 posts on Instagram alone. 
Keep your followers engaged
What is the whole point of an Instagram hashtag campaign if it does not keep people engaged? (prove us wrong!) 
Yup! If you nail at executing a resonating hashtag campaign, Instagrammers will go crazy about it. They will spare their free time posting about your business while using your hashtag.
Want to learn from the hashtag campaign Drunk Elephant has just executed? The brand incentivizes customers to post about their experience with Drunk Elephant products and feature the hashtag #barewithus. 
View this post on Instagram
In return, the brand will pick users with inspirational stories to give away their products and re-post on their Instagram account.
How to run an Instagram hashtag campaign effectively?
Now that you know what benefits Instagram hashtag campaign can bring about and see some successful campaigns, it's time to learn how to run a hashtag campaign for on your own!
#Step 1: Define your goals
You will for sure mess everything up and end up nowhere if you don't define a crystal clear goal. 
Indeed, your goal will define your hashtag's name and affect everything that comes after.
Particularly, here are the two first things you have to make clear:
What do you want to achieve from the campaign?

Always opt for a S.M.A.R.T goal (specific, measurable, attainable, relevant, and time-based).

An instance goal would be +1,000 followers or perhaps a bunch of UGC to re-post on your account to increase your social credibility
How much do you want your audience to engage?

What do you want participants to do? Do you just want to categorize content so that your audience can find what they want more easily? Or do you want them to take some specific actions (e.g: share their post using the hashtag and tag 2-3 friends)
#Step 2:  Decide on your hashtag
After you've known what are you trying to target, it's easier to come up with a hashtag you're going to use (though it's not THAT easy!)
If you want to increase your audience's engagement, let them spread the word, consider a giveaway contest with a meaningful hashtag (something like #barewithus from Drunk Elephant)
If you want to get maximum brand exposure and increase brand awareness, ensure that you include your brand name in the hashtag. (something like #MACTrend from MAC)
NOTE: A hashtag can turn you from a master to a disaster (we're NOT dramatic). What can go wrong with Amazon's hit car show, right? Okay but how about the "scandalous" #amazonshitcarshow? Certainly not! 
👉Save yourself from hashtag fails like above with this article!
#Step 3: Promote your campaign
Now that you know what you want and the hashtag is also ready, it's time to let it explode! 
Though some brands just feature their hashtags on their posts frequently so that their loyal fans will imitate. Unless you're a "big fish" in your niche, we don't recommend such practice!
Usually, except for your family and supportive friends, your audience won't use your hashtag when they lack the motivation to do so.
Therefore, that means you have to loosen your budget for a giveaway contest perhaps. You can give away your own products or partner up with another brand.
Take a look at how Hyundai executed the campaign #myhyundaiveloster on Instagram and Twitter. The Japanese automaker incentivized their fans to participate by allowing them an opportunity to test drive Veloster's new model. 
NOTE: Do you know that people often search for #giveaway to "hunt" interesting prizes? That's why if you run a giveaway contest, remember to add some extra hashtags! 
Here are those "extra" hashtags you shouldn't miss: #giveaways #giveaway #giveawaycontest #giveawaytime #giveawayalert #contestgiveaway
Want to increase your campaign's discoverability? Add some more specific hashtags with the formula: your products' niche + giveaway/contest. For instance, #shoegiveaway, #cosmeticsgiveaway might be of great help! 
#Step 4: Track your campaign performance
Once your hashtag campaign has come to an end, you need to track how you perform (for the sake of the next campaigns' betterment).
Basically, here are the 5 most crucial metrics you have to scrutinize:
Posts:

How many photos/videos featuring your hashtag?

Users:

How many users interact with your hashtag?

Engagement:

Did your hashtag receive many likes, shares, comments or saves?

Reach:

How users' feeds did your hashtag emerge on?

Impressions:

Did your hashtags get a lot of views?
Instagram hashtag campaigns: smart move from smart marketers!
In conclusion, Instagram hashtag campaigns are great marketing tools you have to utilize if you want to:
Increase brand awareness and brand exposure

Leverage UGC content to build brand authenticity

Nurture a strong community 

Promote upcoming products/ events
Thus, roll up your sleeves and go for a successful hashtag campaign right now!