With over 500 million people using Instagram Stories every day, Stories are absolutely the in-thing today. And Instagram Stories AR Filters are one of the most effective ways for brands to boost their engagement on the social platform.  
In this article, we'll show What Instagram Stories AR Filters are and How you can create your own filters and benefit from them.
What are Instagram Stories Filters?
When you spend time binge-watching your friends' Instagram Stories, have you ever seen a lemon with eyes and lips? Or a selfie of a pretty girl with a baby octopus on her head? Well, those are Instagram Stories AR Filters!
In a nutshell, Augmented Reality (AR) Filters are computer-generated virtual effects that we use to layer over normal pictures or videos displayed by our smartphone cameras. 
Before AR Filters was publicly introduced, only select users can get a hands-on experience with it. Back then, you had to be invited by Facebook themselves to create your own filter.
However, after Facebook announced in May 2019 that anyone can craft their unique AR effects using Spark AR Studio, these filters have gone all the rage ever since. 
Why are Instagram Stories Filters so important for your business?
Are you a simplism who just wants to post real images of what your smartphone camera actually displays? Well, think again! Instagram Stories AR filters can be incredibly more helpful for brands than you thought.
Why? Because when you create an Instagram AR Filter, you attach your Instagram account and brand name to that filter. Dior, Adidas, and Gucci are some of the "big fish" who are now leveraging the power of these filters for their sake. 
Once your AR Filters go viral, your brand name goes viral too. In another word, when Instagrammers share their pictures or videos using your filters, they are doing free marketing for you.
You can create a filter of your product to let people try that product on their selfies (cosmetics or fashion brands, how you're doing). Another idea? Hmm, a 360° filter so that customers could try it on a flat surface (furniture brands, what's up). 
Crave more ideas? Keep reading this article! (you won't go empty-handed, we promise!)
7 brands with the coolest custom Instagram Stories AR Filters
#1. Starbucks' Sip, Smile, Spring!
The Instagram Stories AR Filter created by Starbucks is one of the most creative ones we've ever seen. Basically, this filter allows you to play around with the Mario-alike effect.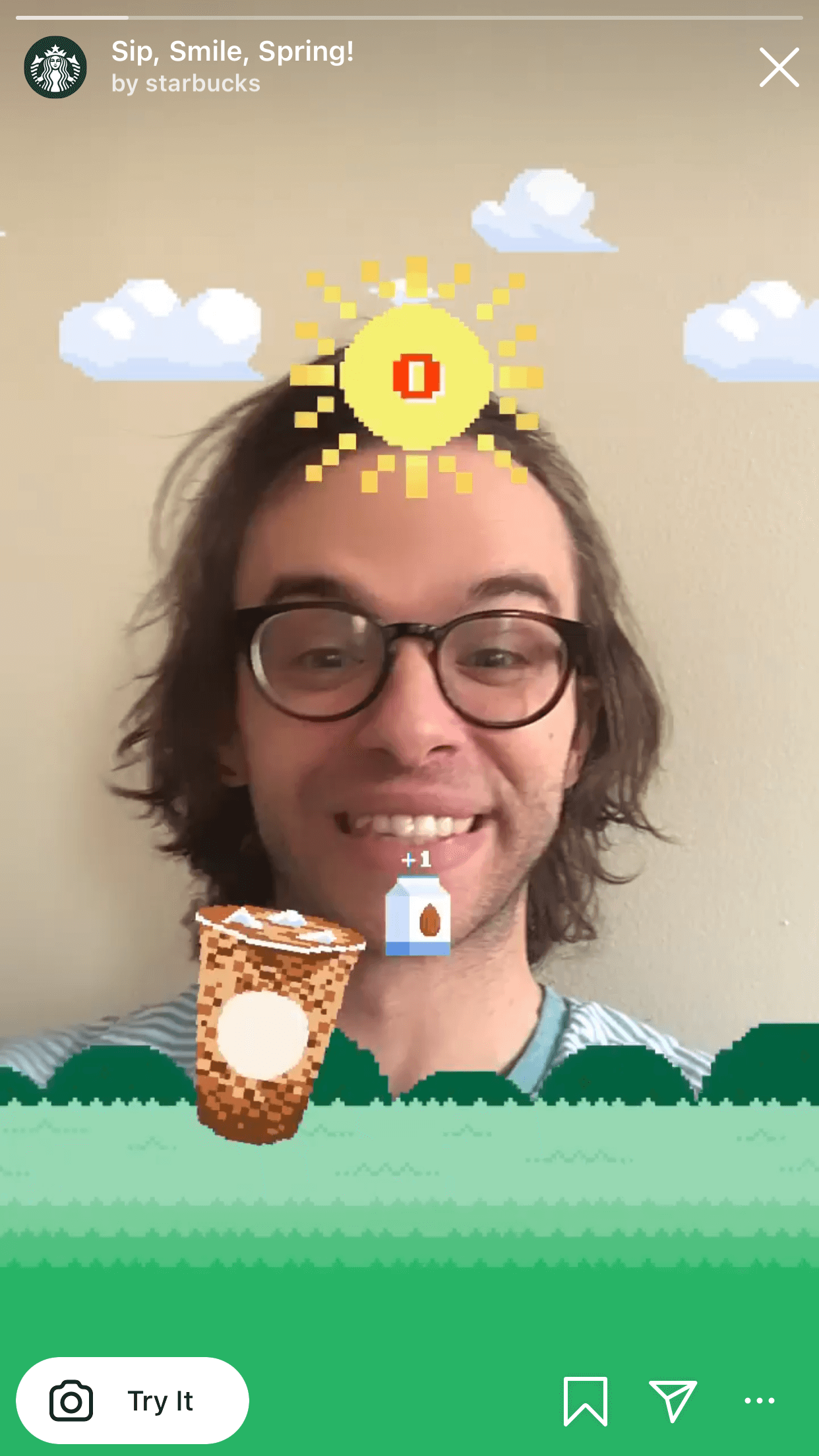 The awesome thing about this filter of Starbucks is that it's highly inspirational. Anytime you smile, the cup will jump- to avoid barriers or collect the milk. That's why Starbucks named this filter "Sip, Smile, Spring"
Clearly, through the filter, Starbucks wants to spread a message- their beverages make people smile and have positive vibes.
#2. Prada's Symbole Earrings
If you sell physical products, create an AR Filter out of your products so that your customers can try them on. Take a look at the filter crafted by Prada!
With this filter, Prada allows customers to try their earrings on without going to the retail outlet.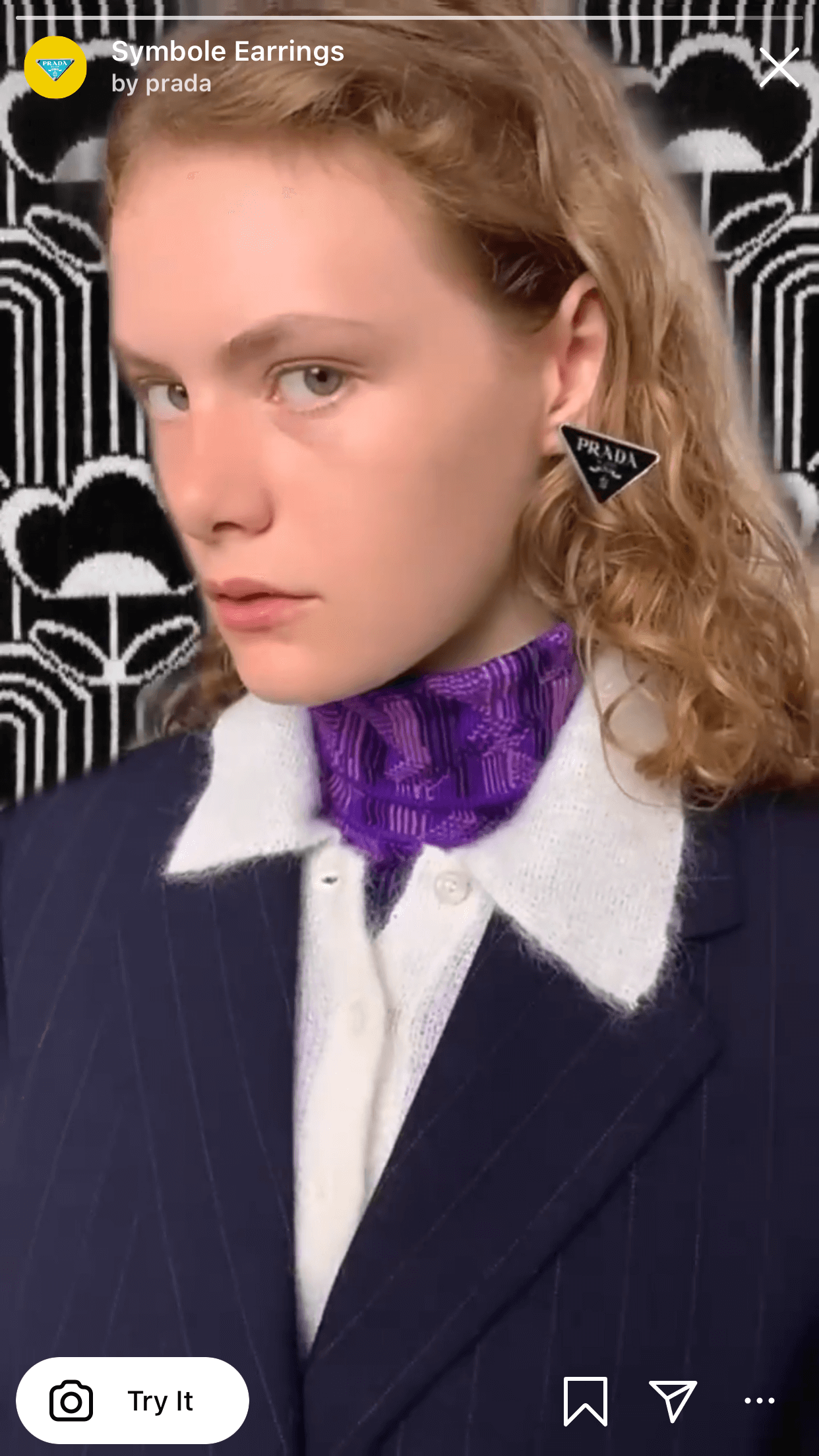 Also, the brand totally did such a great job with the background as well. The earrings match perfectly with the black-and-white wall behind them. 
#3. Sephora's Pride
Do you know that a staggering 62% of global consumers expect companies to stand up on social, cultural, and environmental issues?
That's why Sephora shows their support to the LGBTQ+ community by this colorful filter.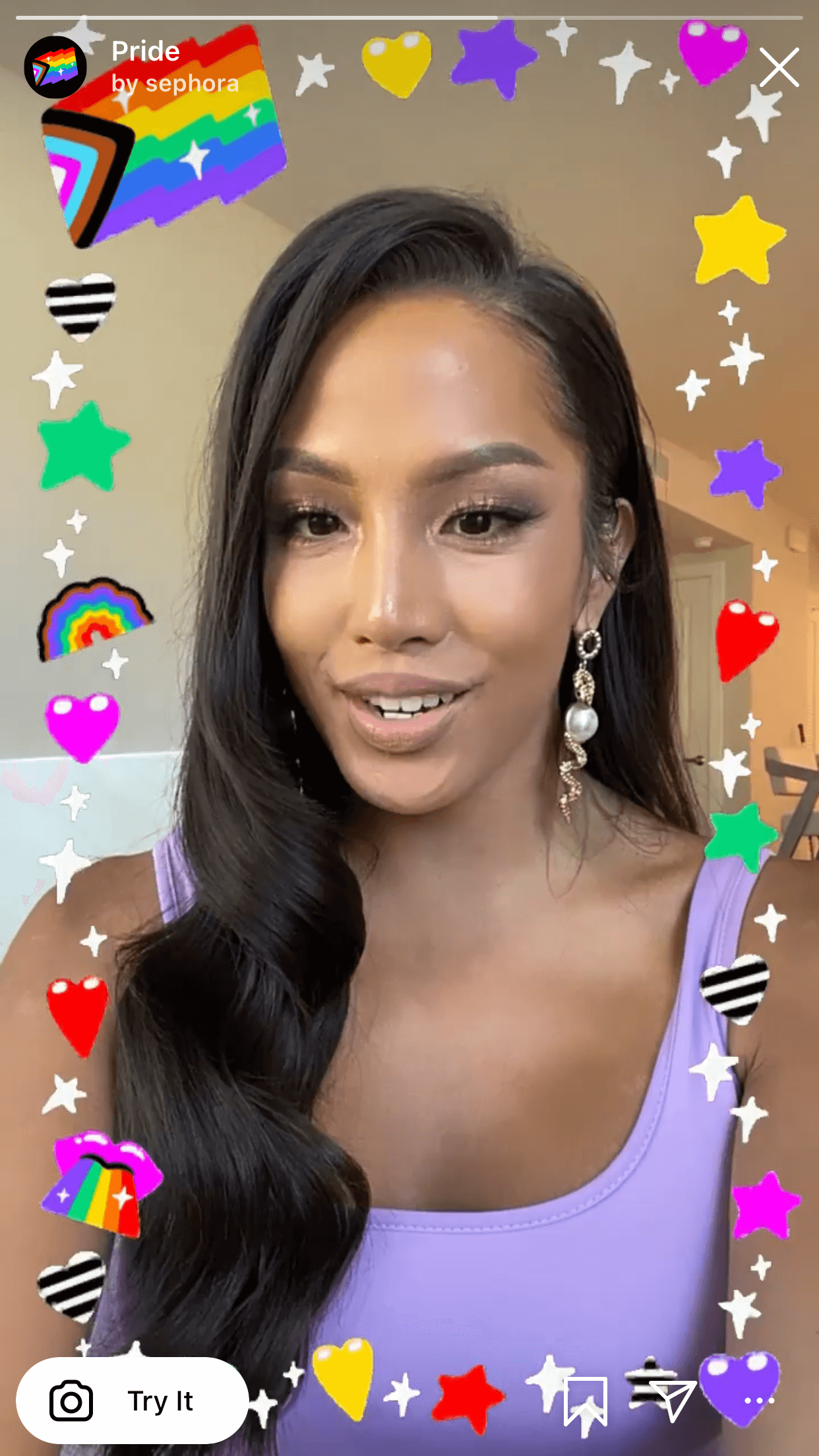 Customers are now paying much more attention to corporate social responsibility. Thus, try to voice your opinion on hot issues to communicate your authentic value. That could be achieved by a simple filter just as the way Sephora did.
#4. Dior's Coutoure in Miniature
Here comes a 360° Instagram AR Filter that opens your eyes. Dior created this filter to allow followers to witness the classic beauty of its high-fashion dress.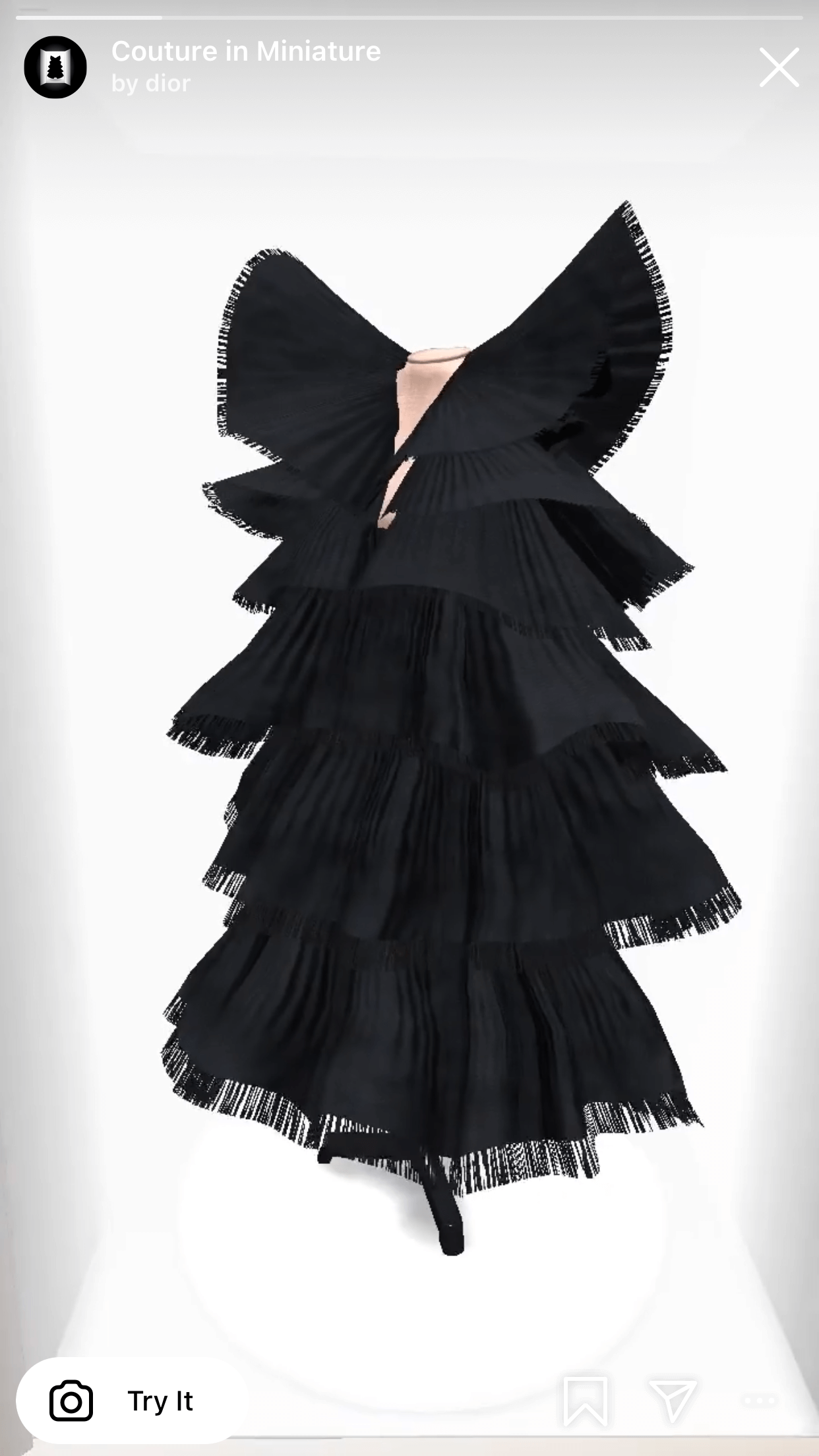 When you first open this filter, you'll see a huge box with a Christian Dior name table. Tap on your smartphone screen to unbox it and this beautiful dress will emerge, allowing you to view it from any angle you want.
#5. NARS' Air Matte
Gone are the days when make-up aholic had to go to brick-and-mortar stores to use in-store make-up testers. 
If you are in the cosmetics industry, Instagram AR filters are a potent weapon you cannot miss out on. It's high time you let customers test your products on their beds or at their working corners.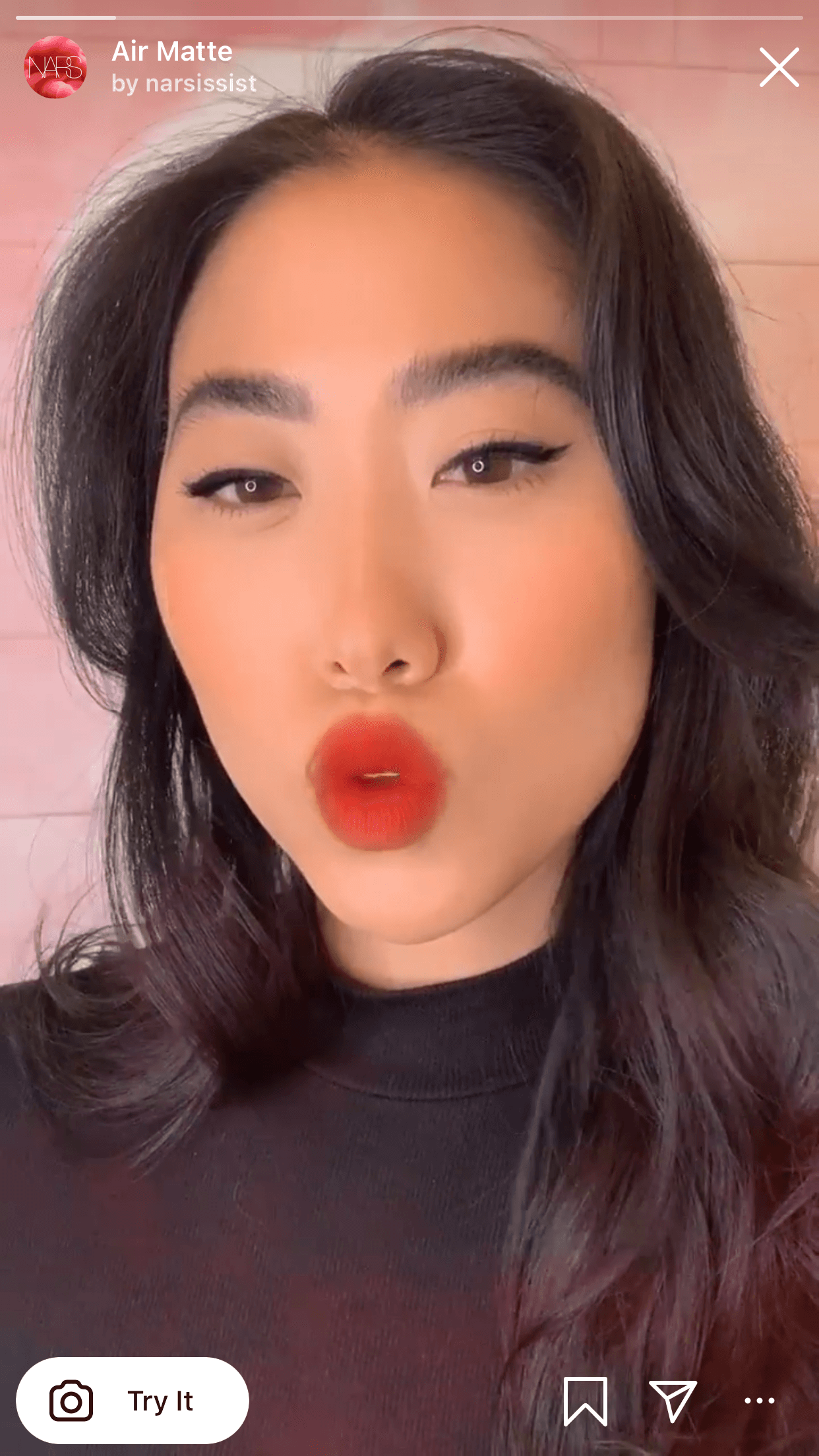 Take NARS, for instance, by creating a face filter named Air Matte, NARS lets people see how the lipstick actually looks on their lips. 
When you take a selfie or record a video using this filter, you have 3 options equivalent to 3 colors of the Air Matte line from the brand. 
#6. Kylie Cosmetics' Stormi Butterfly
Instagrammers love beautiful filters. That's why apart from product filters, you should also create unique and trending effects to encourage your followers to use them. 
Here comes a dreamy Instagram AR filter from Kylie Cosmetics.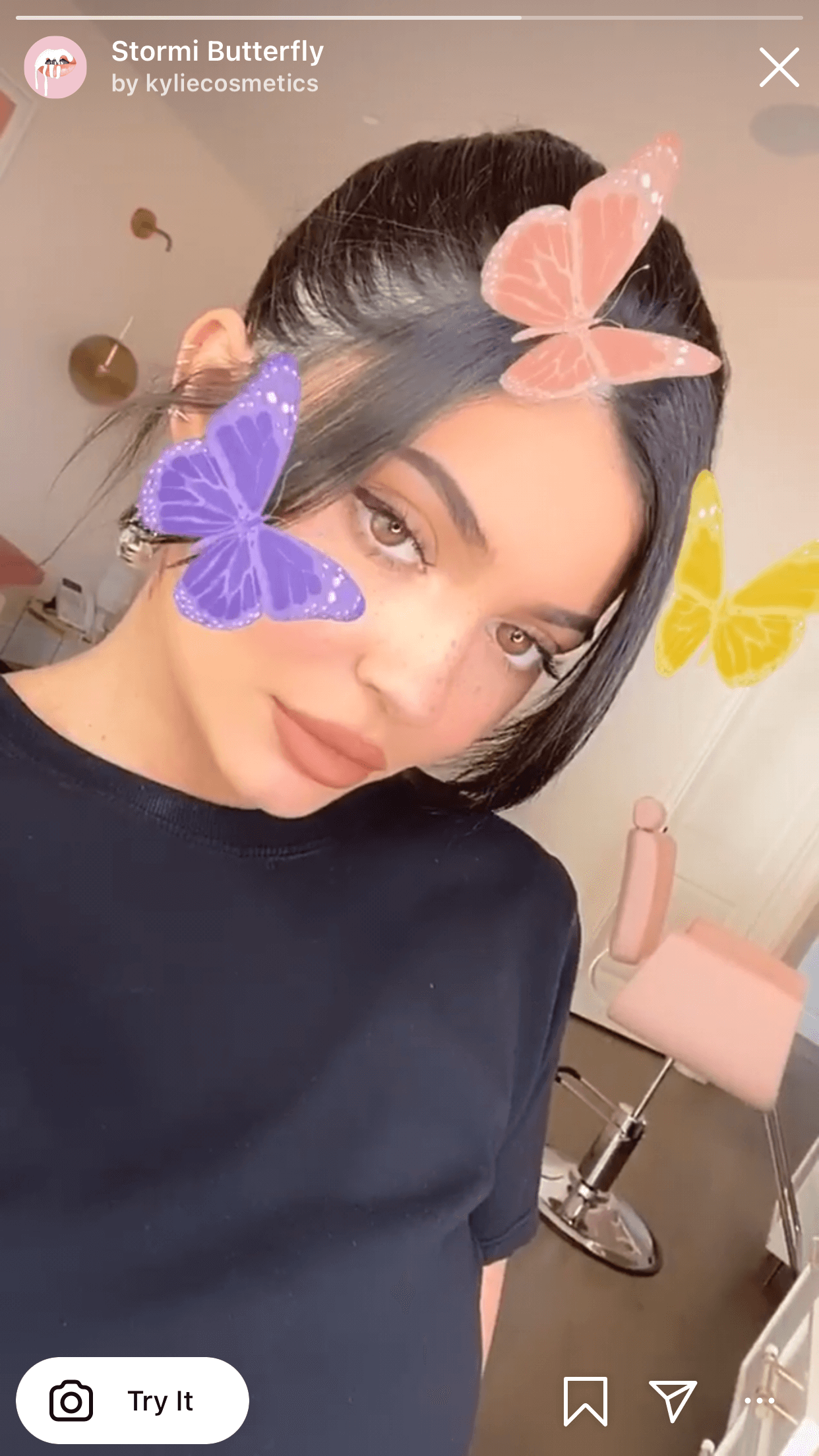 Kylie Cosmetics has many gorgeous face filters like thís besides its make-up tester face filters like NARS.
Thanks to its nice effects and delicate butterflies, Stormi Butterfly is highly shareable and thus can easily go viral. Therefore, it's a perfect way to expand brand reach.
#7. Netflix's The Queen's Gambit
With this badass Instagram AR filter, Netflix definitely proved that you can create your own custom AR effect even when you sell virtual products.
If you are a fan of The Queen's Gambit, I bet you'll absolutely love to try this filter on. 
For those who haven't watched it, here are a few words. The series revolves around an orphan with exceptional talent in gambit. One of the young lady's extraordinary skills is visualizing a chessboard on the ceiling and anticipating every move on that imaginary board.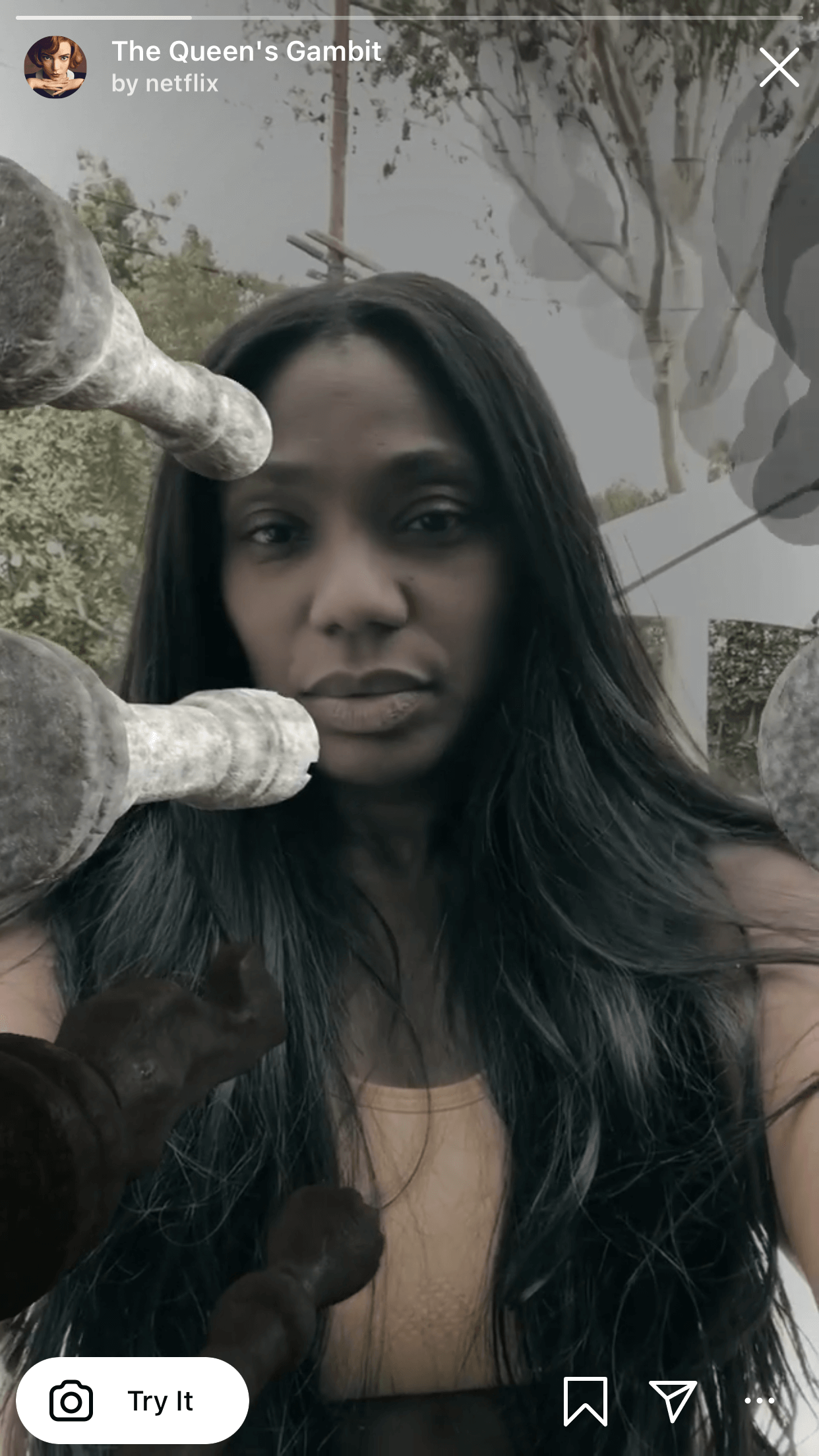 When you record your video with your front camera using this filter, the chess pieces will move around the edges of your smartphone screen, making you feel like you're playing the game on your mind like the main character in the movie. Cool, isn't it?
This filter is a smart move from Netflix. When the series' fans use the filter and share to their stories, it will definitely stir up the curiosity of those who haven't watch the movie yet. Eventually, they will go to Netflix to search for the movie.
How to access Instagram AR Filters?
Want to try on filters from your favorite brands on Instagram? Navigate to the Instagram profile of the brand that you want to try their filters on, then click on the effects icon.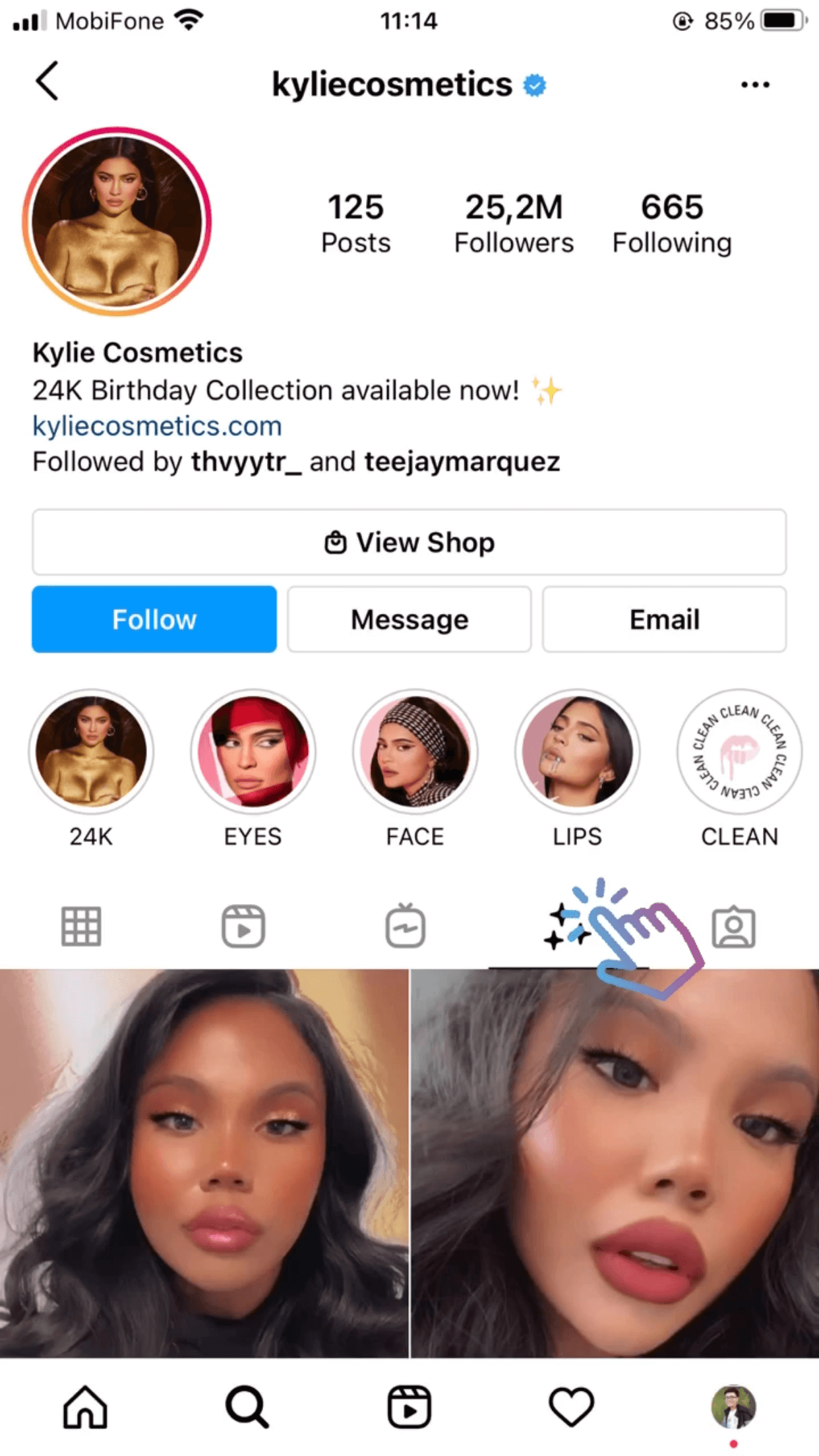 Want to browse Instagram stories filters from other creators? At the left edge of your screen, swipe right > you'll see some filters are already there. If you want to browse more, swipe right and click on "Browse Effects"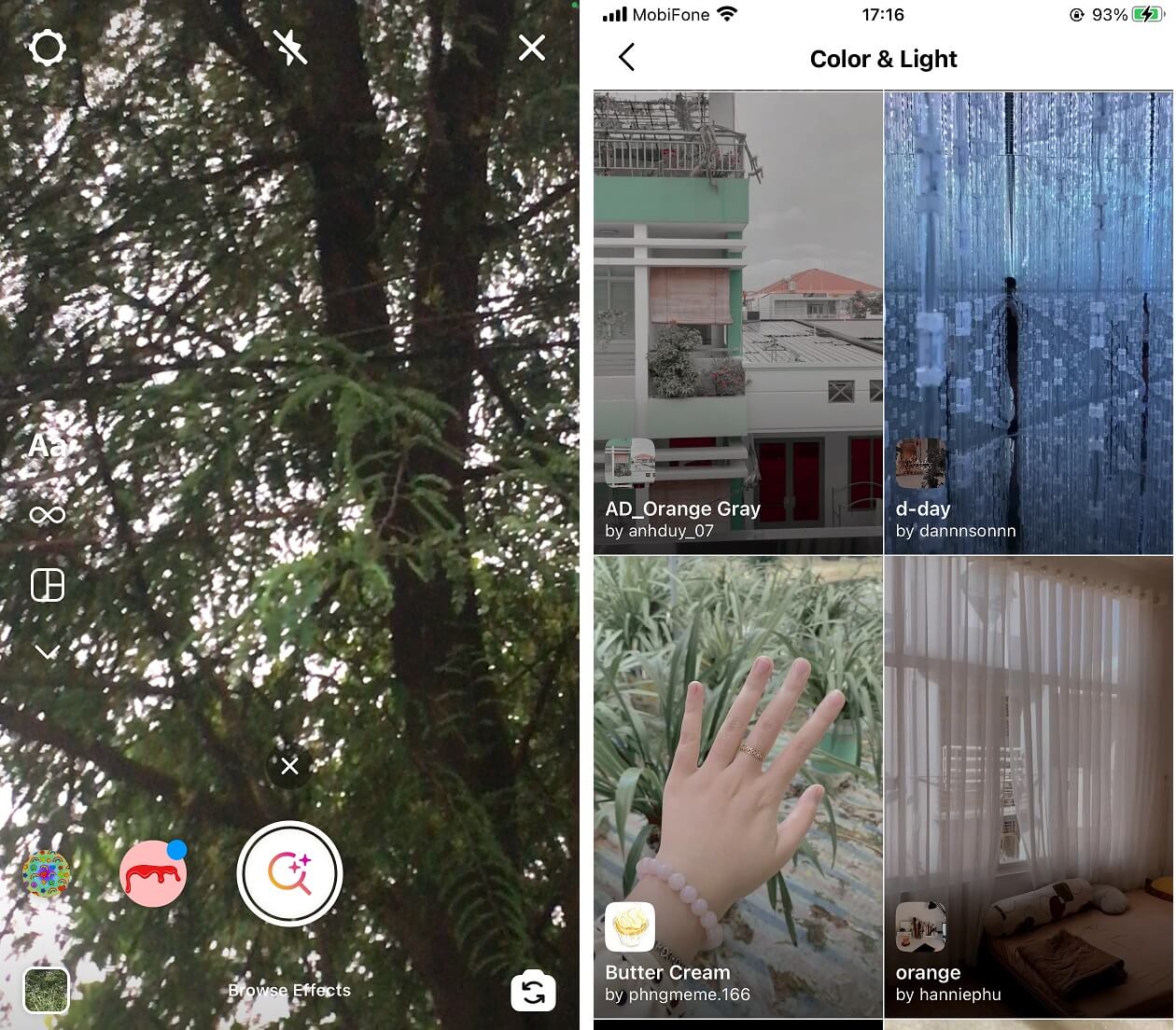 If you are binge-watching stories on your feed and come across a cool filter, here's how you can try that filter on! 
Click on the filter name (below your friend's Instagram name) and when the "Created with" section appears on the bottom of your screen, tab again on the filter.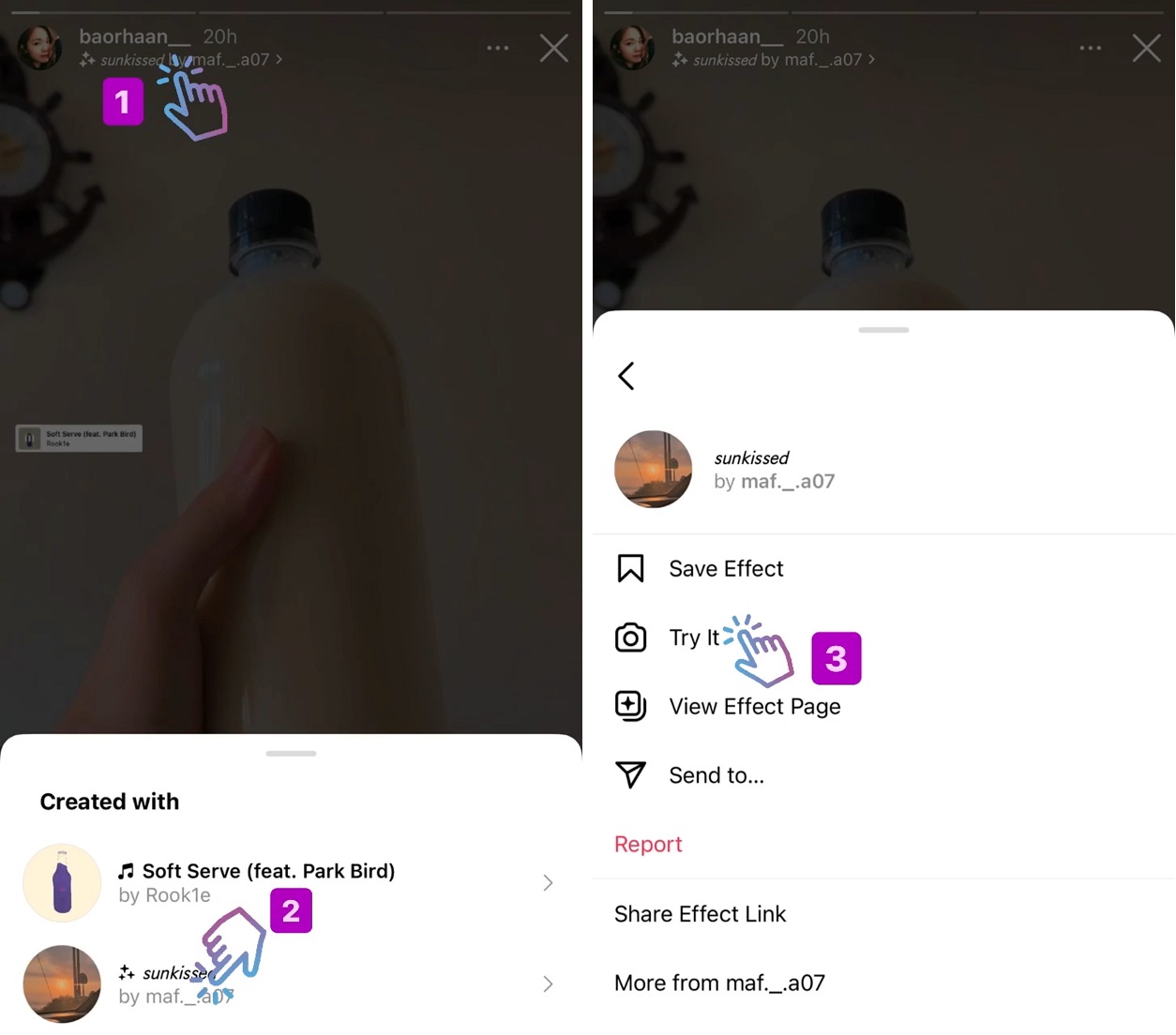 You can click "Try it" to use the filer immediately or hit "Save Effect" to use it later. 
Unfortunately, it's noteworthy that with existing photos and videos in your album, you can only add the filters that are created by Instagram. That means you cannot browse the effects from other creators. 
How to create Instagram AR Filters with Spark AR Studio?
Now that you know the concept of augmented reality filters, it's time to learn how to create custom AR filters to spice up your Instagram stories.
Step 1: Download Spark AR Studio
Firstly, you need to download the Spark AR Studio to get started, which is currently available for Windows and Mac.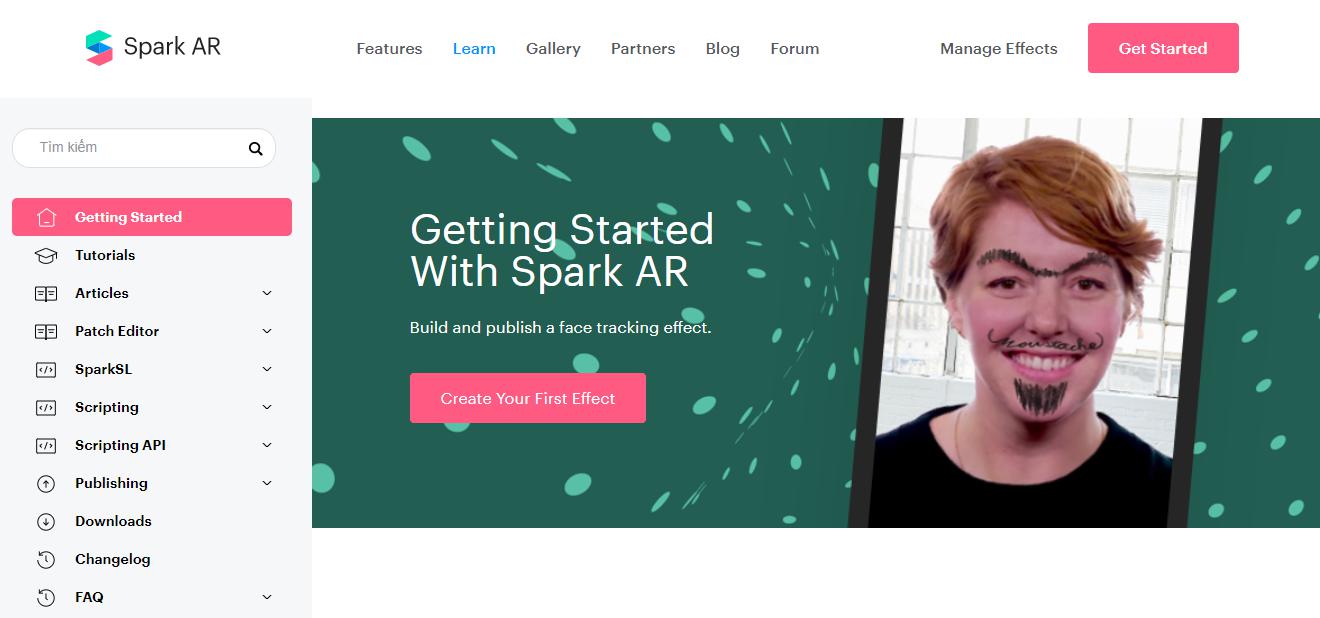 Step 2: Decide on your effects
Although Facebook guarantees that you don't even need to code to create your own AR filters.
However, whether you are tech-savvy or not, the learning curve still exists. 
Ensure that you get familiar with the Spark AR Studio interface after you download it.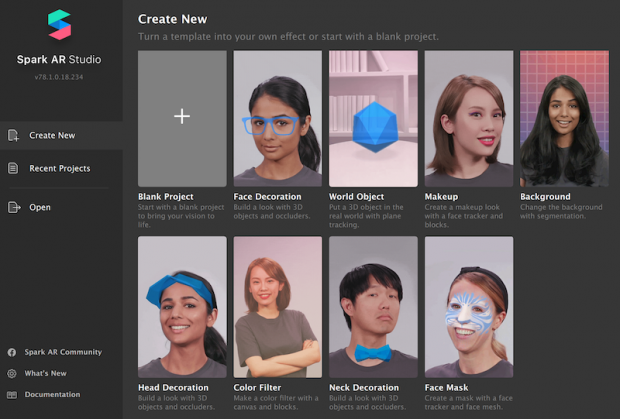 After you get a hang of things around the app, you can choose to build your own effects from scratch or pick one out of 8 existing templates available.
In this example, we'd pick the World Object, which allows us to superimpose a 3D object in a real-world setting.
Step 3: Add your object
When you open the template, you'll see the "Viewport" which locates in the central panel. This is the placeholder object is where you can craft your custom AR filters.
See the iPhone 8 screen at the upper right corner? It's the simulator that enables you to preview your work. Note that this is not fixed so you can change the simulator to another device.
Now on the left of the viewport is the Scene panel, which provides you tools to mix and match your Instagram Stories AR filters.
To add your 3D object, drag the file from your desktop and drop it into either the Scene panel, the Assets panel or the Viewport. In addition, you can also browse the Spark AR Studio Library.
Step 4: Add effects
Now that you have a 3D object in the Viewport, it's time to customize it with more effects. In particular, you can maneuver how your object reacts to users' manipulations. For instance, how it looks from different angles in a real-world setting. 
With our object in place, you can:
Make changes to the directional light so that your object looks more real

Switch on the effect for either front or back camera, or allow them both

Alter the object's animation

Add further effects such as textures and materials
Step 5: Test your effects
To view how your effect looks when someone uses it, send it to Facebook or Instagram to see how it works on each platform. 
Click at the device icon on the left panel then select "Send to App" and click "Send" on Facebook Camera and/or Instagram Camera
Step 6: Publish your Instagram Stories AR filter
When you're satisfied with your work, navigate to the upload icon (on the bottom left corner) and click on it.
However, prior to being brought to billions of Instagrammers, your filter will be reviewed by Facebook first. That's why make sure you follow Spark AR Policies while creating your custom filters. 
Final thoughts
In brief, Instagram Stories filters are super versatile. You can create your custom AR filters to communicate your core values, hop on trends to expand your audience, or bring some interactive elements to your stories to boost your Instagram engagement rate.
That's why we really hope this article can help you create Instagram AR filters that rock! 
But apart from AR filters, here are a few things you might love to do so as to step up ahead of the Instagram Stories game: