Apart from IGTV, Instagram Reels is now at the forefront among the latest features Instagram has recently brought to the table. Almost every business is leveraging this brand-new feature to reach more audiences and build their brand awareness.
That's why we want to give you a complete guideline on this feature to your advantage.
What is "Instagram Reels"?
Instagram Reels is a content format integrating seamlessly with the platform's AR effects and editing tools which enables users to create 15 to 30-second clips.

For more info, this feature is a strong move Facebook made with an attempt to compete against the Chinese video-sharing Tiktok.
Since its premiere in August 2020, despite being criticized as "TikTok copycat", this video tool has still become an indispensable part for both individual and business users.
The awesome thing about these Reels is that you can locate them everywhere, from your Stories, Explore to your Feed just like IGTV.
How to create Instagram Reels?
As of writing this article, there are 2 ways to do so.
For the first way:
Open Instagram > Click on the reel-shaped icon at the bottom > After Instagram Reels feeds appear > Click on the Camera at the upper right corner
For the second way:
Open Instagram > Click on the Plus icon next to the Messenger icon > Choose Reels from the list of options at the bottom right corner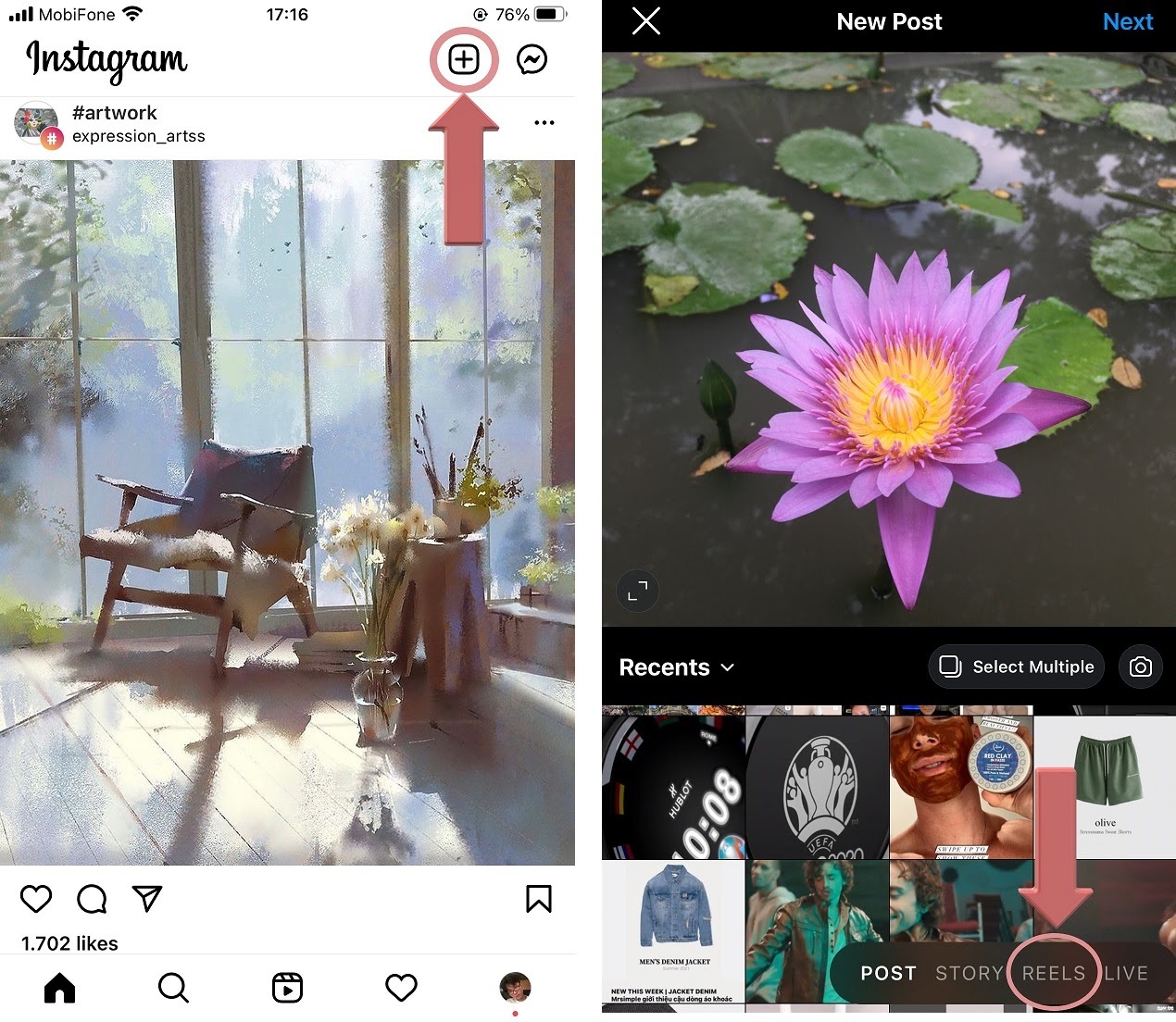 Just do exactly these simple steps above, you are now ready to play with Instagram effects, audio and speed control at hand to create your own unique clips.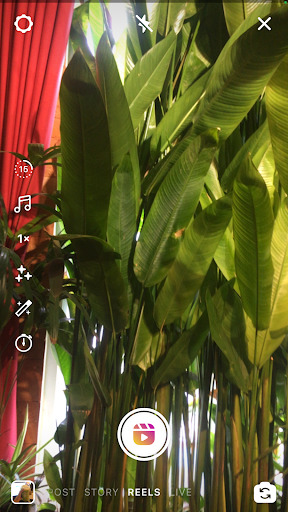 Now that you know what Instagram Reels is and how to access it. For the main course, let us show you how to manipulate this cool feature for your sake.
Tips to create Instagram Reels that work for business
Notwithstanding Instagram Reels' huge benefits, not every brand could utilize it to the fullest. That's why we compile these 10 hacks below just for your sake! Seat-belt on and let the journey embarks!
Instagram Reels hack #1: Redistribute Tiktok clips
Because clips made from both platforms are quite similar, re-uploading the existing Tiktok clips to Instagram might do you a great favor.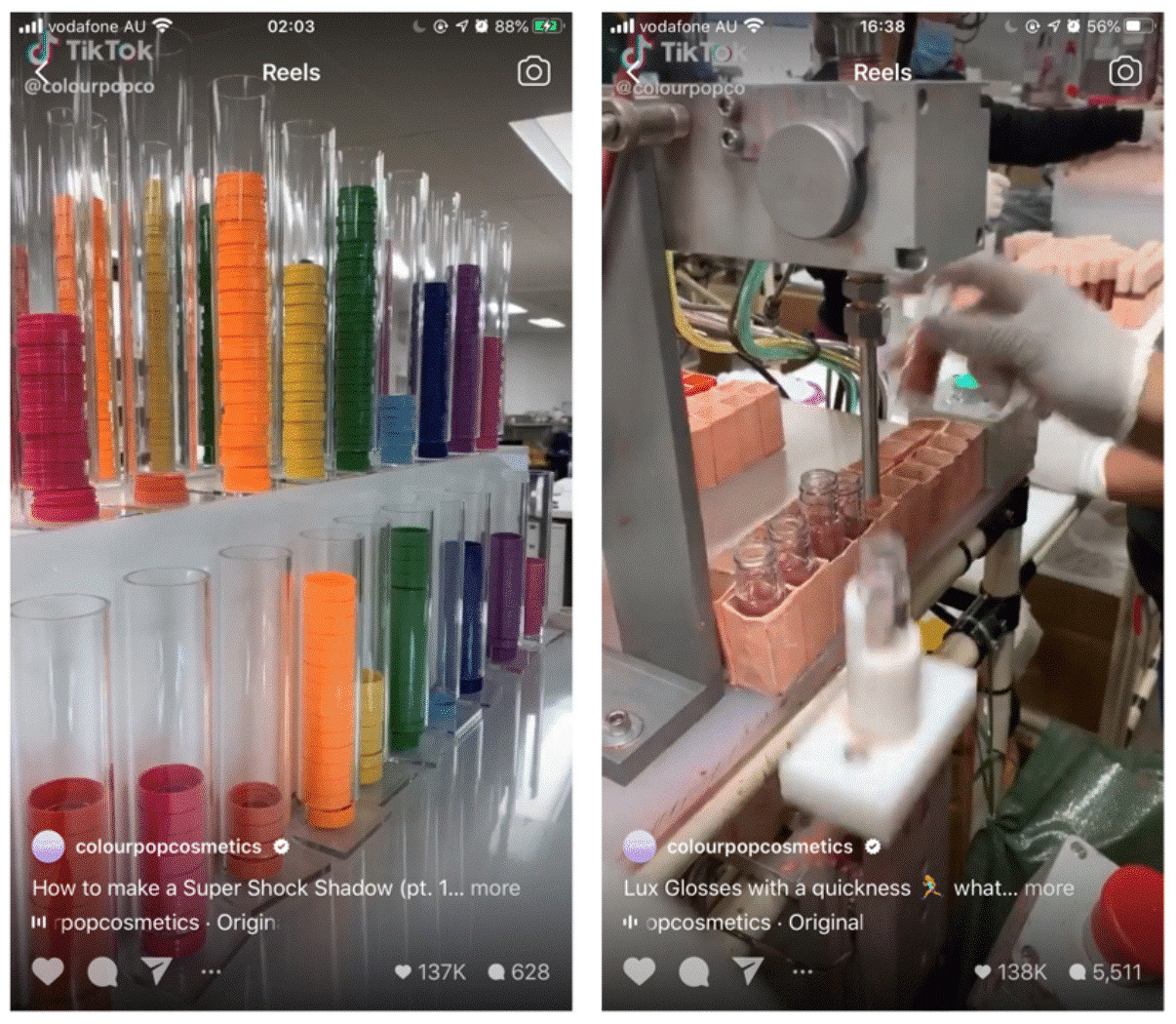 Take a look at @colourpopcosmetics! By redistributing their Tiktok clips to Instagram Reels, the brand can not only save a great deal of time but also grow more audiences for both platforms.
Instagram Reels hack #2: Be unique and personal
Don't make your audiences fed up with the same tedious content you copy from other brands like a robot! Seriously, who on earth would like something boring, right?
Take a look at the peculiar reels from @thatlittlepuff! This pet accessories shop has been creating fascinating reels of an adorable cat making delicious beverages.
Xem bài viết này trên Instagram
By doing a thing that has never been done before, this "Meow Chef" has earned the shop 217 thousand followers on Instagram.
Thus, you need to be all the way creative and breathe souls into your reels. Though you might not get following from users in their rolls for the first time, if you have a strong personality, they will recall who you're for the next time. 
Instagram Reels hack #3: Add Hashtags
Since hashtags can increase the likelihood that the right viewers can find the way to your reels. So why not?
However, as the saying goes "Grasp all, lose all", only add the hashtags that are relevant. When you add the right hashtags, your reels will be more accessible to the users who have a real interest in your products and brand.
Instagram Reels hack #4: Write short and engaging captions
Do not beat around the bush with captions but make them concise and engaging instead.
You can keep it short and simple with caring question like  @yournaturegram usually does on their enraptured landscape reels- calls the viewers into a specific action.
Instagram Reels hack #5: Add music
Do you know that music plays a pivotal role in the Instagram Reels experience? By adding ear-catching music, you can make your clips much more vivid.
The good thing is you can browse the music from the Instagram existing original audio created by Instagram artists or other users. Additionally, you could also create your own sound and encourage users to use it.
Instagram Reels hack #6: Bring values and educational content
Admit it, we all tend to have a good impression on those who teach us something mind-blowing. Being said that, you ought to spend more time and effort into bringing educational content just like @sephora did right there!
Xem bài viết này trên Instagram
The cosmetics retailer reckons quite well that a lot of people are facing to acne scars. That's why they usually focus on customers' pain points and come up with precious pieces of content.
Instagram Reels hack #7: Hop on trends
If your business has a presence on Instagram, you might already know that catching up with trends is of great importance.
By hopping on the wave of trends that relevant to your brand, you could get more exposed to the curious viewers who have a real interest in the trend and perhaps, your products.
Xem bài viết này trên Instagram
@louisvuiton seems to be a real pro in this Instagram Reels game. Apparently, by following the "slow motion phone drop" game, the fashion brand has received millions of viewers for their reels.
Instagram Reels hack #8: Share Reels to your Feed
As we mentioned earlier, one of the great things from Instagram Reels is that you can position these short clips everywhere. Therefore, it would be a good idea to spice up your Instagram feed with reels besides IGTV, carousels, pictures and traditional videos.
As you can see, @paulaschoice always keeps their Instagram profile diverse with content under various formats. We recommend you to select the reels that contain exploding visuals and valuable information to keep your followers more engaged.
Instagram Reels hack #9: Remix Reels
As of writing this article, Instagram has just updated the "Remix" feature so that users could engage more with the content they're interested in. Here is an example of this up-to-minute tool!
Xem bài viết này trên Instagram
As a business, you could also learn about this new tool to connect with your audiences. You could collaborate with Instagram influencers so that they can remix your reels. Plus, you can also remix your old reels to show changes about your products or brands.
In conclusion
All in all, Instagram keeps updating new features constantly and Instagram Reels is by far one of the sharpest tools for business.
For that, we hope this article could turn you into a real pro in the reels game.
However, to be a master at Instagram for business, there are other features you need to know well. That's why we assume this complete guideline on IGTV could help.