Gone are the days when Instagram was just for personal photo-sharing purposes. With loads of business-friendly features being introduced, Instagram has become a lucrative land for brands to thrive. Instagram filters, first launched in 2010, have always been a great tool to turn a raw image into a photographic work of art, helping brands to create better visual quality. 
Filters can help you convey the mood that defines your brand, whether it is modern or vintage, playful or elegant. They are the secret behind every stunning and cohesive Instagram feed which is a great contributor to boosting engagement for your Instagram page.
If you are looking for instructions on how to leverage Instagram filters for your online business, then you've come to the right place! In this article, we will show everything you should know about the oldest, yet a fast-changing feature of Instagram – Filters. 
Instagram filters explained 
In general, a filter is a combination of effects that make your photos or videos look better before posting. Like any other editing app, you can apply filters by selecting them until you come up with a desirable look. 
Basically, on Instagram, we have two types of filters. 
Filters for posts are presets that allow you to quickly edit photos or videos before posting them on your feed. With this feature, you are given 25 presets with each giving your photo a different tone, lighting, or saturation. You can either increase or lower the strength of your filters by clicking on the Magic wand icon at the top of the screen. 
While Post filters are only limited to 25 presets, there are tons of Instagram filters for Stories. This kind of filter is an application of Augmented Reality (AR) effects that allows you to add almost anything on top of your photos or videos. 
What makes Instagram Stories filters even greater is that users can create and publish their own filters – that is why the effects gallery is getting bigger and bigger day by day.
Why you should use Instagram filters
So we can see that Instagram filters are fun, versatile, and highly interactive. But on top of that, how can a thin AR layer add a big difference to your branded content? Let's dive into some reasons why Instagram filters are a game-changer for your account. 
Edit your photos more quickly and easily
We all want to post beautiful images and videos on Instagram. Unless your photos are already stunning, retouching is always a necessary step. However, professional editing software can be hard to use or switching between editing apps can be a frustrating experience. 
With Instagram filters growing in quantity and quality, polishing your posts has never been easier.  
Create a consistent brand image 
While the quality of each post is definitely important, don't forget the big picture. Besides your products and content, a cohesive brand theme makes it easier for followers to tell you apart from other competitors. Using on-brand filters not only helps to increase your feed's aesthetic but also convey your brand's spirit.
Can you see the different vibes represented by the two fashion brands? 
💡 Check out these top 15 Instagram feed ideas for business to curate your consistent & mind-blowing feed!
Encourage user-generated content
Viewers are 2.4 times more likely to regard user-generated content as authentic in comparison to branded content (Hootsuite). That is why a high rate of user-generated content is an aspiration of every brand. It can reflect your brand's credibility and relationship with your customers.
However, getting your users to generate branded content is more difficult nowadays as you know, there are more interesting things to share! 
Instagram filters can be a great tool by making the content-creating process to be more fun and trendy. As Instagram users are obsessed with its filters, brands can create their own Stories filters and have their followers interact with them. 
Chipotle has timely followed the "quiz trend" filter and introduced a fun, interactive and brand-relevant effect: What Item Are You? This filter is both humorous and effective in reminding customers of Chipotle's offerings. 
Add personalization to your customer experience 
According to Forbes, 80% of consumers are more likely to buy from a brand that provides personalized experiences. You may wonder how Instagram filters can contribute to your personalization strategy, right? 
If you are running a business in beauty or fashion, then why not try creating "Try on" filters that enable users to digitally apply your products?
Kylie Cosmetics joined this trend when introducing the "Lip Kit" filter that allows customers to wear different shades of their lipstick line prior to purchasing. 
What a convenient way to figure out whether a product suits you, isn't it? 
How to use Instagram filters
Have we successfully piqued your interest with Instagram filters? Then keep reading to find out how to make the best use of Instagram filters. We promise, no hard work ahead! 
Instagram filters for Posts
The platform now offers 25 preset filters to edit your visuals before publishing them. Here's how to apply filters for your Instagram posts: 
Open the app and create a new post by choosing the

Plus sign

at the bottom of the screen. 

Select the photos or videos you are about to post, then tap the blue

Next

icon

.

Scroll right and tap the filter you want to apply to your photo. 

Tap it a second time or select the

Magic wand

icon at the top of the screen to adjust the opacity of the filter.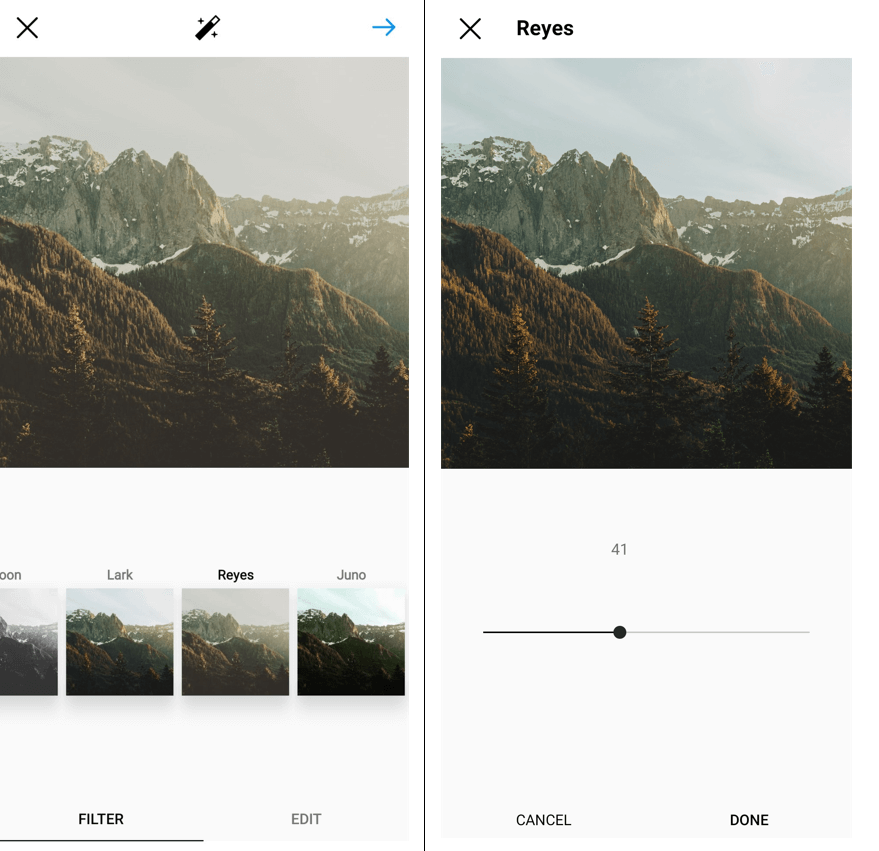 You can simplify the process in the future by holding and dragging the most frequently used filter to the left end. 
To save you even more time, Canva studied and reported the most popular Instagram filters all over the world. Let's go through some of them! 
Clarendon:

The most widely-used filter, mainly thanks to its versatility and its prioritized position – right after the

Normal image option.

This filter can highlight, brighten, as well as intensify shadows for color that pops. 

Gingham:

The filter adds a touch of vintage and nostalgia to your photo, so it is perfectly made for a vintage-inspired Instagram theme.

Juno:

It is also a useful filter for many cases, making warm colors like red, oranges, and yellow pop. 
Instagram filters for Stories 
Now you've mastered the filters for posts, let's get more creative with the most exciting feature of Instagram – Stories. 
The most simple way is to swipe left or right to try different filters when you've had your photo or video. There are 11 options in total. 
Is that all about Instagram filters? No, not yet. A whole AR world is waiting for you in the face filter options which are the colorful icons near the recording button. They will add tones, hue adjustments, effects and playful objects to your Stories. 
Don't just depend on what Instagram offers you in default, actively look for Effects by swiping left until you see the Browse effects icon. Then you'll see the Effect Gallery with tons of beautiful filters in various categories: Selfies, Reels, Love, Color & Light, Camera Styles, Mood, Sci-fi and Fantasy,…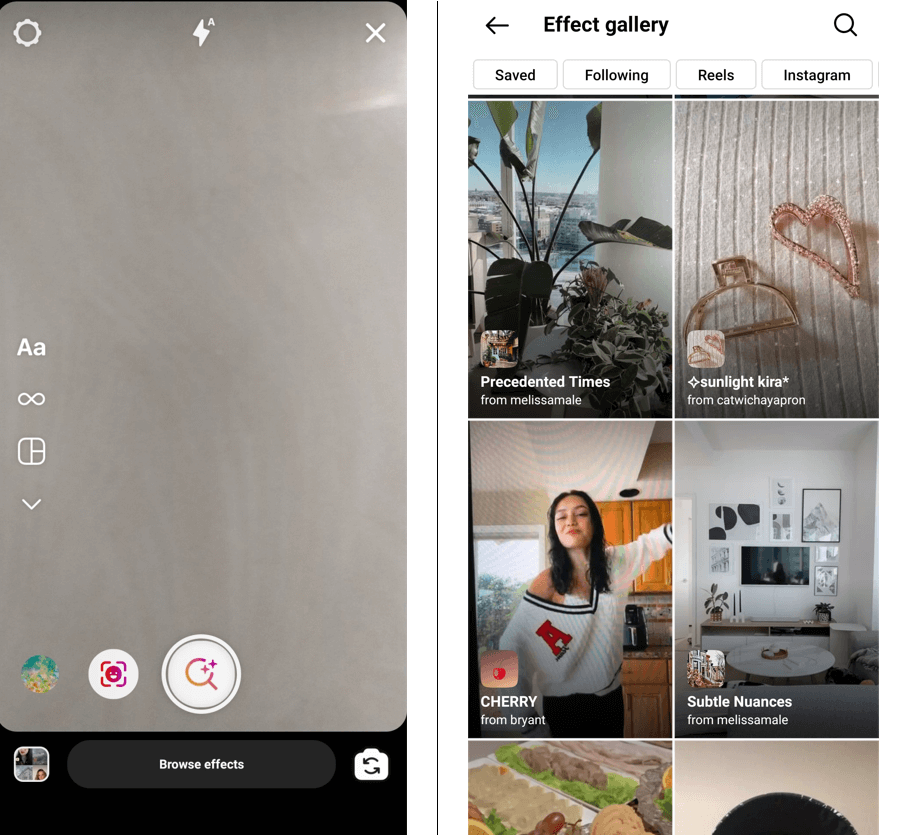 Tap the filter, then select Try it to test it. If you're happy with the results, then tap the Bookmark icon at the bottom of the screen so the effect will be saved and appear in your row of effects.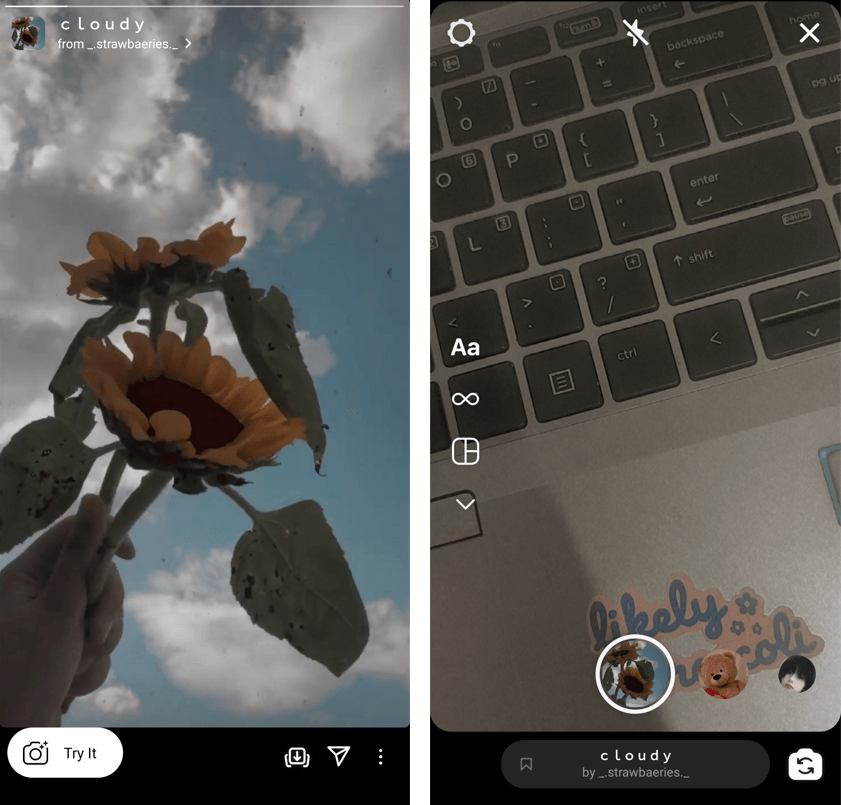 Some pro tips to level up your Instagram filters 
Now you're all set with a detailed guideline to apply Instagram filters. But we all know following basic steps is never enough for you to succeed. Below are some simple but highly effective tips to get the most out of your Instagram filters. 
Choose filters that align with your brand's tone
There's no doubt that most visitors will scroll through your Instagram feed and see the post images before clicking one. That is why it is important to make sure the chosen filters can resonate with your brand's spirit. For instance, if you are selling sweet treats, then you should look for a bright tone rather than a black and white or old-timey filter. 
Then be consistent 
We always emphasize this in every branding-related article. Consistency is key. In fact, 60% of the top brands use the same filter over and over again.
A consistent theme not only conveys aesthetics but also your brand's personality. Eventually, when users scroll through their Instagram feed, they can recognize your content before looking at the account's name.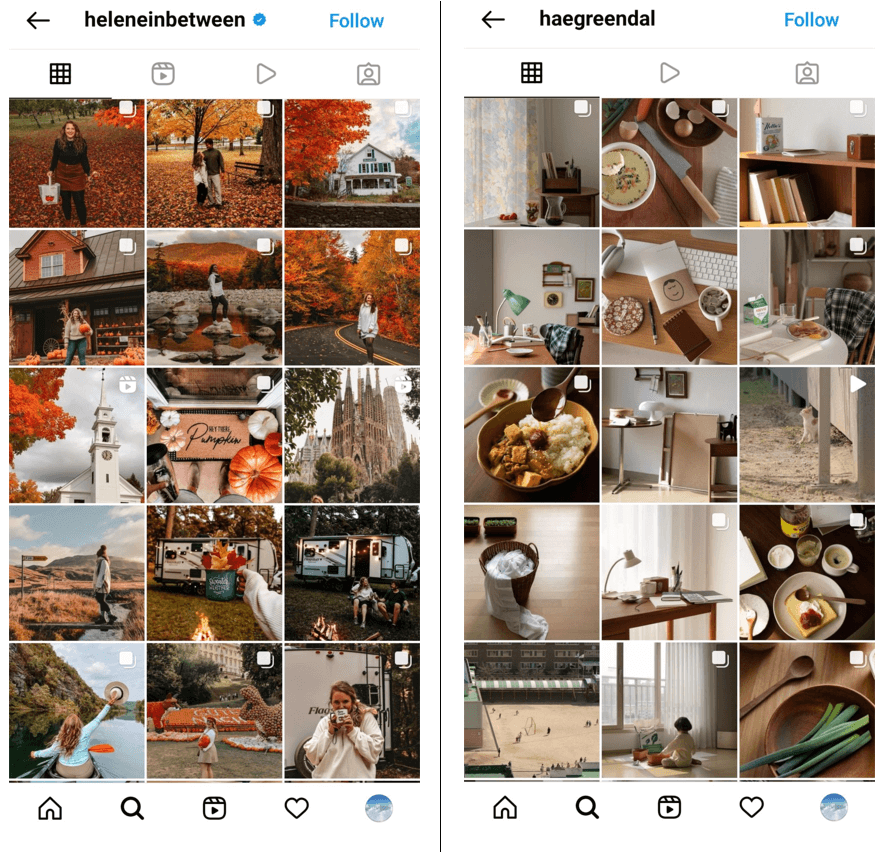 Both are influencers in lifestyle, but we can see the difference in style between the two, and even their content niche based on these photos. 
Know when enough is enough
Too much of anything is good for nothing. Instagram filters are no exception. 
It is easy to get carried away while exploring the effect options. You may oversaturate or light-expose the image, which results in the loss of some details. Unleash your creativity but don't go too far. Remember to strike a balance between your original look and the effects. 
Adding a little sparkle is just enough to create a perfect Christmas vibe
View this post on Instagram
Why not create your own Instagram stories filters?
As we have mentioned, AR filters on Instagram can be created by independent users. This is a huge opportunity for brands to make interactive filters as a marketing tactic. Whether it is a new product launch or a special occasion to celebrate, Instagram filters can help brands to build meaningful connections with their customers. 
Such big brands as Maybelline, Chanel, Nike,… are also a part of the filter trend in this digitalization era. With this rise in demand, Facebook has made it easier for people to experiment with their own filter using Spark AR. We've got you covered with a detailed guideline on how to craft Instagram Stories AR Filters.
Wrapping Up
Instagram filters are extremely flexible and continuously evolving thanks to contributions from creators all around the globe. They not only appeal to users, especially the younger generation, but also open up opportunities for brands to showcase their products and engage with their customers. With our clear guidelines above, let's experiment with your posts, stories and see how a set of effects can take your Instagram account to the next level.