The Instagram aesthetic is just as important as any other way to drive more traffic or sales to your brand. More importantly, it should be one of the first things to be considered for your Instagram business.
But how important is it and how to build it? Let's find out.
What is the Instagram aesthetic?
Generally, the Instagram aesthetic would refer to the look and feel of your brand. In other words, it represents the style, types of posts, and theme of your brand on Instagram.
The term also relates to colors, fonts of the text, and filters that you want to bring in for your brand's appearance. By deciding these factors, you can choose the right "aesthetic" suiting your desire.
The importance of Instagram aesthetic to your brand
You might be thinking: how an Instagram aesthetic can be that important for brand and business. 
In case you don't know, the Instagram aesthetic is one of the best methods to attract more followers to your account. Moreover, building your aesthetic also means increasing recognition and awareness of your brand.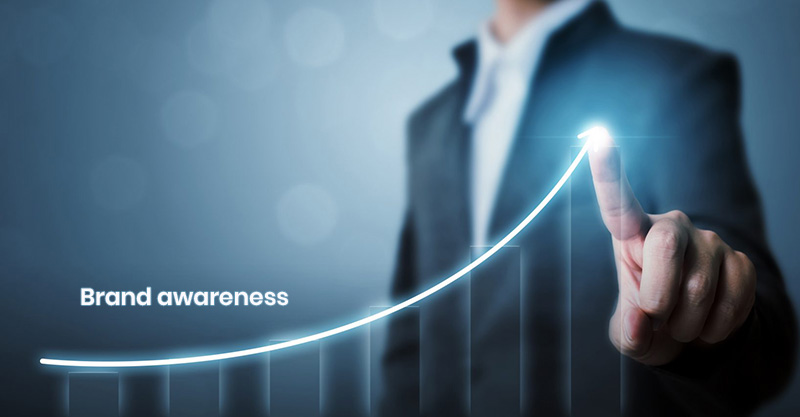 Bear in mind that Instagram feed is the first thing that your audience sees when they visit your profile. By building a powerful and attractive aesthetic, you can make your feeds interesting and these visitors will become your brand's followers easier.
How to create a unique Instagram aesthetic and drive traffic to your brand
Now then, it's time for you to make your own Instagram aesthetic for your brand and attract more audiences. 
Here is what you need to do. 
Choose an Instagram aesthetic that suits your brand
The first thing you need to do is decide which style you want for your profile. To do that, there is no better way than finding a specific inspiration. 
Additionally, you need to take a look back and see how your business is going. There are also aspects you should consider such as your target audiences and core values. If your Instagram feeds suit one's interest, you can have one more follower without much effort.
On the other hand, core values are what you would want to show the overall look on Instagram. For instance, if your brand focuses on workout clothes, you should bring these values to your Instagram page. And of course, colors play an important role in this aspect, too.
Now, let's talk about the aesthetic or style of your feeds. 
You should take time to think about things you'd like to see in your favorite feeds while browsing. Then, you can decide the Instagram aesthetic that represents your brand best.
Another thing to consider is the types of photos you are posting. You should make sure to keep the vibe and consistency among your photos. Therefore, you need to have a look back to where you'll be shooting to create your desired aesthetic.
Besides, you have to acquire some photo shooting skills to truly create your own Instagram aesthetic. Fortunately, there is advice about how to take good Instagram photos that you can take into account.
Edit your photos for your brand's Instagram feed
This is undoubtedly the best way to create a unique and cohesive Instagram aesthetic. During the editing process, you can choose the filter or a set of filters that works best for your brand. Additionally, you can always go back and use this filter for your future posts, keeping everything consistent and fit together.
Nowadays, you can just download and use any application available on your smartphone to edit any picture taken. This is extremely convenient as you can just create the aesthetic and upload it to your Instagram profile in no time.
However,  giving the idea that you want the best for your business, you should use programs to edit pictures on the computer. Adobe Lightroom seems like the one to benefit you the most. Therefore, you should spend some time learning and mastering it.
And don't worry, all of the hard work will help you claim your unique Instagram aesthetic.
Plan how your Instagram feeds stay together
Once you have completed editing your style, you should move on and plan out your Instagram feed. It means that you should think about how your edited photos look together as a whole. You'd want your Instagram page to look professional so that you can leave a great impression on your visitors.
More importantly, you don't want your Instagram feed or profile to be busy or cramped. When planning your feed out, you can tell which posts look better next to each other and which don't. By doing so, you will be able to make sure it's easy to move eyes throughout your feed with no interruptions.
As a business selling on Instagram, you can do this by mixing up your product pictures. Moreover, you can also use lifestyle photos or other content types that you want to publish.
It is also the time for you to think about "grid-terms" if you haven't already. This will enable you to achieve what is so-called a "balanced" look on your Instagram feed.
Expand the Instagram aesthetic outside of your feed posts
One more thing about the Instagram aesthetic is that it is more than just your feed posts. Don't forget about the Instagram Stories. They can be astoundingly helpful in driving attention to your brand.
Creating style-consistent Instagram Stories is a great way to increase your brand awareness and keep your followers excited for more. Nonetheless, this can be easily achieved without putting much effort into creating. You can either use the same font for all Instagram content or your brand colors for text and drawing tools.
As the popularity of Instagram Stories is increasing, many brands have been using them as their common Instagram posts already. They put lots of effort into designing stories to make them stand out and stop people from going away.
As you can see, brands and businesses like @menswearhouse continue their styles throughout their entire store. Additionally, they also bring unique features to their Instagram Stories.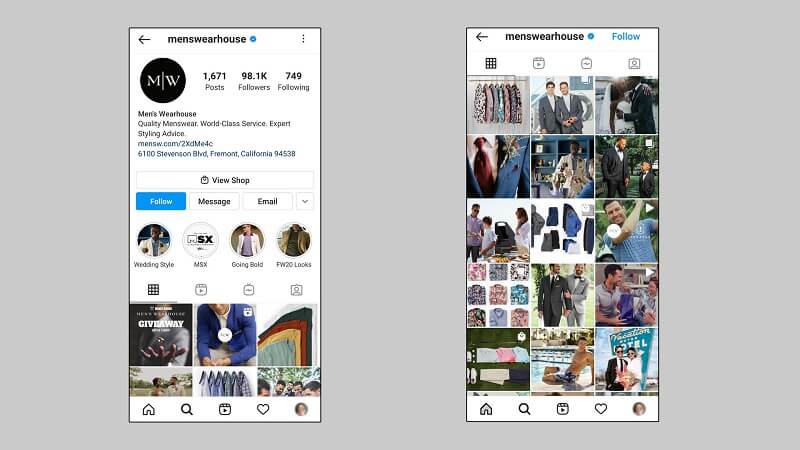 Therefore, you have no reason to skip such a feature that many have been taking advantage of for their Instagram business. If you don't know how to start, you can see our guide about how to use Instagram Stories for business.
Do not miss out on this opportunity to drive more sales and traffic for your Instagram business!
Final thought
There is no doubt that building an Instagram aesthetic is crucial for any business on this platform. Especially for newly started businesses, it can help increase your brand awareness to more users and turn them into your followers.