The introduction of many business-friendly updates, especially Instagram Shopping, proves that Instagram has come a long way from a photo-sharing app to an essential tool for 21st-century social media marketing. 
As almost one-third of people using the internet are on Instagram, this platform becomes a lucrative land for businesses of all sizes to connect and engage with their customers. However, do you think that directing visitors from your Instagram to your website to complete their buying journey is a bit lengthy? 
In this post, we'll provide you with a thorough understanding and instructions on how to set up Instagram Shopping – a feature that creates a seamless shopping experience right in the app. 
Instagram Shopping in a nutshell
Before we can get into setting anything up, we will have to go through the basics of Instagram Shopping.
Instagram Shopping explained 
Instagram Shopping is a set of features made for brands on Instagram, allowing them to showcase their products through a virtual shop and product tags. 
An Instagram Shop can create an immersive and convenient shopping experience as visitors can explore your products to the details without being directed to a brand's website. 
Main features of Instagram Shopping
Not just a shop as the name suggests, Instagram Shopping provides store owners with various utilities:
Instagram Shop:

It is a virtual storefront where you can showcase your products from the uploaded catalog with descriptions and attached prices. Moreover, these products can be divided into collections, making it easier for users to browse. Visitors can view your shop through a special "

View Shop

" button on your Instagram page. 
Product Tags: Instagram Shopping allows you to tag products in your photo or carousel posts, Instagram Stories, IGTV, Reels, Live broadcast, and Instagram ads. These tags use the information from the product catalog you upload.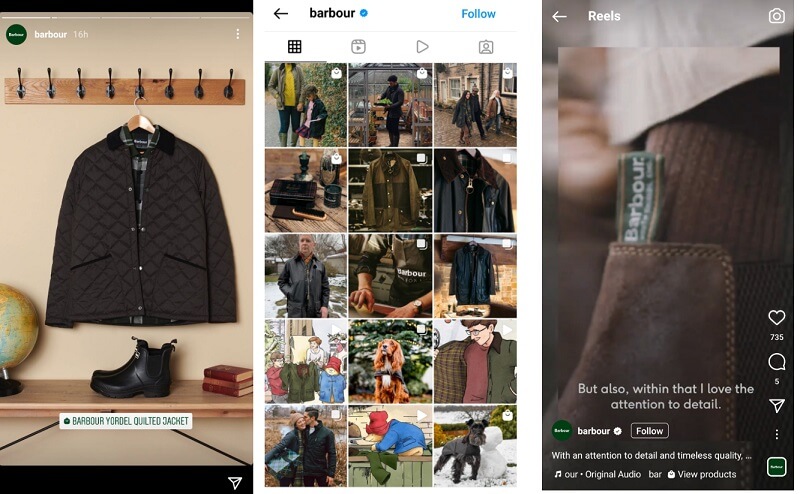 Checkout feature:

This feature is available for business and creator's accounts in the US. With this introduction, you can create a full circle of your customer journey as customers can checkout like how they do on the web. As a result, they see it, they like it, they want it, they got it right on one page.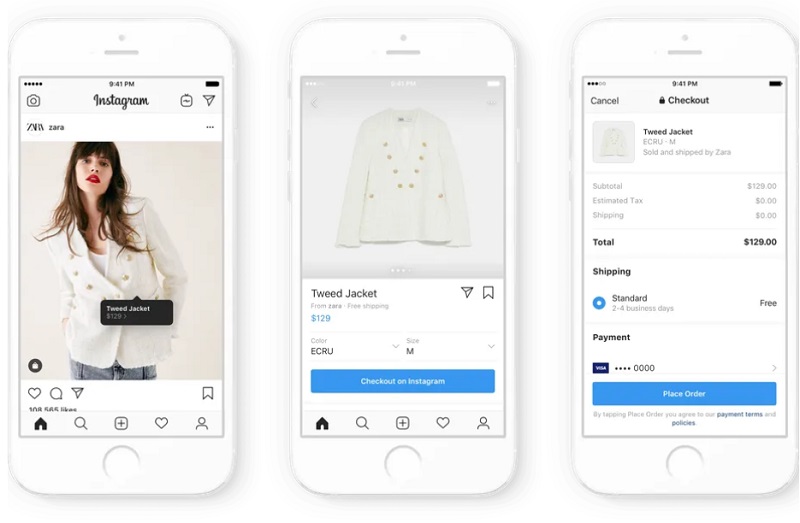 Benefits of setting up Instagram Shopping 
Instagram is already a powerful tool for your eCommerce business. With Instagram Shopping introduced, this platform is transformed into a marketplace that every business should take advantage of. Let's take a close look at the benefits of setting up Instagram Shopping. 
Make your Instagram account not just for branding
It is widely agreed that Instagram is a great platform for your business's visual branding. An aesthetically pleasing feed is more likely to attract and inspire users to explore more. But can only nice photos and engaging content be enough in this competitive market? We doubt that. 
When having Instagram Shopping, not only can your potential customers view the product through your captivating feed, but also explore product details and eventually purchase them.
Boost your sales conversion rate
The ultimate goal of any marketing strategy is to increase sales. However, some people may give up in the process of constantly switching between Instagram and a website to check information about products they are interested in.
Creating shoppable posts and tagging your products on Stories or other forms of video features can be an effective call-to-action that helps visitors to convert their purchase intention into action more quickly. 
Increase the overall customer experience
A stunning feed, combined with integrated shopping and checkout features will create a shortened yet optimum journey for almost any customer. 
Additionally, customer experience is essential as it can increase customer loyalty as well as word-of-mouth recommendations for a brand. This is why Instagram Shopping can contribute to improving your store's performance in the long run. 
The potential of these features is plain as day, right? Then keep reading our guide to successfully set up Instagram Shopping! 
How to set up Instagram Shopping? 
Make sure you meet some initial requirements
Before you set up Instagram Shopping, we recommend that you check the following requirements:
Your business or creator account is in one of the

approved markets

for Instagram Shopping.

You sell physical and eligible products.

Your page follows Instagram's Commerce policies and Merchant agreement.

Your business has a separate website.

Having a Facebook and Instagram account is a must.
Switch to a Professional Account
If you are already running an Instagram Business or Creator account, then it's great! If not, we'll show you how to convert it into a Business account: 
Go to your Instagram profile. 

Tap "

Settings"

.

Tap

"Account"

.

Choose "

Switch to a professional account

". 

Select a

Category

that best describes your page. 

Review your

contact information

including phone number, business email, and business address. 

Tap "

Done"

. 
Connect your Instagram account to a Facebook Page
As we've noted in our previous section, you need to have a Facebook Page to connect to your Instagram account. Here's how:
Go to your Instagram profile.

Tap "

Edit Profile

".

Under "

Public Business Information

",

choose

"Page

".

Choose "

Connect Existing Page

"

or "

Create Facebook Page

"

if you haven't got one. 
Upload your Product Catalog to Instagram
The product catalog Instagram requires is a list of your products, descriptions, and stock information. This data is used to set up Instagram Shop and tag products in your later publications. We'll guide you through 2 ways to add a catalog:
Through

Facebook Commerce Manager –

You can either choose "

Connect with an existing catalog

" or "

Create a new catalog

"

on Facebook. This method allows you to upload and customize product information, from

Title, Description, Image

to the

Website link

and other details. As this is kind of a do-it-yourself option, it will be a bit time-consuming. 

Through another

eCommerce platform –

If you own a store on one of Facebook's certified eCommerce platforms partners, such as

Shopify

,

BigCommerce

,

Shopline

,

Socialhead

,…, you can sync your product catalog on the website with your Facebook shop. This method will save you a great deal of time and also minimize mistakes. 
Submit Your Account for Review
After having all settings done, it's time to submit your account. 
Again, go to your Instagram profile.

Tap the menu icon. 

Choose "

Settings

".

Sign up for shopping. 

Do as the instructions tell you to submit your account for verification.
💡
NOTE:
Account review may take a couple of days. You can also visit
Shopping
in
Settings
to check the status. 
Congratulations! Basically now you've done all the preparation steps in setting up Instagram Shopping. 
Turn on Instagram Shopping
Once your account is approved, you need to activate this feature by connecting your product catalog with your Instagram Shopping. Visit your profile "Settings", look for "Shopping" in the "Business" section, choose the catalog you want, and then DONE, you're all set! 
Let's start creating stunning storefronts and shoppable content with Instagram Shopping! 
Still wondering how to tag products on your Instagram posts? We have you covered with a detailed tutorial and tips on Product Tags.
Why your Instagram Shopping is not approved (and Solutions)
Not Complying with Instagram Commerce policies
This should always be the first thing to check if your Instagram Shopping account is denied. Facebook and Instagram have sets of requirements that you must notice in order to register and have your application passed. For instance, you are unable to set up Instagram Shopping if your country is not in approved markets for this update. 
Solution: Remember to read, note down, and update all the compulsory criteria before you set up Instagram Shopping. There are some additional details you should pay attention to: make sure you have the latest Instagram version, your products are not illegal, and avoid any fake or misleading information.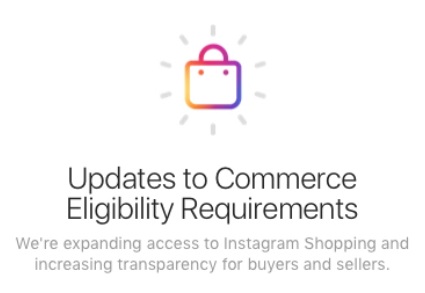 Lacking Instagram Business Presence
If you're an Instagram newbie with not many followers, then you may also get rejected for Instagram Shopping. The reason is that with little presence, Instagram is not likely to label you as a trustworthy site. 
Solution: Try to spend some time building your page properly. Increase your presence by frequently establishing captivating content to attract and engage a fair number of followers for your Instagram account. Once you've garnered a reputation, the app may consider your account an authentic store and approve your Instagram Shopping. 
Not Selling Physical Products
Not getting approved may also come down to your products. Perhaps, you haven't uploaded any products or just a few items. Besides, one more possible explanation is that you are selling services or digital products that are not supported by Instagram Shopping. 
Solution: First thing first, make sure you are selling physical products. This is clearly stated in the Instagram policy, so take notice of this. In addition, your product catalog should be carefully picked, but also contain no less than 9 items to get approval from Instagram.  
Final thoughts 
In this article, we've guided you through a complete guide to set up Instagram Shopping. We hope our tutorials and tips can help you be more confident to optimize Instagram for your business. And don't worry, we will keep you up-to-date with the latest trends to grow your sales sustainably. 
Now it's your turn to dive into the Instagram Shopping world and see how it can improve your business's performance!