For anyone starting an online business, the number one advice from the senior is going for eCommerce on social media. And among many platforms, Instagram shopping is one of the most recommended for a new online merchant when there are around 500 million active Instagram users each day.
From tagging products to your feeds to starting an Instagram shop, you can turn your followers into customers in no time. In this article, you will learn about every aspect of Instagram shopping for a successful eCommerce business on this platform.
Instagram shopping, what is it?
It is a set of features that are across Instagram, allowing people to shop your photos and videos. Instagram shopping gives your business a great storefront for users to explore your top-tier products.
Instagram shopping includes: 
Shops:

A storefront that is customizable to allow people to shop directly on business profiles.

Shopping tags:

Tags feature products that you want to sell from your catalog. They also help direct customers to buy products on your website or in the app.

Shop in Explore: People can browse tagged shoppable content from brands and creators via a tab in Instagram Explore. 
Collections:

A set of products that businesses can decide for their shop. This, in turn, helps customers to find the products they love.

Product Detail Page:

A page showcases information about a product, including pricing and its description. These details of products are pulled from your product catalog.

Ads with Product Tags: Businesses can create ads using product tags, or boost their existing shopping posts in Ads Manager. and the Instagram app. With these, all businesses can increase the reach of their shoppable content, get more conversions, link clicks, and post engagement on Instagram.
If your business uses the Checkout feature on Instagram, you can also use:
Product launches:

It's a way for businesses to announce their product launches on Instagram. This helps people preview the product's details and set reminders to buy once it's available.

Shopping partner permission:

This is a set of permissions that businesses give to partners on Instagram to increase the reach of their products. Shopping partners are accounts giving or receiving permission to tag products or link a shop to other accounts. 

Live shopping:

This feature allows businesses and creators to tag products when they go live on Instagram. Live shopping lets businesses share products with audiences and get more attention from potential customers.
What are Instagram shopping posts? 
According to Facebook, 130 million Instagram users tap on shopping posts about products every month. That's a straight-up simple proof of how popular shopping on social media is.  
As a result, Instagram shopping posts are here to help people shop easier on this platform. Moreover, there are more benefits that you can get from Instagram shopping. 
Instagram feed post
This is a great way for your followers to discover new and recent products. By giving a thorough shopping experience, you can get better conversion and inspire them to buy your products. 
When you've finished setting up your Instagram shopping, you can start tagging your products into your Instagram feeds. Whether it is an image or video post, you can tag up to 5 products as you wish.
Besides, you can also add these tags to your Instagram carousel posts. This helps you post a whole collection of products you want to show to your followers quickly and easily. 
There are tons of ways to utilize these Instagram feeds, or you can even make them shoppable to enhance your business. Especially, if you are running a Shopify store, you will get endless opportunities and support from the best Instagram feed apps for Shopify to make these benefits possible.
Instagram shops
Instagram Shop is a great way to both reach new customers and drive more traffic. With this feature, brands can organize a list of products that are accessible via the "View Shop" button on their Instagram profile page.
Furthermore, brands with Instagram Shop can also be promoted on the Instagram Shop tab. This Shop tab is an efficient way for users to discover more new products on the platform. There are some options for them to browse and explore:
Shops

Editors' Picks

Collections

Guides

Videos
Instagram stories shopping
We all know how stories on Instagram can reach many users on this platform. And now, brands can take advantage of them and drive more traffic to their website. More importantly, brands can also increase the Instagram shopping experience much better from the Swipe Up call-to-action.
Followers can now simply tap on the product sticker to learn more about that product, and even make the purchase. 
So, how can Instagram Stories for business increase your followers' shopping experience? Well, brands or small businesses can easily drive more traffic to their products rather than some troublesome "swipe up" actions. 
Instagram Live shopping
There is no better way to showcase your products than Instagram Live. Moreover, you can tag products straight into your Livestream so your viewers can tap and make purchases with the help of Instagram live shopping.
Accounts with Instagram Checkout feature can tag up to 30 products from their Facebook Shop or catalog before going live. Besides, you, as a host, can also pin a product to the screen during broadcasting. This provides a new and interactive experience to your customers while they are using Instagram shopping. 
IGTV and Reels Instagram shopping
In 2020, Instagram introduced IGTV and shopping via Instagram Reels to the list of new ways to discover products. In the past, sharing product links in IGTV videos in the description box was the only way. And viewers had to tap the description box to open it. 
Now, you can just directly tag your shoppable products. This will help cut down a set of actions while maintaining viewers' inspiration to purchase.
As for Instagram Reels shopping, Adam Mosseri stated in his tweet that creators could tag products in Reels, and you could learn more about them directly if interested. 
As of today you can shop with Reels. Creators can tag products in Reels, and, if you're interested, you can find out more about them inline. I'm excited to see how this helps people find and share new things you love. pic.twitter.com/vA26LF6Bpm

— Adam Mosseri (@mosseri) December 10, 2020
During the time these updates are rolling out, Instagram is making itself one of the best places for online business. With the ability to view, buy, or learn more about a product, Instagram is slowly becoming a virtual shopping mall. 
Instagram Guides Shopping
Instagram Guides bring a simple way to share recommendations or tips with 3 different formats: places, products, and posts. With these product guides, you can make a list of your best-selling products or create lists of selected ones based on your viewers' needs.
Additionally, anyone can create an Instagram product guide, which can be a great way to partner with creators or influencers as well. 
Instagram Shopping from creators
This feature gives influencers and creators the ability to get sales on behalf of the brand with which they partner. They can create shoppable Instagram posts that feature the brand's products. Then, their followers can purchase those products using another feature called Instagram Checkout. 
At the moment, Instagram shopping from creators is available for some businesses and creators only. However, this could change soon as Instagram has been rolling out the feature to more businesses in the US. 
How to set up Instagram shopping for your online business
Enabling Instagram Shopping means that you'll have the ability to tag your products in feed posts, stories, and more. You can even get approval for setting up your Instagram Shop.
Moreover, if you have access to Instagram Checkout, users' Instagram shopping experience will get to a higher level. They will be able to buy your products directly without having to leave the app.
Here are the steps to set up your Instagram Shop:
Review the Instagram policies

Change to a Business account from your personal Instagram account

Connect your Instagram business account to a Facebook Page

Adding a catalog

Setting up your account to review
You can find out more about the details of the above steps by visiting How to get approved for Instagram Shop.
Once you have finished all these steps, you can now turn on the Shopping features by going to Settings > Business > Shopping. From there, you can choose the "Product catalogue" that you want to connect to your account and tap "Done".  
How to tag products in your Instagram feed posts and stories
Now that you've been approved for Instagram shopping, you can start tagging products to your posts and stories.
Instagram feed posts
Tagging a product is similar to tagging Instagram accounts in your feed posts. After uploading a picture or carousel post, you can choose to add your caption, filters, and select products by tapping "Tag products".
Then, you can search for the product that you want to tag in your image. Once you have finished adding the tags you want, you can tap "Done" and share your post. 
Instagram stories
To tag products in Instagram stories, you should open the stories' camera and take a photo or video. You can also choose one from the camera roll that you have taken before.
Next, tap the sticker button and select the "Product" sticker. After choosing the product you want to tag, you can fully customize the sticker however you like it.  By tapping it, you can change its color or move it everywhere on your story.
However, you should keep in mind that you can't edit the product name in your story. To do that, you will have to do it from your product catalog and change the name manually. 
A great bonus of Instagram stories shoppable stickers is that you don't need to have 10 thousand followers to use this feature. This means that no matter what sizes of your business, you can add shoppable tags and inspire your viewers to shop.
Promote your Instagram shopping posts
Instagram is a great platform to start your product selling business thanks to a large number of active users. However, the number of organic searches is decreasing, which means there are fewer chances of your Instagram feed posts getting discovered. 
Therefore, it's always a good thing to promote your Instagram posts to increase your brand awareness. If users don't come to your brand, it will be the best practice to attract them with your shoppable Instagram posts.  
Using Instagram Ads
Undoubtedly, one of the most effective ways to promote your posts is to use advertisements. Therefore, Instagram ads can make a great option for all brands and businesses. Nonetheless, Instagram is also connected to Facebook, so you can use Facebook Ads Manager to run an Instagram ad campaign efficiently. 
Here are a few steps that you can use to create a new ad campaign:
Firstly, go to Facebook Ads Manager and tap

Create an Ad

.

In the Campaign Objective section, choose

Catalog sales

or

Store traffic

.

Then, you can select an existing audience or create a new one.

After that, you can continue to choose the products that you want to promote.

Edit your ad placements, including Instagram feed and Stories.

You can then set a budget and duration for your campaign.

Finally, you can now click Publish.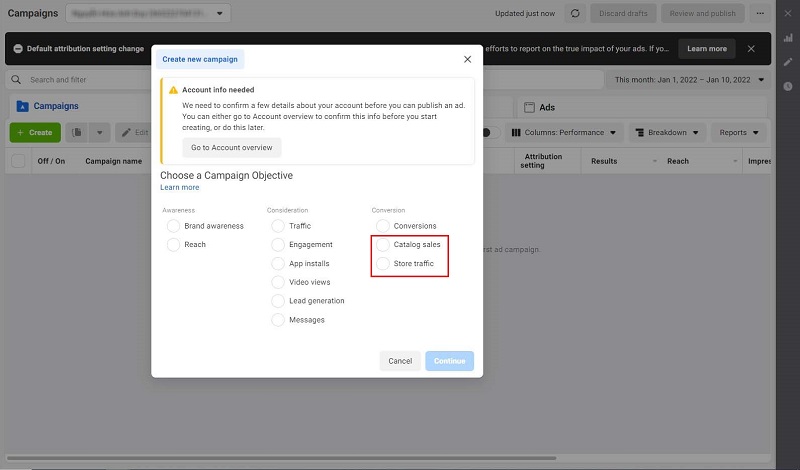 On the other hand, you can also opt for promoting an existing post directly on Instagram. Although it is not as effective as Facebook Ads, it's easier to set up and a good way to increase your post's reach and discoverability. 
Using the Socialwidget app
It would be a waste if you start selling products on Instagram and not on other platforms, especially the eCommerce ones. Therefore, you can use Socialwidget to easily embed your stunning Instagram feed posts as widgets on the Shopify store and enhance your business.
Moreover, this Shopify app from Socialhead supports online merchants to track each Instagram widget's performance. As a result, you can know which one is working effectively and which one is not.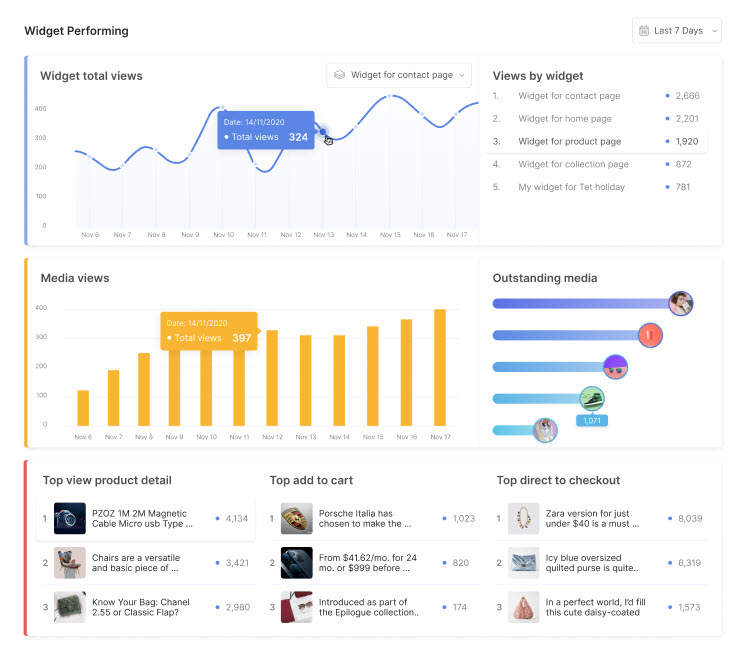 Therefore, by combining Shopify and Socialwidget, you can easily turn your customers into your followers and vice versa.
7 tips to sell on Instagram Shopping more efficiently
Now that you've known what to do with Instagram shopping, it's time you learn how to catch buyers' interests.
There are 7 tips to encourage your viewers and make Instagram shopping happen. Moreover, you can utilize these tips to build your brand and eCommerce business more effectively.
Additionally, you might be interested in the 7 tips to sell more on Instagram to better enhance your eCommerce business in 2022.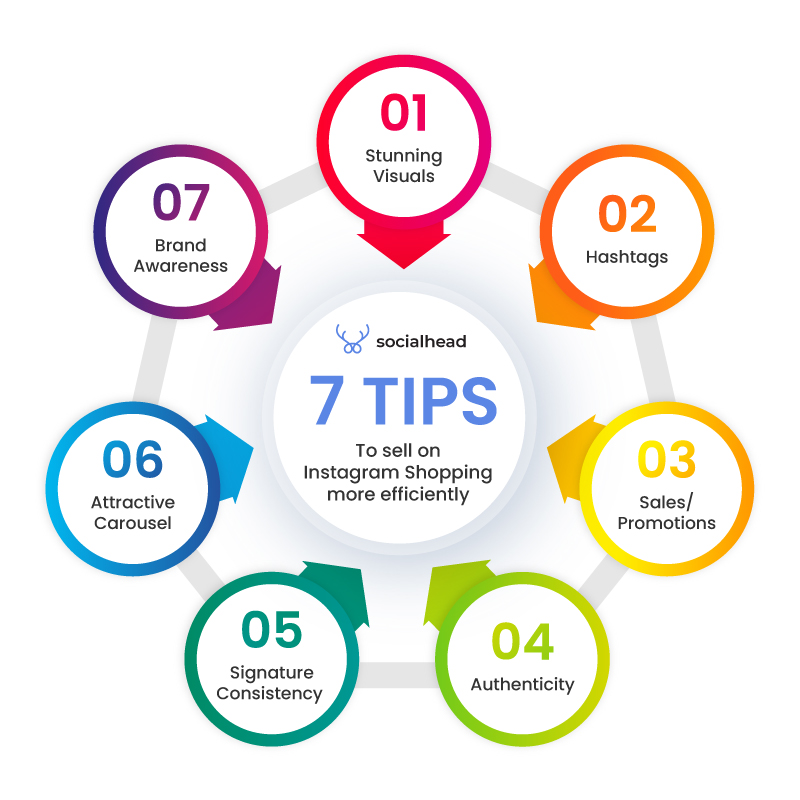 Use stunning visuals
Instagram shopping posts are well-known for their outstanding photos and videos. So, why not take advantage of that and prioritize high-quality images, making your items look professional and appealing.
Moreover, you should make sure that your photos and Instagram video marketing are up-to-date with the recent specification. And, you should always check and keep the high-resolution of your photos or videos as much as possible. Those can make your viewers amazed and inspire them to learn more about your brand.
Biossance makes an Instagram post of their products using the water effect. This helps improve their post visual with a fresh and stunning look.
Remember the hashtags
Taking advantage of hashtags for Instagram shopping is a great strategy to get more users to see all your posts. These Instagram hashtags will increase your chances of getting new viewers which can lead to possibilities of potential engagements.
With #localshop, BAM Store can easily get its post more reachable to the audience who is searching for this hashtag. This can not only make their brand easier to reach but also help them sell more products. 
Give sales or a promotion
No one can hardly resist a good deal. Therefore, running a promotional campaign for Instagram shopping will surely drive sales for your business. Especially when you add promotion directly into your shoppable posts, it's easier to inspire your customers to buy more. 
Maintain authenticity
Keeping the authenticity of post content is an important principle because they show how trustworthy your brand is. 
There is no need to use product copy from the original brand or someone else. You should use your own voice and style to make connections with your audience. This is also a great chance to show what your shop is capable of and earn the trust of your viewers. 
Keep your posts' signature consistent
Having a specific and consistent style or theme on Instagram will help you increase your brand recognition. Furthermore, you can also establish your identity for Instagram shopping.
This would also mean that you need to build an Instagram aesthetic for your eCommerce store. At first, you may find it difficult to set up your brand to a specific style. However, the final result will surely be worth your effort.
Men's Wearhouse always keeps an elegant, classic, and luxurious look from their products to shop themes. They also give every post the same theme and style, making it their signature look and style for easy recognition.
Moreover, you should keep in mind that your signature style needs to be consistent with your brand visuals. Your website, ads, and product packaging should stay the same 
Create an attractive carousel of your products
Showing off a carousel which has a wide variety of products can draw a lot of attention. For creating a carousel, you can either make it a collection of the latest products or best-selling ones. 
By creating one, you can help your viewers navigate products they like quickly without having to tap into your shop. Additionally, you can also improve the Instagram shopping experience professionally.
Don't forget to build your brand awareness, it's IMPORTANT 
For Instagram shopping, this is more like a must-do than a tip to use Instagram for small businesses or brands. To compete effectively with the bigger brands who have been around for decades, you have to make your brand stand out. 
There are some ways that you can attract more users to your brand. Making a post daily can be the easiest way as this helps make your brand more reachable to viewers. Moreover, they can also get to see more of your products and know more about your Instagram shop.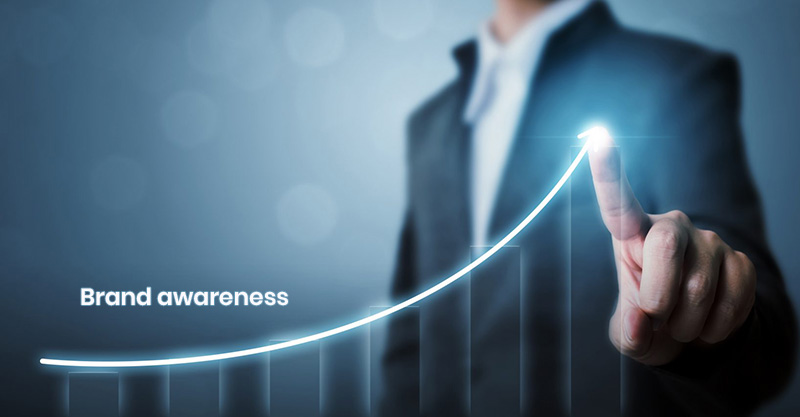 Another great way to do this is by working with creators or influencers on Instagram. As mentioned earlier, you can grant them access and tag products from your catalog. This can do a big favor by helping their followers see or even purchase your products directly through Instagram Checkout. That's simply too much of an advantage!
The above 7 tips are what we would like to list out for improving your sales for Instagram shopping. Therefore, you can find the best tip that suits you and your business.
Final thought
If you want to start your online business on Instagram, you should take a closer look at these Instagram Shopping features. No matter how big or small your business size is, you will always have ways to drive more traffic and inspire your followers to purchase your products.
Additionally, there are also tips for you to start selling effectively on this platform. And, don't forget about the Socialwidget app as it will surely help your online store out.