In 2021, eCommerce platforms, such as Shopify, BigCommerce, and WooCommerce, have become so popular that almost anyone would know about them. Being an online shop owner, you have to take every opportunity and know how to add Instagram feed to Shopify website.
With the help of social media, your eCommerce business can get a whole lot better.
Why should you add Instagram feed to Shopify website?
You might be wondering, why doing such a hassle and adding Instagram feeds to Shopify. There are actually a lot more benefits that can come into your favor, and we're going to list them out one by one: 
First of all, Shopify is a great eCommerce platform having lots of users and online shop owners around the world. Having your own Instagram store is great, but extending it to Shopify will make it better. More customers can get to see what you have in your store and your chances of getting your products sold are also higher.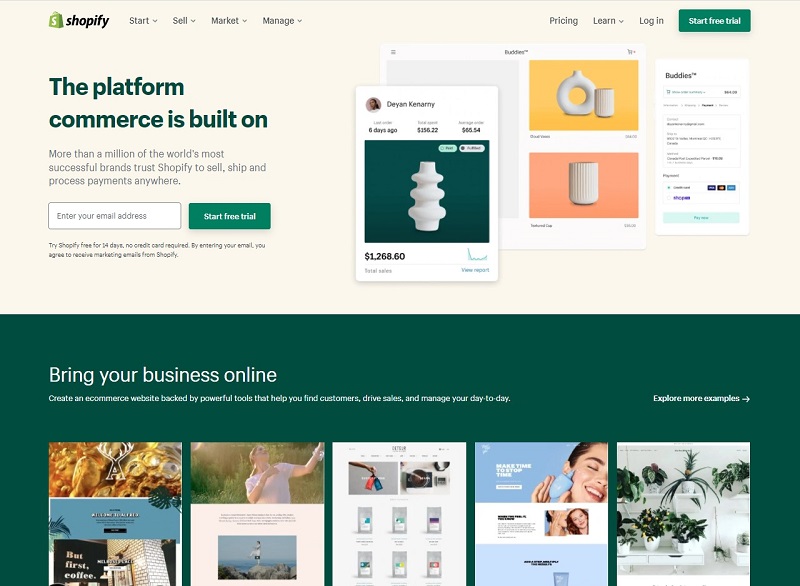 Secondly, you can take advantage of the feeds themselves. We all know how gorgeous Instagram pictures are. So, they will easily engage with your customers and encourage them to make purchases. It is one of the easiest ways to advertise your own products. 

And finally, you can also add Instagram feed reviews to Shopify. If you've already had your products sold before, you would have some reviews here and there. You can make Shopify users or customers feel assured about what you're selling. Additionally, those reviews can drive more traffic to your store. 
Feeling interested now? Then what are you waiting for? Let's get going and add your Instagram feeds to Shopify! 
Step-by-step instructions on how to add Instagram feeds via Shopify
Shopify provides an app called Facebook channel so that its store owners can integrate their products from their Instagram accounts. With it, anyone can add their Instagram feeds to their Shopify store by following these steps:
First, you will need to have a Shopify account.

Then, you shall see Sales channels on the left column, click on the + button.

From the dropdown screen, click the Facebook channel.

Next, you will see there are 3 options: the

Facebook shop

,

Instagram shopping

, and

Facebook market

. From there, choose "Start setup" in the

Instagram shopping

section.
At this step, you will notice that Shopify requires you to have a professional Instagram account. Besides, there are also some more conditions before you can continue. Once you have finished, you shall have permission to design your own Instagram feeds.
Still, if you have many products feeds waiting for you to add to Shopify, you will have to spend quite a bit of time. If that's the case, you should find a better solution, or in other words, a better app. However, choosing one app to embed Instagram feed to Shopify among hundreds or even thousands of them isn't easy.
To maximize your selling opportunities, you should choose an app that can fulfill all your needs. If you are still confused,  you should not worry because Socialwidget is here to help you.
Add Instagram feed to Shopify website with Socialwidget 
From adding Instagram feeds to customizing widgets, Socialwidget can do them all. It is among the best Shopify apps when you search for Instagram feed apps that can easily get your job done within minutes.  
Connect your Instagram account to Socialwidget
The first step of how to add Instagram feeds to Shopify, you need to connect your Instagram account to Socialwidget app. This step will allow the app to use data and pictures from your Instagram. However, you might see a pop-up on your screen like this:
There is a section where you can choose between your personal or business Instagram account. This is the choosing Media source step which may include pictures, videos, or carousels. 
A small hint just for you: if you choose to use a business account, you will have access to other users' media sources as well. 
Design your page, gallery, and your widget to embed Instagram feed to Shopify
When you have decided which source to use, you can set up galleries for your shop. With Socialwidget, you can make your Instagram feeds shoppable by tagging products or variants to images, videos, or even carousels. Besides, you can also highlight the products in your Instagram feeds with hot badges.  
Aside from making your Instagram feeds nice and shoppable, Socialwidget also enables you to showcase your best-performing Instagram feeds on your Shopify storefront. By doing that, you will drive more traffic, increase dwell time, and boost sales considerably. 
Moreover, before you can add Instagram feed to Shopify website, you can create and customize your widgets easily with Socialwidget. It offers you some default settings and templates to choose from at the beginning. There will be a preview for those templates which can help you decide easier.
Besides, you can also further design and change the layout to your liking. Adding more columns or rows is not a problem, you can do them all. Let your creativity go wild!
Don't worry if you mess up a thing or two in the settings. You can always use the Reset default button to bring everything back to normal.
Have multiple accounts? No problem, you can manage them all with Socialwidget!
Have multiple accounts for multiple stores for different product types? Socialwidget can take care of them for you. Every single account of yours will be managed in one place in the app. 
There will be no more switching back and forth among your accounts. Therefore, you can have better management and easily embed Instagram feed to Shopify. 
Your final clicks to finish the preparation 
When you have finished every last step of customizing your widgets, all you have to do now is install the widget. You can choose Auto Install and let the app embed Instagram feed to Shopify for you.
Or, you can switch to Manually Install. You will be able to display your Instagram widgets on multiple platforms by copying the widget codes. After that, you just have to paste them into your Shopify website templates.
And that's it! It's just as simple as snapping your fingers.
Final thoughts: It's time to make your Instagram feed shoppable!  
Providing tons of benefits for your online business, you can't miss such an opportunity to learn to add Instagram feed to Shopify website. An engaging, attractive, and professional website will not only help you get more sales but also increase your brand's awareness.
And don't forget about Socialwidget. If you want to know about its details, you can take a look at the Socialwidget V2.0 Release. Moreover, this app usually gets an update with more functions to bring the best selling experience for you. So, remember to stay updated with the latest releases! 
It's time you take a step forward and embed Instagram feed to your Shopify website.