Worry about your e-commerce store's security?
Wonder whether Shopify is safe? 
Wonder how to build strong trust in your customers? 
We will help you address your concern about store security as well as Shopify security in this post.
Though your products are out-of-this-world, there are some factors making online shoppers hesitate to make a purchase such as a store's prestige, personal data,…That's why you should not only focus on improving the quality of products but also increase the credibility of your store.
Let's scroll down for crucial points for the sake of your store's Shopify security.
Why does Shopify security matter?
Before figuring out the answer to this question, it is important to know Shopify's Pros and Cons deeply and completely.
It is common that Shopify security has become a common concern when one decides to set up online stores on Shopify. Without a doubt, security is highly crucial in the eCommerce industry as eCommerce involves dealing with customers' confidential information such as their payment details and addresses. 
Is Shopify safe?
Shopify is an e-commerce platform designed for small and medium business owners. Not many users have the financial means to devote the majority of their budget to website support. Therefore, the platform developers have established automatic systems that monitor data security and money transfers. That helps to ensure that Shopify's secure payments are effective and stable.
What is PCI?
Basically, PCI compliance is the data security standard for the payment card industry. It is developed by the Payment Card Industry Security Standards Board and established by international payment systems such as Visa, MasterCard, American Express, JCB, and Discover. Without this standard which requires an integrated strategy to ensure credit card data information security, online shoppers always have to worry about security in modern E-Commerce. 
 Is Shopify compliant with PCI?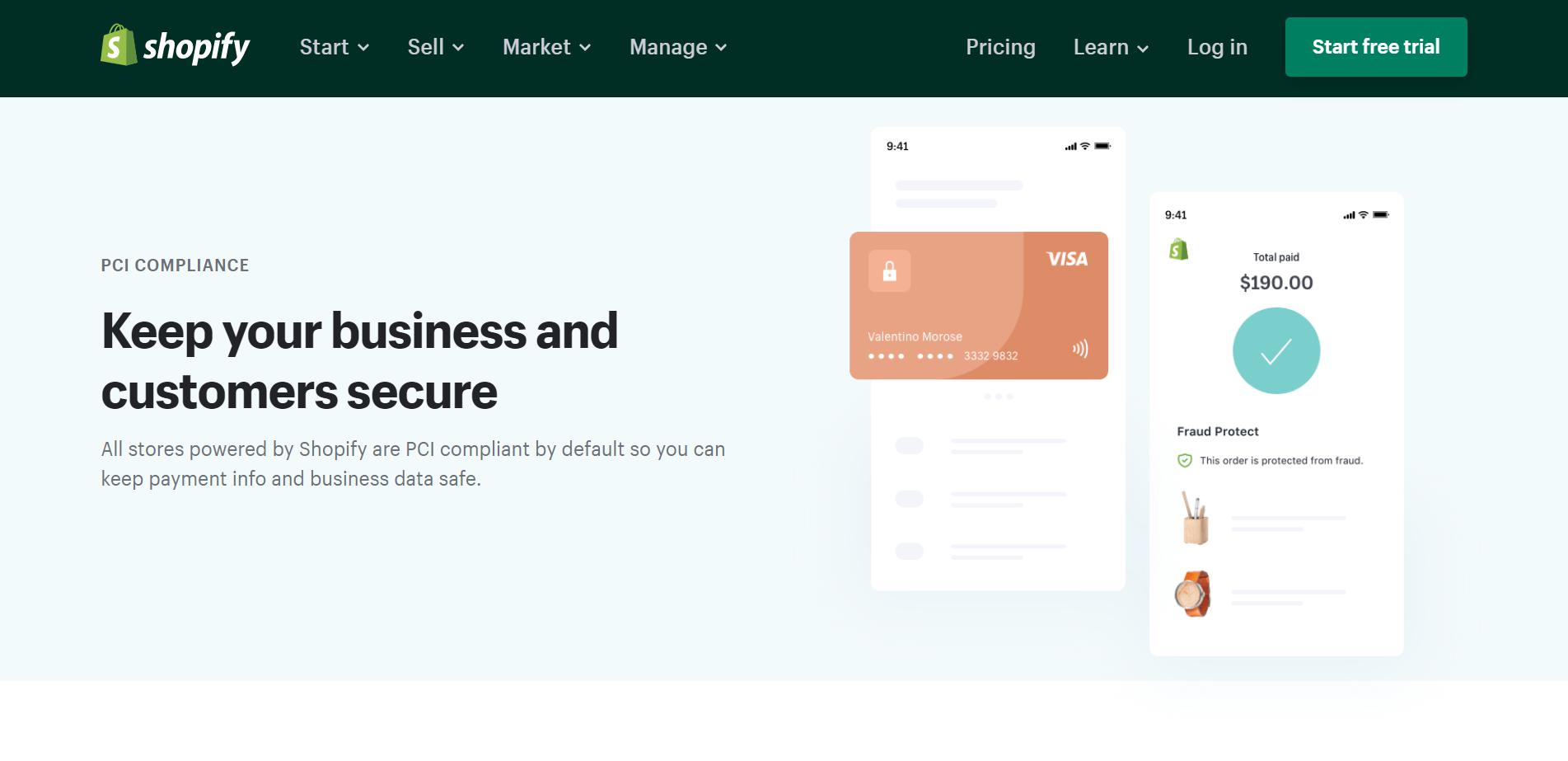 Shopify is certified according to the Level 1 PCI DSS standard including 6 categories:
Maintain a secure network

Maintain a vulnerability management program

Regularly monitor and test networks

Protect cardholder data

Implement strong access control measures

Maintain an information security policy 
It implies that the stores are equipped with data encryption tools, protection of Shopify payment transfers, virus prevention on the servers, risk analysis tools as well as constant security monitoring. Both merchants and the seller are already protected at the stage of transactions and card data entry.
The Essential Guide to Store Security on Shopify
Secure as it seems, if you don't know how to utilize Shopify security features, you could always have butterflies in your stomach because you can't deal with financial risk, identity theft or customers' trust loss completely.
Therefore, we suggest you some guidelines for your store's Shopify security. These will undoubtedly assist merchants and other organizations in gradually protecting themselves from the highest risk factors and escalating threats on Shopify. 
Let's check it out right now!
Set up security badge
What is a trust badge? Why is it crucial to your store on Shopify?
Exactly as it sounds like, a trust badge is a badge that you place on your web page to increase trust. It can be in the form of a lock symbol next to the URL or by checking whether the page starts with "https". 
You can find them during the checkout process, but an increasing number of eCommerce store owners are placing them on their product pages or homepage. These badges confirm to customers that your business has a certain service and is safe to process their money. 
According to a survey carried out by TrustedSite, 62% of consumers have begun to purchase an item online only to abandon the purchase because of security concerns. From that, we understand the significance of a security badge. It alleviates customers' concerns about security in terms of personal data and the company's reputation.
5 common types of trust badge 
Actually, there are a variety of trust badges, however, we found 5 key trust badges that really help to improve your conversion rate on your site. Each has its own purpose and use in terms of Shopify security, but all of them can help you improve your store's reliability. You can select appropriate categories based on the effect you wish to achieve on your store. Now let's dive into each trust badge.
Type #1: Safe Checkout Badge
It is a signal that your shop can be trusted by numerous regulations. On Shopify, your online site will automatically integrate with SSL (Secure Socket Layer) certificates. This is convenient since you don't have to take your time signing up or purchasing, and your customers know their personal information is safe. Many retailers appreciate Shopify security for this reason. 
The checkout process is secure, information is encrypted, and the internet connection is safe. There is no reason for customers to leave the purchase at the last step. It's very easy to get the safe checkout badge. On your Shopify checkout page, click the option "upload your logo".
Type #2: Accepted Payment Badges
Many people purchase from brands they recognize. Without putting too much effort, an accepted payment badge enhances your site's credibility and confidence. Some trust badges include having the Visa, MasterCard, or PayPal badges listed as acceptable payment on your site. 
The best thing is that these payment processor badges are both free and simple to get. You can sign up for a Visa merchant program and get a Visa Verified emblem at your online store. When you sign up for many programs, you can get a stunning line of payment processor badges to put anywhere on your website. This gives rise to increasing your store's Shopify security.
Type #3: Third-Party Endorsements
You can also help instill trust and confidence with your customers by using third-party endorsements. This can show your brand has credibility. You have to go through an application process and have your website reviewed before you are granted this type of badge. 
For example, if you want to have a Better Business Bureau badge, you need to adhere to its accreditation standards. Visit BBB.org then choose Get Accredited to read and understand more about the process.
The Google Trusted Store badge is also a widely recognized and trusted badge you can add to raise Shopify security. To be eligible for the Google Trust Seal, you must first apply and meet the requirements that Google sets for this program. That includes Google Customer Reviews. 
After your business has been verified by Google, your customers will start receiving surveys after completing purchases. After Google determines that your reviews are sufficient, you will be awarded a badge.
Type #4: Money-Back Guaranteed Badges
They are commonly used as a marketing technique, as they provide customers with a sense of safety when purchasing a new product. This is a free badge option that can help your site gain trust. 
You may either make your own badge or get a printable version to use on your site. Or you can design this yourself or get it for free from many sites online. If you want the badge to match your site's design, you can hire a freelancer to do it for you.
Type #5: Free Shipping and Returns Badges
Having such a good badge along with a money-back guarantee badge highlights your store policy and your level of customer service. It also gives customers a sense of safety and reduces some risks when buying online. It is completely free, you can create it on your own or download it online.
Apply two-step authentication
Two-step authentication is a more secure login process for Shopify Security. When one tries to log in to your Shopify admin using your account, it offers an extra layer of protection. With the second step, even if someone else knows your password, they are unable to log in. 
To install this function, follow these two steps:
Step 1: Enter your account credentials, which include your email address and your password.
Step 2: Verify your attempt to log in by using a mobile device or a security key.
Secure two-step authentication relies on combining two factors, which can be something you know (such as your email address and password combination), something you have (such as a one-time use code that is provided by an authentication app or through SMS text, or a security key).
Create admin security 
Due to the heavy workload, you need to share admin permissions with your staff so that they can give you specialized support such as replying to customers, completing orders, etc. Nevertheless, it may pose a significant danger if every staff member has access to important information. 
To reduce this risk, Shopify provides a secure back-end offering a staff permission system. This function allows you to set levels of access to your staff. This video below will assist you in managing your staff account:
Turn on payout notifications
If you don't already get them, you can set up alerts for whenever a payout is sent to your bank with a link to the order. That way you can review the order and customer details to quickly spot any issues.
When a payment is delivered to your bank account, Shopify sends you an email by default. The email contains the amount paid and a link to the payout in your store, so you can check the purchase and customer's information. 
You can turn these emails on or off in your Shopify Payments settings, then applying 4 steps below:
Step 1: From your Shopify admin, go to Settings > Payments.
Step 2: In the Shopify Payments section, click Manage.
Step 3: Under the Payout schedule in the Payout Details section, check or uncheck Enable notifications.
Step 4: Click Save.
Implement fraud protection
There is nothing more devastating than the fraud that undermines customer trust, damages your reputation and on top of that, affects your business's revenue. Therefore, implementing effective fraud protection is of great help to your E-commerce business. Luckily, Shopify fraud protection is great and reliable. It will flag potentially fraudulent orders for manual scrutiny before processing. 
You may choose whether your orders are completed manually or automatically, giving you total control over the process. Orders that have been marked as suspicious can be double-checked before they are sent out.
Here are 4 steps you need to implement fraud protection to your Shopify store:
Step 1: From your Shopify admin, go to Settings > Payments.
Step 2: In the Shopify Payments section, click Manage.
Step 3: In the Fraud prevention section, check the options that you want to use to automatically decline charges.
Step 4: Click Save.
If Shopify can't meet your business requirement, there are some useful apps that will help with fraud prevention such as Signifyd, NoFraud, and Synctrack
Audit staff member permissions
You can give permissions to your staff so that you can manage what your store's staff can view, and what they can do in your Shopify admin or Shopify POS. However, if one of your staff no longer works here, you can deactivate the staff account so that they can't log into your store any longer. For security purposes, you should deactivate any unused staff logins.
In order to do so, follow these steps:
Step 1: From your Shopify admin, click Settings and then click Users and permissions.
Step 2: Click the staff's name.
Step 3: Click Deactivate staff or Suspend access.
Step 4: Then click Deactivate or Suspend.
Back up your store
No matter how attentive you are, no one is able to ensure 100 percent security. So having regular, ideally automatic, backups of your shop is the best defence against a catastrophic incident. With a copy of your store, you can restore it to its original version. 
Actually, Shopify supports users to back up their store information by exporting CVS (Comma Separated Value) files. 
Here are some steps you can take to use CVS files. 
Step 1: Log into your Shopify store admin area.
Step 2: Choose the store information you want to back up.
Step 3: Click on "Export".
Step 4: Tick the boxes to export the current page / all products and if you want a plain CSV file, then click on "Export Products".
However, this process requires some manual effort. Or else, you can download Rewind Backups that helps to automatically back up your store every day and undo unintentional changes.
Wrapping up!
E-commerce is vulnerable to a wide range of threats; however, Shopify is a great option for your business. The reason is that this platform meets all the requirements of security. 
As long as you follow Shopify Security guidelines strictly, it gives you peace of mind about your store's security on Shopify. As a matter of fact, Shopify security prevents your store from data, information leakage, and financial risks while gaining customers' trust. 
We will keep updating new guidelines about Shopify security if we come across something new and useful.