Can you believe that you can earn $500 – over $5000/day with Shopify Dropshipping? As a rising eCommerce business model, the global dropshipping market is projected to witness an annual growth rate of 32% from 2021 to 2026 (Market Data Forecast). 
Needless to say, you can only obtain a financial benefit from Dropshipping on Shopify if you do it right. Therefore, in this article, I'll lead you through our ultimate Shopify dropshipping guide to succeed as a Dropshipper on this platform! 
Shopify Dropshipping explained
Dropshipping is a way of order fulfillment where eCommerce store owners can sell products without having to manage inventory. To be more specific, when customers place orders, the store simply purchases the item from a supplier who will then prepare and ship it directly to customers. 
The biggest advantage of dropshipping is that you are free from any manufacturing or stocking worries. Instead, your main task is to build an attractive site and market your products properly. Profit will come from the difference between wholesale and your retail price. 
With a wide range of utilities and user-friendly platforms, Shopify Dropshipping has now become a top pick for eCommerce entrepreneurs who want to try this new business model. 
Why should you start learning Shopify Dropshipping guide?
Benefits of Dropshipping
Whether you are a beginner in the eCommerce world or already an online business owner, dropshipping is still worth a try. Here are some pros when you become a dropshipper:
Understand the market –

With various products to choose from, learning the Shopify dropshipping guide gives you an opportunity to figure out which sell and which don't without inventory burden. Once you have identified a promising niche, it is less risky to have a bigger investment in scaling your business. 

Low capital needed – 

In Shopify dropshipping, a third-party supplier is responsible for the supply chain from stocking, packing, to shipping. Supply chain costs range from 10% to 20% of revenues (according to OliverWyman), so this method will definitely require less money in the beginning. 

More flexibility –

As you don't have to manage any brick-and-mortar stores or inventory, you can work from anywhere with the internet.
Start a dropshipping business with Shopify 14-day trial
Do you know Shopify is now accounting for 20% of the e-commerce business?
Hundreds of merchants have succeeded in their dropshipping business on Shopify. Join them today!
Why Shopify is the best platform for your dropshipping business? 
Among other eCommerce platforms that support Dropshipping, Shopify continues to be the best fit for dropshipper as it is:
User-friendly –

They understand that most wannabe entrepreneurs are not experts in technical stuff. Shopify allows you to create a website that seems like a complicated task, but it doesn't make users overwhelmed. Nearly everything can be done by dragging and dropping available items on the screen. 

Full of highly supportive features for Dropshipping –

Shopify offers loads of features that let you build an online dropshipping business. There are also many amazing

Shopify Dropshipping apps

to help you unleash your store's potential! 
👉 
Interested in finding out more about what you can do with
Shopify
? Check out our comprehensive post on
Shopify Review for 2022
!
Has your curiosity for Shopify Dropshipping increased? Let's continue with our guide to becoming a successful dropshipper! 
The ultimate Shopify Dropshipping guide (7 steps)
Step #1. Identify a promising niche 
You can easily set up a Shopify Dropshipping store and eventually find your lucrative land through trial, and maybe, error. However, focusing on a carefully chosen market from the very beginning is always a better idea. 
It is important to like what you sell. Therefore, remember to ask yourself what type of products you are interested in. 
After having shortlisted some favorite market niches, you should do some research to check whether the demand is on the rise or on its way out. Google's Keyword Planner, Google Trends can help in this step, or you can also spend some time scrolling to find out what's hot on social media.  
Next, make sure you can earn a proper amount of money from your Shopify Dropshipping site. Before you launch the site, try calculating the estimated profit of each item. You can compare prices between a supplier website like AliExpress and an online retailer site like Amazon to find which niche has the largest margin. 
Now we think you have sufficient information to decide what will be on your website. 
Step #2. Come up with a name for your Dropshipping store
As Shopify will ask you to fill in your store name from the registration stage, you should think of a name early. Here are some tips from us to help you come up with a good name for your Shopify Dropshipping store:
Be relevant 

Keep it short and simple 

Make it easy to remember
You are stuck on this step? Don't worry! Shopify has a tool called Business Name Generator that gives you hundreds of name suggestions for your business. 
All you need to do is to search "Business Name Generator", then enter the product keywords you focus on. For instance, you want to open a store selling perfume, then just type in the word and click "Generate names". Here are the results: 
Now you have 100 name suggestions from the apps! That's convenient, isn't it? 
Step #3: Choose an appropriate Dropshipping Supplier
All stages from storing, packing, shipping are the duties of your supplier. That means you cannot control the product and delivery yourself. However, customers can only turn to you when problems occur. You don't want to be blamed for things that weren't your fault, right? That is why you should do thorough research to find a trustworthy supplier for your Shopify Dropshipping business. 
First, create a list of criteria for your supplier – Do you require extremely fast delivery or any special services? This is a crucial step as you may find yourself lost in the sea of information in the marketplace. This list will help you bear in mind the top requirements and hence make a wiser decision. 
Next, let's begin searching. You can find plenty of suppliers such as AliExpress, DHGate, or LightInTheBox,… Also remember that you should properly check their information in terms of wholesale price, review, shipping time as well as the return policy. You can also contact them to find out whether they can cater to your specific needs. 
Based on this amount of information, you can narrow down your supplier list. Then we recommend you place some orders to test the quality of each supplier in reality and prevent yourself from partnering with a fake one. 
 💡
Tips:
order some products from other dropshippers that sell in the same niche as you. This way, you can find out their dropshipping supplier via the
return address
.
Step #4. Create an account
As Shopify offers a 14-day FRÊ trial, you can take this opportunity to test before choosing its paid package. You will be required to enter your email address, password, and your store name. 
After that, Shopify will ask you a few questions to better understand your experience and purposes.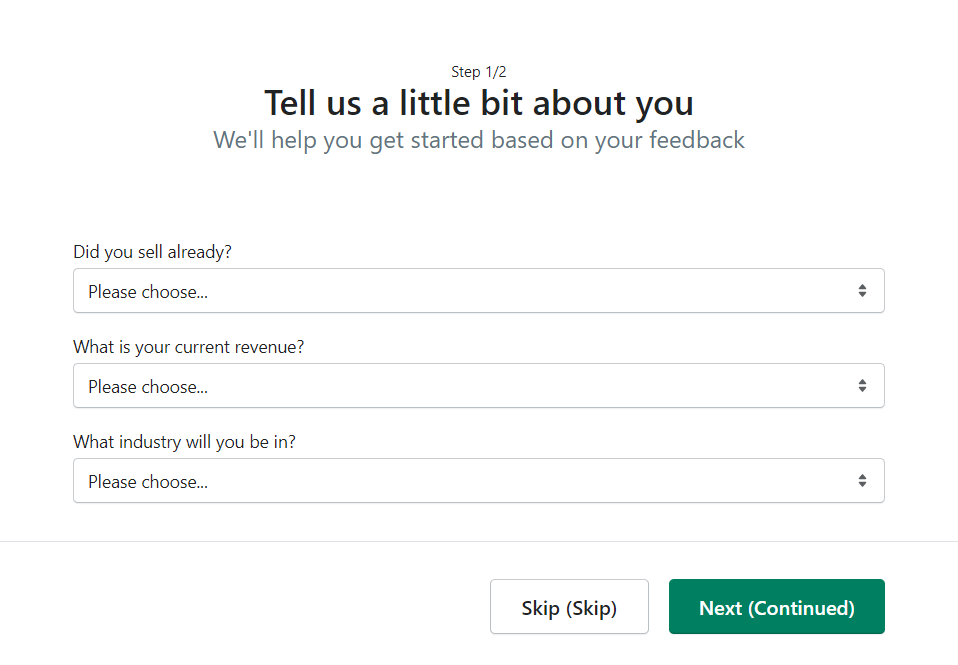 If you're satisfied with the free trial, you can consider opening a Shopify Dropshipping site with one of these plans:
Step #5. Set up your Shopify store
1. Choose a theme
Creating a good look for your Shopify Dropshipping store is a crucial part of building a pleasant customer experience. The platform creators understand that most online store owners are not experts in coding or web designing. That is why Shopify is loaded with versatile and highly functional themes that help you create the website you want. 
You can choose a theme from Shopify theme store or from other theme marketplaces like Theme Forest, Template Monster, or Envato Elements,…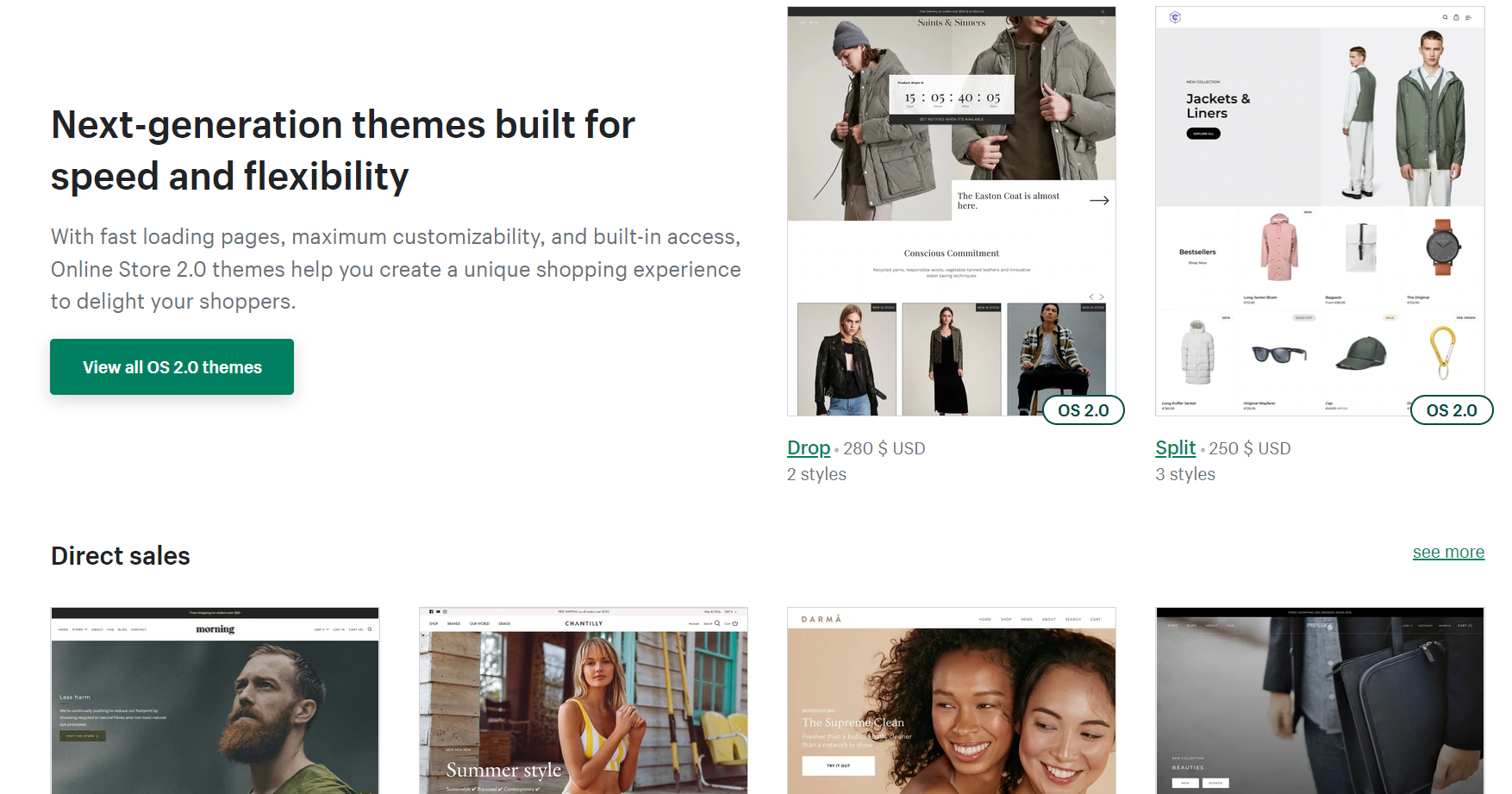 Shopify Theme storeThese themes also allow for customizations. You can insert your logo, add more pages, change the color, the fonts, and many more up to your liking. 
2. Set up a domain name
You can connect, transfer, or buy a new domain name for your store in case you're not satisfied with the default one, which is storename.myshopify.com. 
3. Add your products
Now you have your Dropshipping store on Shopify, the next step in this Shopify dropshipping guide is upload your products. The platform allows you to add your products in various ways: import your catalog using a CSV file, upload in bulk, or one by one. 
Notice something missing? Yes, you also need to insert product details such as title, description, product image, and price. This information will make it easier for your customers to understand the products you sell. 
Step #6. Set up payment options
Try a little more! There is only one step left before you can officially launch your Shopify Dropshipping store. To adjust payment settings, go to your Shopify dashboard and click "Settings", then "Payments". There are a wide range of payment options for you to choose from, which include:
Shop Pay
Credit cards
Paypal 
Amazon Pay
In this section, you can also set manual payment methods such as Cash On Delivery (COD), Bank Deposit, or Money Order. However, when a customer selects a manual payment method such as COD, you'll need to approve their order before it can be fulfilled.
And last but not least, remember to add clear descriptions about your refund policies, return policies, shipping policies and terms of services. 
Step #7. Market your products and start dropshipping
Congratulations! Now you're all set. But let's put some extra effort into promoting your Shopify Dropshipping store, or you're unlikely to generate many orders as competition is fierce! 
Develop an understanding of your target customers: what is the marketing message that resonates with them, or on which social media do they often interact with your product category?
If your budget is tight, you can learn to do SEO and content marketing for your website. Otherwise, you can try Google Ads, Facebook Ads or approach KOLs/Influencers to offer a partnership. 
Some strategies to become successful in this Shopify Dropshipping guide
Now that we've shown you how to open a Shopify Dropshipping store, let's dive into some strategies to help you make the most of your business
Tips #1. Invest your time in understanding the market niche
Dropshipping is an easier approach when one first comes to eCommerce. With little entry barriers, you can sell almost anything you can find in the marketplace. As a result, many entrepreneurs skip the market research stage or do it with insufficient effort. 
Some, on the other hand, blindly follow the trends without an understanding of the bigger picture or enthusiasm for the product itself. This may work in the short term, but your business will not get the dynamics it needs in the long run.
Once you've picked a niche that is both profitable and interesting to you, the mission has not finished yet. To grow your Shopify Dropshipping store sustainably, you need to keep an eye on the changes in consumer behavior, demand that is on the rise so that you can adapt, survive, and scale up. 
Tips #2. Develop a good marketing strategy 
One advantage but also a disadvantage of running an online business is that you don't need a physical store. That means you have to try harder to attract customers through online channels or only a few people will buy your products. 
As a dropshipper, you may sell the same products as your competitors, even from the same supplier. That is why a strong proposition and marketing strategy is a must. 
Your first priority should be building a strong brand position. It is unlikely that you can change the products, so invest your effort in creating your Unique Selling Point (USP) and emotional values. Do thorough research to better understand your customer's unmet needs, then create an insightful message or value that helps you stand out from the crowd.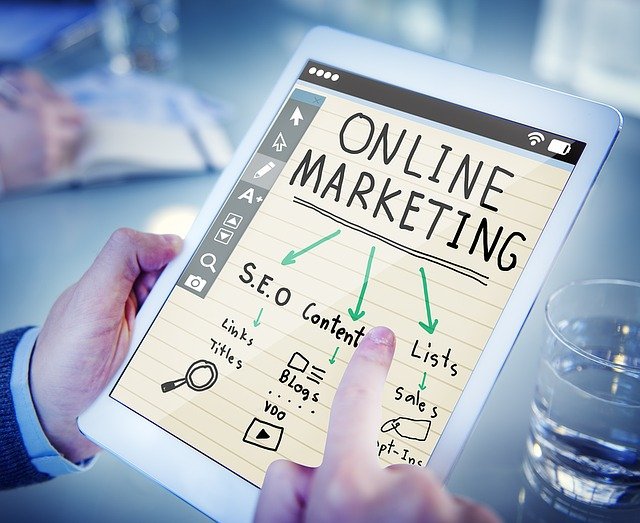 Once you have a solid brand positioning, you can try promoting your products with:
SEO –

This is the process of optimizing your website's content to match with the popular keywords related to your business, hence increasing your site's visibility. Focusing on SEO can be a good start for new entrepreneurs with tight budgets. 

Shopify Marketing Apps –

there are thousands of apps that help you extend the functionality of your Dropshipping store. You can find solutions to almost any marketing issue, from email marketing, publishing your posts on various social media platforms, to getting performance analytics. 

Social Media Marketing –

You can leverage social media to promote your Shopify Dropshipping stores. Depending on your market, you can decide what channels to focus on. For instance, if you're selling accessories for young women, then Facebook and Instagram may be promising touchpoints.

Paid Ads –

If the attempts to organically grow your customer base don't bring out desirable outcomes, then you should consider advertising your products on Google, Facebook or platforms that you can reach your target audience. 

Influencer Marketing –

It is increasingly popular to pay influential people on social media like Facebook, Instagram to promote your products. This method of marketing may be a bit costly, but you can be assured that your products reach the right target. 
Tips #3. Create an excellent customer experience 
Besides a well-developed marketing plan, a consistent and seamless experience is a big bonus point for your Shopify Dropshipping business. 
Consistency is key – Make sure your brand's image, tone and message are the same across the channels. A consistent presence will help customers to remember and place more trust in your brand.  
A user-friendly website keeps the customers stay – We all know that a great first impression is important. If your Shopify Dropshipping store looks messy, unprofessional or hard to navigate, you may lose potential customers before getting a sale. 
DON'T forget to provide exceptional customer service – This is where you can create added value for your customers. Be prepared to support your visitors at every stage, on every channel you use, from answering product questions, updating your latest news, to handling complaints. Professionalism, patience, and a "people-first" attitude are the 3Ps keywords to remember when it comes to customer service. 
Final thoughts on this Ultimate Shopify Dropshipping guide
To summarize, we've provided you with all the basic knowledge and step-by-step Shopify dropshipping guide to build a dropshipping store. But there is one last pro tip we want to disclose: It is to actually GET STARTED! Do some research, develop a strategy, and realize that plan with strong will in spite of fear and uncertainty. 
We hope our guide will help you to succeed in your dropshipping business and also remember this: Every step counts.