Amid the Covid-19 pandemic we're all in, selling in person is tougher than ever before. But that doesn't mean you should give up and go with the flow! Instead, utilize Shopify POS to drive more sales- both online and offline. 
Yup, if you're searching for a point-of-sale system for your Shopify business, Shopify POS should be a top choice. 
Technically, this app is built to sync with your online store in real-time so that you can sell any product on your online site at your physical location seamlessly.
Keep scrolling to know more about What Shopify POS is, How much it costs, and What features it offers.
What is Shopify POS?
Shopify Point-of-sale (POS) is a user-friendly point of sale app launched by Shopify to enable merchants to sell their products at any physical location. 
You can run the app separately or sync it with your Shopify store for better inventory and order tracking across your online & offline store. 
How does Shopify POS work?
To put it simply, here's how the app works!
The customer selects an item at your physical location

You then select the same item on the app

Use the customer's credit card to process payment

Finally give your customer a receipt
Well, basically, it's just that simple! However, when you run a large retail business, doing all the steps above manually is time-sucking. 
In that case, to "rescue" your customers from waiting in a long queue, you'll surely need these following Shopify POS' hardwares: 
A cash drawer

An iPad stands

A receipt printer

A barcode scanner
Have you ever walked into a local supermarket in your vicinity? Because with the hardware integration, your checkout stand will function exactly like a checkout stand.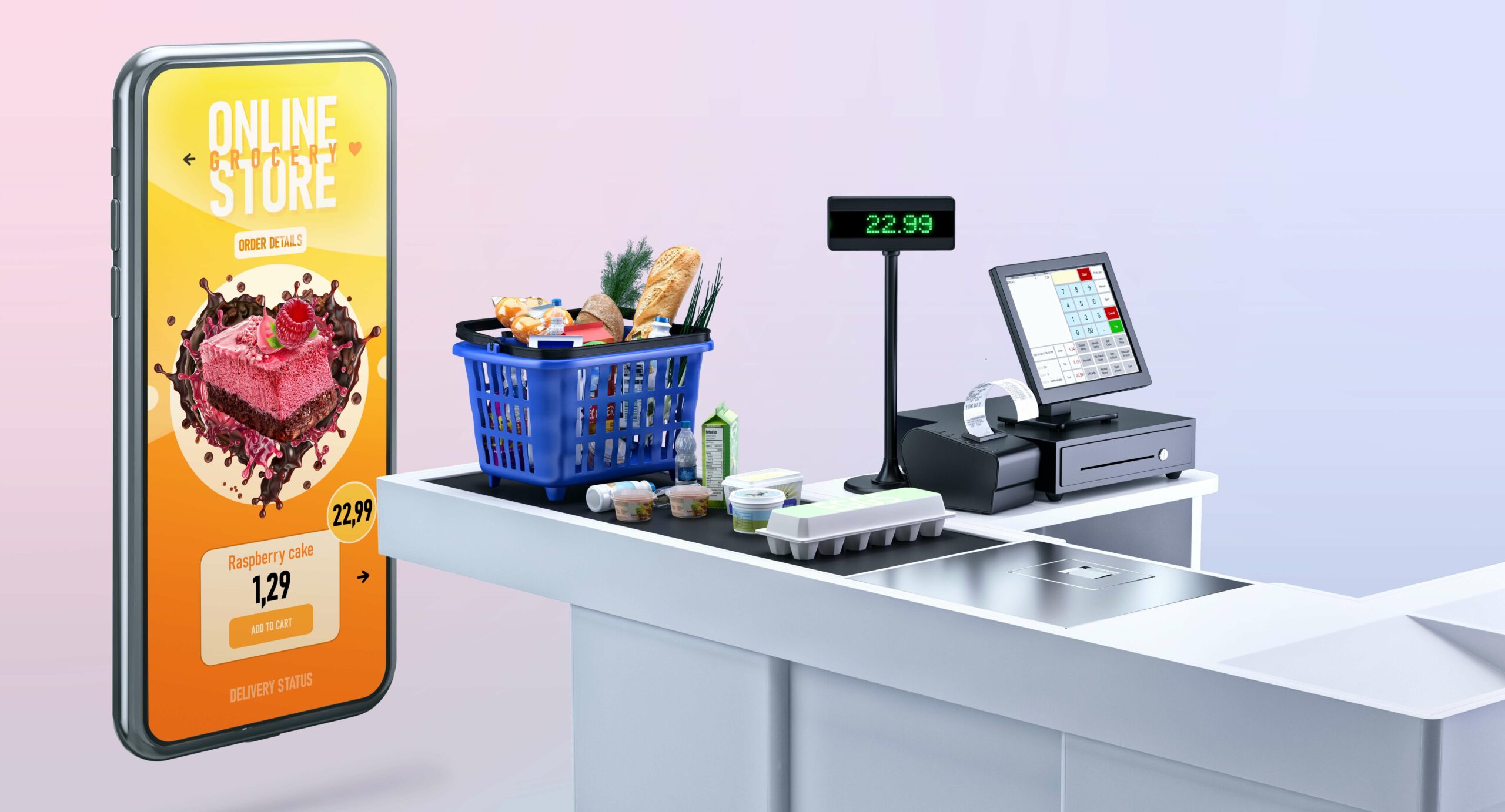 NOTE: To integrate these hardwares into your Shopify store, you must not be using Shopify Lite or Basic Shopify.
That's why we'll be discussing costs and fees associated with Shopify POS right below! 
How much does Shopify POS cost?
Though we want to give you a fixed cost to save both of our time, we simply can't! (it depends on your needs, the Shopify plan you're using, the hardwares you intend to integrate, etc.)
Therefore, we'll provide you with up-to-date info on costs associated so that you can figure out a number for yourself! 
Software costs
Shopify POS has 2 versions- the Lite and Pro version, which both require users to purchase a Shopify monthly subscription.
Shopify POS Lite is included in every Shopify plan with no additional costs. That means your software cost starts at $9/month (Shopify Lite), and goes all the way up to $299/month (Advanced Shopify).
Meanwhile, to access Shopify POS Pro, you have to either pay an additional $89/month (per location) or sign up for Shopify Plus (which costs at least $2,000/month).
 
Shopify Lite
Basic Shopify
Shopify
Advanced Shopify
Shopify Plus
 License fee/month

$9

$29

$79

$299

Starts at $2,000

 Cost of Shopify POS   Lite/month

$0

N/A

 Cost of Shopify POS   Pro/month

$79

$0
NOTE: Shopify Lite got you covered with standard features for point-of-sale only. You cannot sync Shopify POS with your Shopify store simply because Shopify Lite is designed to integrate with an existing website to commercialize that website with a "Buy button".
Start your Shopify POS 14-day trial Now
Point-of-Sale has been helping merchants to sell at any physical location.
You can use Shopify POS and start selling both online and offline simultaneously!
Transaction fees
Though Shopify POS Lite is available for Shopify users of all plans, the higher plan you opt for, the lower your payment processing is. 
Take a look at the table below (these rates are applied for both the Lite and Pro versions).
 Shopify Plan
Offline payment processing rate per transaction
Online payment processing rate per transaction
Additional fee for not using Shopify Payments
 Shopify Lite

2.7%

2.9% + $0.30

2%

 Basic Shopify
 Shopify

2.5%

2.6% + $0.30

1%

 Advanced Shopify

2.4%

2.4% + $0.30

0.5%

 Shopify Plus

Variable rates

Variable rates

0.15%
Hardware cost
If you just sell in person in a stall at an event in a flea market every once in a while, everything you might need is a smart device that runs smoothly.
With Shopify POS Lite, you can utilize your existing iOS/ Android smart device. But to use Shopify POS Pro, you must have an iPhone or an iPad.
However, if you're running a retail business with a sophisticated product catalog at a permanent physical location, factor in the hardware accessory cost:
Chip and swipe card reader: $29.

Tap and chip card reader: $49.

Tablet stand: $99 to $219.

Wired receipt printer: $299.

14-inch cash drawer: $139
To be more economical, you can choose to buy a whole package, known as Shopify Retail Kit.

In addition, depending on what kind of business you're doing, you may need a different set of hardware. Here are what you might need in accordance with your business type:
A pop-up shop:

a device with iOS 12.2 above + card reader

A retail store

: everything in pop-up shop + a receipt printer

Multiple stores/ a warehouse

: everything in retail store + cash drawer + barcode scanner
⚠️Check the Shopify POS hardware guideline to ensure that your hardwares are supported by Shopify. Otherwise, you cannot integrate these hardwares into your Shopify store.
NOTE: For Shopify POS hardware integration, you have to use at least Shopify ($79/month).
Shopify POS' features
When looking for a point-of-sale app, the ability to accept payments or print receipts is a must. But it's not all that matters. 
Ask yourself whether it is able to store all the customer data and sales information, keep track of inventory and customer orders or give you insights into your best-selling products?
Here comes a quick overview of Shopify POS' main features!
Payments
Shopify POS allows merchants to split tenders (e.g: credit card and cash or multiple credit cards), accept partial payments and give customers digital or physical gift cards. Plus, Shopify POS users can also set custom payment types such as checks, IOUs or gold coins. 
Checkout
If your customers have to wait in a long queue to check out at your retail store, chances are that you'll lose them forever. 
However, Shopify POS got you covered with the following features:
Discount code:

you can offer discounts at checkout, either by percentage or dollar amount. The cool thing is that they can be applied on customer' entire cart or one item only (if that one item is sale-off by percentage)

Custom Receipts:

You can customize both your digital and printed receipts which include all the important data such as your store's URL, upcoming events, etc. (printed receipts are for Shopify POS Pro only).

Automatic Tax Calculations

: the app will auto-calculate the tax rate at checkout based on your store's geolocation. If you want, you can also apply custom tax rates for specific products or orders

Customizable smart grid:

you can speed up the checkout process and save time for both you and your customers by Shopify POS smart grid, which allows you to keep the features you use the most at your fingertips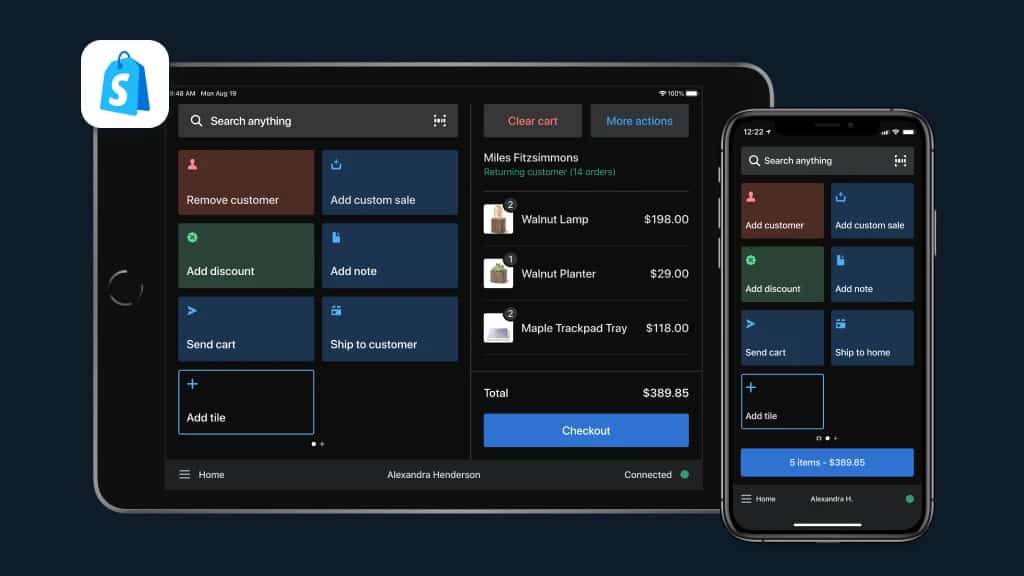 Customer management
Customer profiles:

Shopify POS helps you auto-create a profile with each new customer. You can then fill in contact info, add notes, etc. to get deeper insights into their shopping habits

Order history:

by viewing customer purchase history both online and in-store, you can manage returns or exchanges/ suggest them relevant items

Shipping details:

you can record a customer's shipping address and contact details so that you can ship to them later

Order note:

to deal with meticulous customers, you can keep track of special requests by attaching notes to those orders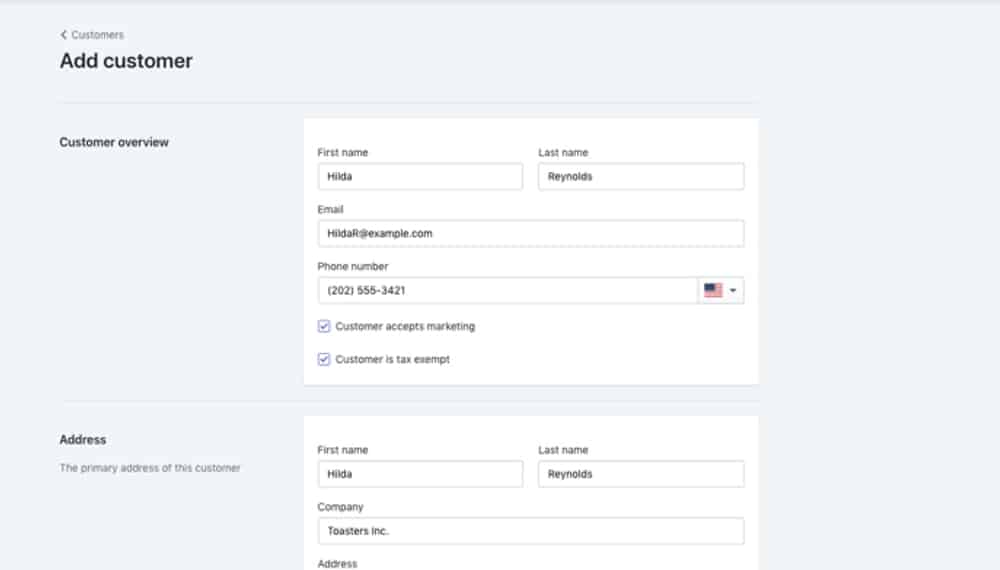 Product management
Unlimited products:

luckily there's no upper limit for the number of products you can sell with Shopify POS. You can therefore add many products of different attributes as you want
Product grouping:

just like your Shopify store, you can categorize your products by collection, type, season, etc. 
Inventory status:

this feature will help you keep track of your inventory when your products are transferred or an order is fulfilled

Barcode support:

each of your products will be assigned a unique barcode, which can be scanned quickly with the barcode scanner to accelerate the checkout process

Staff management
You can control app access and track your staff's performance from anywhere. In more detail, you can set staff POS PINs, define retail staff roles and permissions, and attribute sales to staff and reward commissions or kudos.
NOTE: most of the staff management features are for Shopify POS Pro. With the Lite version, you can only assign unique PINs to your staff with a Shopify admin account.
Reporting and analytics
At the end of the day, Shopify POS enables you to look back at your store performance with its consolidated reports including cash flow, finance, retail sales, products, discounts, cash tracking, and daily sales.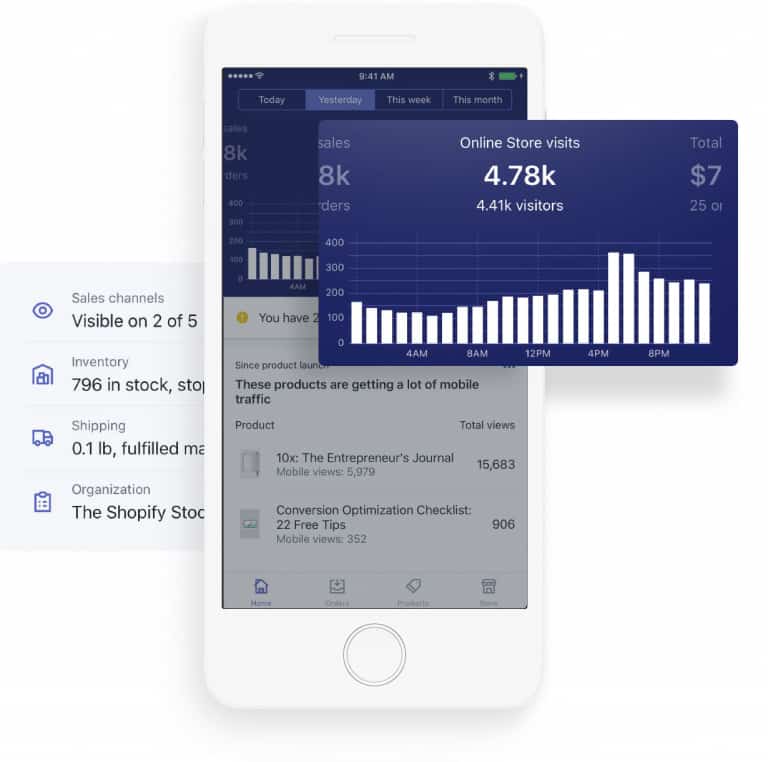 App and add-on integration
You can find a bunch of apps and add-ons to support your business on Shopify Appstore. Don't forget to use filter search to select the POS-compatible ones.
Shopify POS alternatives
The fact that this point-of-sale system depends heavily on its eCommerce platform is a blessing for Shopify merchants but a curse for pure brick-and-mortar stores. That's because brick-and-mortar businesses can opt for other POS options at a much more affordable price.
Plus, the Shopify POS is designed specifically for retail businesses. Thus, if your business is in the F & B or FMCG industry, you might love to opt for other POS options
Shopify POS Alternative: Square POS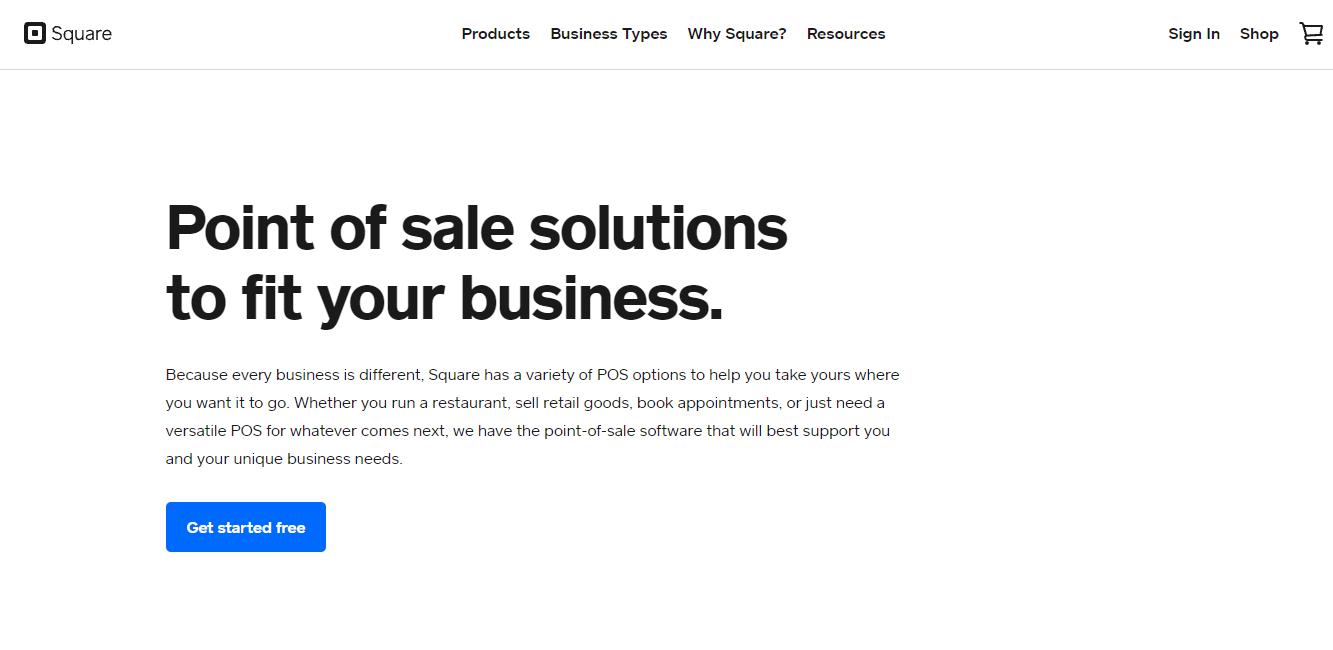 Square POS is a perfect solution for those with the least technical skills because it's built with a strong emphasis on simplicity and ease of use. If you run a restaurant and are in need of a POS system- Square also provides a point-of-sale system dedicated to restaurants only.
In addition, Square POS is also well-known as an economical choice. Depending on which plan you choose, you'll have a white card reader to process in-person payment. If you opt for Square's newer readers, you can accept both chip & PIN transactions and contactless payments as well.
Lightspeed POS provides a cloud-based POS solution accommodating dozens of robust features and integrations so that you can manage your business as smoothly as possible. 
This software is more suitable for medium to large-size businesses because it does enable merchants to make the right decisions thanks to in-depth data and analytics.
Unlike Shopify POS, Lightspeed POS comes in a single plan starting at $99/month. Add-ons are available, and the user interfaces are extremely intuitive.
Shopify POS Alternative: iZettle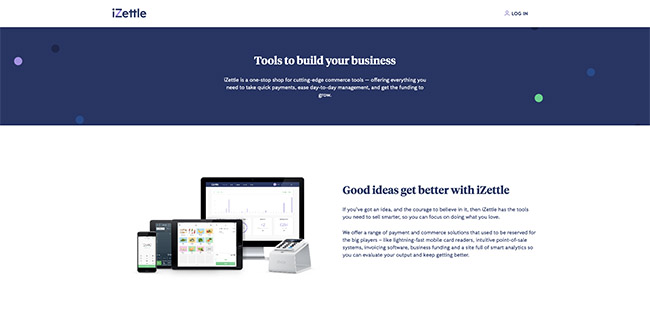 iZettle provides a POS solution that includes a cash register, inventory tracker, and analytics tools. It's an awesome option for those who want to sell their products using an affordable POS system that's eye-catching and easy to use.
The iZettle POS kit is slightly more expensive than Shopify POS, at 189 EUR. If you want to buy an Ipad Wifi 32GB from iZettle, the total kit will be 458 EUR.
Shopify POS Alternative: Air POS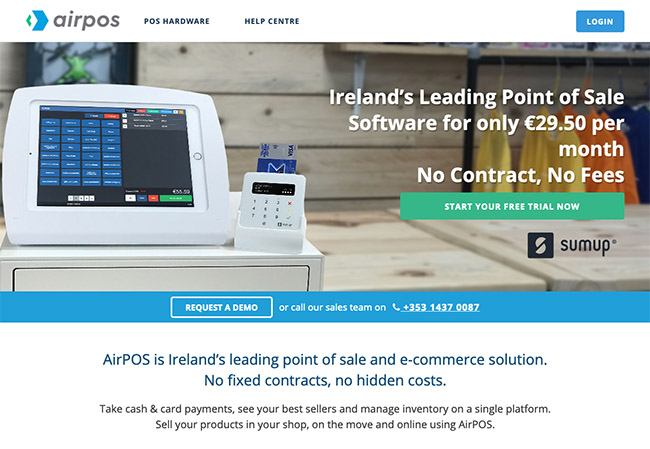 Air POS is a fully developed point-of-sale system that allows you to handle both cash payments and contactless transactions from your customers. More importantly, Air POS helps you manage inventory easily and it also integrates with major accounting software.
The cool thing is that this point-of-sale system is more versatile than that of Shopify. Air POS works properly on iPad, Android, and even Windows devices, so you can definitely make the best use of your existing devices.
Wrapping up
Shopify POS was built to works perfectly with its eCommerce platform. Thus, it might be everything you ever need if you're a Shopify store owner who wants to embrace online and offline selling simultaneously.