If you are interested in selling online, I assume that you've heard of Shopify with its various pricing options. And though Shopify's Basic plan works for most businesses, it's not a one-size-fits-all. What If everything you need is Shopify's least expensive plan- Shopify Lite?
That's why in this article, we'll show you How Shopify Lite works and When you should be using It for your business.
How does Shopify Lite work?
If you're new to our blog, perhaps you might love to read about our Shopify Reviews first.
In a few words, Shopify Lite is the most affordable and lightweight package among the pricing plans Shopify offers. You can set up your product catalog to sell online (either on an existing website or social media)
That means the major difference between Shopify Lite and other regular pricing plans is that you do not have a brand-new website with a shopping cart. Instead, Shopify Lite integrates with previously built websites and social media platforms.
Thus, if you have a website at hand and now you want to sell some items on it, the Shopify Lite plan would enable you to keep that same blog and integrate all the products you want to sell on it.
Shopify Lite Pricing Plan
You might be surprised to know that Shopify Lite only costs you $9/month, which is 3 times cheaper than its next tier- Basic Shopify at $29 per month. Just like its other options, users will have a 14-day free trial with Shopify Lite before they decide whether to keep using it or upgrade to the Shopify regular pricing plans.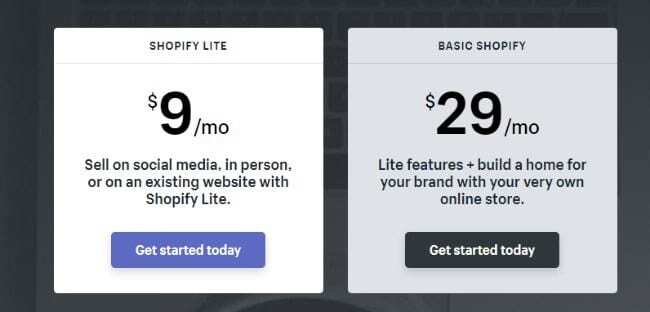 This pricing plan comes with eCommerce features for your website (WordPress, Square, Wix, etc.). Some of the basic features include Shopify Point-of-sale feature, a Buy Button embedded on your blog, the Overview Dashboard, and the Finances Report.
Though the Shopify Lite plan costs you $9/month, remember to factor in the so-called fee per sale. For in-person sales, Shopify Lite charges you 2.7% + $0.30 per sale. So for a $100 sale, you'd get $97. For online transactions, this fee goes up to 2.9% + $0.30 per sale triggered. So for the same $100 sale, you'd get a bit less money to keep at $96.80.
These fees, though seem small, can accumulate and eventually cost you a fortune if you process a lot of transactions. Thus, if you have a small scope business, Shopify Lite might be your muse.
Now for the main course, let us walk you through its major features, and well, after that, we'll summarize its pros and cons for you to decide whether to use it or just stick around with Shopify's regular pricing plans.
Shopify Lite Main Features
Despite its super cost-saving price, Shopify Lite can prove to be incredibly useful with many handy features to help online store owners boost their sales performance brilliantly.
Social Media Selling
Now supposing that you have a blog with massive traffic and a Facebook account with such a high engagement rate, Shopify Lite could a life-saver you've been searching for.
With Shopify Lite, you can own a comprehensively integrated Facebook Shop. That means you can sell on Facebook, convert Facebook users right in-app or run ads to direct them to your well-curated website, it's totally up to you.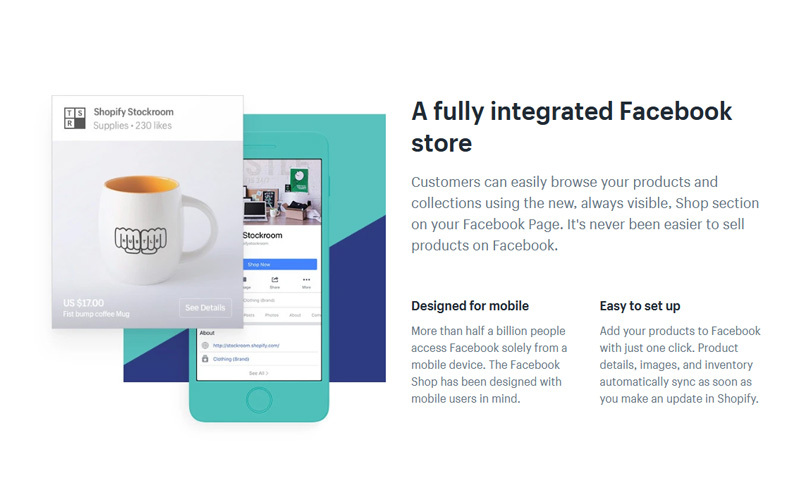 The great thing about this integration is that your potential customers do not have to leave Facebook to make a purchase; thus decreasing their steps and increasing your chances of converting. Plus, the checkout models that come along with the Shopify Lite plan are quite sleek and eye-catching.
More importantly and incredibly, all the products in your admin dashboard are automatically synced to the Facebook store. If you make a change to the product image, price, or description, the product info in your Facebook and blog are automatically updated accordingly. And that saves you a great deal of time which you can use for other matters. 
Customer Support through Facebook Messenger
Since Shopify Lite is seamlessly integrated with Facebook Shop, you can sell on Messenger too. That means you not only get a Facebook store synced but also a Live Chat module to start the journey.
Take a look at this clip to understand more about how to sell via Messenger with Shopify Lite!
With this integration, your customers can browse your product catalog to make a purchase and simultaneously chat with you in real-time. That gives them a more personalized online shopping experience which will lead to higher trust and conversion rates eventually. 
For instance, when a customer has an inquiry about a product he saw on your Facebook Shop, you can reply to him with the available data at your fingertips. What is incredible is that Shopify Lite live chat modules got you covered with all the CTA buttons you need such as Read Description, Choose Size (if you're selling products of different shapes and sizes), etc.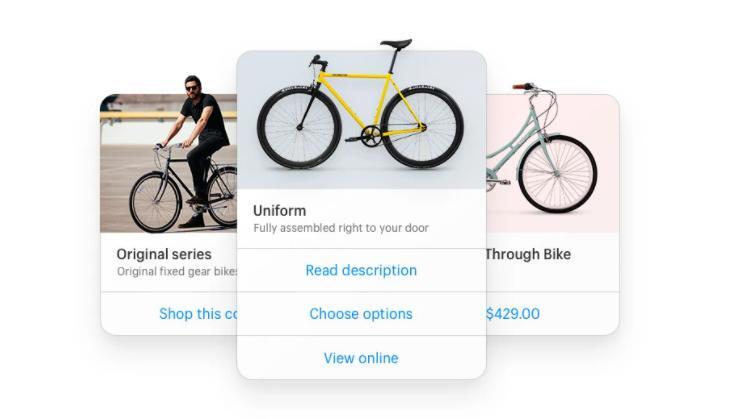 It is great that you're always ready to chat with your customers anywhere and anytime in real-time. And the more awesome thing is that after the chat ends, your customers can check out right in their Messenger without having to switch to another site, making them rethink buying your products.
Create Invoices Easily
If your business specializes in wholesale, mobile, or custom orders, Shopify Lite might interest you then. This is a cost-effective way to create invoices and accept payments from your customers. 

The process begins with creating a custom invoice then send it to the customers who will trigger the payment via the Shopify shopping cart. Generally, it's not much different from other invoice tools. However, you can keep track of every sale without jumping between spreadsheets or accounting systems.
Plus, considering that you can sell online on a seamlessly integrated Facebook Shop and sell offline with its POS, Shopify Lite might be worth investing in.
Accept Credit card on-the-go
If you also want to sell your products in person, the Shopify Lite is perhaps your perfect resolution. Besides the basic functionalities for running an online store, you can totally sell offline with a swipe reader (for free).

The ability to accept credit cards does matter for many businesses, particularly those attending trade or craft exhibitions. As you'll almost certainly be selling online at some point and also hoping to earn some money on the road.
What's awesome is you can manage your inventory across multiple channels in one central hub. All the products you're selling can be synced to the Shopify admin dashboard; thus, cuts down on the time you need to keep tabs on those sorts of things.
Final words
In short, the cheapest Shopify plan will work well for you if you fall into one of the cases below:
You already have a well-built website or a personal blog with high traffic and now want to merchandize on those popular sites
Your business is in the cottage industry. And for that, you want to sell both online as well as offline at some points with the ability to accept credit cards
You are a temporary seller who just wants to earn some money and quit the game afterward
You want to exploit Facebook for selling in the association with Shopify's cool Live Chat modules
Whether you like it or not, there are good reasons why Shopify Lite is there. We hope this article can help you to know how it works and figure out whether to use it for your business.