Shopify – Store Management It is not a problem at all to start an online store on Shopify; however, you may encounter some obstacles in dealing with advanced features to grow and scale your business. Understanding your rightful needs, we are going to show you all the ways to get Shopify customer service from multiple sources. 
Basically, no matter what plans you choose, you always receive the same proactive 24/7 support services from Shopify via live chat, emails, phone calls, or Twitter. Furthermore, you can get help from other Shopify resources such as video tutorials, community, webinars, changelog,  courses, and non-Shopify resources.
Continue to read this article because we are going to reveal them all for you!
#1. Get support from the Shopify customer service team
Above all, we recommend you get help directly from the Shopify customer service team first. These services are always included in any Shopify plan you pick and available for free, and their ultimate goal is to support you in problem-solving, information, and more. You should not miss it!
Shopify Live Chat
Always come up first in minds of merchants, Shopify live chat is the fastest way to connect the customer service team with merchants who need help. 
With live chat, Shopify customer service agents are able to answer your questions about probably everything related to the platform as well as guide you through their instructions proactively. Moreover, live chat makes wait times non-existent since you will receive answers and support almost instantly.
Before accessing live chat support, you can go to the Shopify help center where you can type, search and read all the documents related to your problems. 
If the answers you are looking for are not available here, you can skip this and go straight to live chat now. 
Follow our instructions here: 
Go to 24/7 support > Click on chat with us > Log in to your Shopify store or continue as guest > Leave your message > Send
Next, you are required to log in to authenticate your Shopify store or continue as a guest.
Then you can type your message and send it to the customer service agents.
Shopify Email
To reach the Shopify customer service team via email, go to 24/7 Support > Email us > Log in to your Shopify account > Leave your message > Send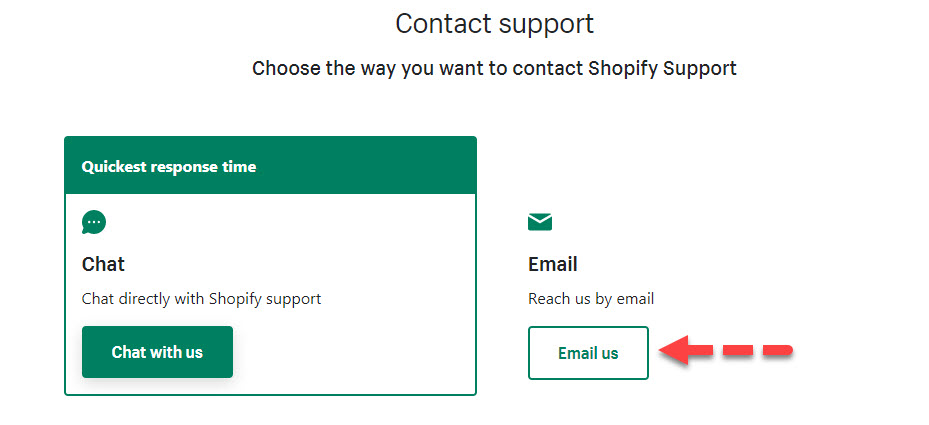 You will need to log in to your Shopify account before emailing the Shopify team. You can also attach files to your emails.
Shopify Phone
If live chat and emails cannot support you enough, you can call the Shopify customer service team through their hotline directly.
Unfortunately, we are unable to find the Shopify phone support section like before. The same thing happens to the Twitter support section as well.
Therefore, we have already listed down the regional hotline numbers for you as below:
In case the hotlines we mentioned do not work anymore, we will update later. You can also contact Shopify live chat for exact hotline numbers.
#2. Get Shopify customer service from forums
More than just on-demand support, Shopify has built up a dedicated community where all worldwide merchants can speak, discuss, share information to help each other.
Currently, Shopify forums have over 800,000 active members and more than 1,000,000 posts. Through a friendly and open hub like this, you can get help from not only Shopify experts but also well-experienced business owners.
If you have any questions, just go to the Shopify community and find the categories that are related to your concerns. There, you can post questions and wait for responses from other members. Moreover, you can ask for feedback from the community about your Shopify store to best optimize it. 
#3. Get customer supported by Shopify tutorial resources
Besides the help docs in the Shopify support center mentioned above, there are multiple other sources of useful information produced in different types to approach merchants further. All the tutorial resources we are going to show you are produced by Shopify experts.
Blogs
Like us, the Shopify customer service team produces a wide range of writing content to deliver more useful information to merchants.
There are 6 categories of blogs to serve Shopify business owners by demands:
Need an idea?

: Where Shopify inspires newbies with tried-and-true ideas to start their own businesses.

Source products

: Help merchants find good products to sell.

Start your store

: A complete guideline to instruct newbies to set up Shopify stores.

Sales & Marketing

: Provide tips and tricks to help Shopify merchants sell more products.

Founder stories

:

Be inspired by the success stories of multiple founders who take venture before you.

Product updates

: Where you get the latest information about Shopify.
If you would like to grow your business stronger, you should try to read Shopify blogs more frequently.
Tutorial videos
If you are not a passionate reader or simply do not have time, short tutorial videos will best suit your needs. Shopify team has produced a wide range of tutorial videos and published them on Youtube so that you can easily access them. 
By visualizing the tutorials, Shopify guides you through problems step by step. You can check out all tutorial videos on the Youtube channel 'Shopify Help Center'. New videos will be uploaded frequently. Shopify also owns various channels in multiple languages to serve worldwide merchants in different regions.
Webinars
Merchants are welcome to join Shopify virtual workshops taking place every day at 9:00 PM. The topics will vary but the ultimate goal is to empower business owners to learn how to run their stores properly. 
Come to meet and learn from the best Shopify experts. You can go to Shopify Webinar, choose a topic and reverse your seat now!
Business courses
You are enabled to instantly access a virtual academy empowered by Shopify to provide you with all the hard-won business lessons. The instructors of Shopify business courses are not only e-commerce experts but also successful business owners who have run Shopify stores themselves from the beginning until now.
With expertise and experience, these experts will guide you through 3 big topics including:
Business

: Show you how to start, grow, scale and maintain your business.

Online store design

: All the tips and tricks to design, customize and optimize your storefronts.

Products:

All guidelines to design, manufacture and promote your products.
Once again, we would like to emphasize that all the courses are instructed by genuine business owners who have gained achievements for themselves.
In short, you can probably get Shopify customer service from multiple sources, and we expect that our information will be useful for you. Furthermore, the tutorial resources by Shopify will definitely help you out a lot. If you want more helpful information about Shopify businesses, you can visit our other blogs at [Shopify – Store Management].