Hey! Today we're going to show you these 10 best Shopify FAQ Apps so that you could build a high-performing FAQ page!
Haven't reckoned the importance of FAQs? Here we go:
An FAQ page is where you solve the common questions that your customers tend to ask. Hence, it

saves your resources answering repetitive questions

all over again. 

Effective FAQ pages

boost SEO ranking

! FAQs are prime candidates that Google selects as Featured Snippets, making it much more clickable
We shall wait no more! Here comes the list!
10 of the best Shopify FAQ apps
Rating: 5.0 (242)
Pricing: $3.99 – $7.99/month | Free Plan Available
Easy FAQ Page | Help Support is one of the best Shopify FAQ apps right now. This simple yet effective app allows you to fully customize your FAQ page to match nicely with your brand theme. Plus, its built-in cache boosts your FAQ load time, allowing customers to load it in a second.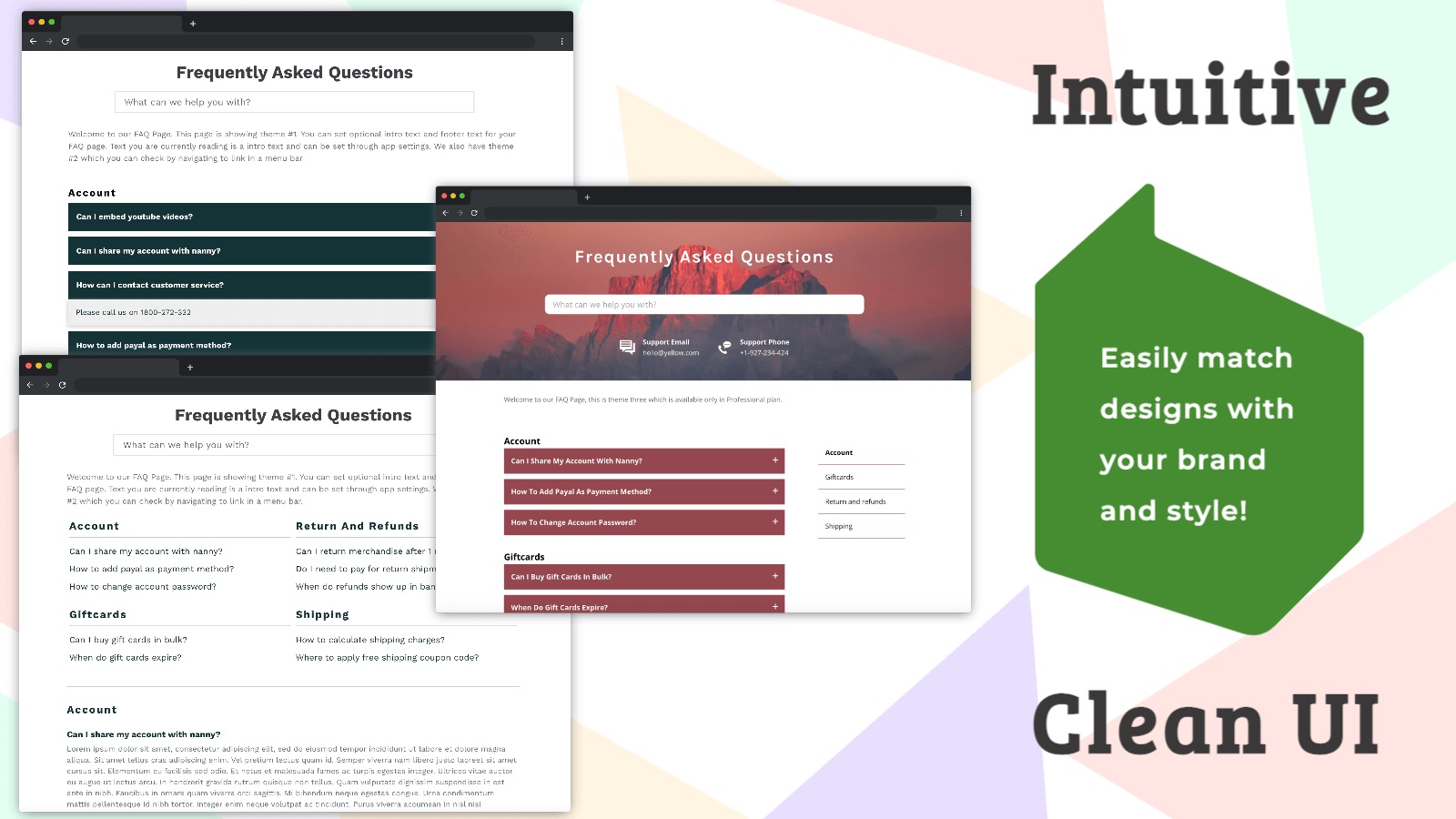 Features of Easy FAQ Page | Help Support
Embed FAQ section anywhere on your website (a separate FAQ page, product-related FAQ section in product page, etc.)

Show post-purchase FAQ on checkout success page 

Show FAQ on thank-you page

Allow customers to look for their answers more quickly with search bar

Customizable and rich editor to ensure maximum compatibility (or else, the app support your custom CSS)

Built-in cache for more fast-loading FAQ page
Rating: 4.8 (1234)
Pricing: From $4.99 – $29.95/month | Free Plan Available
As of compiling this list, there are a wide range of Shopify FAQ apps. But only a few of them offer multiple functionalities besides FAQ page builder. And HelpCenter | FAQ HelpDesk Tabs belongs to the minority. The app helps manage customer inquiries from email, Facebook Messenger and Chat in one place.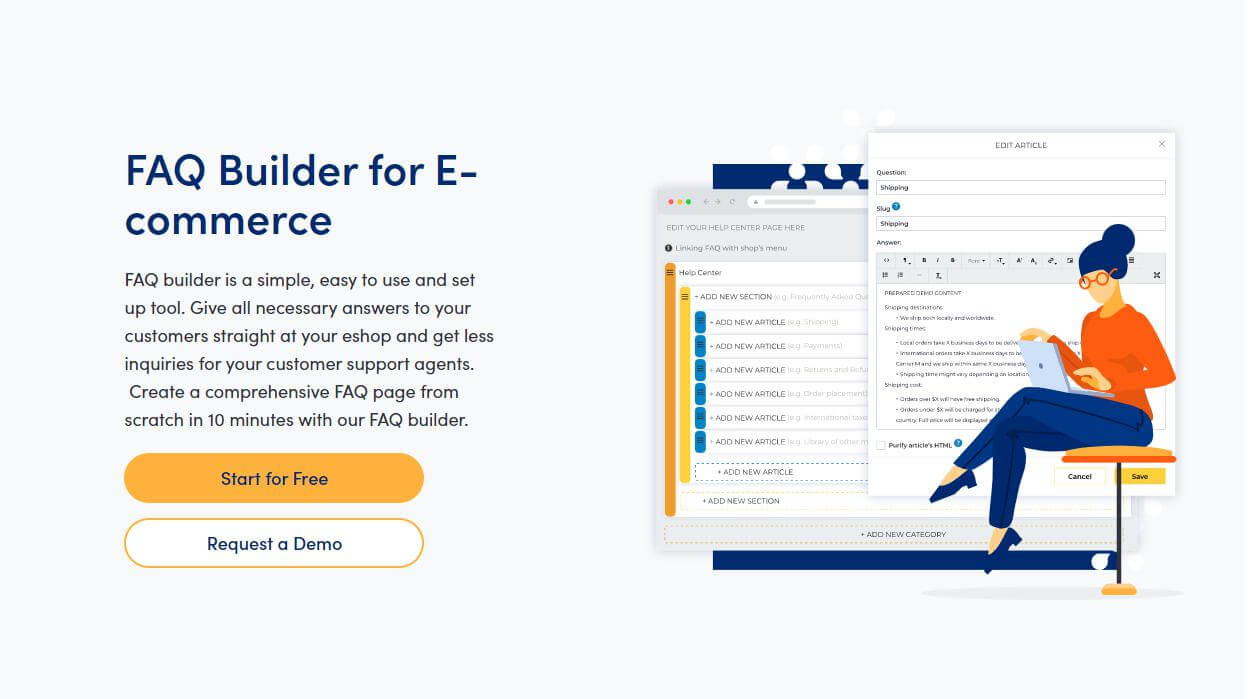 Features of HelpCenter | FAQ HelpDesk Tabs
Drag-and-drop editor allows you to add text, categorize your content on FAQ page more intuitively and effectively

Searchable bar on FAQ page makes it more convenient for your customers to navigate to the answers they're looking for

Keep track of all inquiries from multiple sources: Facebook Messenger, email, Chat in one central hub

HelpDesk automation with auto-response set by rules

Embed a Live Chat on your Shopify store to assist your customers better throughout their shopping journey

Create and organize tabs for your product descriptions. You can also share tabs for alike products by color, size, vendor, etc.
Rating: 4.9 (82)
Pricing: $49.99 – $199/month | 14-day Free Trial
Want to build an informative FAQ page but at the same time want to collect your customer Whatsapp & email contact details? Cool, a bunch of Shopify FAQ apps has just been narrowed down to the awesome FAQ+Contact us+WhatsApp+Track.
Features of FAQ+Contact us+WhatsApp+Track
Pre-filled FAQ. The app auto-generates common questions based on your Shopify store's settings (payment, shipping, etc.). Plus, they're 100% editable and customizable

Professional contact us form to receive your customer inquiries via email

Add unlimited Whatsapp number agents to manage in one place

Order tracking. Fed up with 'Hey where's my order' from too many customers? Allow them to check it themselves by filling in number and their email address

Enable social sharing button to increase your site traffic
Rating: 4.4 (271)
Pricing: From $4.99 – $79.99 | Free Plan Available
Another Shopify FAQ app we want to introduce today is FAQ Q&A | FAQ Page. This app is well-renowned for its ease of use, FAQ page customizability, making it much easier for your customers to find their way to whatever piece of info they're searching for.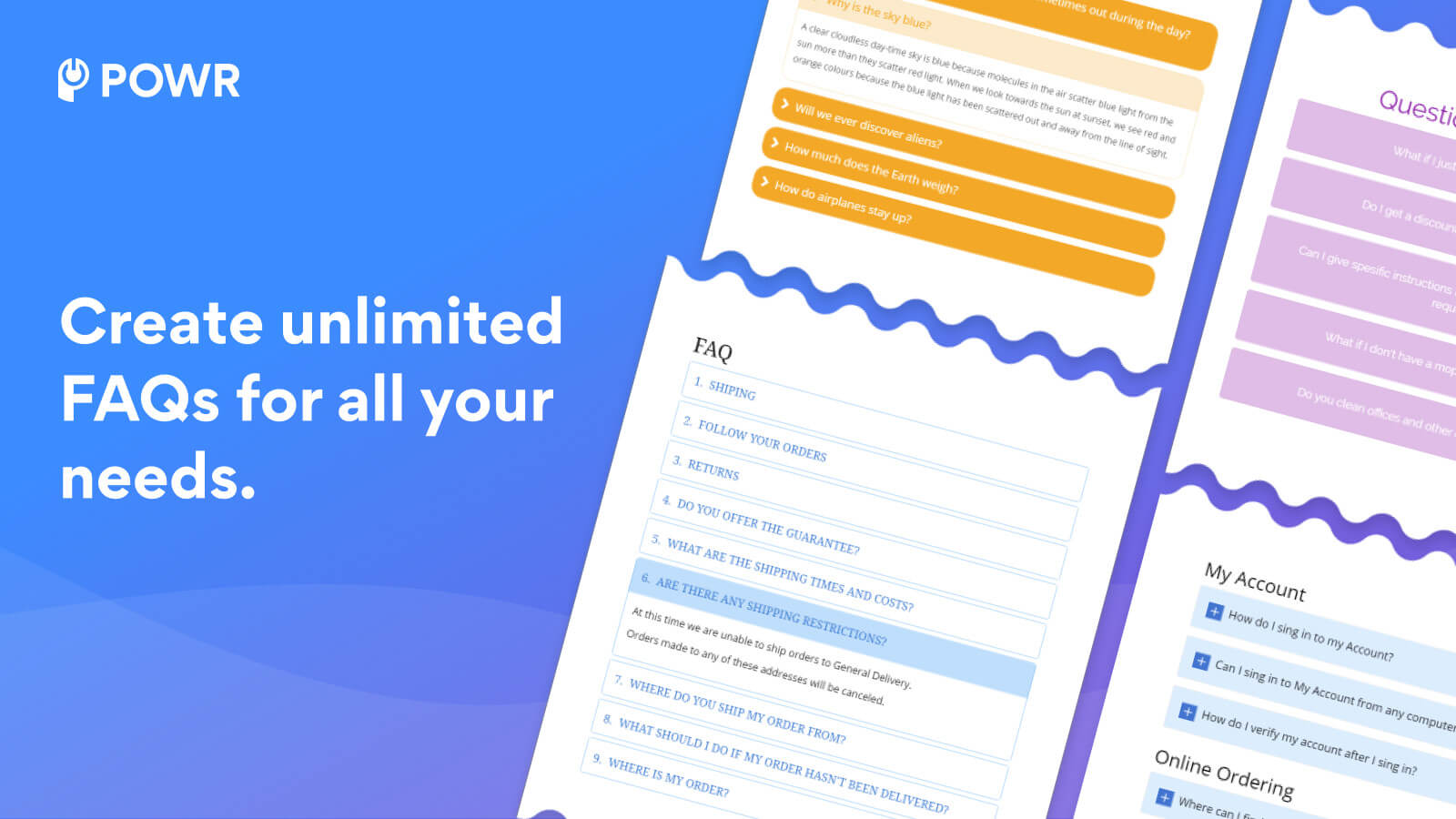 Features of FAQ Q&A | FAQ Page
Customize content for FAQ page/section: adjust the spacing between each entry, answer questions under various formats (text, link, image, video, etc.)

Customize design for FAQ page/section: choose custom question icons, hover effects, pick colors to match your theme, etc.

Half-width section: display FAQ section and FAQ category side-by-side to make it more convenient for customers to navigate through

Upvoting & downvoting: this small feature does set FAQ Q&A | FAQ Page apart from dozens of other Shopify FAQ apps. If an answer receives many downvote, that means your answer needs improvement

Add a search bar on your FAQ page to help customers find what they want by a few relevant keywords 
Rating: 4.9 (16)
Pricing: $5/month | Free Plan Available
A small team and a fast-growing eCommerce site? It must be exhausting to answer repetitive questions from thousands of customers from dusk to dawn, isn't it? Put an end to your suffering now with Instant FAQ Page & Help Center– one of the best Shopify FAQ apps in the meantime.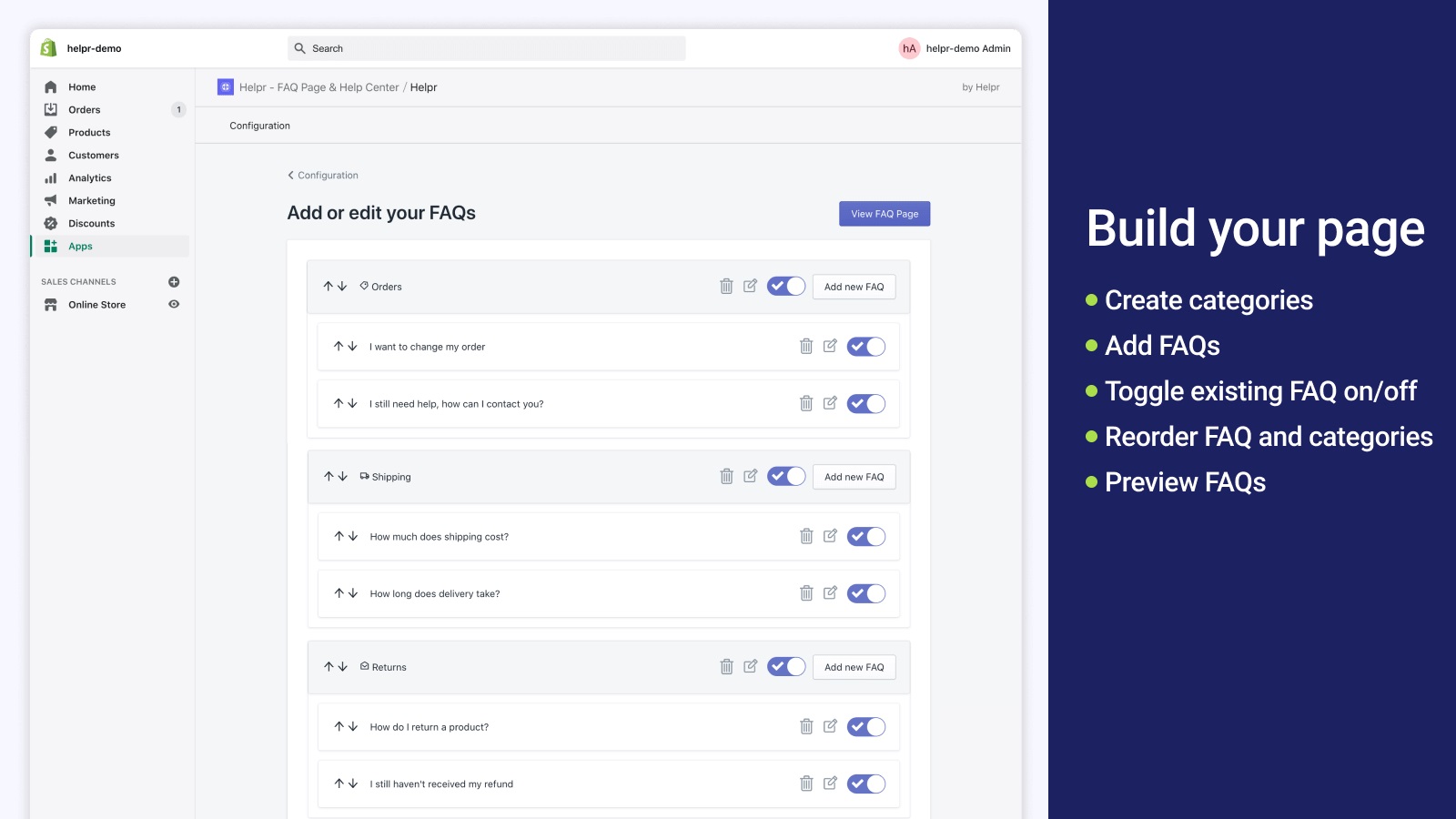 Features of Instant FAQ Page & Help Center
Easily group FAQ categories into different sections on FAQ page

FAQ widget: you can also turn your FAQ page into a widget and display them on homepage or product page, what you call it!

Multiple options to customize FAQ content: add text, link, image. You can use a rich editor, HTML editor or Markdown editor

Search bar to help customers find question more quickly
Rating: 4.9 (72)
Pricing: From $5.99-$11.99/month
Put great emphasis on visuals? Then your FAQ Page needs to be nicely designed so that it matches perfectly with the store's professional look. And FAQ Page & Help Center Widgets is one of top Shopify FAQ apps that can help customize your FAQ page and widgets to the fullest with no coding skills needed.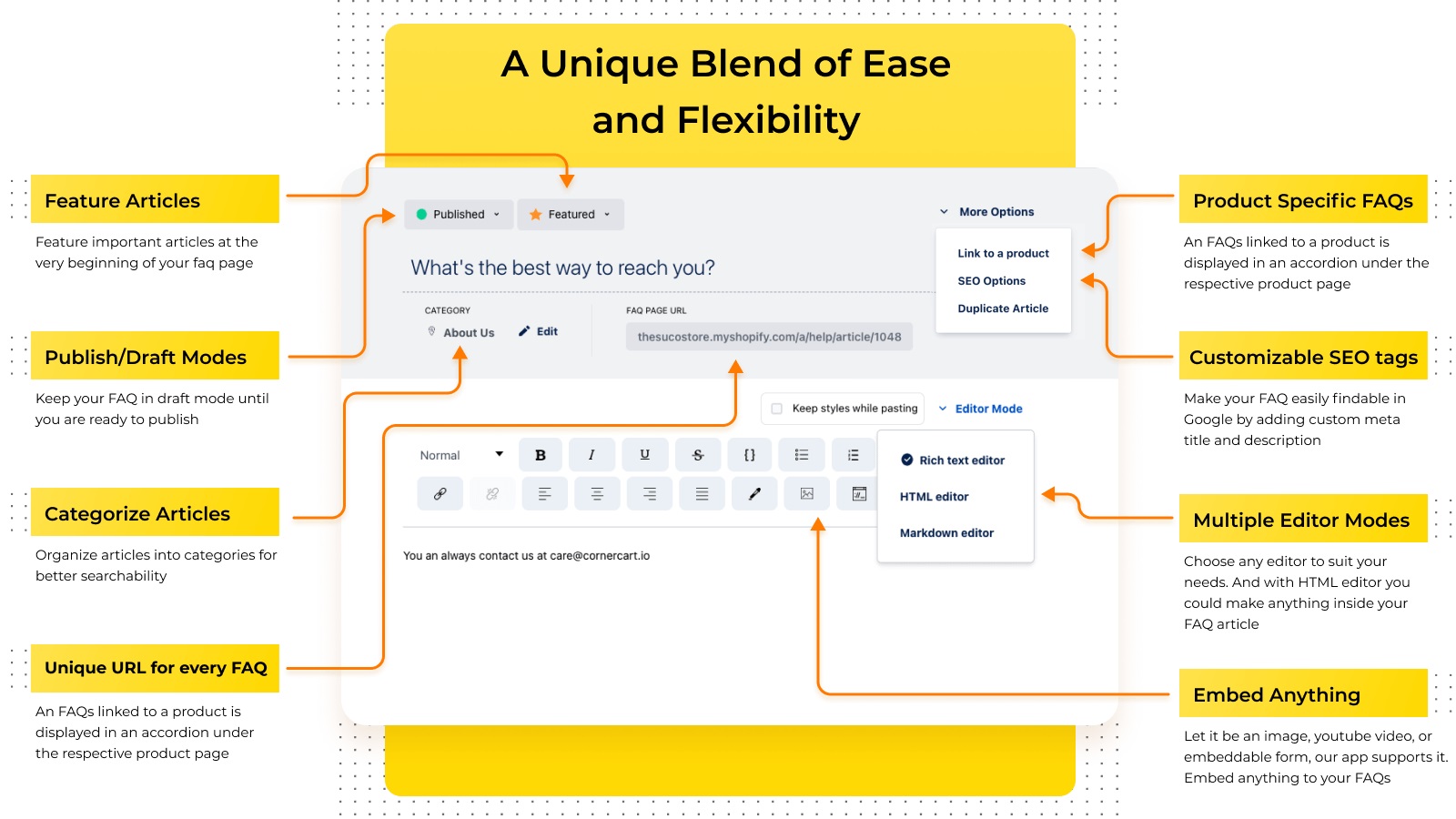 Features of FAQ Page & Help Center Widgets
Beautiful and highly customizable banner for your Help Center Page

Make your FAQ page more SEO-friendly by adding custom meta title and description

Multiple editor modes: rich text/HTML/Markdown, the choice is up to you!

Easily categorize FAQ sections and feature the most common articles

Search bar available to make customers find their answer more conveniently

Add a quick contact section under the search bar so that customers can reach you promptly via Whatsapp or email in case they haven't found their answer yet
Rating: 5.0 (42)
Pricing: $4.99/month – Free Plan Available
Unlike some top Shopify FAQ apps with multi-functions and full customization capabilities, we recommend FREE product FAQ | Help center for its simplicity, and more importantly, its cost-effectiveness. If you choose to pay annually, the fee drops by more than half to a minor $1.99/month. Sweet deal, isn't it?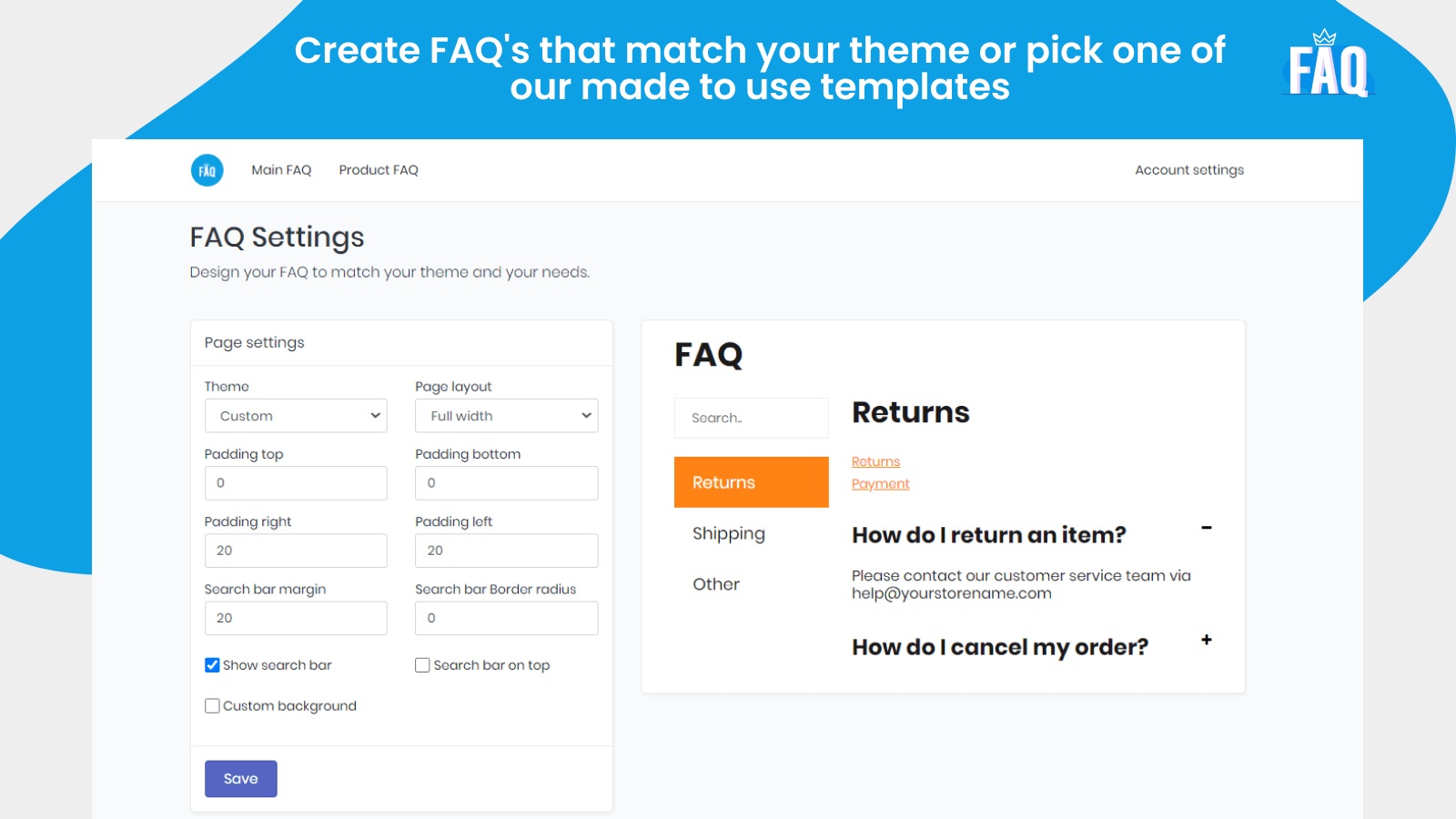 Features of FREE product FAQ | Help center
Made-to-use FAQ templates available for you to pick and edit to your likings without writing the whole thing from scratch

Customize your answer with multiple formats (text/link/image/video/gif, etc.)

Show FAQ section in product pages

Searchable bar available on FAQ Page
Rating: 4.9 (54)
Pricing: From $4.99 – $9.99 | Free Plan Available
Customers who find their way to FAQ sections or Help Center Page are usually perplexed about something. Hence, build an informative, professional FAQ page and sections to increase their shopping experience and decrease your workload! And you can do that by adding one of the best Shopify FAQ apps ever- FAQify: FAQ page ‑ Help Center.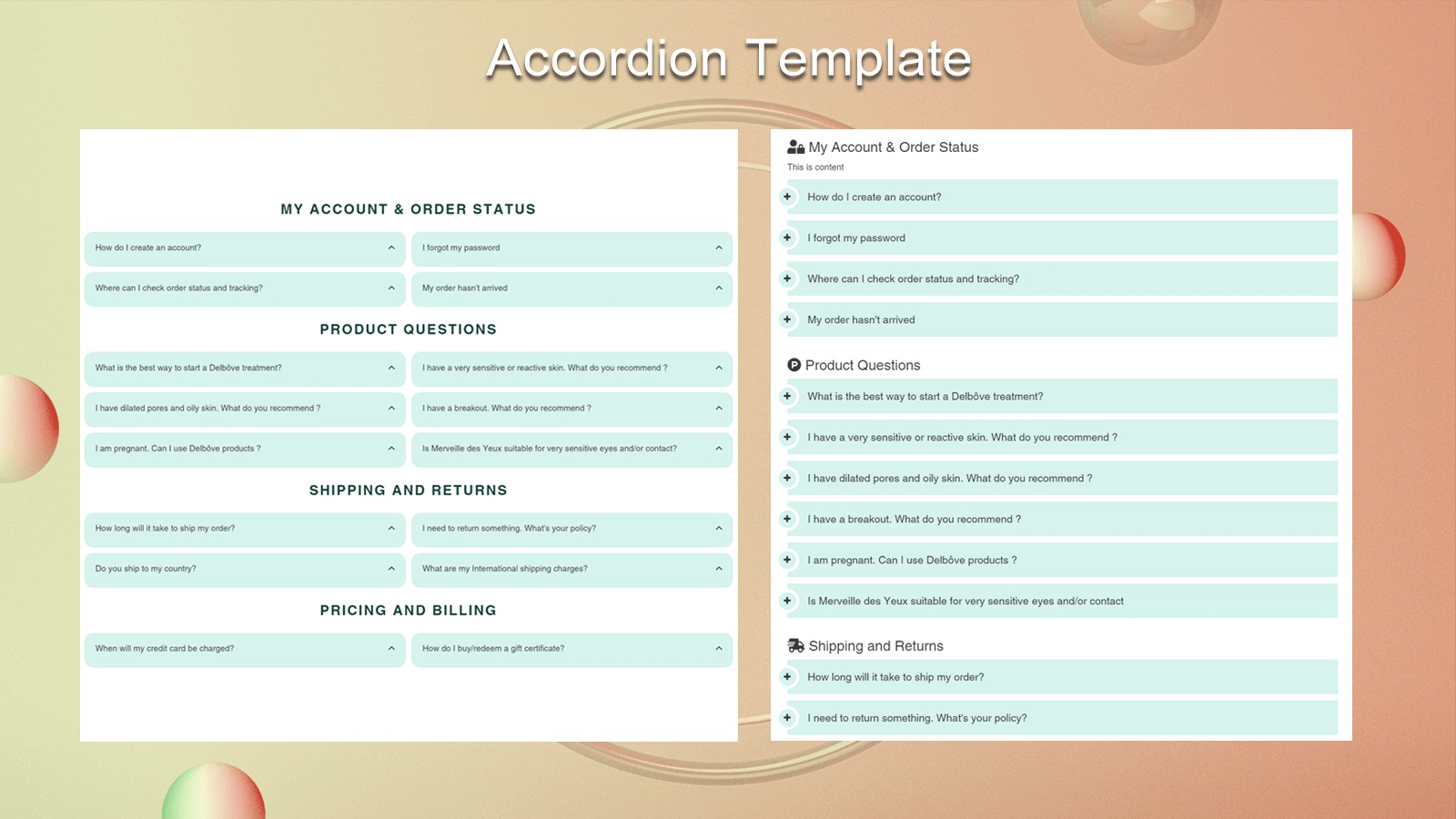 Features of FAQify: FAQ page ‑ Help Center
Display your FAQ in 2 accordion template- 1 or 2 columns

Fully customizable content: you can add text, link, image, video, gif or whatever you want to give your answers more contexts

Drag-and-drop editor to categorize FAQ content more intuitively

Show product-related FAQ under horizontal or vertical tab on your product pages

Search bar available on FAQ page to help online shoppers find their answer more quickly

Support CSS for further customization if needed
Rating: 5.0 (234)
Pricing: $5/month
EasySlide Accordion tabs & FAQ is one of the top Shopify FAQ apps that offer multi-function at a relatively low price at $5/month. This app helps create a professional FAQ page; assign FAQ articles to multiple products all-at-once. More importantly, its integration with major Shopify review apps empowers you to add a review accordion tab on product pages to boost social credibility.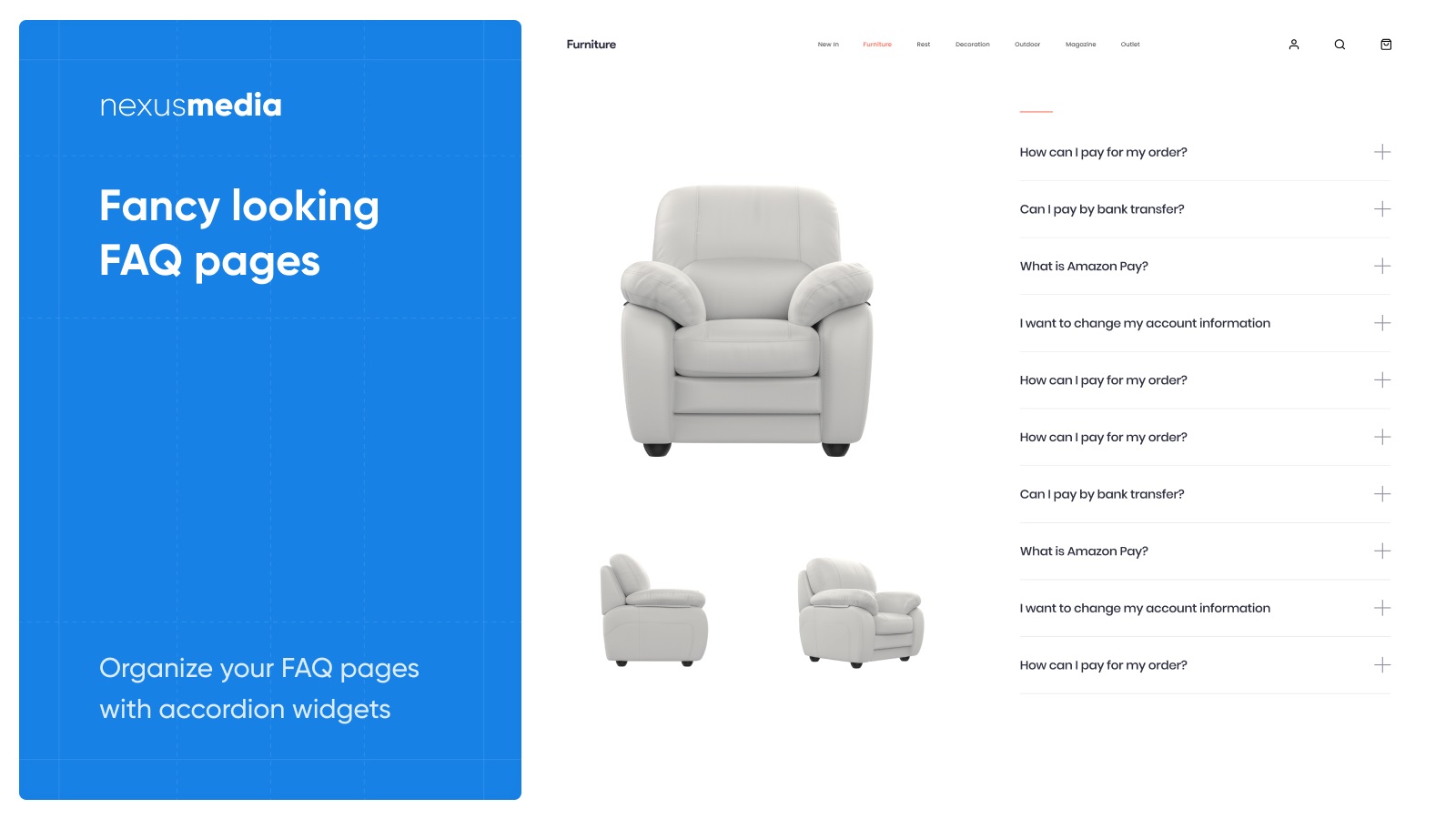 Features of EasySlide Accordion tabs & FAQ
Accordion tab auto-creation for FAQ page for better visuality and usability

Assign FAQ tab for multiple products simultaneously to save your time

Custom CSS support for more customization

Integration with Yotpo, Judgeme, Loox, and other major Shopify review apps to display your customer reviews on a tab for social proof
Rating: 4.8 (212)
Pricing: From $1.99 – $4.99/month | Free Plan Available
There's no way we leave out the awesome Product Questions and Answers in today's list. We brought this app here because apart from its FAQ page creation feature like aforementioned Shopify FAQ apps, it comes with some interesting extra functions which we'll talk about shortly!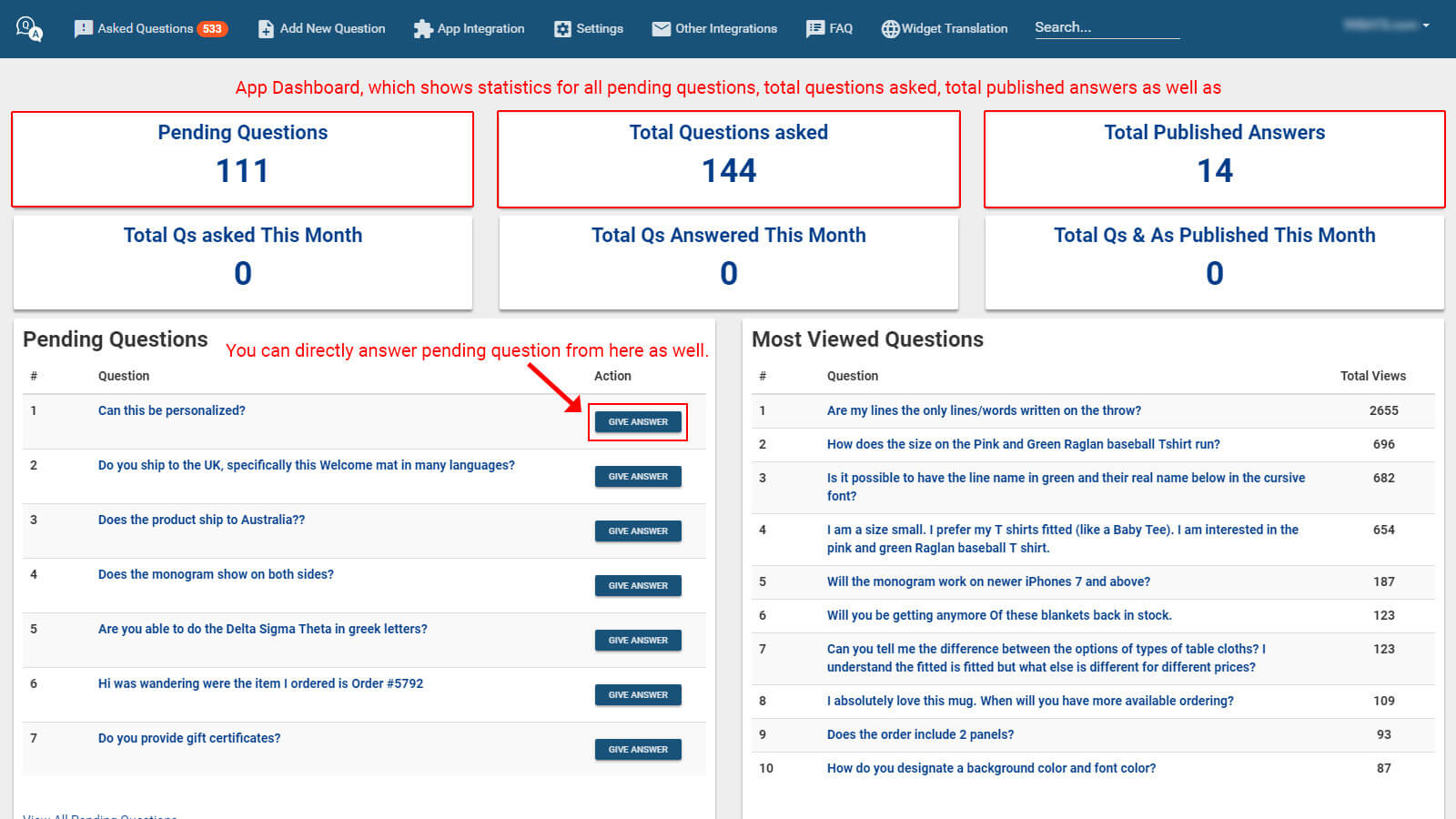 Features of Product Questions and Answers
Create a professional and eye-catching FAQ page at ease

Allow customers to ask specific questions right on product pages

After you answer the question, you can choose to hide/publish it. This is awesome because with each newly published answer, your page content will become more informative & more SEO-friendly

With only $4.99/month, you can view asker email IDs and add them to Mailchimp list for better email marketing campaigns
Hold on! Is an FAQ Page… Enough?
Clearly, an FAQ page & section is a necessity, BUT:
Have you collected enough questions to filter the most common ones? 

What if your FAQ doesn't include your customers' specific questions? 
👉 Add Socialreply to enable a Live Chat widget on your website to gather more questions to improve your FAQ page. And more importantly, to better support and convert every Facebook Messenger & Instagram Direct Message into sales!