Being an online merchant, especially a dropshipper, means that you should prepare for the most unexpected. However, no one can ever guess that the Oberlo shutdown is coming this year. 
Oberlo has been one of the most popular dropshipping plugins for years. For online sellers, they will have to find another solution to fulfill their dropshipping business via AliExpress.
What is Oberlo?
Oberlo is undoubtedly one of the most famous dropshipping solutions for users to import products to their stores. They can sell them directly from thousands of Chinese suppliers' inventory.
Oberlo was created by a Lithuanian startup and acquired by Shopify in 2017. Since then, it was the top method for all dropshippers with tens of thousands of users.
Shopify has already removed the app for the Oberlo shutdown
From May 12, 2022, Oberlo was delisted. And, online sellers can no longer find the app in the app store or installed it from other sources.
Fortunately, merchants who have installed Oberlo can still use the app's services until June 15, 2022. After this date, current Oberlo users can no longer access the app, and they will lose all historical data. 
Therefore, it is recommended to find other Oberlo alternatives on Shopify.
The reason for shutting down Oberlo
"This product deprecation, which is a routine occurrence, is in pursuit of providing merchants with the best solutions to reach their customers wherever they are."
Up to now, the main reason why they are shutting down Oberlo remains unclear. However, you can learn more about the situation in their official Oberlo app FAQ.
What are the Oberlo alternatives from Shopify?
As mentioned above, online sellers should make a transition to other dropshipping solutions ASAP to continue their business. At the moment, there have been some promising options available in the Shopify app store to make a replacement for Oberlo.
When searching for this particular app, some alternatives are ready to support online merchants with their dropshipping business for the Oberlo shutdown. Or, you can go with a Shopify suggestion – the DSers app.
HOWEVER, you should give some of these apps a try and see which one works best for your business.
Ali Orders – One of the best Oberlo alternatives for dropshipping business
If you are looking for an Oberlo alternative, we can suggest using another dropshipping solution – Ali Orders. It is one of the best Oberlo alternatives to help you automate your dropshipping business.
Ali Orders allows you to bulk import AliExpress products to your store in just a few clicks. Moreover, this Shopify app helps you fulfill your orders automatically so that you can have more time to manage your business.
Besides, you will also need to migrate data from Oberlo if you want to keep all of the important information. Here is how to migrate it to Ali Orders:
More importantly, you can experience all the services for dropshipping for FREE. You can be worry-free when looking for an Oberlo alternative in such a short time!
So, what are you waiting for? Get Ali Orders now and prepare your transition for your dropshipping business!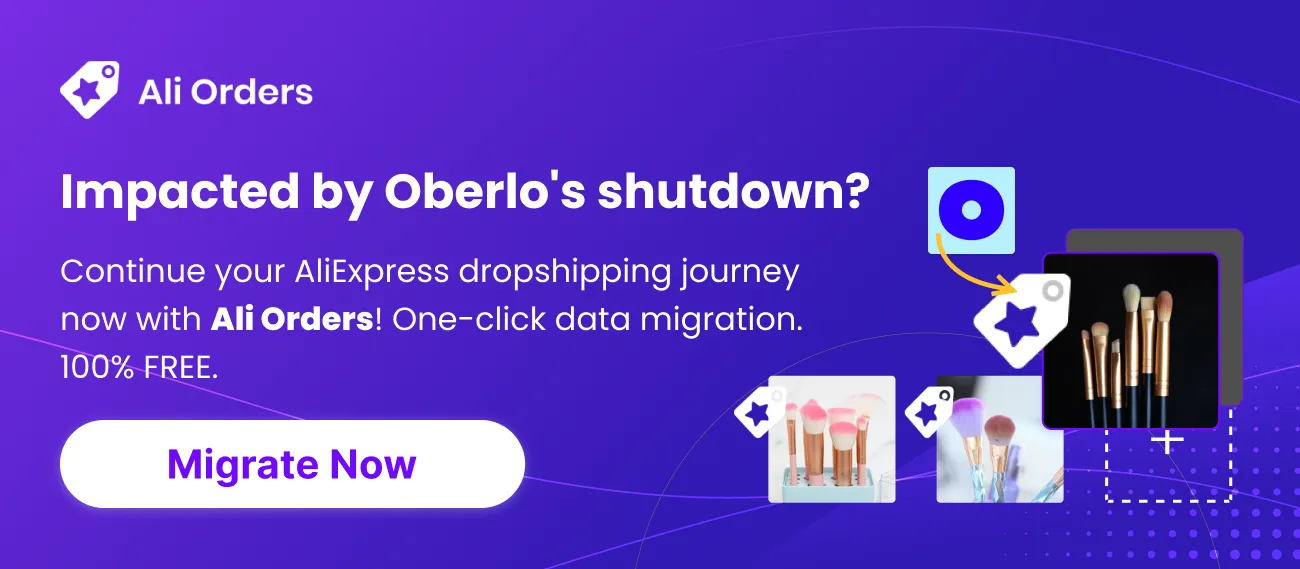 Final thoughts
We know that it's not to make the transition for the Oberlo shutdown when running online stores on Shopify. Therefore, we recommend trying out some of the Oberlo alternatives as the suggested one may not satisfy your needs to the fullest.