Do you know that 97% of people who visit your website for the first time leave without buying anything? Unless you win them back to convert, high chances are that they're gone for good. And that's when you need to run retargeting ads to turn those one-time visitors into lifetime customers. 
A busy Shopify store owner searching for an app that helps you win back customers effectively? Skip the trial and error part! Instead, check out these 10 highly-functional Shopify Retargeting Apps we scrutinized & compiled just for you!
Top 10 Shopify retargeting apps that you can't resist
Rating: 4.3 (391)
Pricing: From $19/month | Additional charges may apply | 14-day free trial
As its name suggests, RetargetApp: High-ROAS ads by Ad Intelligence Inc is one of the coolest Shopify Retargeting Apps that help Shopify merchants drive more site traffic and boost sales through the app's powerful retargeting features and user-friendly interface.
Key features of RetargetApp: High ROAS ads
Ads placements on various platforms:

with RetargetApp, you can create ads in a click and display them across Facebook, Instagram, Google & Youtube Ads
Cross-selling:

the app's cross-sell function helps show relevant complementary items to existing customers so that they can repeat purchase
New customer acquisition:

the app also helps bringing your ads to prospecting shoppers who haven't visited your website yet
Personal Account Manager:

once you've spent enough $400 on ads powered by RetargetApp, you'll have a chance to work with a personal account manager to ensure you reach your ad goals
Rating: 4.6 (321)
Pricing: From $25/month | Additional fee may apply | Free plan available
Another Shopify retargeting app? Here comes the powerful AdRoll Advertising & Marketing built up by AdRoll. This app helps merchants run ads on multiple platforms and hundreds of networks and allows sending email to ensure to win back customers at the same time.
Key features of AdRoll Advertising & Marketing
Powerful Retargeting:

AdRoll helps you create dynamic ads to re-engage your customers on huge platforms like Facebook and Instagram. In addition, your ads will be exposed to +1,000 marketplaces & +500 ad exchanges, allowing extended reach
Product reviews on ads:

AdRoll integrates with Yotpo. Thus, you can put product reviews on your ads, boosting the ads' credibility which will lead to boosting sales
Advanced audience targeting:

besides retargeting, AdRoll auto-create other audience segments including Contextual, Demographic, Interest, Lookalike Targeting, and CRM Audiences so that merchants can display ads to precise audiences
Email marketing:

retargeting campaigns will work more effectively when viewers are exposed to both ads and email. AdRoll gets this and it integrates with MailChimp to assist you to run email campaigns along with ads
In-depth analytics:

love to make data-driven decisions? This app should be your muse for its insightful reports on your top-performing ads, conversion rates, CTR, ROAS, etc.
Rating: 4.8 (75)
Pricing: One single plan at $9.99
Want to focus solely on Google Ads? AdNabu, Inc developed Dynamic Retargeting for Google just for you! Among dozens of Shopify retargeting apps, this one helps you do one job splendidly- implementing Google Ads code across your website to create error-free audiences for you to retarget. Period!
Key features of Dynamic Retargeting for Google 
Google ads retargeting code implementation:

having the right remarketing code and making it work with Google Merchant Center can be frustrating. But Dynamic Retargeting for Google totally got you covered with it

Google ads retargeting audience segmentation:

thanks to the correctly implemented codes, the app will segment your audiences into different groups, ready for you to win back with retargeting ads created in Google Ads
Rating: 4.2 (62)
Pricing: From $29/month
Don't miss out on AdMonks: Automated Retargeting if Facebook & Instagram are your main sales channels, The robust Shopify retargeting app powered by AdMonks can help you to run ads to win back website visitors on Facebook and Instagram effectively. It also integrates with a review app to boost your ads credit even more.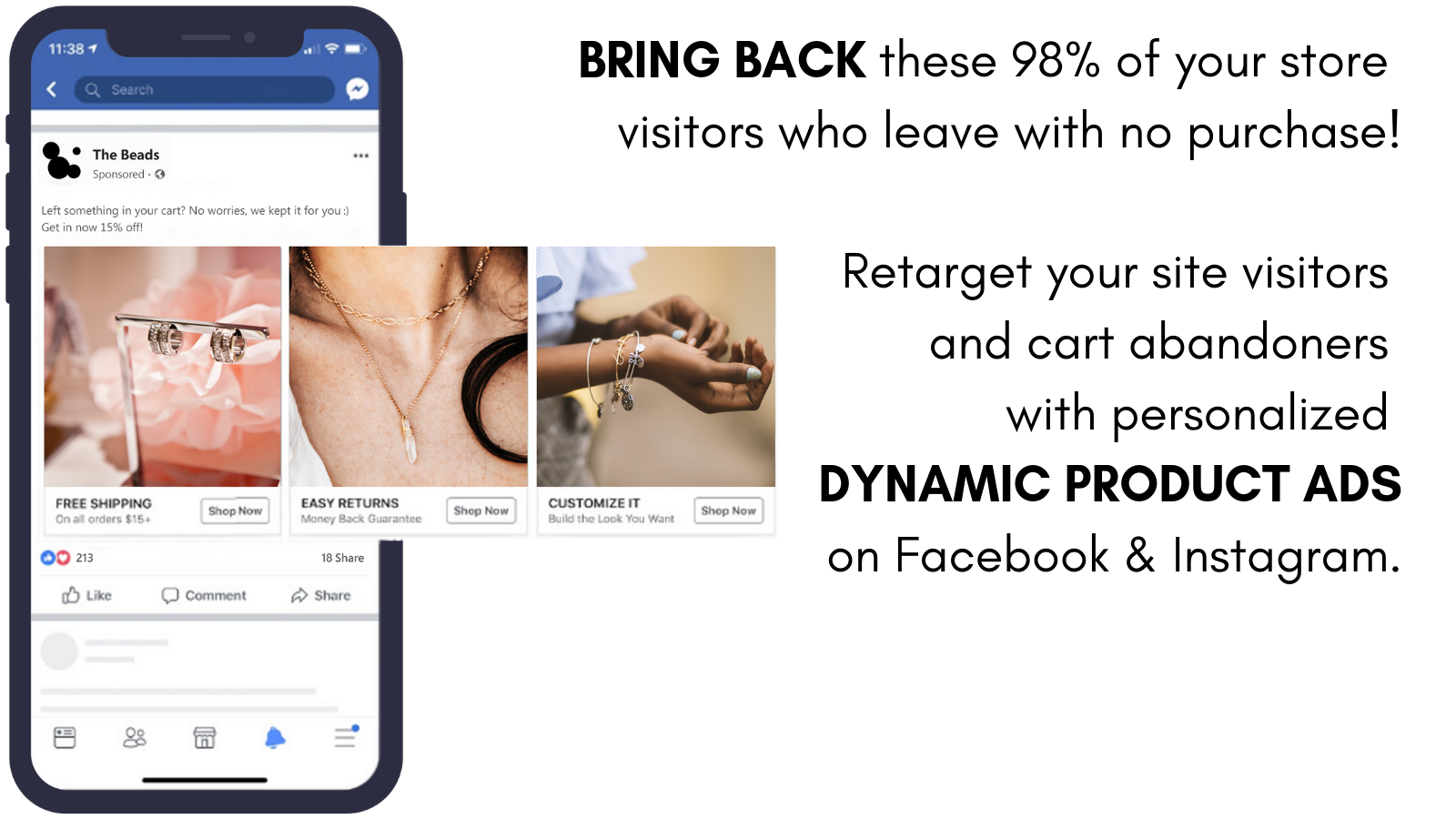 Key features of AdMonks: Automated Retargeting
Facebook and Instagram ads:

skip the frustrating part and take advantage of AdMonks to create effective, eye-catching ads. All you have to do is sync your Shopify and Facebook account. Now relax!
Integration with Yotpo:

ads with positive reviews leave a better first impression and thereby increasing your chances of converting. That's why this app integrates with Yotpo to enable such practice
AdBlock-free:

what if some of your audience use ad-block apps? Don't worry, AdMonks can penetrate through these apps and still give your ads maximum exposure 
Exclude accidental visitors:

if someone visits your website for just a few seconds and then leaves, they're not interested in your products. Thus, AdMonks allows you to set rules to exclude those accidental visitors so you only retarget those with high buying intention
Rating: 4.2 (154)
Pricing: From $9/month | Free plan available
If you're a Facebook ads enthusiast, you don't need a second thought! Please go install Ako Retargeting Facebook Ads by Akohub now! This app is one of the very few Shopify Retargeting Apps that design a retargeting funnel model for you to retarget website visitors and turn them into brand advocates effortlessly.
Key features of Ako Retargeting Facebook Ads
3-stage ads funnel campaign

:

with this retargeting journey, first you create ads to target potential viewers > ads to retarget website visitors > eventually dynamic ads to retarget those who visited your product pages/ add to cart 

Various ads formats:

customers hate when being shown the same ads repeatedly. Worry no more because Ako actually supports you to sync your Shopify product catalog and advertise them under up to 4 ads formats (Carousel/Video/Image/Collection)

Product Set retargeting

: you can run retargeting Facebook ads with a specific collection. This is thanks to the app's 'Product Set', which enables you to exclude items by rules

A/B testing support:

if you haven't figured out which specific ads work to your advantage the most, you can experiment A/B testing feature powered by the app
Rating: 4.4 (1834)
Pricing: From $29/month | Free plan available
Amid various Shopify Retargeting Apps out there, if your ultimate goal is Google Ads enhancement & advancement, grab Clever- Google Ads & Shopping by Clever Commerce! This app gains massive popularity thanks to its powerful Google Ads automation tool and user-friendly interface.
Features of Clever – Google Ads & Shopping
Keyword generations for Google search ads:

this outstanding app will analyze your Shopify products and categories then generate relevant keywords. When people search for these keywords, your ads will be displayed on Google search results

Display ads and banners:

Clever will create banners that are ready to be displayed on people's favorite website to help you not only retarget previous visitors but also attract and convert new potential leads

Google Shopping Ads:

Clever will optimize your Google Shopping Feed in your Google Merchant Center then auto create Smart Shopping campaigns 

Ads Campaign auto-optimization:

when your Google Ads have been launched, Clever will ensure that your budget is well spent. In particular, the app's automation software will adjust bids based on algorithms to bring you the best outcomes
Rating: 4.6 (3884)
Pricing: Free
Knee-deep into the ocean of Shopify retargeting apps to pick the most cost-efficient one? You might love to install Free Traffic & Ads by Varinode. Technically, this app enables you to display your ads on partners' websites and in turn, you let them display their ads on your website. This sounds like a win-win situation, doesn't it?
Key features of Free Traffic & Ads
Ads exchange:

when online shoppers are browsing other stores, their buying intention is high. Therefore, you can gain qualified traffic by exchanging ads with other stores

Audience segmentation:

with Free Traffic & Ads, you can create targeted ads by audience's gender, age and geo-location

Ads customization:

you can customize the ads so that they fit perfectly with your store theme, increasing your store's visual appeal and convert more sales

Real-time analytics:

you can check out on your ad performance with the real-time publisher & advertiser analytics section to keep track of your campaigns
Rating: 4.9 (16)
Pricing: From $15/month
Another great Shopify retargeting app we want to introduce today is Dynamic Product Ads developed by Raive. Seriously, if you want to run effective ads on Google, Facebook and Instagram with an intuitive dashboard, this app might be your powerful assistant. 
Features of Dynamic Product Ads
Optimized audiences based on your shop:

the app will analyze your shop's history and activities to create and activate the most relevant audience groups for you to target (acquisition / lookalike / retargeting)
Dynamic product ads on huge sites:

this app allows you to syn specific products or collections to create specifically targeted ads to people based on their behaviors on Facebook, Instagram and Google
Real-time analytics:

Dynamic Product Ads allows you to see your ads progress in real-time with key metrics that matter to your ads, namely visit, add-to-cart, order, impression, sales, etc.
Rating: 4.5 (4)
Pricing: From $30/month | Additional charge may apply
Automated Retargeting Ads by Meazy is not as popular as other Shopify Retargeting Apps in this list. However, we see the app's growth potential with its powerful features, clean and professional dashboard and reasonable pricing plan so here we go!
Features of Automated Retargeting Ads
Various retargeting campaign types:

after you install the app, Automated Retargeting Ads will analyze the data on how visitors interact with your store to suggest you

the most suitable retargeting campaign. You can activate the campaign they pick for you or activate all at once as your preference
Various Banner ads placements:

Meazy

will auto-design banner ads that best fit your campaign as well as your store theme, which will then be shown to websites where your customers spend most of their time and up to +1,500 other sites
Real-time update:

Automated Retargeting Ads is seamlessly integrated with your Shopify product catalog. Therefore, you can be rest assured that the ads your audience see are what they'll actually get (in-stock, prices changes, etc.)
Intuitive analytical section:

you can keep track on your ads performance with key metrics such as additional orders & revenue, ad reach returned visitors, add-to-carts, etc. 
Rating: 4.5 (3454)
Pricing: From $14.99/month 
Running retargeting ads on Facebook, Instagram and Google can be time-consuming. That's why you might love to save your time budget with the virtual assistant of Facebook, Google Channel+Feeds professionally developed by sixads. This stunning app gains thousands of good reviews on the Appstore thanks to its advanced algorithm & superior customer support. 
Features of Facebook, Google Channel+Feeds
Clean ad creation interface:

this app embraces simplism by providing users an easy-to-follow process. First, select the products you want to advertise > edit the auto-created ads (if needed) > choose sales channels (Facebook/Instagram/Google or all at one) > set budget & time
Great customer service:

this app will have your back with all the hard-work. In case you don't have a Facebook & Google ads account, and Facebook pixel, they'll do you all the set-ups
Run ads on Facebook, Instagram and Google:

the app will track your store visitors' behaviors then employ the advanced algorithms to run retargeting ads accordingly on Facebook, Instagram and Google until they convert
Auto-updated products' status:

if a currently advertised item is out of stock, Facebook, Google Channel+Feeds will stop running ads with that item to optimize your budget
Wrapping up
There's no best Shopify Retargeting Apps, only the one that fits your demand & budget the most. And we do hope you could find that one among the 10 apps aforementioned!
However, you cannot run high-performing ads without high-quality product feeds! In fact, a lot of merchants make tons of errors and even fail to sync Shopify products to Facebook & Google.
Struggling too? Well, you may need Socialshop! This app helps you sync your Shopify catalog to Facebook & Google efficiently in a few clicks!
With the powerful Product Feed Scoring feature, Socialshop marks your feeds from 0-100. The app then gives you handy tips so that you can optimize and submit error-free product feeds, a prerequisite to create high-performing Facebook & Google Ads.