In OneUpSell V1.11, we're so excited to bring you lots of updates and enhancements. In particular, you can now apply discounts on orders that meet a preset amount (Threshold spend discount) and bulk edit the price of any products all at once (bulk price editor). 
In addition, with this latest version of OneUpSell, we also bring you several enhancements to the volume discount templates.
Introducing Threshold Spend Discount
With OneUpSell V1.11, you're now able to apply discounts on orders that meet a minimum threshold.
On the sidebar menu, click Volume Discount > Select + Add discount.
Name your discount campaign & discount code > Pick the duration for your discount.

Next, set up your discount rules:
Select

Threshold Spend Discount

>

Discount Amount Off

Fill in your

Discount details

. (e.g: Spend $100 get $5 off; Spend $200 get $15 off)

Set your

Spend calculation in cart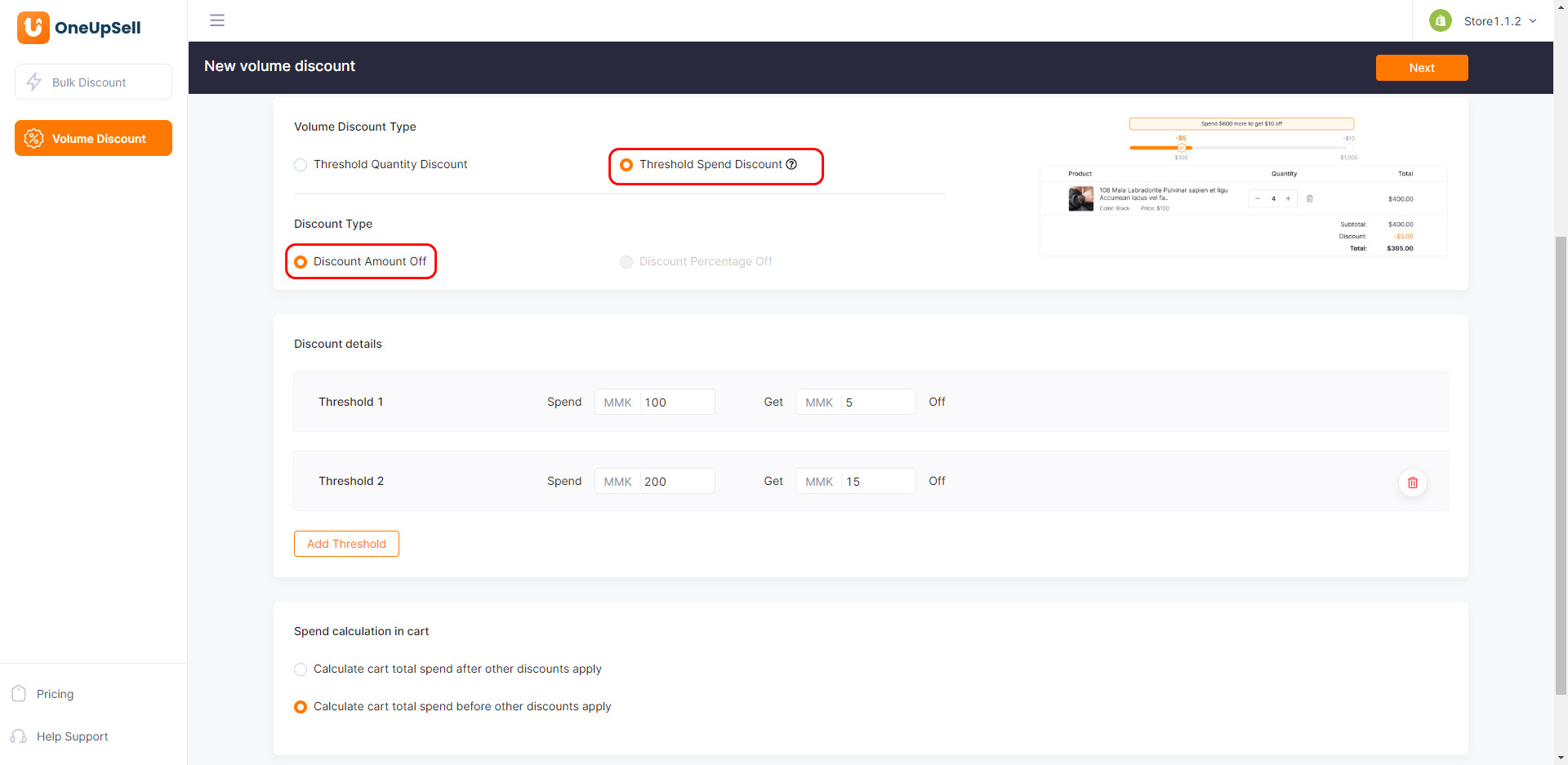 Afterward, select the products you want to apply the discount code.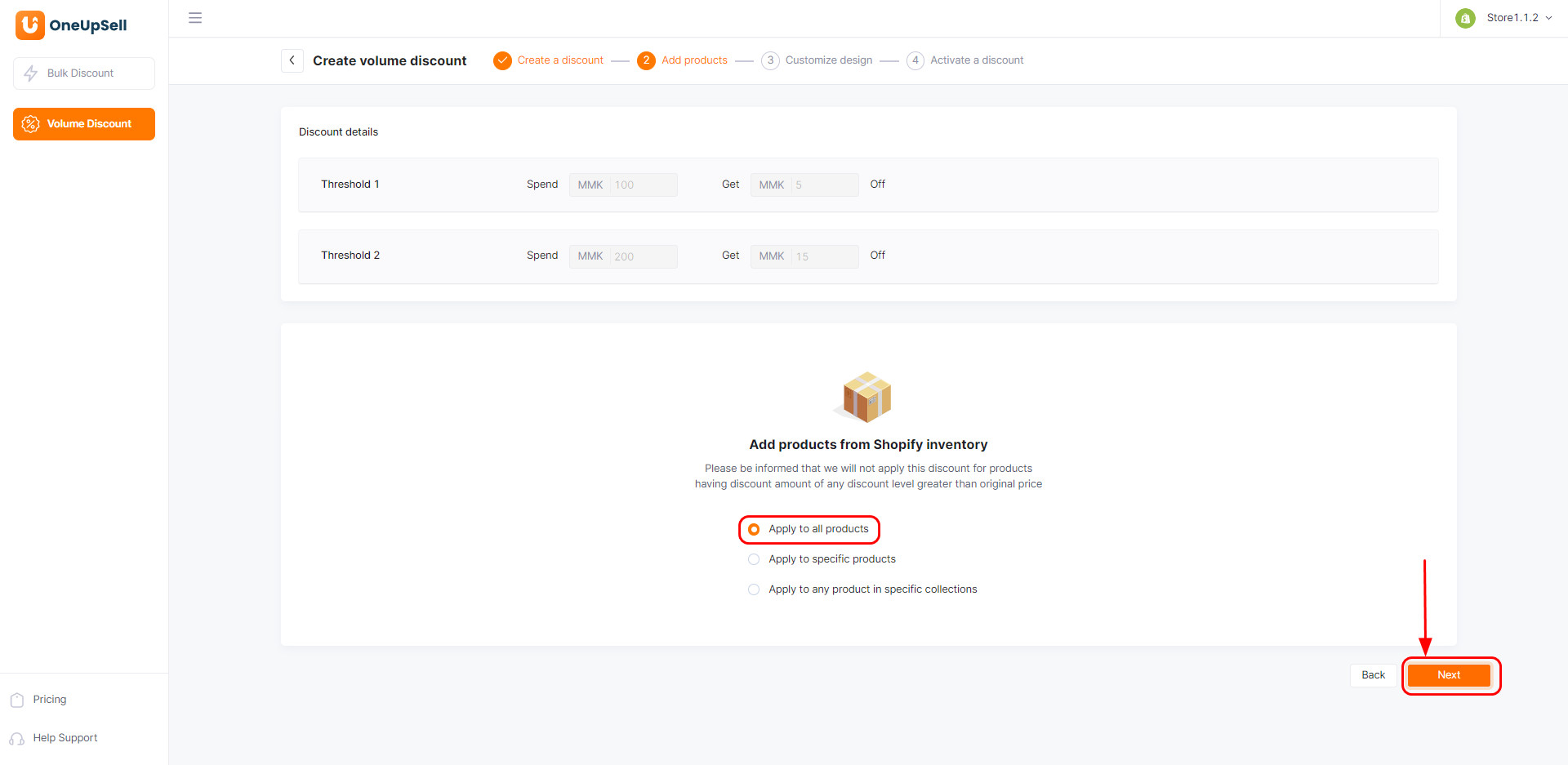 Toggle on all the tools if you want to fully promote your volume discount campaign.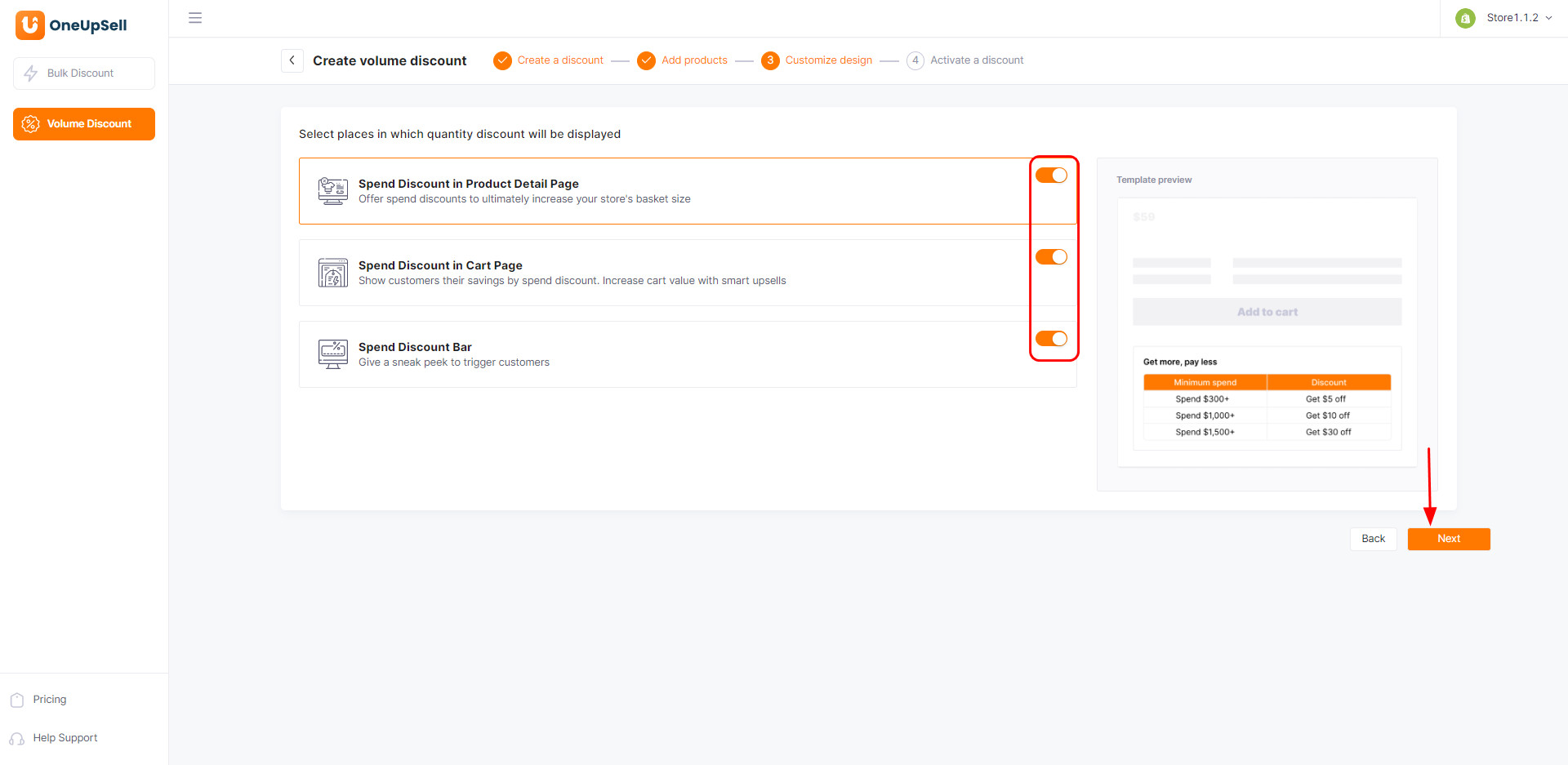 Next, choose to customize the tools you need.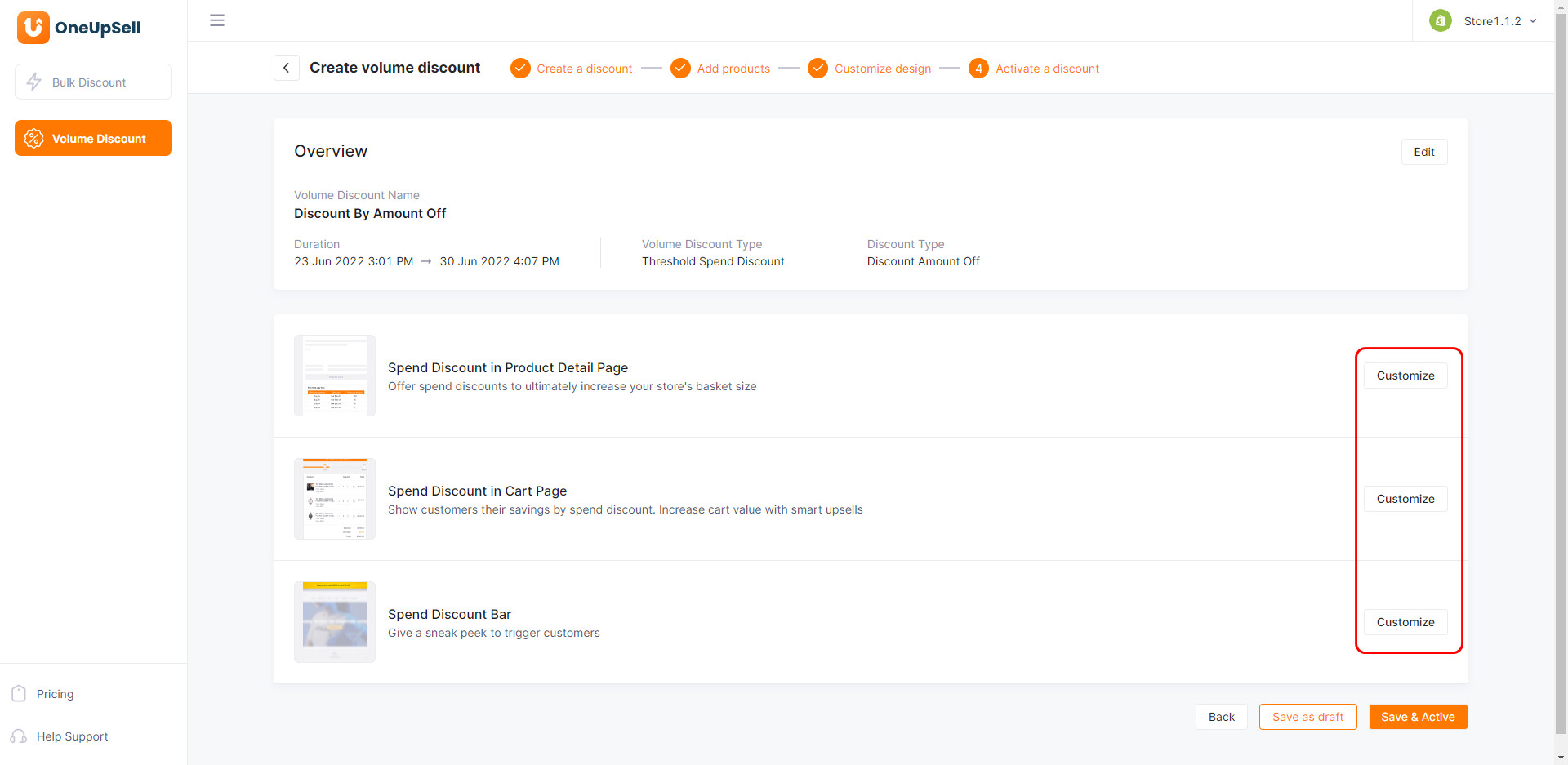 Customize the content, button, color, etc. to your preference. In this version, you can now add a progress bar on your cart page.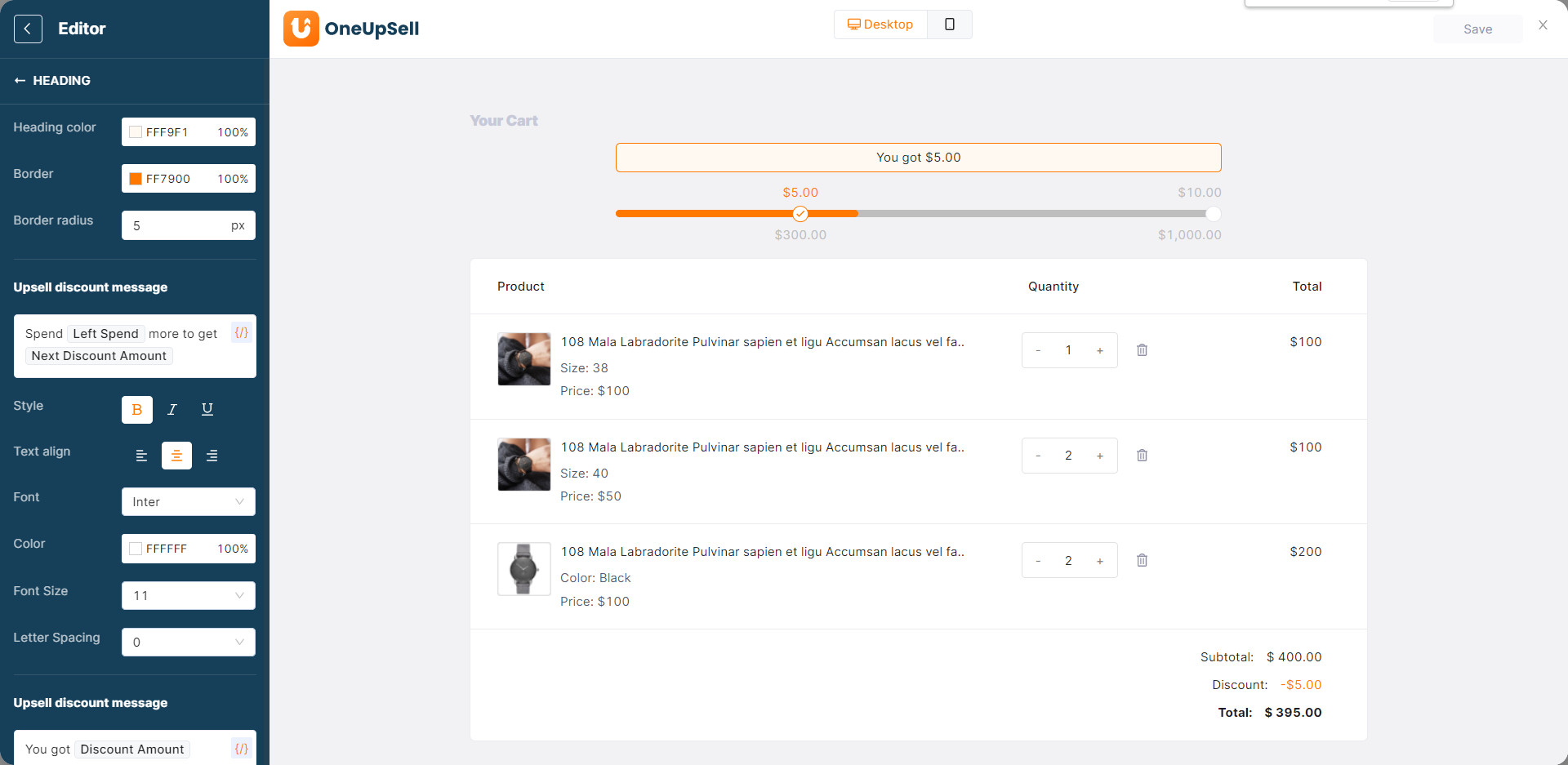 In addition, you can choose to display a discount banner we've just created for you. This will help inform your site visitors about your promotions.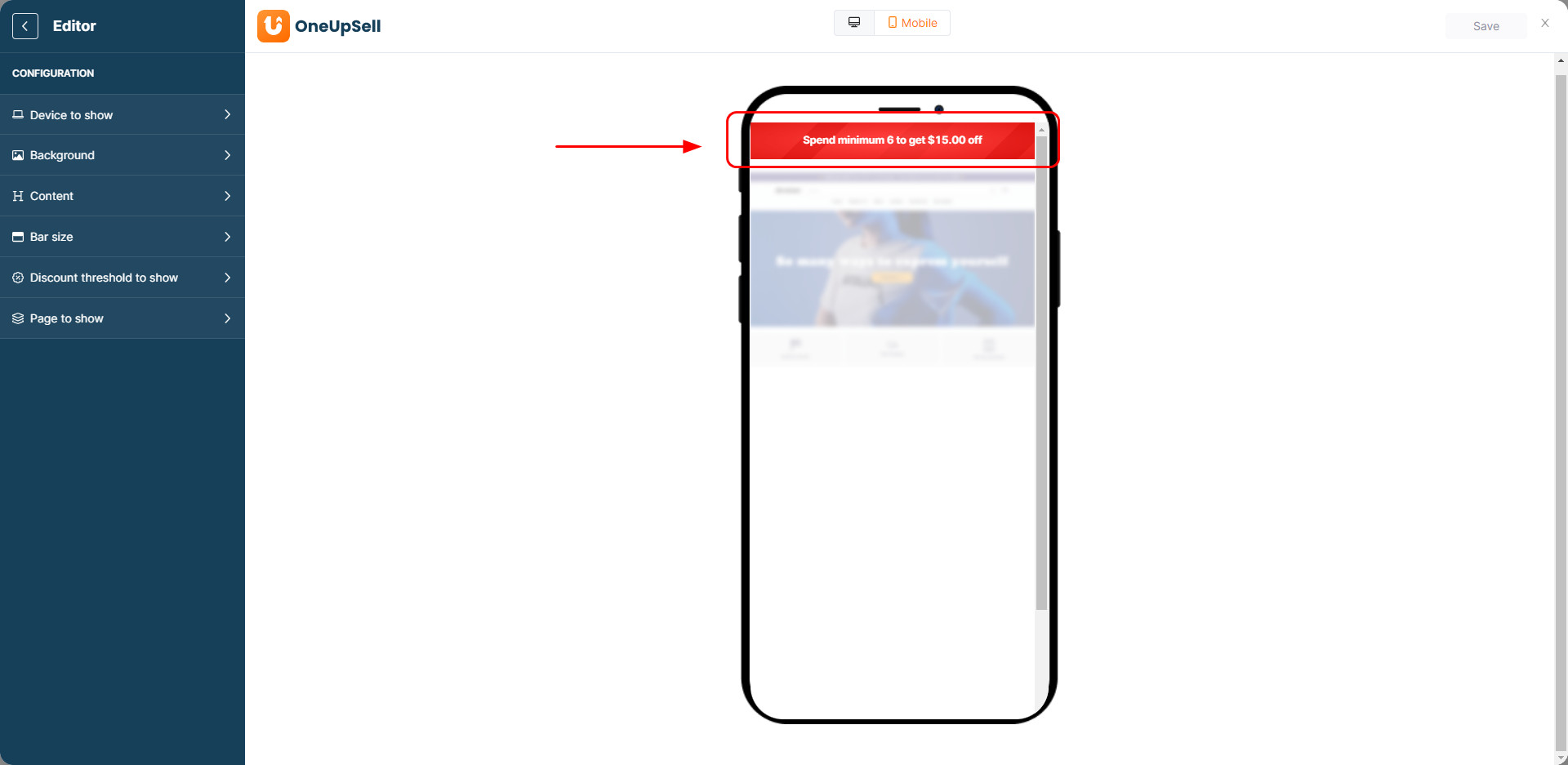 After you've done customizing how the discounts will be displayed on the Product page, Cart page, and promotion banner, don't forget to click Save.
Finally, click Save & Active to kick-start your campaign. 
Introducing Bulk Price Editor
With the newly-developed Bulk Price Editor module, you can now apply different discounts to different products or collections simultaneously.
To leverage this new feature, from your dashboard, select Bulk Discount > Navigate to Price Editor > Click on Add Price Editor.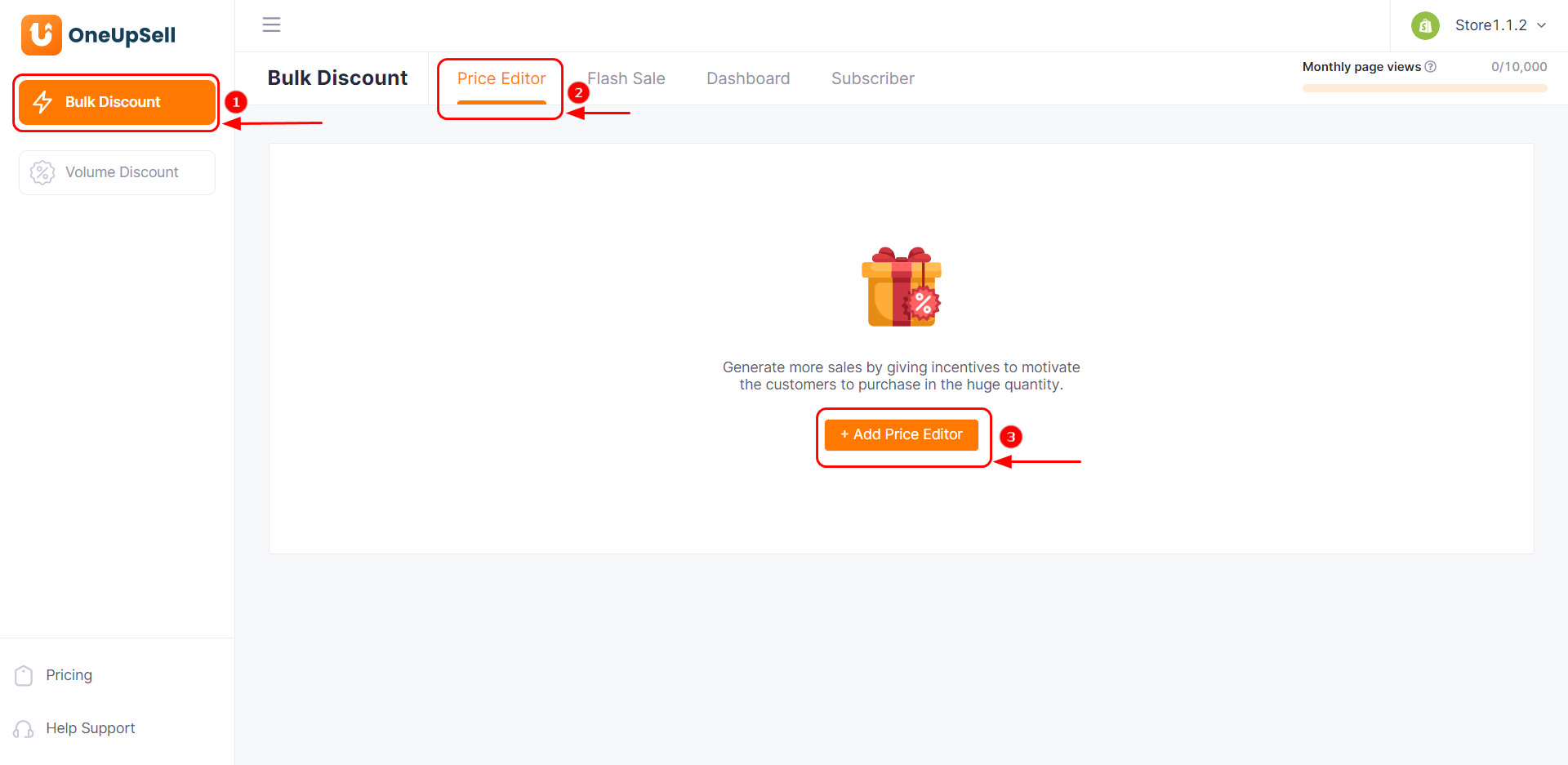 Name your discount > decide on the duration > choose discount by % off or fixed amount > Hit Next.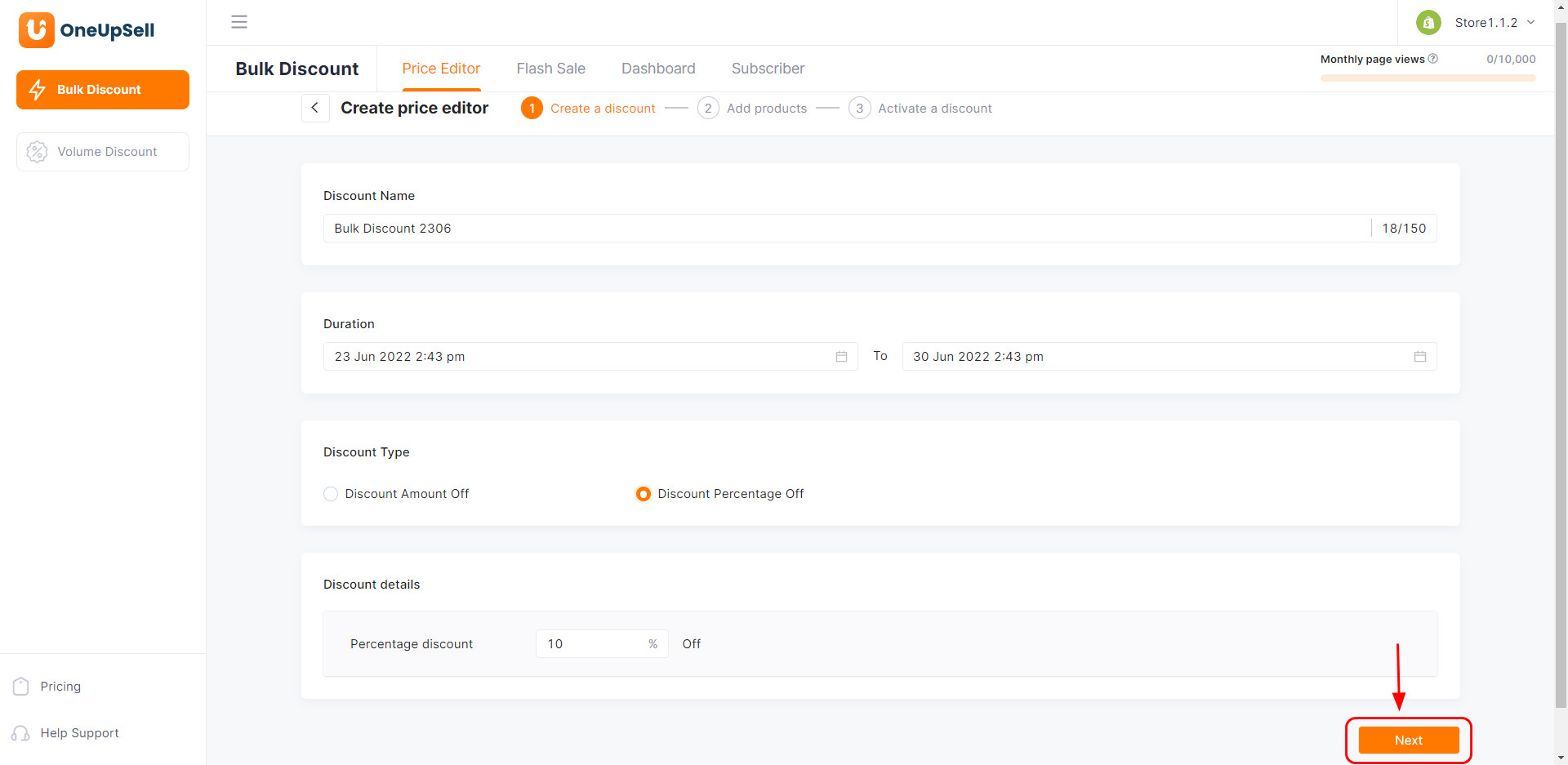 Next, choose to apply the discount to all products/collections/specific products > hit Next.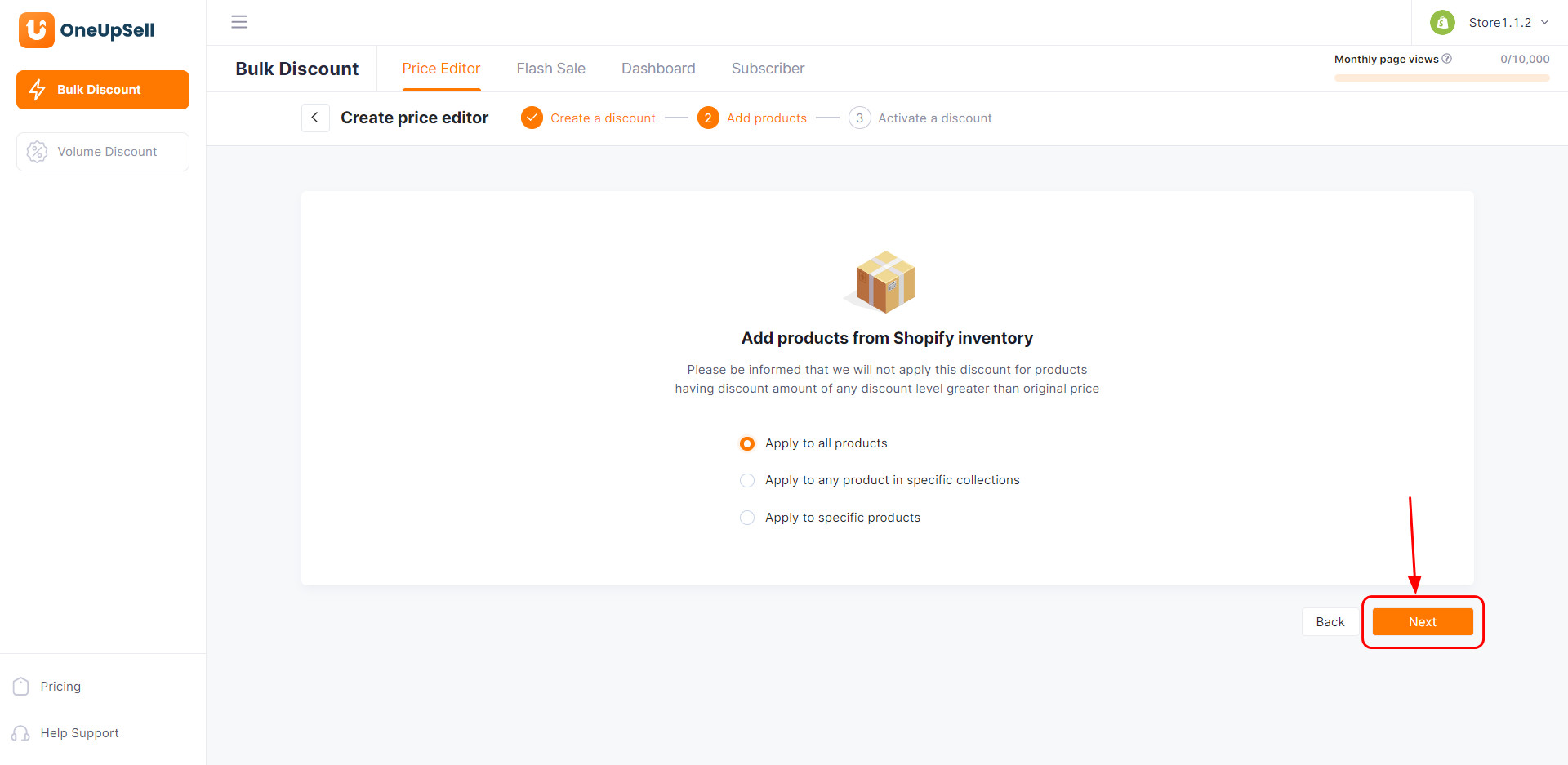 Then you'll have an overview of your discount, make sure everything is set up properly > click Save & Active and you're done!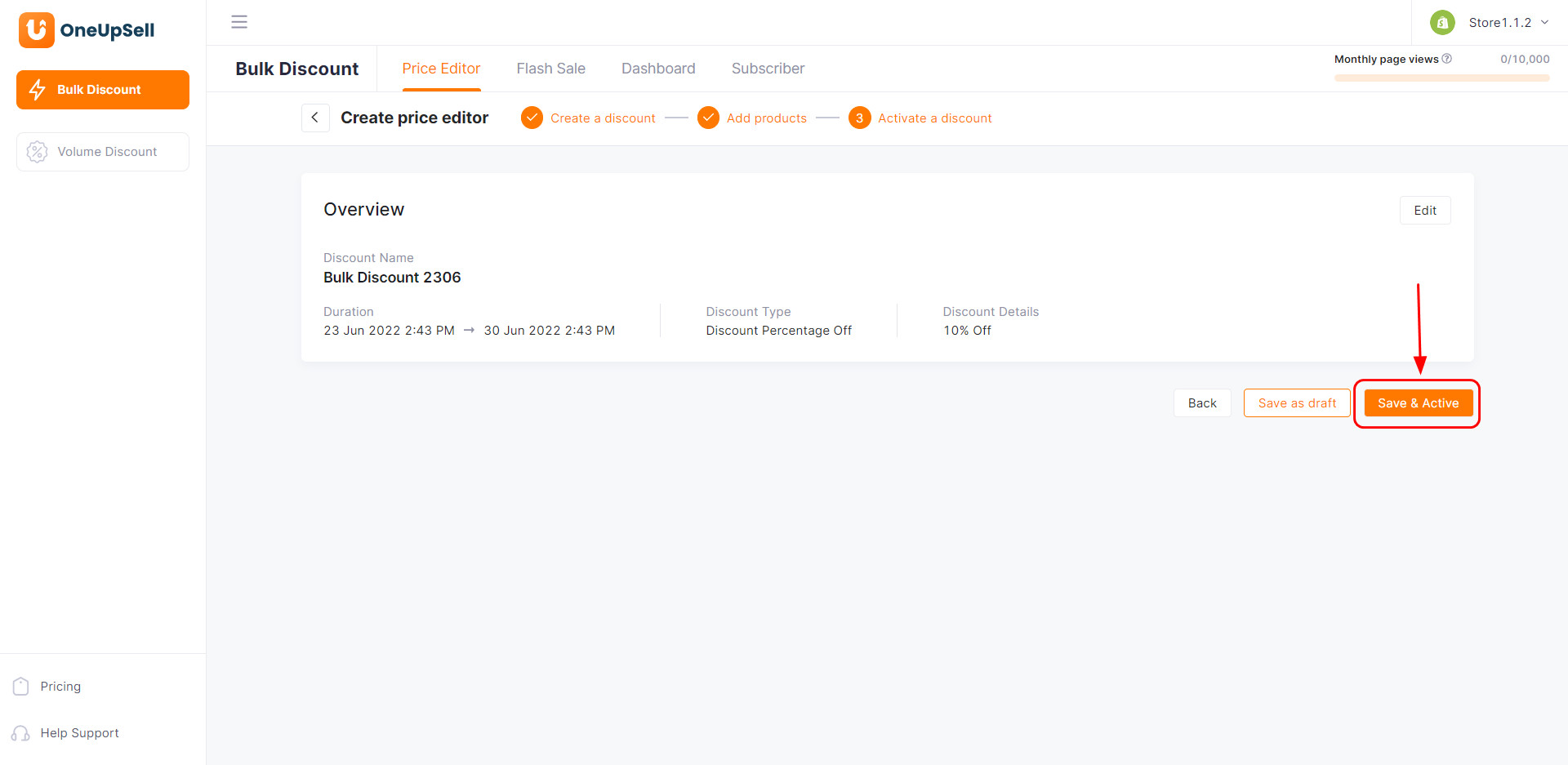 Other Enhancements
Besides new features, in this version of OneUpSell, we've also brought to 2 new templates to showcase on your product page when running threshold quantity discount campaigns.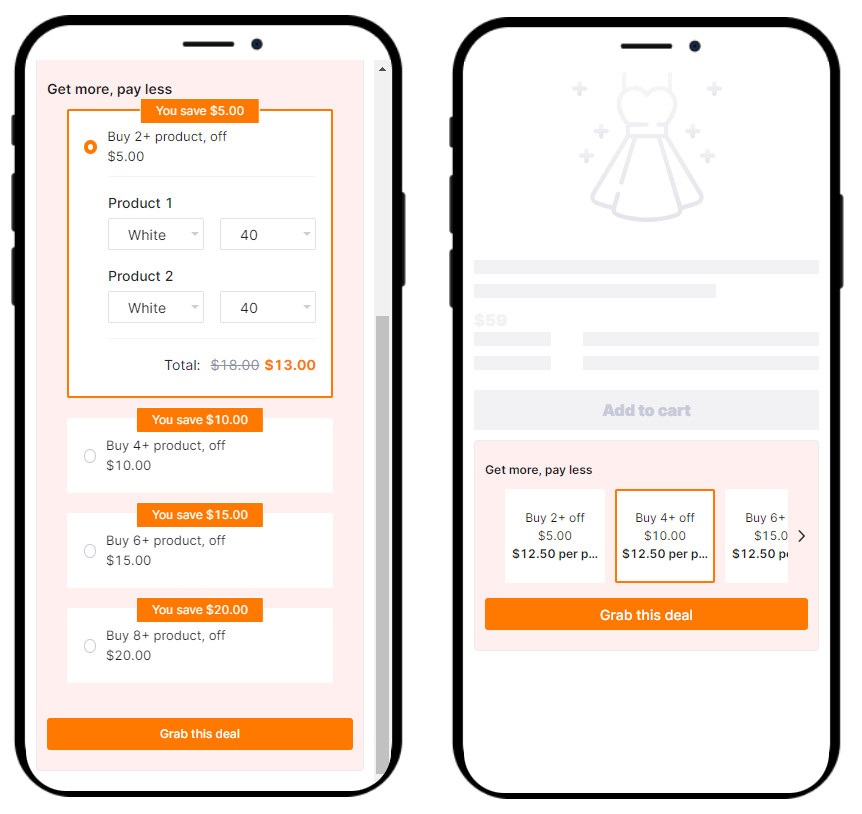 With these 2 templates, when your customers hit Grab this deal button, the corresponding number of variants or products will be automatically added to their cart.
Try OneUpSell V1.11 Today!
That's everything OneupSell V1.11 has to offer. Should you have any further questions or concerns regarding this latest version of OneUpSell, reach our dedicated customer support team via support@socialhead.io.