Socialshop is now FeedHub. Learn more →
We all know that social media plays an important role in the eCommerce business. Connecting to these platforms will surely help you engage more customers and grow your business.
Therefore, we have made our next step to make your business on social media even more diverse!
In this new version of Socialshop v4.0, you can now sync your products to TikTok Catalog – a potential social commerce channel that hasn't been fully exploited. 
Why expand your empire to TikTok?
As a Shopify merchant, you've probably known that in August 2021, TikTok & Shopify launched TikTok Catalog to provide users with a seamless in-app shopping experience
That means TikTok, a social media platform that was once just a dancing app, is currently a potential marketplace with endless selling opportunities.
Even when they come to TikTok with no buying intention, 67% of users claimed that TikTok inspires them to shop.
Not to mention that since the Covid-19 pandemic struck, millions of brands have switched to digital platforms. To increase brand awareness, and eventually, drive more sales, most choose to run ads on Facebook and Google as an instinct. 
And when the playground gets too crowded, advertising costs on Facebook and Google rise with no sign of stopping yet. 
So if you're still wondering "What is the right time to sell on TikTok?" – It is now! And with Socialshop v4.0, you can sync thousands of products from Shopify to TikTok Catalog in clicks!
Socialshop v4.0: Sync products to TikTok Catalog
Just like with Google and Facebook Feed, you can sync your Shopify, BigCommerce, and WooCommerce products to TikTok Catalog within a few clicks. 
Here's how to do so:
Step #1: Sign up or log into your Socialhead account
To use this new feature, you will have to log into your Socialhead account. However, if you are new to us, you can just sign up for free to experience the app.
In addition, you can also get free trials of our pricing plans and see which one suits your business most. You can learn more about Socialshop Pricing HERE. 
Step #2: Connect to TikTok Business Center
First thing first, you will need to connect to TikTok Business Center. When you click "+ Add feed", a window will pop up on your screen.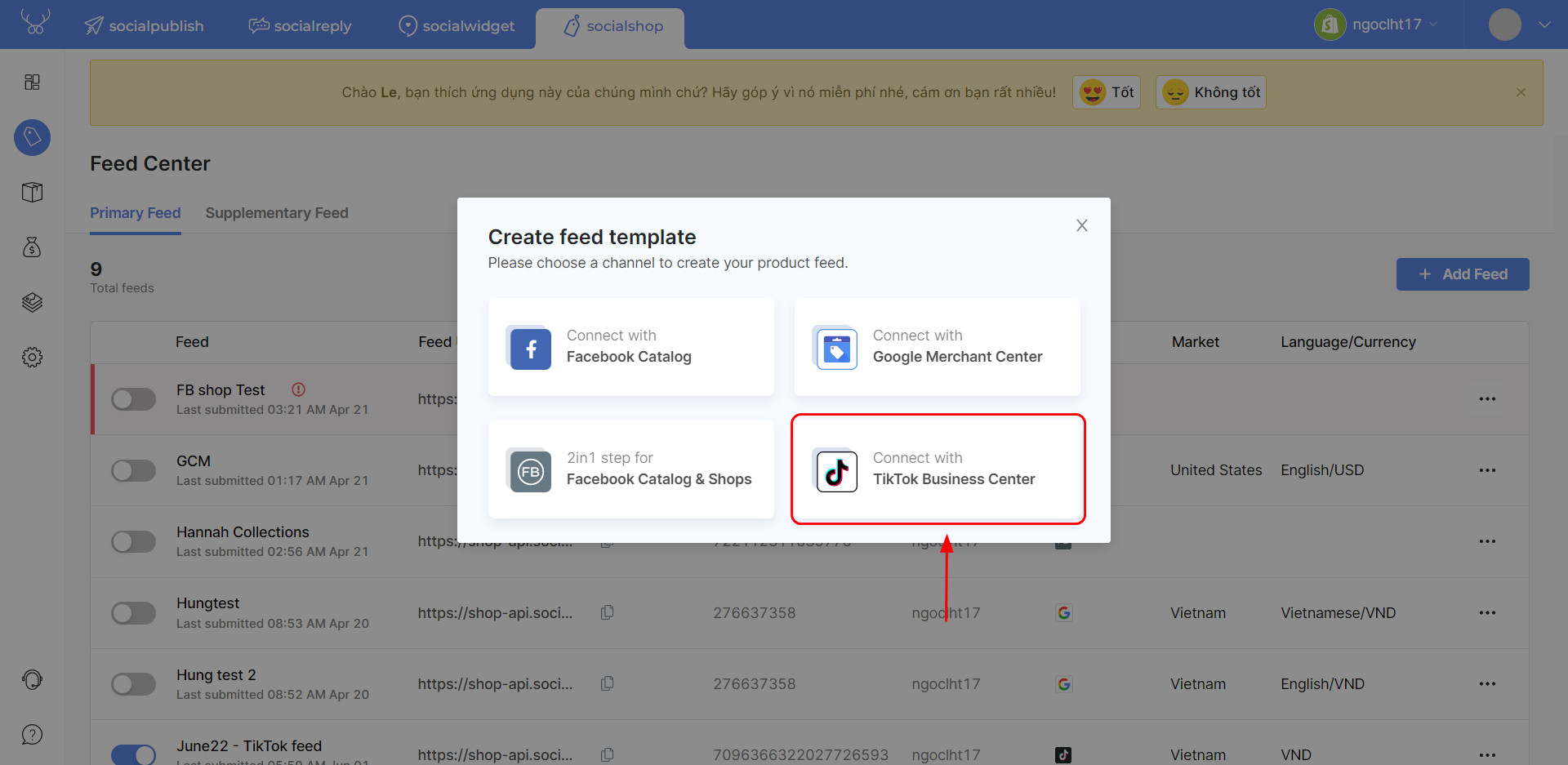 Select 'Connect with TikTok Business Center' to create TikTok feed > A pop-up like below will show up, click 'Confirm' to allow our access to your TikTok account.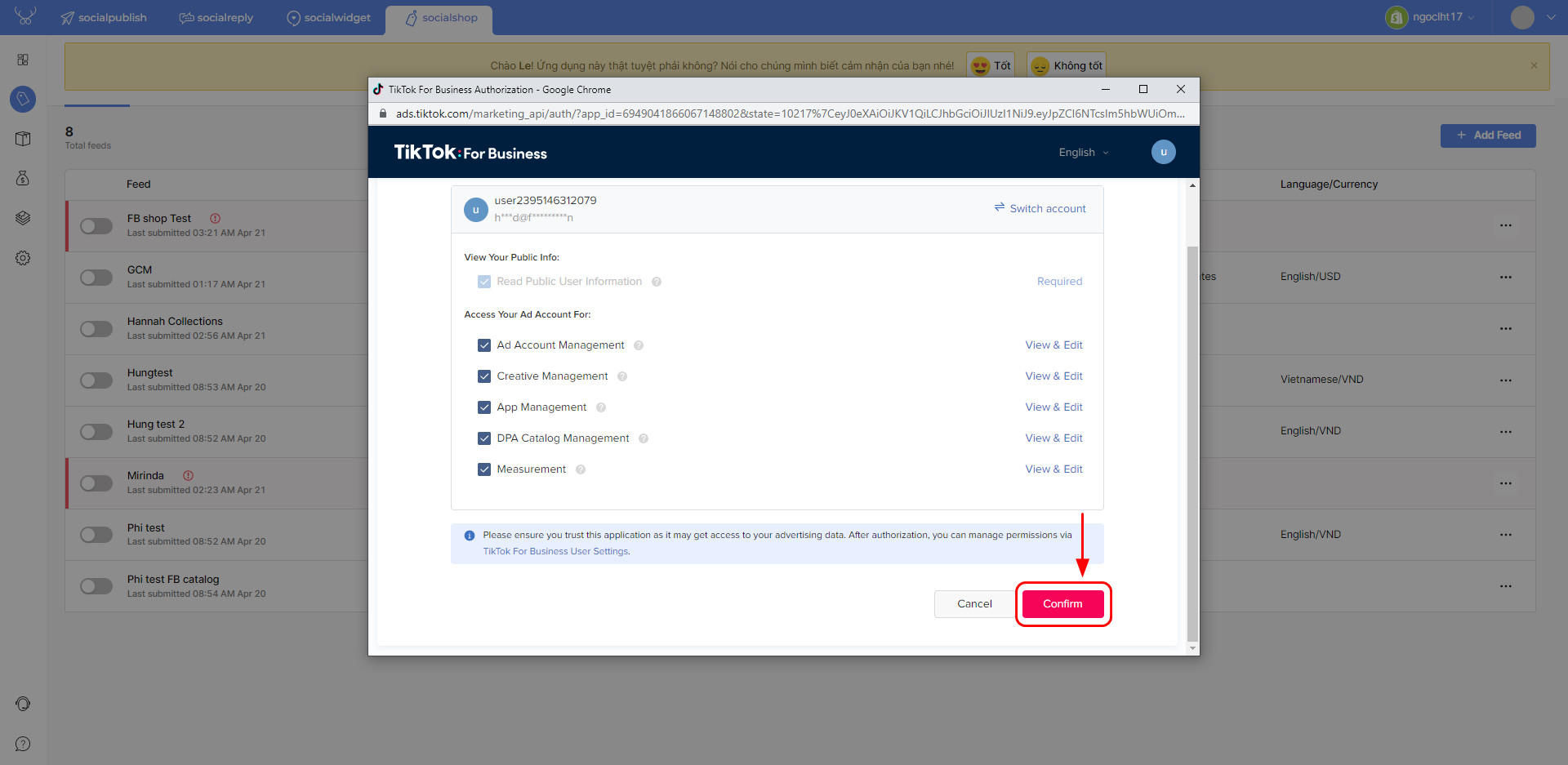 Step #3: Create your TikTok Product Feed 
To successfully create your product feed on TikTok, you can just follow these steps in your feed setting.
First, name your TikTok feed > Choose your 'TikTok Business Account' > Select the Catalog you want to add feed.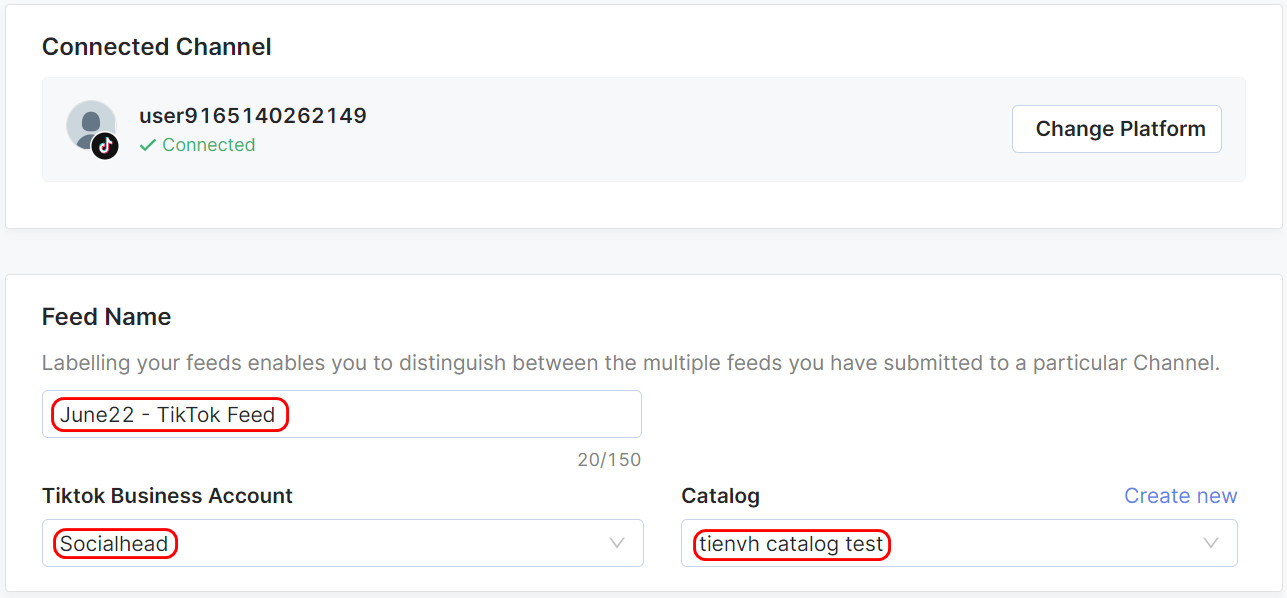 💡 NOTES:
You can freely change your feed's name in the box. But don't exceed 150 words. Otherwise, the feed's name won't display fully.

The language and currency of your TikTok Feed and your Shopify account have to be the same. Otherwise, the Catalog will be grayed out
Next, let's select products to sync to your TikTok feed. You can choose to sync all the products from your Shopify Catalog or just some specific collections. Then, you can include specific products to your feed manually or by condition if you want.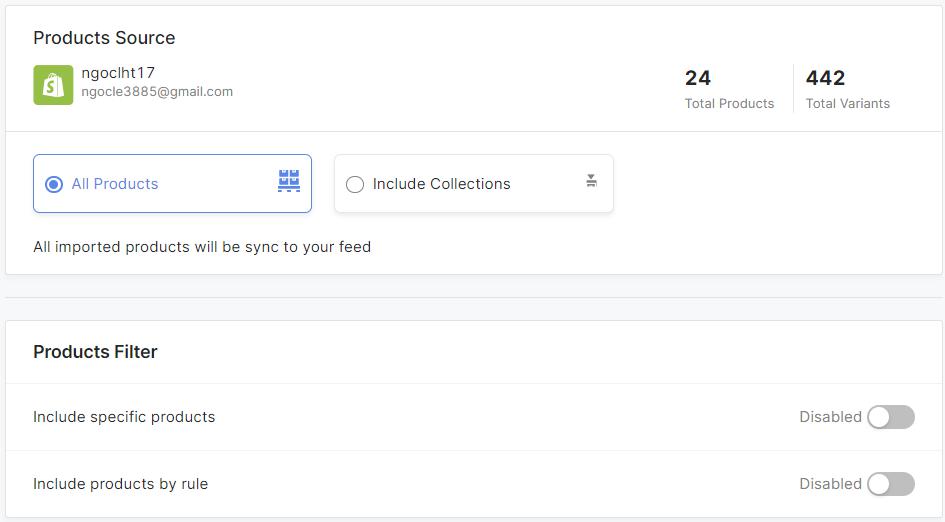 Afterward, you can map your products in the TikTok feed or do it later (we'll show you more details below).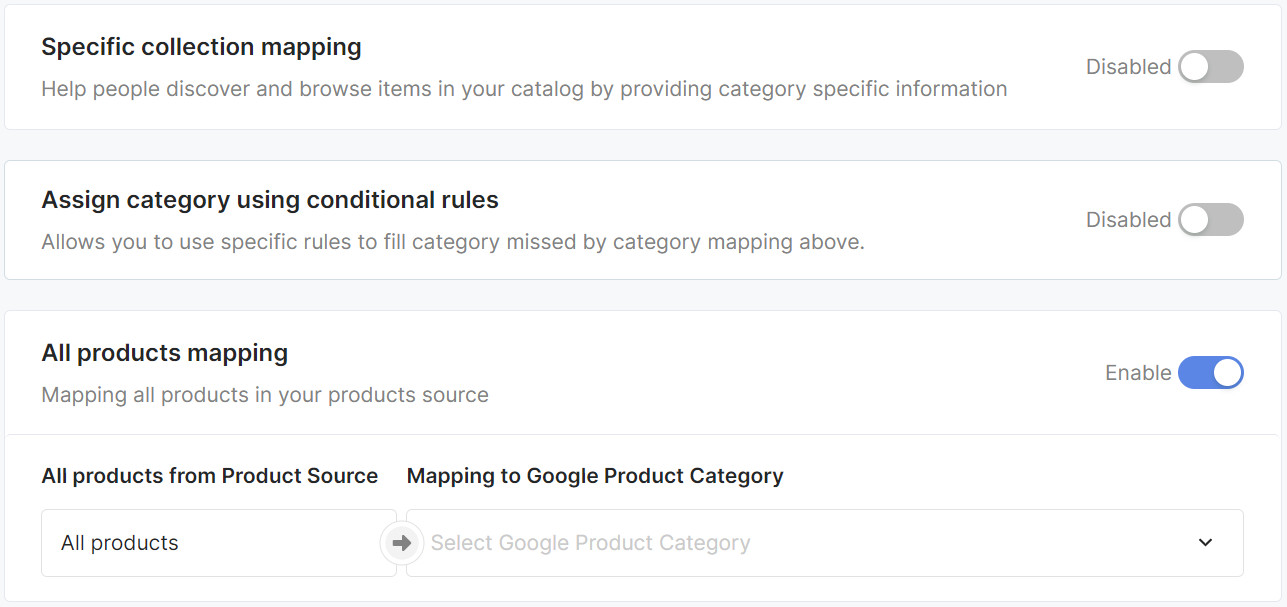 Now simply click 'Create' and you've successfully created your TikTok feed.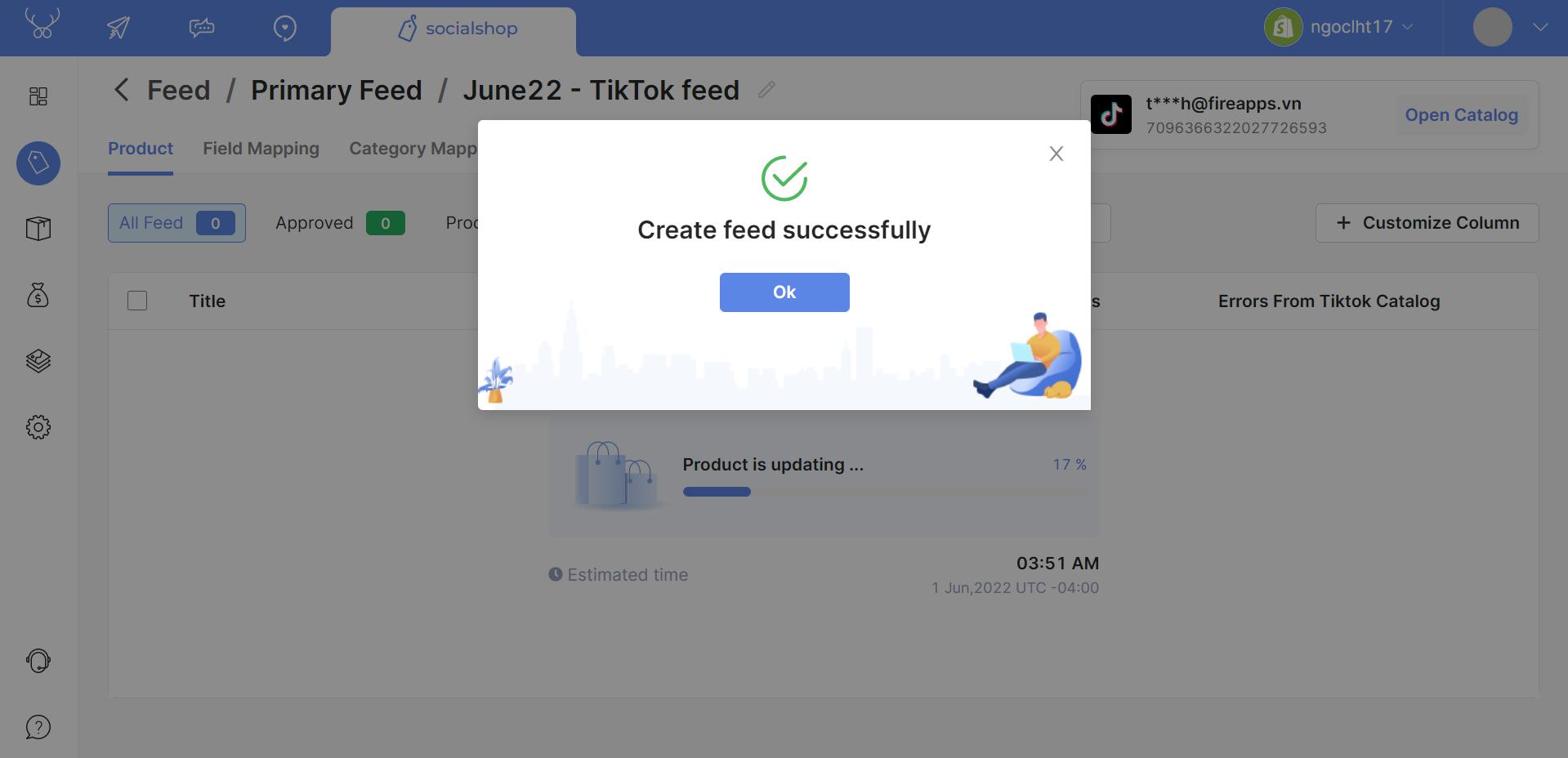 Optimize the TikTok Product Feed you just created
Now that you have connected your Shopify store, TikTok account and successfully set up target location & currency, it's time to optimize your TikTok Product Feed for better conversion! 
Make sure your products are approved by TikTok
When syncing your products to TikTok Catalog, you have to make sure that they are approved by TikTok first before considering optimizing anything else. 
If you provide sufficient product data, your products are sure to be approved by TikTok. However, when your product feed lacks important pieces of information, Socialshop will give you warnings as below so you can fix your errors ASAP.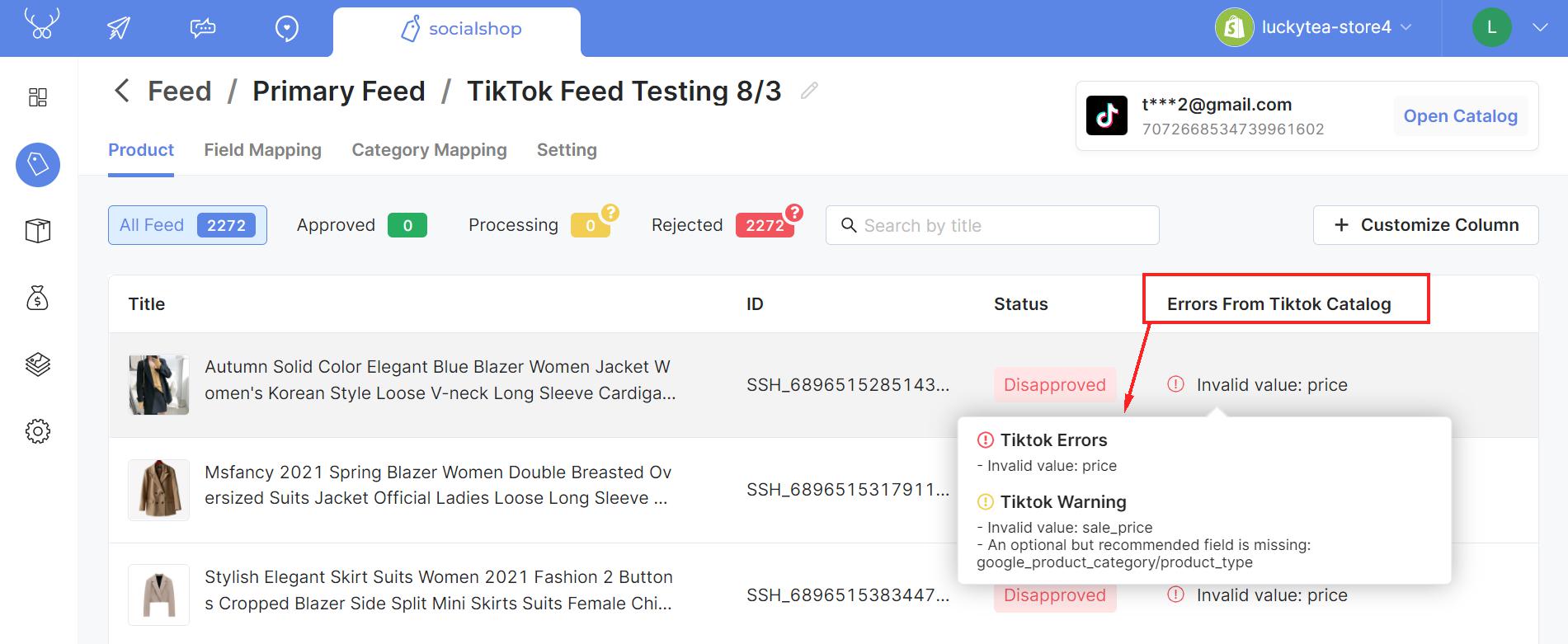 Optimize your TikTok's product data
Now that you have your TikTok product feed approved, it's time to optimize your product data fields for a higher conversion rate on TikTok.
Similar to Google feed & Facebook feed, using Socialshop, you can customize your TikTok feed with up to 82 customizable fields. 
You can set rules, add additional texts and customize your product data to make your items more appealing to prospecting customers.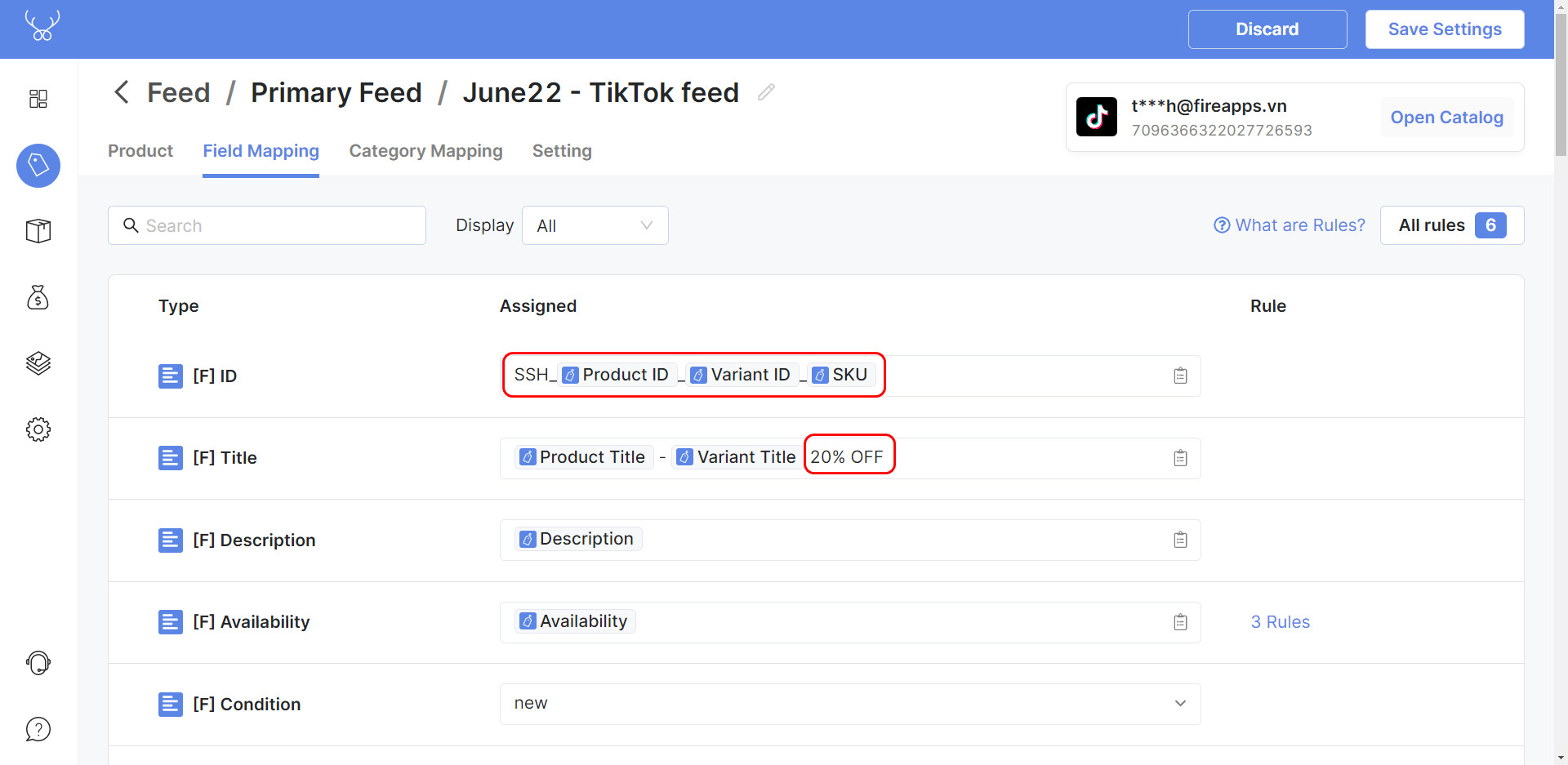 Map your products to the right TikTok Product Category
Mapping your products to the exact TikTok Product Category is a crucial task if you want to ease up TikTok-ers' journey to your brand and products. 
With Socialshop v4.0, you can map all your products or by collection or by rule. 
After deciding on which products to map to TikTok Product Category, you can manually map them from category to category till it's precisely specific. Or you can type in a keyword and choose from our Category Suggestions.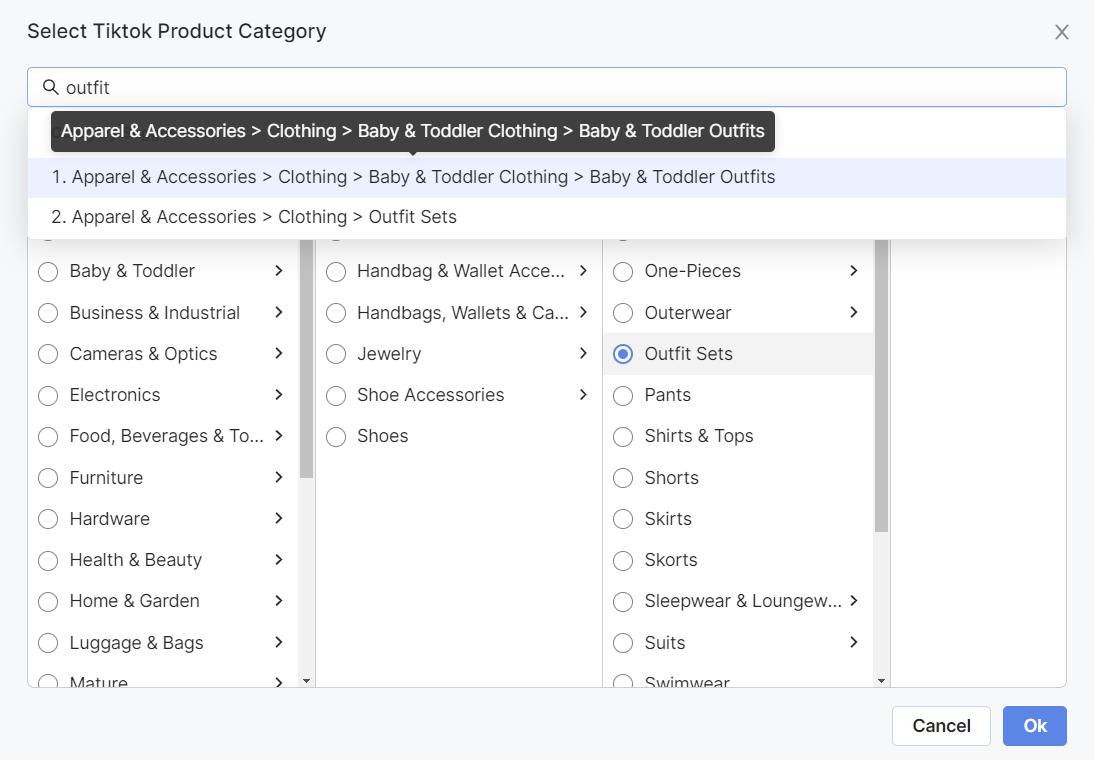 Make sure your product info is up-to-date
After creating your feed, navigate to Setting and plan your feed submit schedule. This is important since you surely don't want customers to see outdated product info. 
With Socialshop v4.0, when you make any changes to your Shopify, WooCommerce or BigCommerce product data, these changes will be auto-updated to your TikTok Catalog at predefined times. 
Tap into TikTok Catalog's Huge Potential now!
That's pretty much what Socialshop V4.0 has to offer.
However, it should be noted that this feature might not be accessibly ready in territories where TikTok Catalog hasn't been supported yet. 
Should you have any concerns regarding Socialshop v4.0, please feel free to contact our CS team via live chat or our email at support@socialhead.io.