It's never too late to learn how to take good Instagram photos especially when you and your smartphone are all you need to craft a masterpiece. 
Today, we are going to blow your mind with our 6 most powerful tips to take incredible shots that build a stronger presence on Instagram. These tips will help you understand the key principles of photography and a few rules you need to follow to set up the shots well.
In addition, we recommend you some brilliant ideas to snag nice and eye-catching photos for Instagram. These tips and ideas will be useful and applicable for both business and personal goals. So, let's waste no more time and get to the first tip.
Step-by-step instructions on how to take good Instagram photos
#1 Control the light 
Lighting is the most important aspect of a good photo. Bad lighting conditions may ruin your photos except when you do it on purpose. Therefore, the very first lesson that we all learn to take good Instagram photos is controlling light. 
In fact, lack of lighting causes low-quality photos, but too much light washes out your photos as well. Accordingly, you need to balance the lighting properly. To do that, for most mobile phones on the market you can just tap on the camera screen and adjust the brightness. 
Make sure that when you take a photo, the lighting is under your control to fit the light condition of the environment or your purposes.
It is highly recommended that you should take photos in natural light. Or you can use some supplementary lighting from tools such as ring light, lamps, etc. 
In case your photos are too dark, you definitely need to brighten them up with photo editing tools, but be careful of overexposure. 
#2 Know your angles
Did you get good lighting for your photos? Great! Now, let's create nice camera angles for your shots.
Perhaps you don't know that the camera angle is the second key factor to take good Instagram photos. 
Most people tend to simply hold the camera around their eye level and snap. That's not what you should do. We strongly advise you to take photos from different vantage points to have nice pictures from multiple perspectives. You can turn on the gridlines of your camera to easily manage your layout to decide angles. 
Stop taking all the same photos! Try to shot from above or below, crouching low to the ground or scaling the wall. There is no limitation for creativity, so challenge yourself more to have outstanding photos.
#3 Choose the right time for shooting
You must select the perfect time for shooting when both the sunlight and weather are supportive for photography. This offers you natural and beautiful filters for your photos. By leveraging the 'golden hour', you are able to take good Instagram photos with less effort.
For example, I want to take a fresh and dreamy portrait, then I choose to take a picture early in the morning when the lighting is gentle and not too bright. Or if you want a summer photo full of energy, you can snap a shot under the strong sunlight at noon. 
Based on your purposes and locations (Indoor or outdoor), the right time for taking photos varies. 
Moreover, choosing the right time for taking pictures is a very important part of the light control we mentioned above.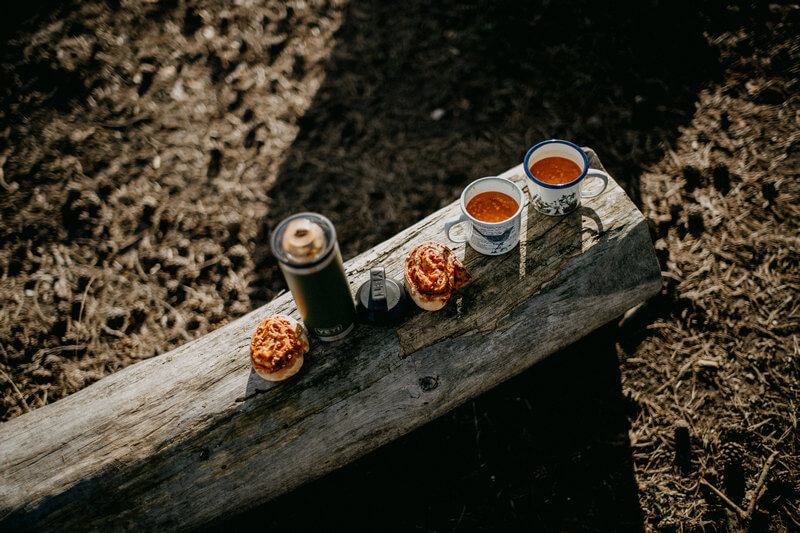 #4 Follow 'Rule of the thirds' to take good Instagram photos
When taking pictures, you have to pay attention to the position of the main subjects, textures, colors, and others to ensure that the layout is nice and balanced before snagging.  All of that is called composition which refers to the art of arrangement in a  photo. 
Lucky for you, you can follow the Rule of the Third – the most common principle to balance your photo composition. It separates the photo into a 3×3 grid layout, and you are easy to arrange the main subject along the grid lines as you want. So, remember to turn on the gridlines in your camera settings and practice aligning before taking a shot. 
#5 Preserve quality for your photos
You should always keep your raw photos at the best resolution except for your own purposes. To preserve your photo quality, remember to turn on HD mode in your camera settings and ensure that your photos are taken in the proper conditions to avoid poor lighting, blur, or else.
Be careful with your photo resolution because your raw photos will be edited or applied some effects before being published on Instagram. Therefore, we emphasize how important it is to produce high-quality photos if you want to take good Instagram photos.
#6 Apply filters
If you understand our 5 tips mentioned above and apply them wisely, you must already have nice and high-quality photos. Then, you are one last step away from good Instagram photos. 
After taking raw photos on your phone, you can use some filters to maximize the visual effects for them. You can simply use the nice and diverse filters provided by Instagram or leverage multiple photo editing tools such as Snapseed, VSCO Cam, Analog, etc. 
Be creative to not only take good Instagram photos but also optimize them to the fullest.
Try one of these brilliant ideas to take good Instagram photos
We think it's enough for you to learn about our tips to snag nice photos for Instagram. If you are still confused and do not know where to start. Now, let us inspire you with some brilliant ideas for taking pictures. You can consider these selected ideas and choose the proper one to serve your own purposes.
Symmetry

: The symmetrical composition will offer your pictures a natural but artistic balance. Your main subject is often the center of the image to break the other elements into symmetrical vertical or horizontal balance. Be creative!
Patterns

: Create impressive visual effects of infinitely repeating patterns. You can find beautiful patterns around you so easily, so make the most of them to optimize your photos.
Vibrant Colors

: Pop up your Instagram photos with strong and rich colors. It creates a strong impact on your audience.
Humor

: Good Instagram photos can be more funny and creative than you think. With this idea, you can blow a new breeze to your Instagram feeds through your photos.
Real motions

: Capture the candid actions in your photos to make them lively.
Focused Shot

: A sharp zoom into the details of your subjects can strongly drive attention. Try it sometimes!
Captivating Backgrounds

: Leverage the awesome backgrounds available around you to highlight your main subjects in a picture.
Portrait

: If you are tired of selfies, then a shot of a portrait will be an excellent choice. It enhances the depth and emotions of your photos.
Perhaps, there are other ideas that you can learn to take good Instagram photos such as shooting with pets, foods, or else. Don't hesitate to contribute your own ideas to us via the comment below.
Conclusion
Once again, we hope that our 6 realistic tips, as well as ideas, will empower you to take good Instagram photos and also optimize them for an impactful presence on Instagram. Moreover, if you want to use Instagram stories for business, then having incredible photos will be very helpful. Good luck!