Instagram carousel templates are one of the most appealing formats for social media. The entice to swipe left, it seems, is difficult to resist – particularly as there's a persuasive cover slide. 
Carousel posts are great to help you reach your goals on the platform. With a proper strategy, you can escalate your engagement levels, access new audiences, and even increase more product sales.
That being said, the process of producing Instagram carousels is time-consuming and effort-taking. Therefore, to make your life easier, we're going to share some of the best Instagram carousel templates for your brand. 
Let's dive right in. 
What is an Instagram Carousel?
An Instagram carousel is a post created with a carousel template. There will be different photos or videos that can be viewed by clicking or swiping left. You can add up to 10 images or videos and share them in a post on your feed. 
As with any other Instagram post, you can add a caption, alt-image text, a geotag, and product tags on each photo in your carousel. Users can like, comment, and share your carousel posts as well. 
As a carousel is published, a small icon shows up in the upper right corner. When you tap on the post, you'll see a counter that shows the number of frames. Besides, there are small dots at the bottom of a post marking progress through the carousel. 
Top Instagram Carousel Templates 
Makeshift Carousel & Quotes Canva PS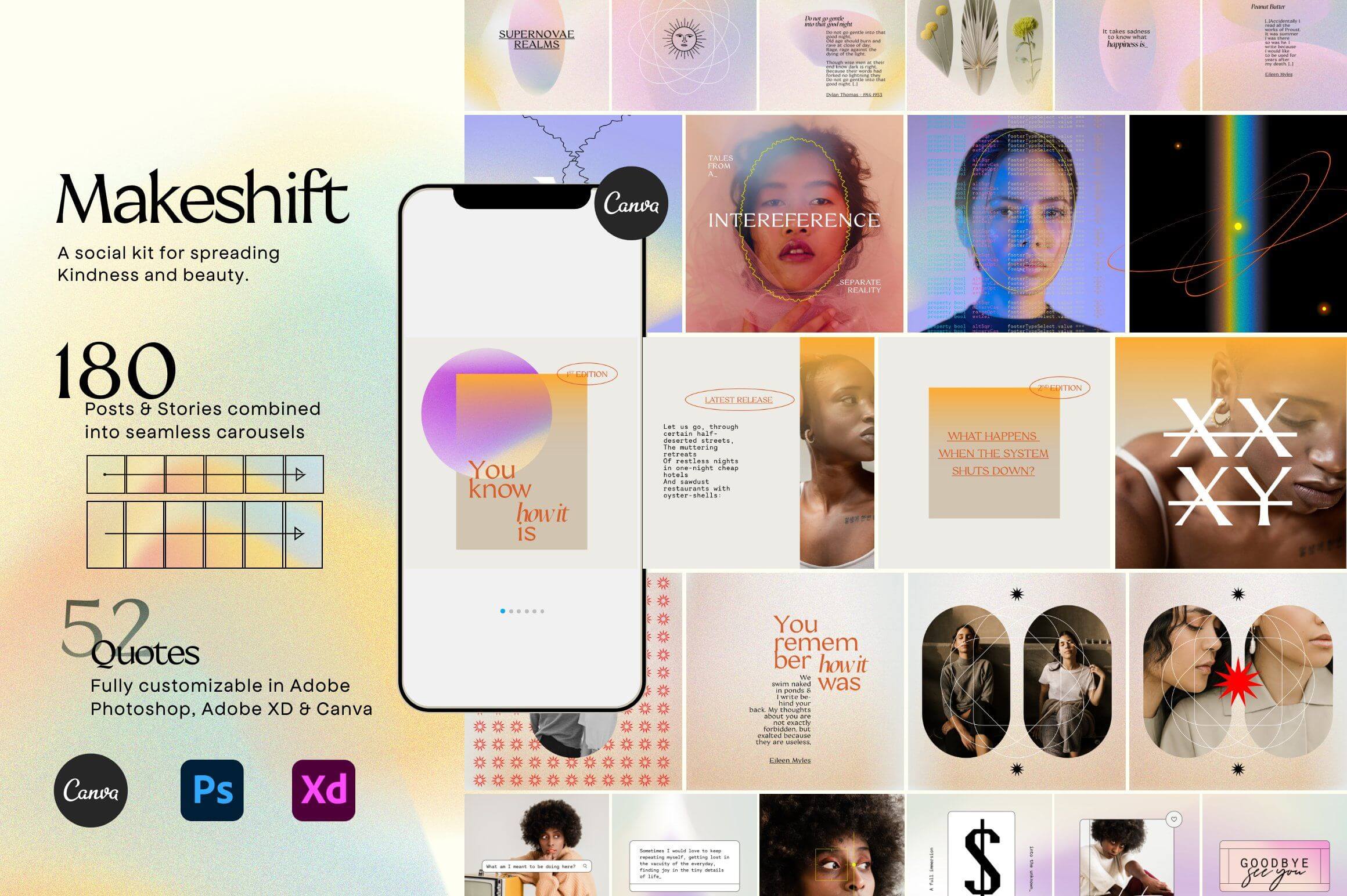 Makeshift is a list of templates tailored for those who want to communicate in a new and modern way on social media platforms. 
The collection consists of 90 posts (15 carousels + 26 Quotes) in the format of Instagram Posts and Stories displaying cool gradients and stunning fonts aesthetic. 
These purpose-driven templates will boost your ability to inspire or educate your followers by offering information, tips & tricks, interviews, quotes, tutorials, and stories. 
Wellness Instagram Template Kit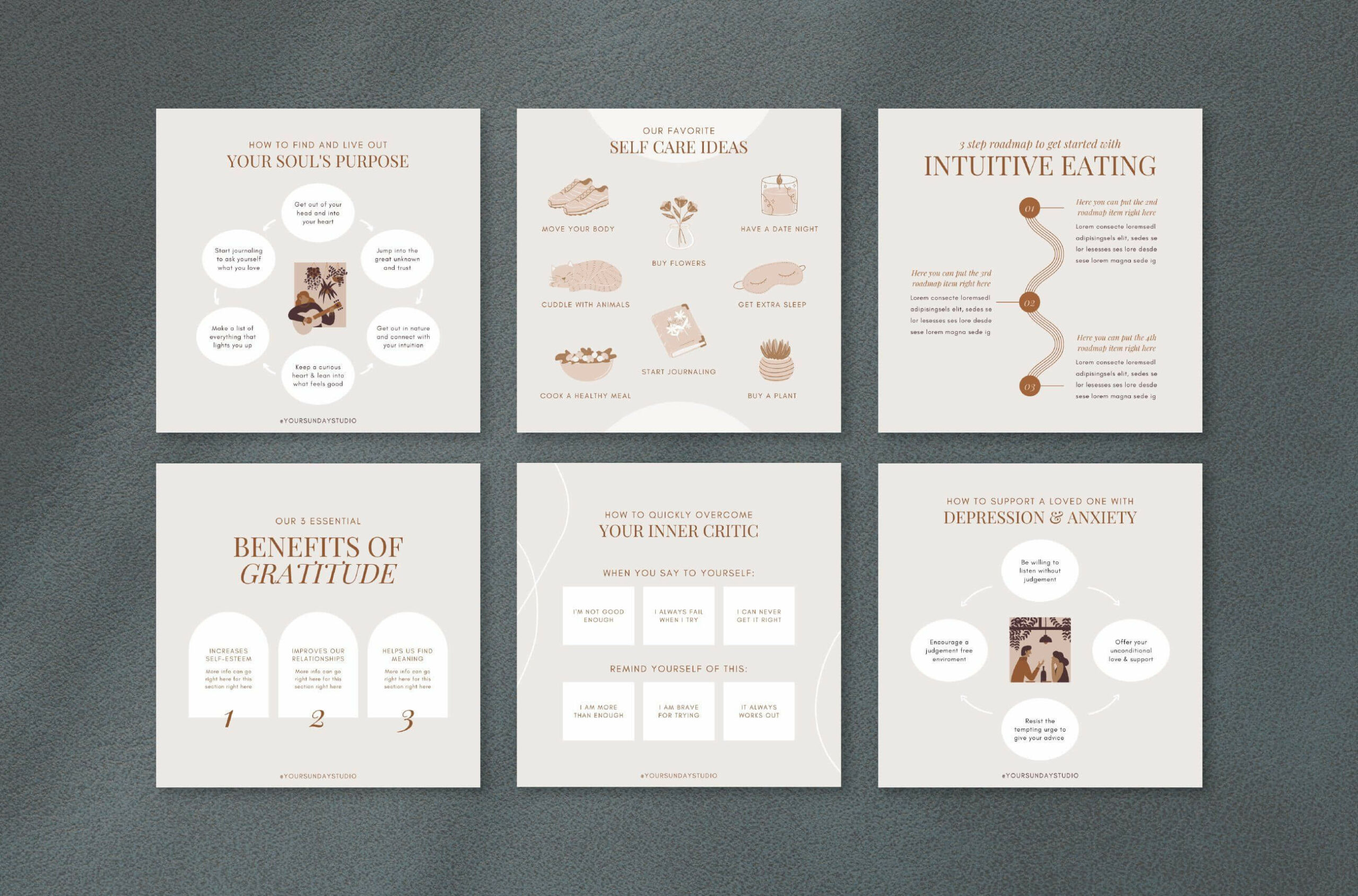 Let's spark your inspiration to share your wellness content on Instagram with these 160 Canva templates. This Wellness Kit comprises posts and stories so you can build a consistent message throughout. 
These Instagram templates are specifically created for health & wellness coaches, entrepreneurs, fitness professionals, bloggers, yoga and meditation facilitators. 
Mystic Instagram Bundle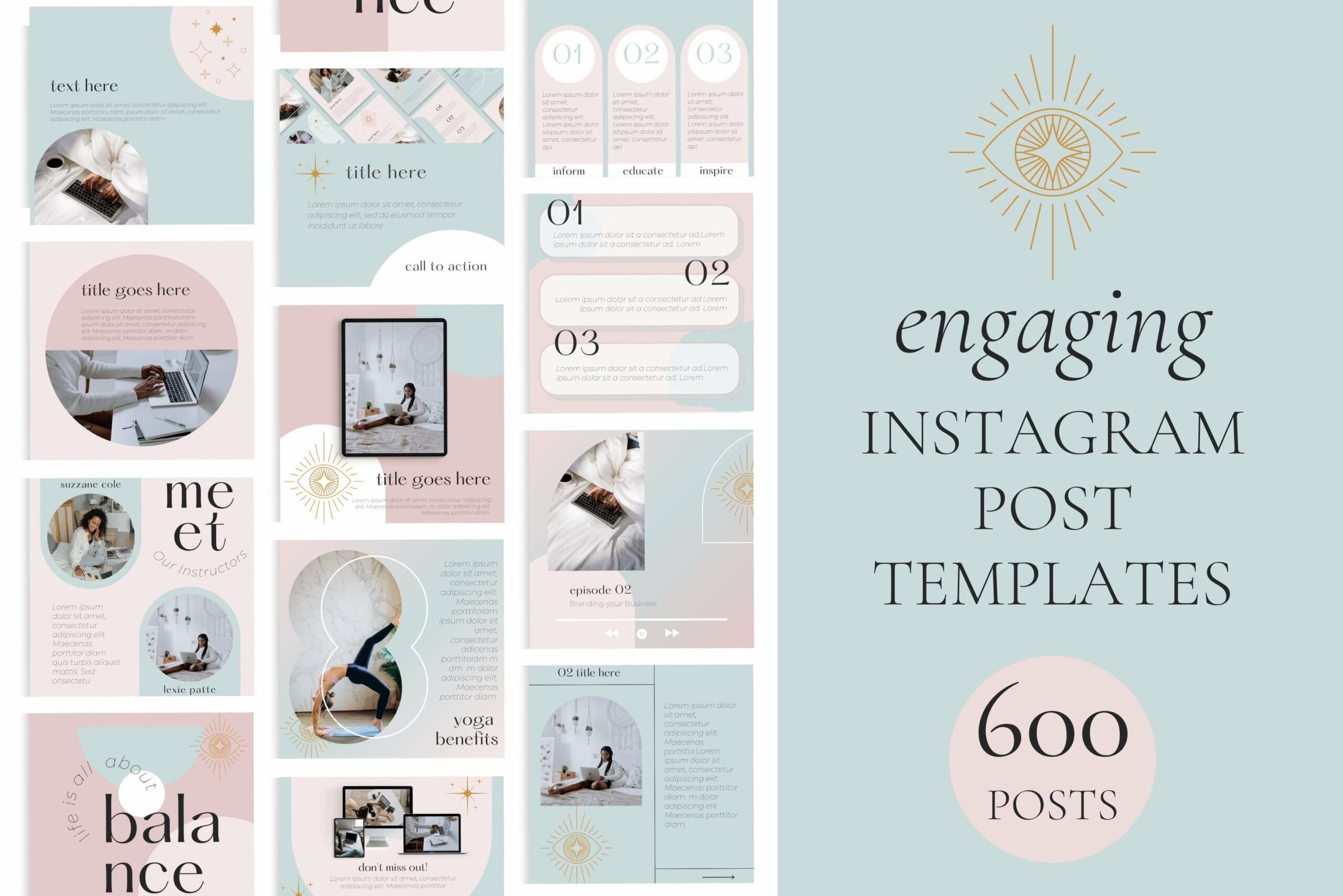 If you're an influencer, solopreneur, or content creator who is looking to join the Instagram game, the Mystic Instagram Bundle is an ideal option. It provides you a cohesive and modern branding, enhancing engagement and increasing your followers. 
The best part is you can easily edit and customize the templates with Canva. You can flexibly change texts, icons, colors,  graphics, or even upload your logo. 
Feminine Instagram Templates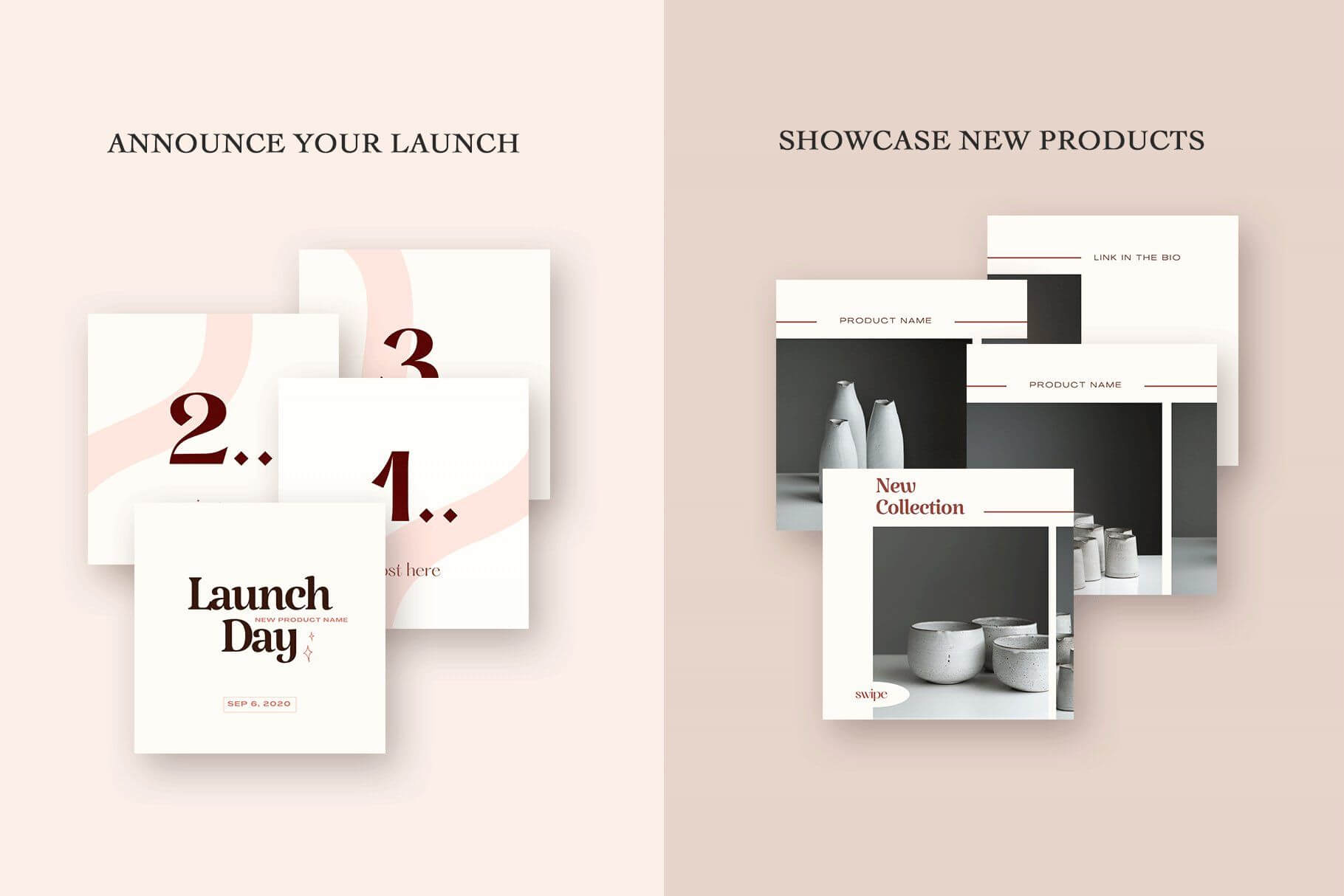 This social media pack will let you reach your audience in a visually consistent way to gain more attention and more customers. 
You can generate anticipation for the next launch or event of your brand with beautiful countdown launch templates. Or you can increase your engagement by beginning a conversation with popular quotes, checklist, alerts, anc challenges. 
Moreover, you can drive your readers to your blog by sharing insights with simple step-by-step and graph templates. 
Jewelry Instagram Templates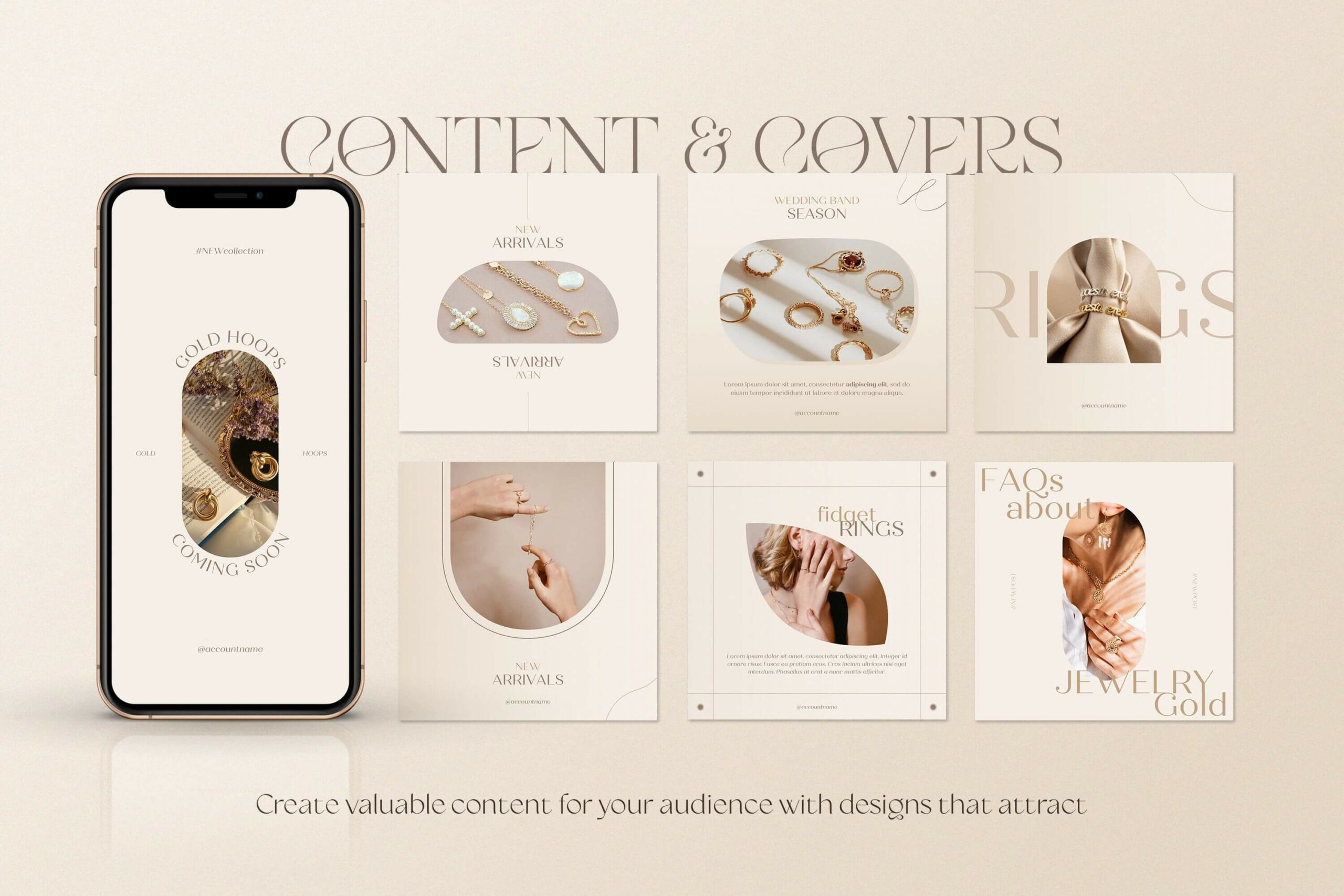 Do you have a Jewelry brand and want to stick out from your competitors? Then you come in the right place. 
This Jewelry Instagram Bundle helps you better educate and engage with your audience, promoting your brand and your online store. 
These templates can be completely editable with Canva. In this interface, you can work with the design with ease, adjusting all the elements you like and changing them to your requirements. 
Instagram Engagement Posts Template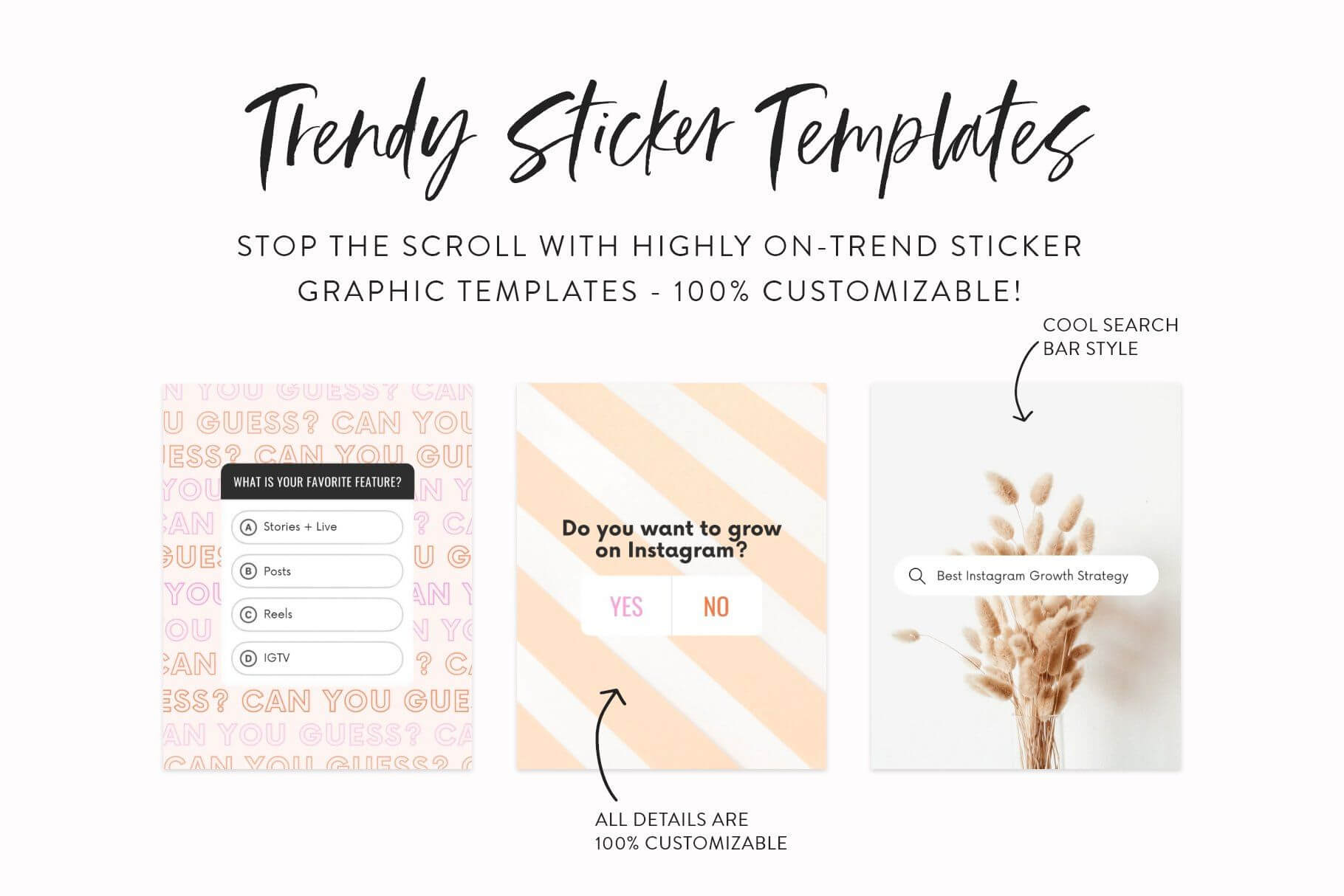 This engagement power pack consists of 25 brilliant templates and 20 ready-to-post graphics for your Instagram feed. 
You can inspire your audience with nice and stimulating sticker posts, viral potential reminders and on-trend graphic formats that are great to construct a new account from zero or bring your current page a huge boost. 
Financial Planning Instagram Canva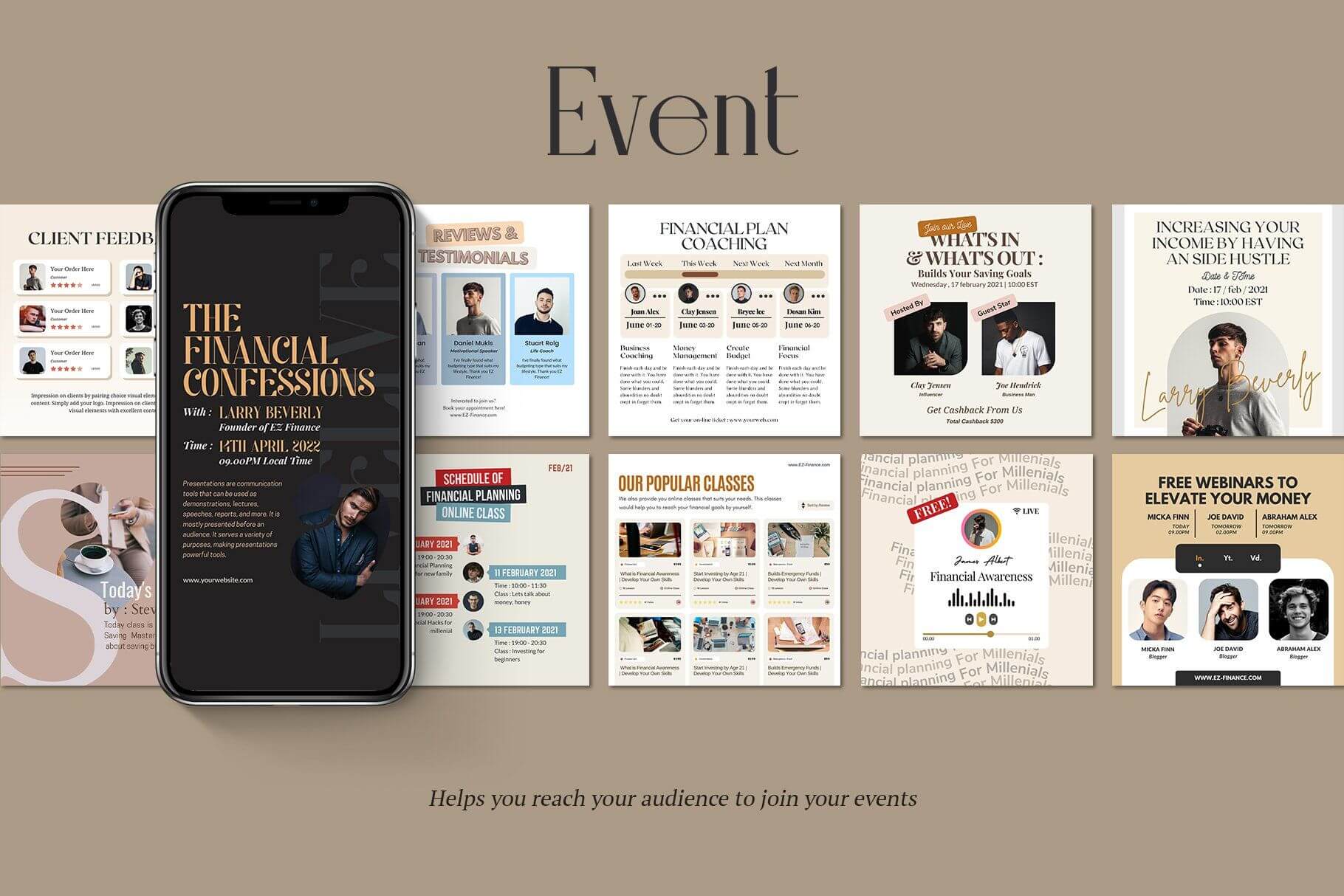 Instagram financial planning coaches is a collection of templates that can help you improve your branding as an professional financial coach. You can make your customers educated by your sleek design templates and share the financial awareness and news. 
Podcast Carousel Posts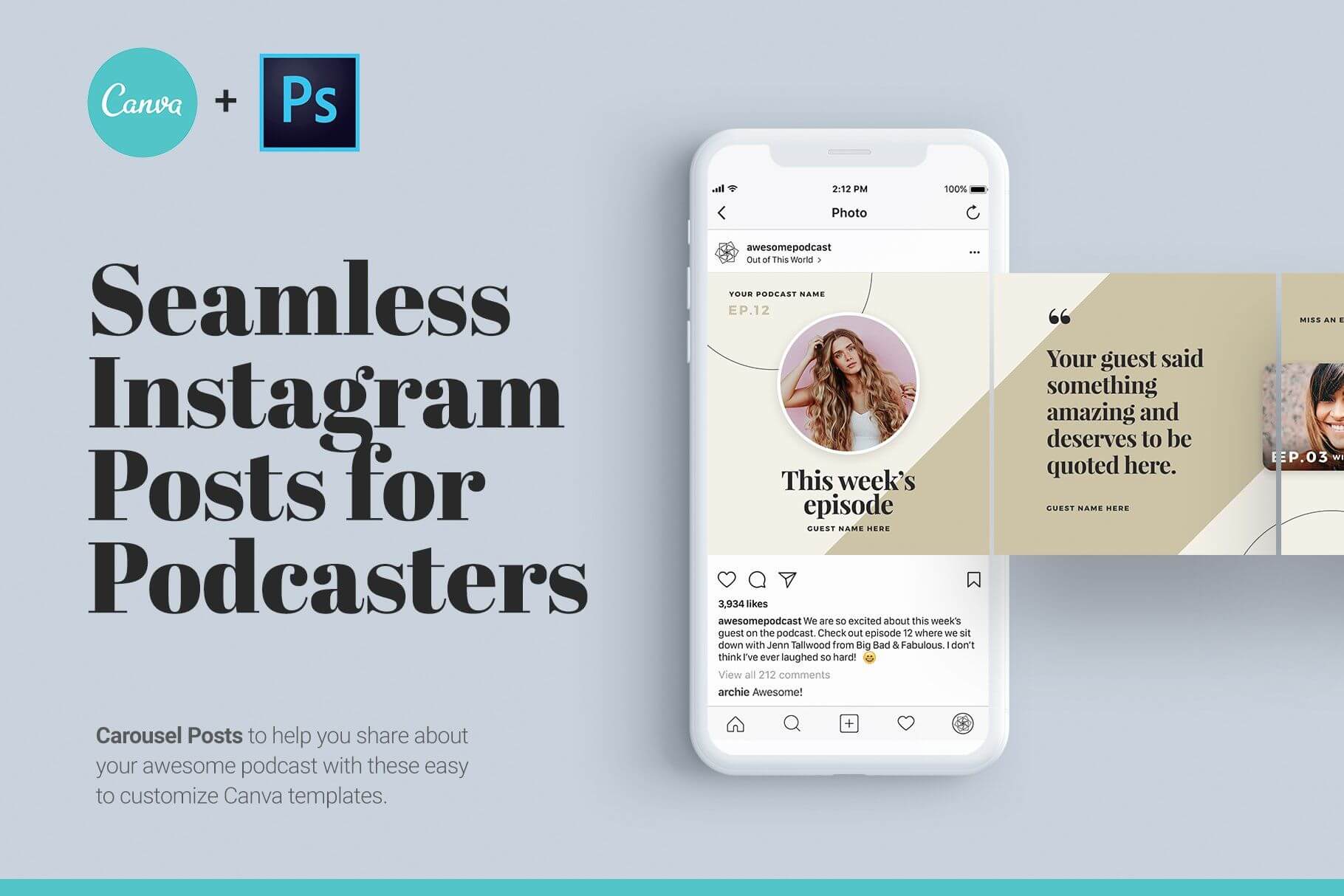 This pack of Seamless Carousel Posts for Instagram makes it simple to get the word out about amazing podcasts without hiring a seasoned designer. You can easily swap out the colors, images, and even the podcast titles from Canva or Photoshop. 
These template designs are suitable for designer, podcasters, or social media managers and will save you a great deal of time, so you can concentrate on what you do best. 
Real Estate Carousel Instagram 
These Real Estate Carousel Instagram Templates can keep your audience engage for longer and interact more with your content. 
Every template in the collection is made with an audience and Instagram algorithms in mind, so you can easily encourage people to save your post for later and keep swiping. The templates match slides in the carousel post, making your Instagram feed consistent and eye-catching.
YUMMY Carousel Instagram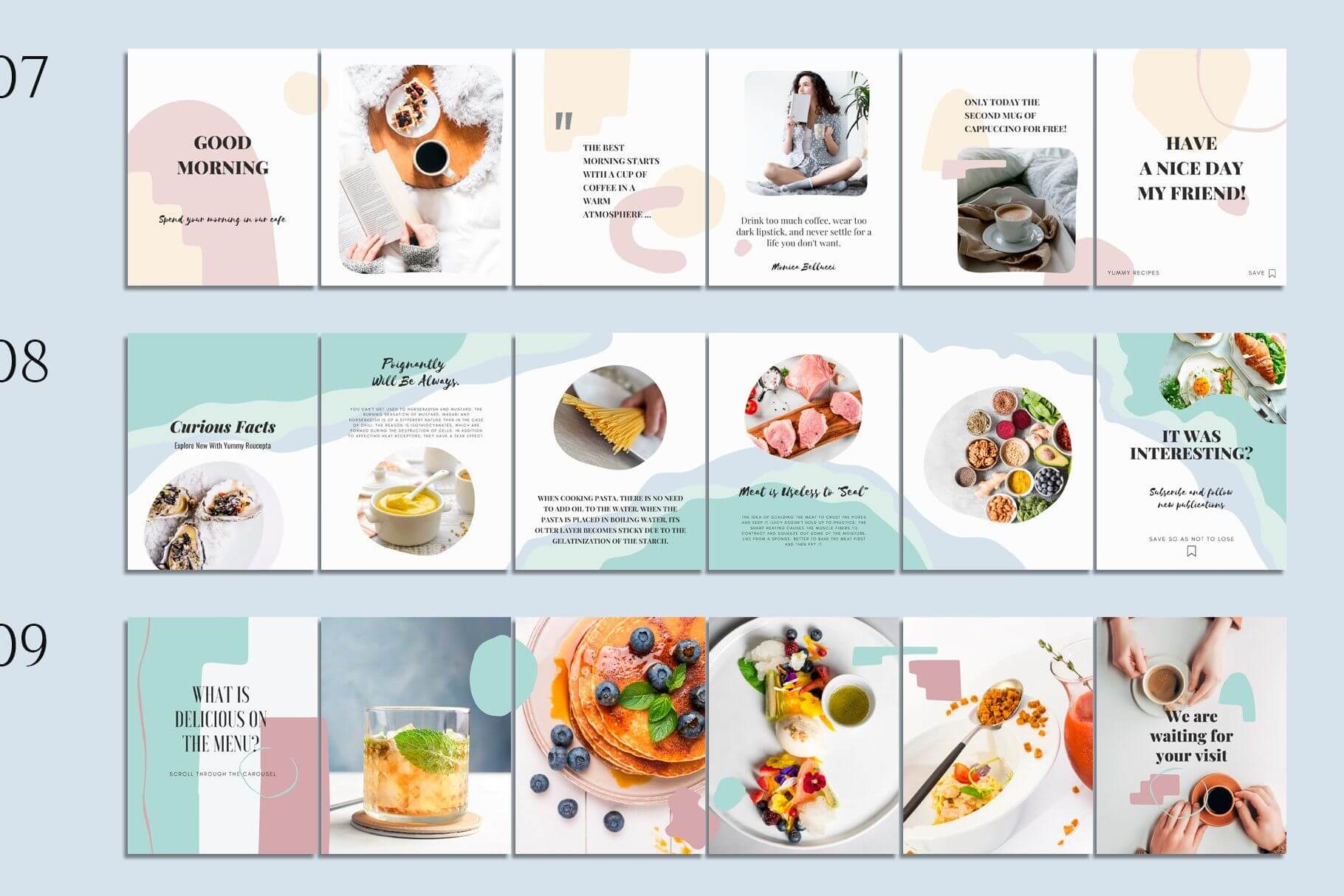 This multifunctional pack of Seamless Carousel Stories & Posts for Instagram will help renovate your account and drive more followers. Users can include their images or text in the design, and display their latest products, services, tips, recipes, or reviews in their glory. Plus, the colore of all elements can be changed to match your corporate identity. 
The pack comes with 108 stories and 108 posts which are organized into 36 carousels. That can be utilized as a part of the carousel templates and a standable template as well.  
5 Best Practices of  Instagram Carousel Posts 
Offer personalized recommendations
With Instagram carousel template posts, it's simpler to produce content that is targeted to a variety of audiences – expanding both your reach and your engagement. 
For instance, Supergoop – SPF skincare brand employs carousel posts to give some location-based SPF suggestions. 
View this post on Instagram
By utilizing carousel posts in this way, Supergoop was offering targeted recommendations without alienating their broader audience. 
This kind of hyper-personalized post is often employed to demonstrate bespoke advice for various skin types of concerns, astrology signs, eye and hair color. 
Share brand stories 
Using Instagram carousel templates is a good way to convey more personal brand stories on Instagram, without ruining a carefully selected feed.
What is the trick? Just ensure your first carousel image fits your Instagram aesthetic, and then you're flexible to include almost any image in your post. 
This can be a strong method to show your personal brand stories on Instagram, like images of your first office, initial product ideas, or a snapshot from your first brand meeting. 
Let's take a look at Chupi's carousel post that includes a throwback on the company's journey. 
View this post on Instagram
What's more, you can leverage this technique to introduce your team members, or share pictures from a volunteer event that your company joined. 
These are all amazing ways to construct a firmer connection with your followers – which can really aid in humanizing your brand on Instagram. 
Promote a new item 
With Instagram carousel templates, you can share a few photos, videos, and text graphics with your readers in a single post – which is a smart way to advertise a new product. 
You may want to introduce product variations, such as different styles or colors, or there are some significant details you wish to emphasize in your post. 
Take Smash + Tess as an example. As part of their release for a forthcoming collection, they employed a carousel post to share the images of various items in the new collection, put on by some different models.
View this post on Instagram
This not only enables their audience to have a deeper look at their products' quality, but brings additional contextualization for how items can be styled as well. That can drive conversions effectively. 
Moreover, to take advantage of the value of carousels, you can share demo videos, customer feedback, or educational information that aims at your specific niche or industry. 
Whatever your product, you can use Instagram carousel templates to introduce the detailed information of your brand new item to your followers. 
Increase engagement with a Call-to-action 
Instagram carousel templates can make your post become more engaging than standalone ones, thanks to their interactive nature. However, it doesn't need to stop there.
You can drive more engagement by including a quick call to action in your carousel post. 
View this post on Instagram
This could be asking your audience to comment on their favorite picture in the lineup. 
Combining a carousel post with a call to action, you can efficiently make a poll for your readers to get involved in – which can be great to stimulate more comments. 
Share a 'Before and After' Reveal 
A transformation always brings a feeling of satisfaction. Thus, Instagram carousel templates can help you create a stunning before and after post. 
Here's how golde produces carousel posts with user-generated content to illustrate skincare transformation before and after:
View this post on Instagram
Before and alter reveals are an honest way to describe the real-life impact of your product or service. Especially, with the help of Instagram Shopping feature, this technique can help drive sales effectively. 
In addition, the promise of a reveal often triggers curiosity, convincing more swipe thoughts. 
This is a win-win. Your audience will interact with your content and the Instagram feed algorithm will realize this extra engagement and promote it to new users. 
Wrapping Up!
We hope that after reading this article, you can use those beautiful Instagram carousel templates to create the most interesting posts for your brand. 
Instagram marketing should be a focus in any digital marketing strategy. Its visual appeal generates an impeccable setting for closer relationships between businesses and customers.
So it's a necessity for you to invest time and effort in your brand's Instagram marketing. And  Instagram carousel templates can make your life much easier in the journey to reach your audience.