The eCommerce industry is fiercely competitive with countless merchants. Therefore, it's time to make your first impression count with product ratings Google for Google Shopping. 
As the benefits of these ratings are enormous, let Socialhead give you guidance on how to add product reviews on Google Shopping to sky-rocket your conversion rate.
What is 'Product Ratings' on Google Shopping?
I bet almost any of us have already purchased something online at least once. Being said that, we're probably too familiar with a 5-star rating system. So go through this real quick, shall we? 
Precisely and concisely, 'Product Ratings' could be found when you search any products on Google. Because they are integrated with eCommerce platforms to help online businesses improve their sales performance, Product Ratings are a must for merchants on Google Shopping.
By looking at those ratings, viewers can have an overview of your products' performance compared to that of other merchants.
That's great, isn't it? Now let's dive into an ocean of benefits that Product Ratings Google can bring you!
Why do you have to showcase your Customer Reviews on Google Shopping?
Since numbers never lie, Google Product Ratings allow potential customers to generally see reviews of the previous buyers about your products. 
Unfortunately, not every merchant could make the best out of these ratings. However, we don't want you to miss out on those sparkling stars due to their magical effects.
A midnight sky with no stars is tedious. Do not turn your Google Shopping Feed into that dull sky! If you have real cool stuff and your customers are satisfied with them, Google Product Ratings can pull you a lot more satisfied customers.
If you nail at getting positive reviews and showcase them, your store will appear more trustworthy and authentic from your customers. However, do know that each of your products needs to have at least 3 reviews to be shown on Google Shopping.
Give customers more insights 
Once the potential leads are captivated by the impressively high product ratings, they will click on your Product Title or the Product Ratings.

When customers click on the Product Ratings Google, they will be redirected to a front-page exactly like this. On this site, they can check all necessary information about your product such as product details, visuals,…
As your customers scroll down, they will gain much more insight from reading the last reviews. The more your customers know about your products, the less likely they get off-putting. Subsequently, the more positive product ratings and reviews you'll get. 
Increase on-site conversion
Considering that at this stage, shoppers not only have trust in you but also be aware of what kind of products you are selling. Seize this golden chance to cross-sell other relevant products!
Now that you are aware of the huge benefits of Product Ratings Google, let's jump to our step-by-step guide on how to add product ratings to your Google store!
How to add product ratings on Google Shopping 
There are actually 3 main ways to add product reviews to your Google Shopping Store, we have a detailed list here:
Upload your product reviews directly with Google Merchant Account

Work with an approved third-party aggregation service so that Google gets reviews directly from them. Though just some

aggregators are eligible

.

Collect reviews via Google Customer Reviews
Most merchants are in favor of uploading customer reviews and getting product ratings to show up via Google Customer Reviews. Easy peasy, we'll guide you through it right now!
Step 1: Log into your Google Merchant Account (make sure it is verified and claimed)
Step 2: At the upper right corner of Google Merchant Account dashboard, click on the 3-dot drop-down icon

Step 3: Select Merchant Center Program

Step 4: Navigate to the Customer Reviews program and click 'Enable'

Step 5: Add the Opt-in code survey to your website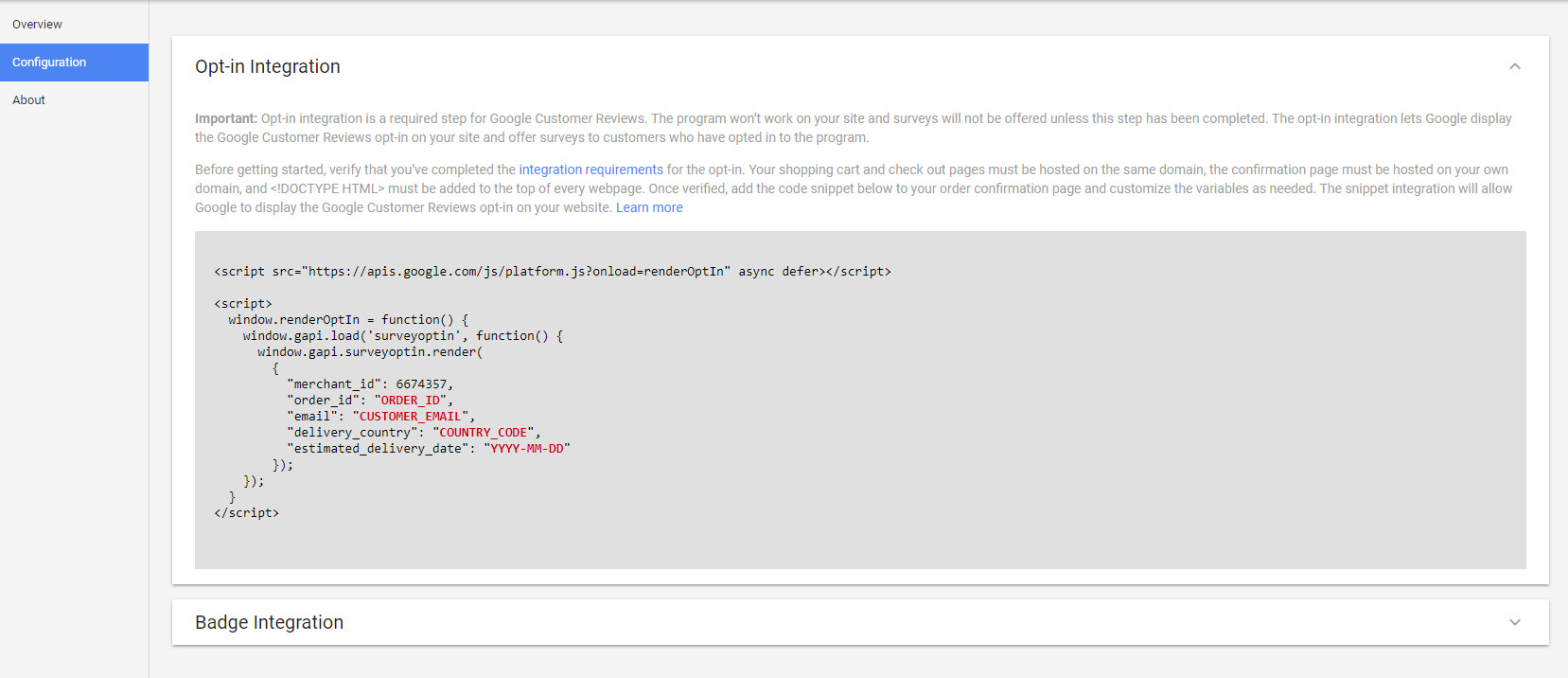 Step 6: Now you're done. It's time to enhance your credibility and sales performance
In case your product reviews do not appear on Google Shopping, we suggest you check out the common errors when adding google product rating:
URL format (http/https)

SKUs as IDs

metadata information such as SKU, Brand + MPN;

GTIN
Remember you always got Google support with all the Google Product Ratings right here.
How to leverage product ratings on Google Product Feed
Here are a few things you should take into consideration to make the best out of Google Product Ratings. 
Optimize your Google Shopping feed
Did you know that Product Ratings Google only work when your Google Shopping feed is optimized? 
To be a real PRO in the Google Shopping game, everything has to be perfect. Luckily, we got your back at this with Socialshop, an awesome tool to optimize your Google Product Feed.
Encourage your customers to leave reviews
In some cases, a product with 4.8 stars could be more reliable than that of those with 5 stars. Don't call me crazy yet! In fact, customers get that 5-star products usually have such a humble number of ratings. 
It's understandable that customers will trust the ratings based on large numbers of reviews. Therefore, you should incentivize your customers to leave their reviews.
Respond to all customer reviews 
Did you know that businesses that leave customer reviews untouched lost 9% in revenue? So no matter if it's negative or positive, spend more time and effort replying to your customers' reviews! 
It's great to give customers your respectful and "valuable" reply about the products or services, that way sometimes you can magically turn the negative feedback into something positive.
Once your products satisfy their needs and you satisfy their sense of importance, you surely win their hearts and loyalty.
Believe it or not, when Google shoppers see how thoughtful you are with past buyers, you may become their consideration in the next purchase. 
Final thoughts
In conclusion, product ratings Google can be a powerful assistant to boost your sales crazily if you leverage it in the right manner.
However, if you are wondering how to pull out the best front-end of your store on google shopping, optimize product feed is the initial step. Get to know about tools to optimize your Google Shopping feed first! Get an impressive +4.999 stars on customer reviews but a total mess on product feed then your effort will probably go in vain.