There is always a misconception that only Shopify stores with various product categories can survive and thrive. However, the reality proves the contrary. Sometimes, you only need one good idea to start a successful business, and also one product to grow and scale on Shopify. That's how one-product Shopify stores are a simple but worthy e-commerce formula.
In this article, we are going to guide you through all the information you need to know to start a Shopify business with one and only one product. Let's begin with the definition first.
What is a one-product Shopify store?
Also known as 'single product store', a one-product Shopify store is a formula of online store that literally sells one product type only. By one item, we mean that this type of Shopify store can offer multiple variants, colors, brands, materials, etc but all still relate to that product only. 
In fact, selling a single product can be more advantageous. With the one-product store, Shopify merchants can directly approach the prospective customers with no distraction of managing and marketing a large number of products in various categories. In brief, you can give your one good product the attention it deserves.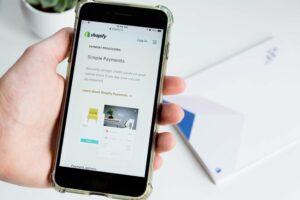 One-product Shopify store tends to focus on a single product only
Guess what? This type of e-commerce store is more popular than you thought because it is easier to get started especially for newbies. However, it is not that simple to succeed with just one product as well.
Therefore, business owners must be very selective about picking the chosen product for their stores. You should start by conducting some researches before finalizing the signature product to sell. For your reference, you can have a quick look at our article [10 Shopify best selling products on any marketplace]. Don't worry if you have not found out the right product for your store yet because we will guide you through all the steps to set up a one-product Shopify store later.
Benefits of one-product Shopify store
Perhaps some of you find this definition not persuasive enough to run a Shopify store with one single product, then we are going to convince you with some undeniable benefits. Get ready to blow your mind!
For Shopify newbies, it is very hard to choose the exact one or some products to sell at the beginning. Therefore, they tend to sell a lot of products in their stores at the same time. It surely makes your young stores drown by the vast ocean of competitors out there due to the unclear signature and brand awareness. That's why you should not miss the unexpected benefits of a one-product Shopify store.
Clean and clear storefront

: With only one type of product, your store will be nicely displayed and cleared from the mess of many different products and promotions. 

Better concentration on your product

: You can 100% highlight your one signature product over multiple products on a Shopify storefront. 

Create your own signature

: There is always one particular specific product coming to mind when people mention your brand if you run a

one-product Shopify store

properly.

Adapt to customer need better

: It's much easier for you to be sensitive and adapt to buyers' ever-changing needs with one product.

Effortless store management

: Monitoring a larger product catalog will take a heavy toll on your time. Otherwise, it cost you less time and effort to manage a single product store page. 
Alright, are these benefits appealing to you? If the answer is yes, let us guide you through how to set up your single product store step by step.
Step-by-step guideline to start a one product Shopify store
As the world's biggest e-commerce platform for sellers, Shopify always offers you the full toolset to set up a store easily. However, to craft a one-product Shopify store, you are going to need more than that. 
#1 Come up with a brilliant idea for your one-product Shopify store
First of all, you gotta start with a brilliant idea of one killer product for your Shopify store. In other words, you have to figure out the right product to sell in your store first. 
To do so, you must research the market, target prospective customers and find out the niche of your product. 
In reality, there are multiple methods to discover a best-selling product for your store, and you have all the right to do so in your own ways. Besides the available measures, you can find on the internet to search for good products to sell, perhaps some of our tips will help you out:
Begin with your ideas

: Maybe you already have the ideal product you want to sell, or maybe you encounter some pain points on regular basis and a product can help you solve that problem. Anyway, you can put those products into further consideration to find out the chosen one for your Shopify store.
Check out Shopify blogs to find an idea:

The platform recommends new merchants with a lot of business ideas and product options. These are updated frequently to keep up with the current selling and buying trends.
Use the third-party tools

: Nowadays, e-commerce sellers are empowered with multiple tools to handle product research easily. Perhaps, you can use some help to select the right products for your Shopify store.

Ali Hunter

is an example of the best extension for best-selling product discovery that you should give a try.
In short, this is the key step to decide the development of your store in the future, so be selective and careful!
#2 Design and customize a killer storefront with a proper Shopify theme
After you have the 'soul' of your store, then you are gonna need to shape its appearance. Simply, all you need to do is choose a proper theme that fits your one-product Shopify store.
Luckily, Shopify also provides merchants with a library of store themes (both free and paid).
For Shopify newbies, it is highly recommended that you should leverage free themes for your store. Here are the 3 best free Shopify themes for single product stores:
Debut

: It focuses on highlighting your product in the best condition. This theme is perfect for Shopify stores with one product.

Boundless:

Display your product images nicely to visually entice prospective customers.

Narrative

: Designed for brand and product storytelling, it is the best theme to highlight a single product.
Of course, there are more brilliant thếm you can choose to customize your storefront as you want. For more information about these two themes and other good ones, you can check out [ Top 9 free highest converting Shopify themes for all store owners]. 
#3 Leverage social proof to strengthen your storefront
In this step, we are going to build customer credibility and make visitors linger on your storefront to eventually drive more sales with social proof. It will not only help you optimize the visual of your Shopify website but also drive customer awareness and trust by displaying your best-performing Instagram images or videos on your storefront.
Don't look away from this because it is very important to highlight your products and leverage social proof for your storefront especially when you only sell one product only.
To display Instagram social proof on your storefront, you can check out Socialwidget – the best Shopify app for Instagram feeds. This Shopify app will empower you to display your Instagram images/videos on the storefront as social proof, tag products or variants to images/videos to make them shoppable, and more.
Once you've done the 3 steps mentioned above, you will get a good standard storefront for your one-product Shopify store.  Now, you can start selling your products and enjoy increasing sales on Shopify. Good luck with your own one-product Shopify store!