Usually when online shoppers give up on their cart, they blame it on high extra costs. But you're selling good stuff at good prices. Then why do so many customers of yours still abandon carts anyway? Well, an unnecessarily complicated checkout process- that's it!
Fortunately, you now have Shop Pay– a Shopify checkout solution that allows customers to save their information to use for the next purchases without having to fill in the same info again.
Today, we're going to guide you through What Shop Pay is, How it Works, Why to Use it and How to Enable Shop Pay on your Shopify site.
What is Shop Pay?
Shop Pay, previously known as Shopify Pay, is a time-saving checkout solution for customers to process payment while shopping on Shopify stores. 
This tool allows your customers to save their checkout information so that for the next purchase, Shop Pay will auto-fill in the same pieces of checkout data including:
Shipping address

Billing address

Credit card details

Mobile phone number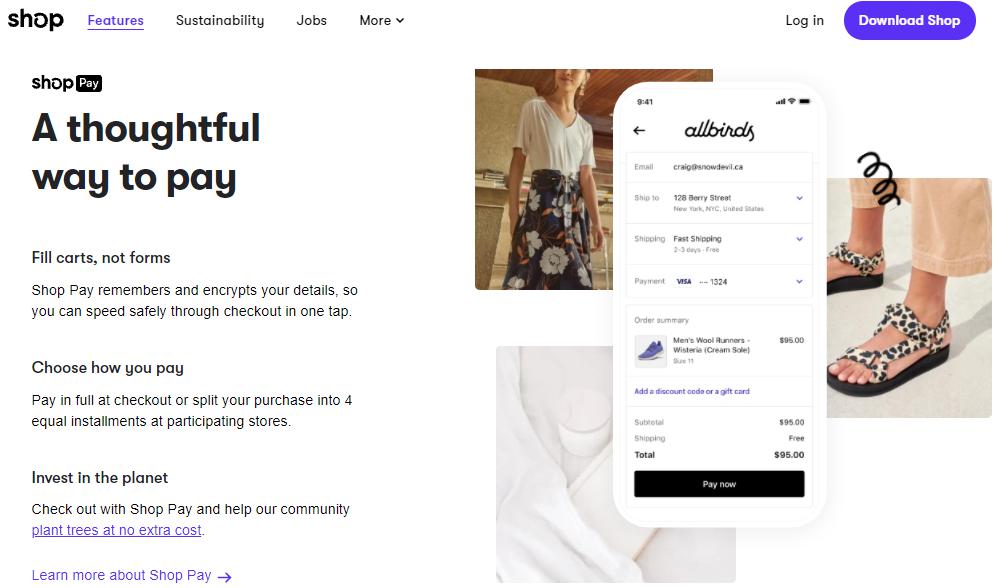 Your customers can save up to 5 credit cards & shipping addresses. The cool thing is that all the data is encrypted and saved on Shopify's PCI ready server, so it's secured. 
To use Shop Pay, all your customers need to do is to select Shop Pay at the checkout page then fill in all the details or choose "save my information" at the end of the checkout process.
Besides, with Shop Pay, online shoppers who don't have money upfront can choose to pay in 4 interest-free installments. However, this is available for participating merchants only.
Shop Pay and Shopify Payments 
To make sure we're on the same page, we think it's important to state that Shop Pay is different from Shopify Payments.
This perhaps is the reason why Shopify changed its former name "Shopify Pay" to "Shop Pay" to make users less confused about these two.

To be concise and precise, Shopify Payment is the payment default for Shopify stores while Shop Pay works with Shopify Payments to speed up the checkout process.
Some Shopify stores can use other payment processors (PayPal, Apple Pay, etc.); however, remember that Shop Pay only works with Shopify Payments. 
How does Shop Pay work?
By helping online shoppers to bypass entering all the lengthy details all over again, Shop Pay is undoubtedly a convenient checkout solution. However, Shop Pay's feature doesn't just stop there. Let's beat around the bush no more and dive into How Shop Pay works now! 
Auto-fill in customers' information to speed up checkout
If your customers haven't used Shop Pay with your store or any other Shopify store, the flow would be like this:
As customers add an item to cart then hit 'Proceed to checkout', they'll be redirected to the checkout page where they can select 'Shop Pay' in the 'Express checkout' section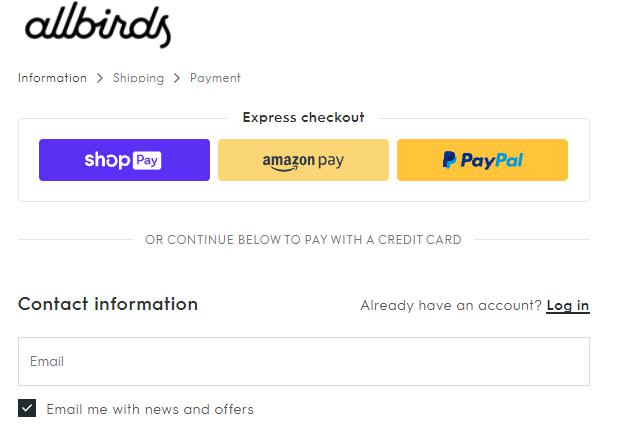 Next, your customers are required to fill in their email address then their phone number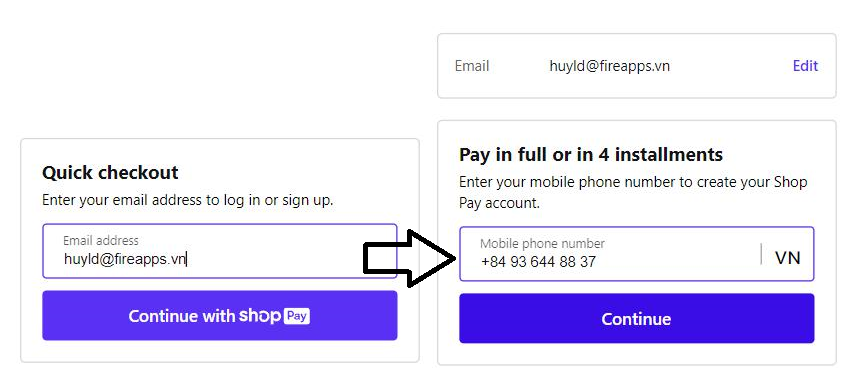 If the customer's number is valid, Shop Pay will send a confirmation code via SMS. Afterward, the customer can go ahead and fill in all the details, which will be saved for future use.
Alternatively, your customers can also create Shop Pay accounts simply by ticking the 'Save my information for a faster checkout" at the end of the checkout process.
Shop Pay works across all stores powered by Shopify. That means if a customer has activated their Shop Pay account with another Shopify store, they can checkout at your store using Shop Pay even when they haven't shopped with you before, and vice versa. 
Tracking orders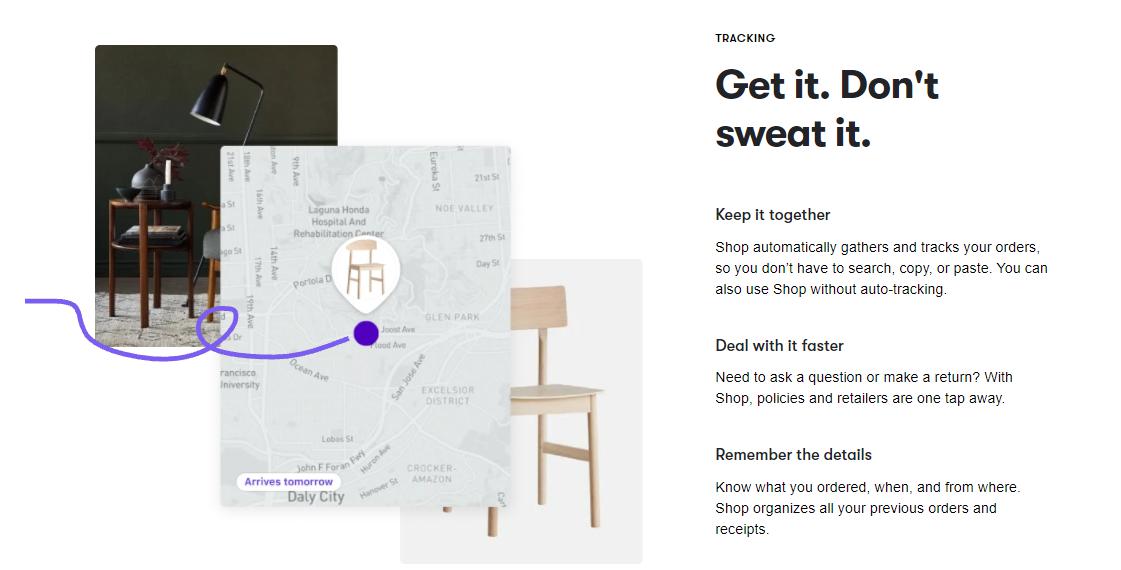 Another awesome feature is that your customers can track their orders using Shop Pay app. However, only the customers in the countries below can do so:
United States

Canada

United Kingdom

Australia
Therefore, those who reside outside these countries won't see the option to install the Shop Pay app on the order status page when they check out on their mobile devices.
Pay in installments
Shop Pay is also famous for its "Buy now, Pay later" feature known as Shop Pay Installments, powered by Affirm. However, only customers living in the US can have a touch of this feature.
That means if you're selling high-value items to the US customers who don't have much money upfront, activating Shop Pay Installments might be a good idea.
"55% of US customers have used the 'Buy now, Pay later' service". 
To use Shop Pay Installments, your customers will go through 3 major steps:
Your customers add items to cart

They then choose Shop Pay to check out

Lastly, they tick Shop Pay Installments and select to pay in 4 installments.
Afterward, your customers can review their order and choose to make their first payment right away or 2 weeks after the purchase is initiated. Each of the 4 installments will be charged to your customers' debit/credit card every 2 weeks.
To activate Shop Pay Installments, you need to be based in the US, sell in US dollars and have both Shopify Payments & Shop Pay enabled. 
NOTE: A few things to take into consideration: 
You

can't

apply "buy now, pay later" service for some particular products, that means the Installments will be

available to all your products

.

Though Shopify is not upfront about this, the fee of Shop Pay Installments per sale is

5.9% + $0,30
*Also, Affirm will periodically review your Shop Pay Installments and once you're detected violating their policy, your Shop Pay Installments will be suspended.
Why should you enable Shop Pay on your website? 
The major benefit of Shop Pay is probably the fast and seamless checkout experience it offers your customers. 
Research on 10K Shopify merchants that enabled Shop Pay shows that Shop Pay converts 1.72x times higher than regular checkout options.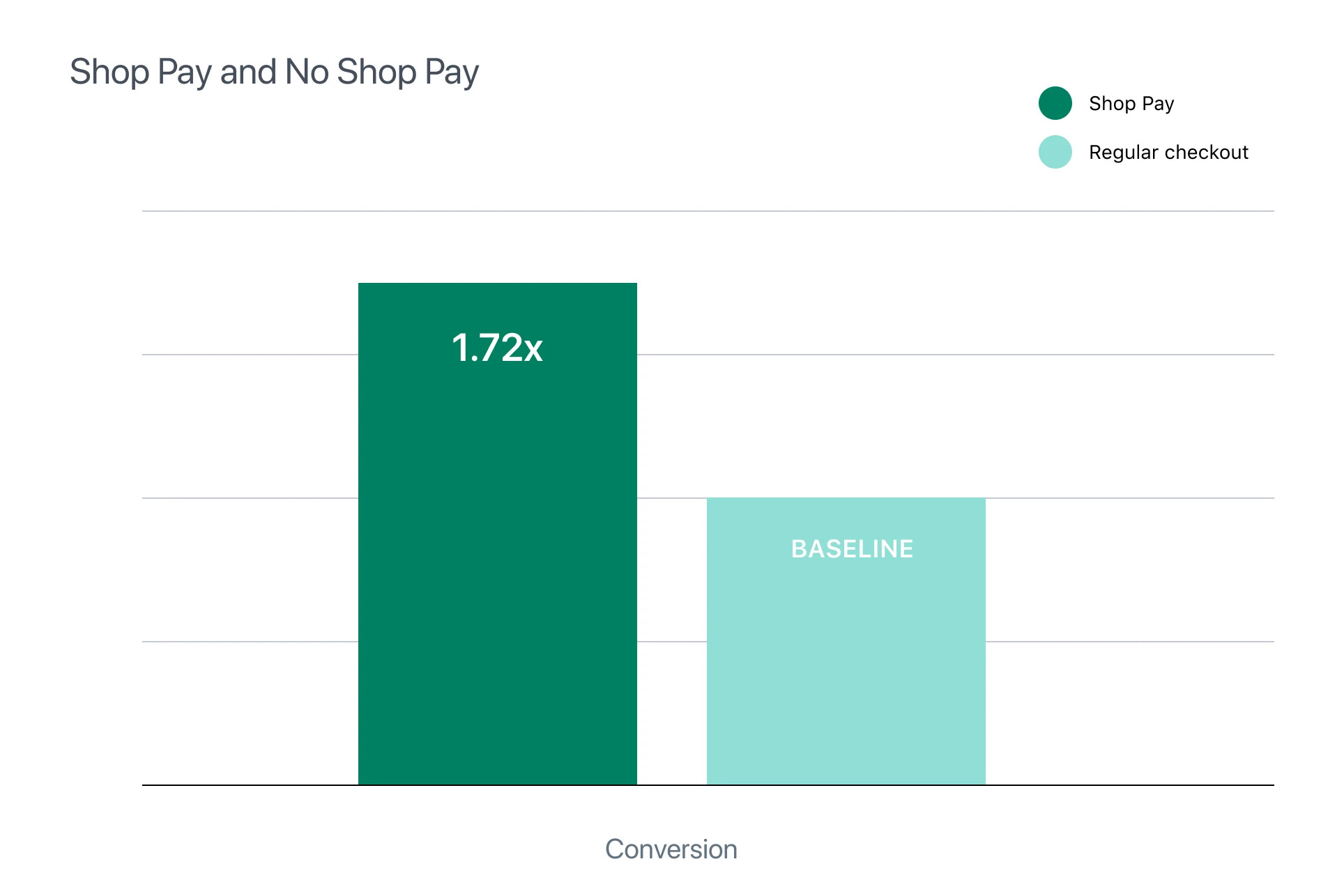 Furthermore, if you and your customers reside in the countries where you both have access to Shop Pay Installments & its tracking feature, Shop Pay even makes so much more sense!
Not to mention that Shop Pay is also known for its embracing environmental responsibility. 
Particularly, when a customer uses Shop Pay to place an order, Shopify will calculate how much carbon will be emitted to deliver the goods to your doorstep, then accordingly offset the delivery emissions from your sale by protecting a number of trees.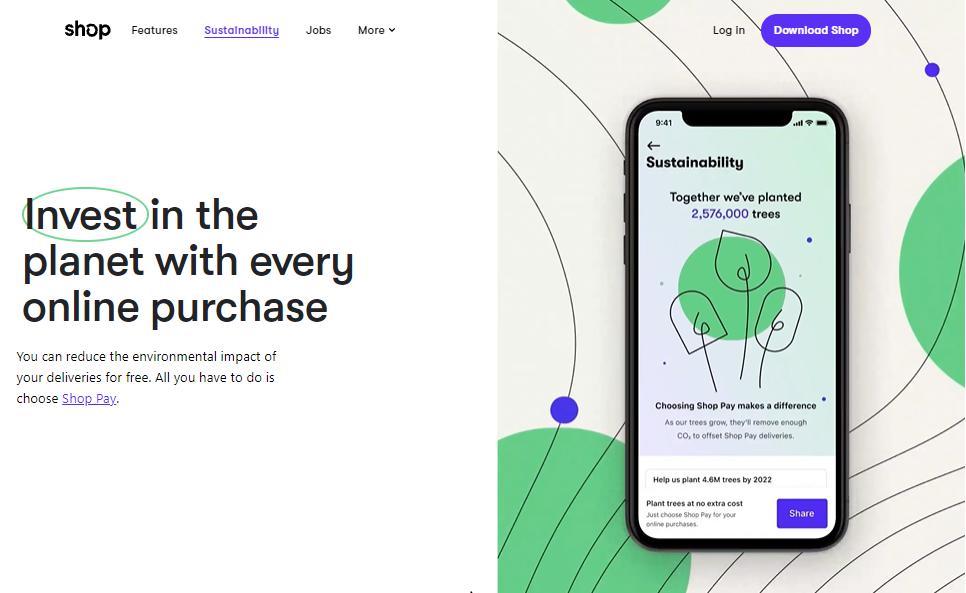 Consumers nowadays have higher concerns about environmental issues than you thought! That means between 2 businesses offering the same products at the same prices, they gravitate towards the "greener" one.
Thus, enabling Shop Pay will surely work to your advantage! We'll show you how to do it right away!
How to enable Shop Pay for your Shopify Store?
Shop Pay only works with Shopify Payments, so if you really want to activate it, ensure your store is using Shopify Payments which can be set in the Payment Providers.
After that, enabling Shop Pay for your store is easy as a pie of cake!
From your admin dashboard, navigate to

Settings

>

Payments

Scroll down to

Shopify Payments

section then click at

Manage

In the

Shop Pay

section, select

Shop Pay

Make sure you click

Save

button to save your changes
Now your customers can checkout on your store using Shop Pay.
In case you sell high-value items and want to embrace "Buy now, Pay later", you must sign up to the waitlist. (only US merchants are eligible for this)
Is Shop Pay a Yup! or Nope…?
Shop Pay is still in its early stage so there are several features only indegenious to certain regions. 
However, given how it enhances your customers with a more seamless checkout and better buying experience, you can turn one-time visitors to lifetime customers so it's worth it.