At Socialhead, we always listen to our customers' needs since your success is our goal and pleasure. Therefore, we constantly research new functions and improve our products.
To respond to all the constructive feedback and expectations from our valued merchants, we are so excited to introduce to you the latest features of 3 big apps.
Starting from October 27th, 2020, Socialshop V1.6, Socialpublish V2.4 & Socialwidget V1.4 are officially launched.
There will be some improvements for existing functions and new expected features available in each app. 
Let's unbox the latest features of Socialshop, Socialpublish & Socialwidget to see what's new.
In this version, Socialshop offers users an advanced level of optimizing product feeds and surmounting possible inconvenient experiences.
Optimize product feeds with metafields
Socialshop V1.6 enables you to customize product feeds even further by adding existing metafields from your Shopify stores to your feed fields.
To import metafields from your Shopify store, follow these steps.
Product Sources > Mapping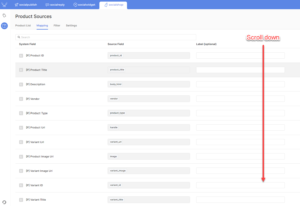 Scroll down > Add System Field
Search & import metafields
Once you've done, you can start to optimize your product feeds with metafields.
Click on feed > Mapping > Add Metafields
With better optimization by metafields, your feed performance and product discoverability will be improved considerably. This also helps merchants increase user-product matching rates and better recommendations through searching.
New submitting feed flow
Socialshop V1.6 uses files instead of API to submit product feeds to Facebook & Google. This new submitting feed flow will shorten the waiting time for merchants.
To fully enhance the latest features of Socialshop V1.6, we would like to ask for your permission to access the metafield sections within your Shopify stores. 
All you need to do is log in to Socialshop and follow our simple instructions to approve now. 
Image Editor – the brand new function of Socialpublish V2.4 has arrived. This latest feature allows merchants to edit a photo or several ones.
Image editor
This latest feature will enable you to style your post photos nicely as you want right in the Create Post section.
With Image Editor of Socialpublish V2.4, you can customize your photos in 4 main sections.
Layout
Choose proper collages, add and arrange your images to look good as you like.
Elements
Add and fill multiple shapes with your images to make your images unique.
Text
Input texts to make your images "speak" and stand out.
Discount
Put your sale tags on photos to capture customer attention right away.
In addition, there are available add-ons for you to customize images.
Socialpublish V2.4 saves you extra time from editing photos somewhere else. Now, you can create impactful images and publish them in one place only.
Shoppable Feed – the long waiting feature is finally available. 
Shoppable Feed
Socialwidget V1.4 does more than only showcasing the best-performing Instagram feeds as social proof. The Shoppable Feed function enables customers to buy products directly from Instagram feeds. This latest feature will turn your feed into some kind of Instagram Shop. As a result, it is easier for customers to buy and also easier for merchants to sell. 
To create a shoppable feed, you tag your products on images. Socialwidget V1.4 allows you to tag as many products as you want. 
By tagging products, you can decide whether to lead customers straight to product details or the checkout page. Moreover, you can hide or show images on the feed by clicking on the eye button.
With Socialwidget V1.4, merchants can create seamless shopping experiences to drive more sales on Instagram than before.
All you need to do is access Socialhead's apps and enjoy running your businesses with all the latest features.
If you haven't tried our apps before, feel free to install apps for FREE on Shopify App Store or visit our website for more information.
If you have any questions or difficulties when using the latest features of our apps, do not hesitate to contact us via support@socialhead.io. Or you can ask for immediate supports from our proactive customer service team via in-app live chat.