With over a billion active users every month, Instagram is no doubt the most popular social platform around the world. Therefore, Instagram Direct will also become a high-potential messaging tool for businesses to reach their customers. 
But, how to get the most out of your Instagram DMs? 
The answer is to keep your customers engaged throughout your Instagram conversations. Your customers want Live-chat, so don't leave them hanging there for too long, or you'll lose some sales opportunities.
To help you deal with that, Socialreply brings Instagram Direct Messages to your dashboard, maximizing your Instagram marketing strategy and saving you tons of time doing everything else. 
Let's find out!
To not miss any DMs from your potential customers
Billions of people spend at least 30 minutes per day browsing on their Instagram newsfeed. They interact, search for products, and even go online shopping through it.
Shopping journey happens very quickly, so don't miss any chance to convert your Direct Message into a Sales Conversation! 
Having multiple pages to manage at once? With Socialreply, you can real-time watch out for every chat across channels in one simple dashboard only.
Say goodbye to channel-hopping, because you only need to switch between tabs to manage conversations, which saves you tons of time doing everything else.
Instagram DM Management Solution by Socialreply
How to add your Instagram account.
There are 2 ways to do it:
From your Socialreply dashboard, click in the avatar on your top left corner > Choose

Add account

.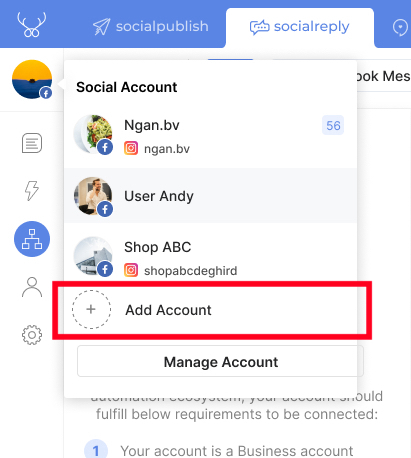 On your Reply Box > choose tab

'Instagram Direct'

> press

Connect

.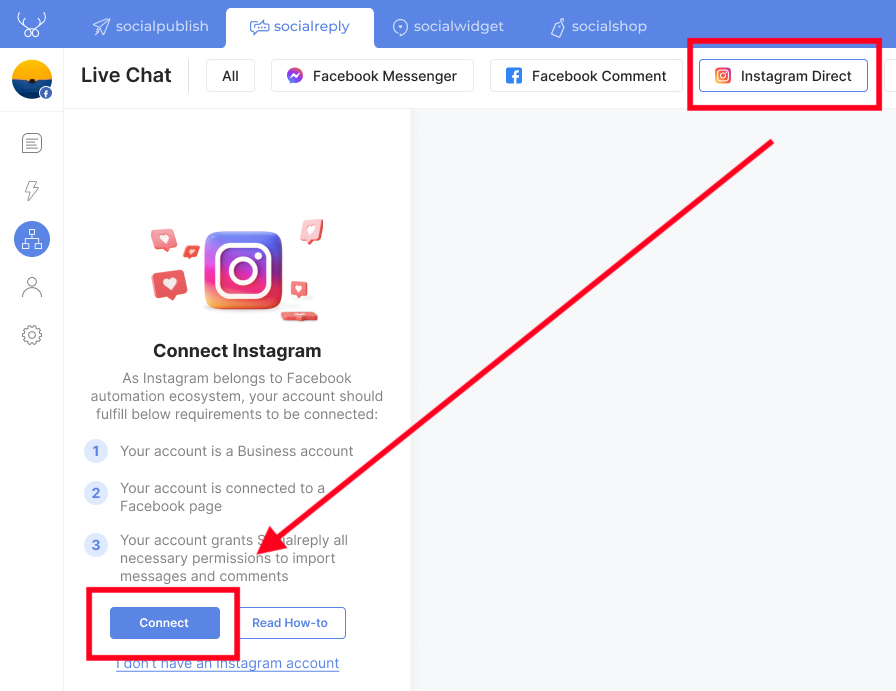 After logging into your Facebook, your Instagram account will be auto-linked to the platform. 
Multiple Instagram pages are possible
Socialreply enables you to add as many Instagram pages as possible to manage. And you can always go back and re-check, to make sure you're choosing the right ones.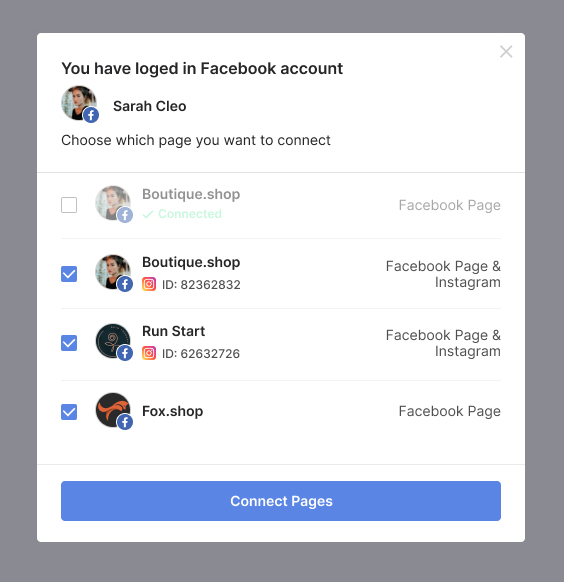 Send images for better customer service.
Not only text, but you can easily send images through Live-chat to support your customers further.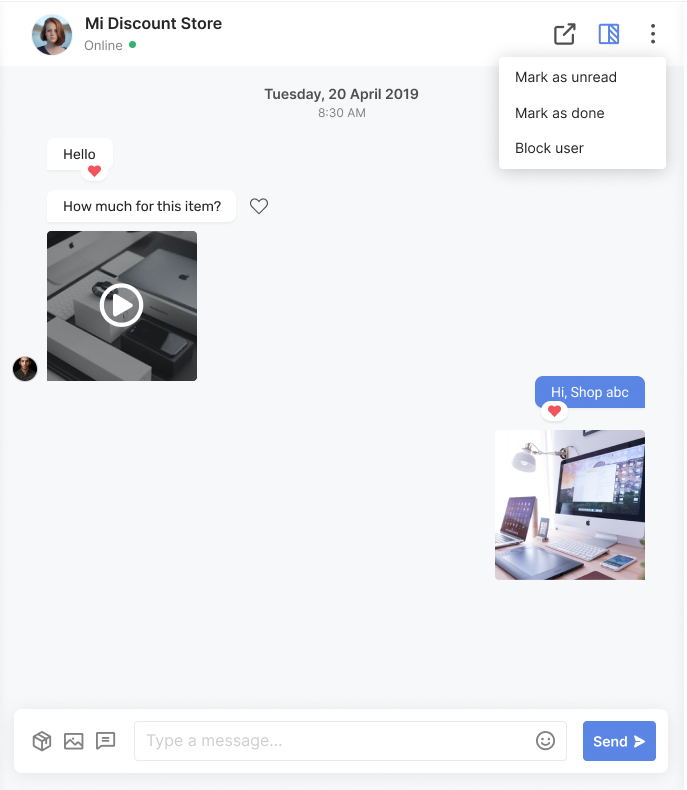 In our next release, we promise to bring even more media types, making it easier for you to convert customers!
Place order in chats.
Instant support could lead to instant deals. With Socialreply, you can place orders or add customer notes while chatting without going anywhere. Then afterward, we will auto link your order back to Shopify.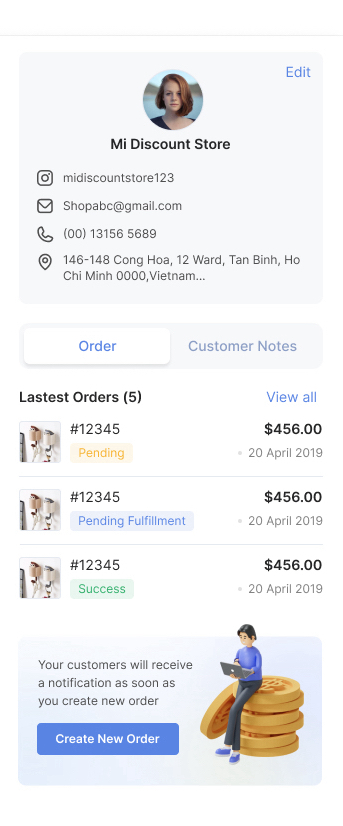 Stay connected across all Facebook family of apps.
Since Socialreply is an official marketing partner of Facebook Shops and Instagram Shopping, we're guaranteed that every part of our product is totally safe and sound!
In order to unlock our wonderful features, please be noticed that:
You are using an Instagram Business Account.

Your Instagram account is already connected/ linked to a Facebook page.

You will need to grant Socialreply access to your account before using the app.

All integrating steps are 100% approved by Facebook and Instagram. 
After the authorization, you can easily handle all chats across channels using our centralized Socialreply dashboard.
More ways to keep in touch with your followers
We know how hard it is to run a business with a low budget, that's why Socialreply provides a Live Chat solution for free, which helps one-man-business save lots of time, money and effort.
Here is what Live Chat can do for you:
#1. Generate more conversion.
Send live support, ask questions and deliver a personalized approach could instantly build customer trust and therefore easier for you to upsell right away.
#2. Get closer to customers
.
There must be a reason why messaging tools are growing faster than ever. People nowadays prefer chat over anything else, so quick responses could definitely bring good impressions.
#3. Save cost and time.
It's been awhile since we have to follow up customers through email and phone calls. The price using Live-chat is way cheaper compared to those methods, and we could also save tons of time spent handling many conversations at once. 
#4. Improve customer satisfaction
.
Fast response time makes your visitors happy. With Live-chat, you can deliver a better experience, build some good relationships that later could turn into your loyal customers.
#5. Discover customers' needs.
 Through direct conversations, you'll be able to find which are frequently asked questions or commonly desires from your customers. Therefore, those data could help in your future marketing strategies, or your products/ services improvements.
#6. One step ahead of your competitions.
Not many businesses are using Live-chat yet. However, nearly 70% of customers said that they would likely come back to a business that offers Live-chat. So why not take this chance to improve your customers' shopping journey?
Try Instagram Direct by Socialreply now!
Increase conversion, build stronger relationships, attract returning customers and even boost your sales opportunities! There are so many reasons to start adapting Live-chat to your Instagram DMs right today. 
If there are any issues, please let us know via Live-chat or email at any time.