The Socialreply app is getting its latest version of Socialreply V2.6 on August 26, 2021. In this version, we proudly introduce a new function, Live Script, to support your business.
With this upcoming update, merchants are now able to manage their Live Stream on Facebook directly within the app. 
Create a Live Script for live videos
With this new version of Socialreply, you can create a Live script for any live video on your Facebook account. It is a list of products to sell when you are making a live stream on Facebook.
Here are some of the features you can do with it:
You can add items or products from your Shopify store to this script.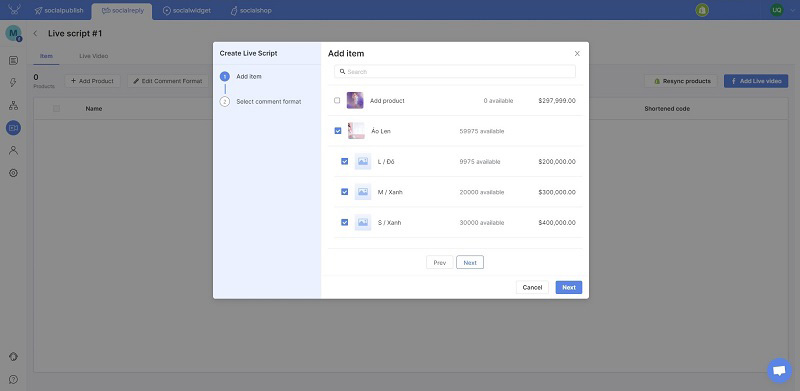 This new version,

Socialreply V2.6

, enables you to select the format you like for your script. You can choose either option, depending on how you want. Or, you can decide to go with both of the formats.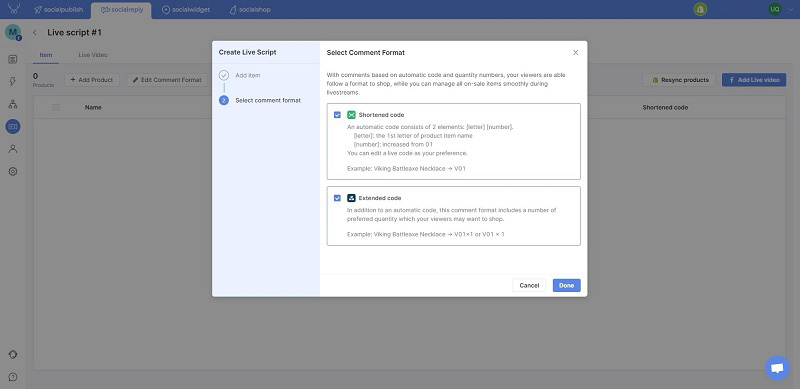 Moreover, you can also adjust the number of items or products you want to sell during your live stream.
Of course, you can always add more products to your Live script.
 

Bulk action feature

: you can select many items in the Live script and click delete to remove multiple products at the same time.
Connect your live videos on Facebook to your Live script 
Once you have finished preparing the Live script, you can now start the live stream on your Facebook. Then, connect those live stream videos with Socialreply. 
From here, you can see the details of your live videos on Facebook such as duration, number of viewers and comments, etc.
Not only that, the Live script function will allow you to resync your items to get the latest data from your Shopify store. However, you will have to manually click the "Resync products" button to initiate the process.
This process shall take a few minutes, depending on how many items you have in your Shopify store.
View live comments and create orders right in Socialreply's live script
When the new update goes live, online merchants can easily view comments on live stream videos. Moreover, the live script feature can also help them make orders and send receipts to their customers right within the app.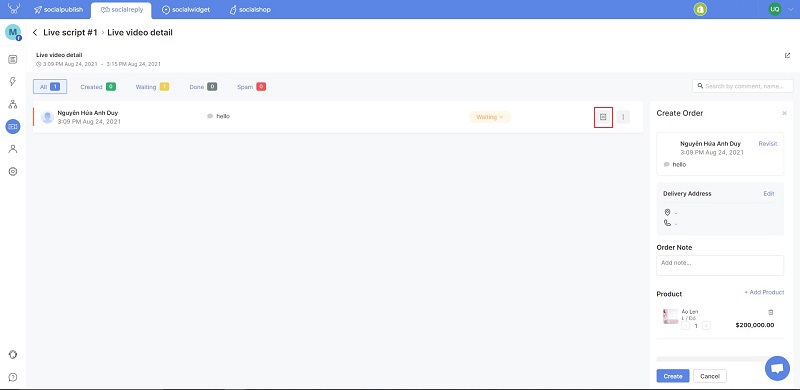 Manage all comments in your live stream videos
To support online merchants better, Socialreply V2.6 helps manage all comments during the live stream. You can decide the status of each comment on Facebook.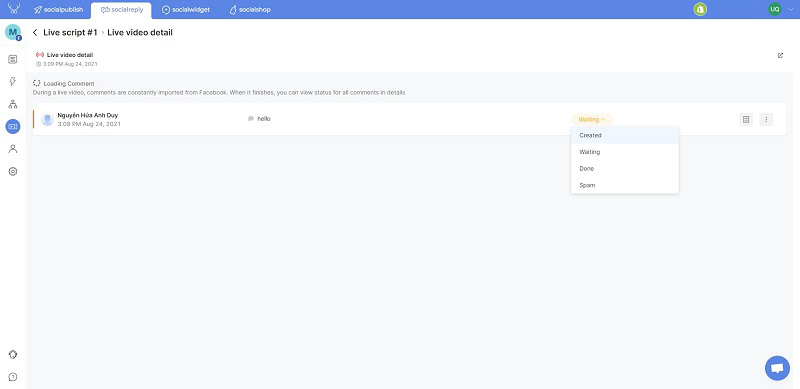 Besides, if you want to give more information about a product, you can click "Send a message" to have a direct conversation with your customers.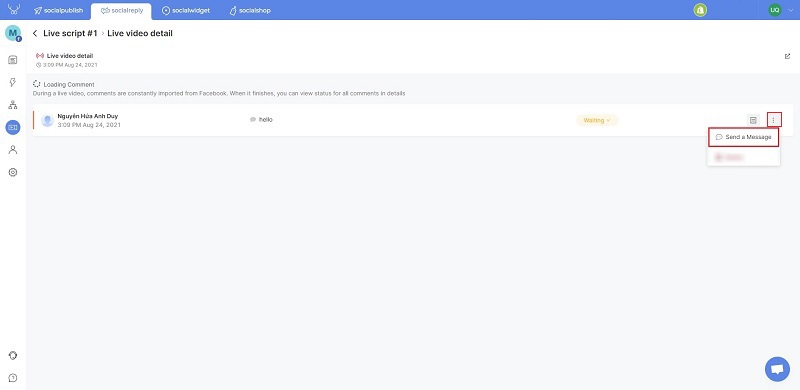 To sum up, Socialreply V2.6 brings you a new way to sell online via live stream videos with the Live script function.
We are also making our way to Instagram Direct Messages to improve your experience while using Socialreply. You can read more about it HERE.
For further information, you can feel free to contact our Customer service through live chat in-app. Or, you can send an email to support@socialhead.io. And don't forget to get Socialreply v2.6 for FREE on the Shopify app store!