In the century of social commerce, people would love to buy from what they see, that's why Visual Presence is the main key to capture customers' attention to your store.
With Socialwidget, you can easily embed a custom gallery with beautiful images, but do you want to strengthen it for a bit more this time?
Yes, you can, because this Socialwidget version 2.4 allows you to display every of your Instagram information including avatar, followers/following count, bio,… together with the Widget just by clicks!
Now let's dive in to see how the function can rock your store engagement fast.
Get massive engagements through your Instagram profile embedded
Having a popular Instagram account with tons of followers? 
What a waste to not showcase it on your website to increase social proof! Just look at how beautiful it was on the site like this:
👉 So what's the benefit of displaying Instagram account information on your website?
Grow traffic and engagements to your Instagram account 

"FOLLOW" button drives more clicks to your widgets

Increase brand trusts with real followers 
There are plenty of other advantages, but you will definitely convert more visitors just by enhancing your gallery with Socialwidget version 2.4, and I'll show you how to do it in only a few clicks.
How to display your Instagram account information with Socialwidget v2.4
The steps are pretty simple cause we're always making it user-friendly for everyone.
1. From your Dashboard, choose Widget tabs > click Add New on your right side to create a new widget.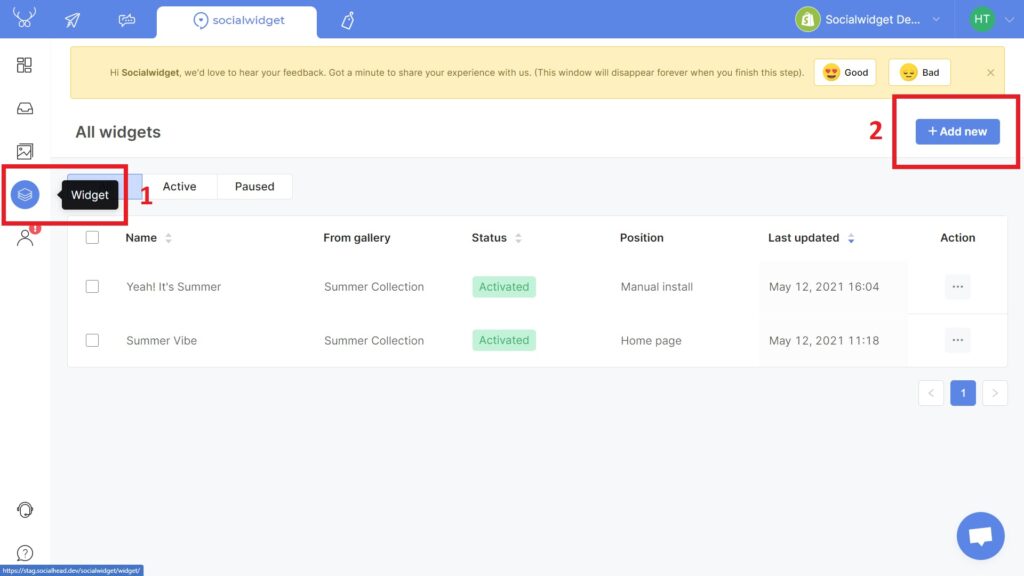 2. On Create Widget, name your Feed, then choose your Gallery and Templates, click Next to go to Stage 2.
3. This stage is where you can customize your widget heading such as title and description, but now a new option of Choose and show your account information has been added, just select that.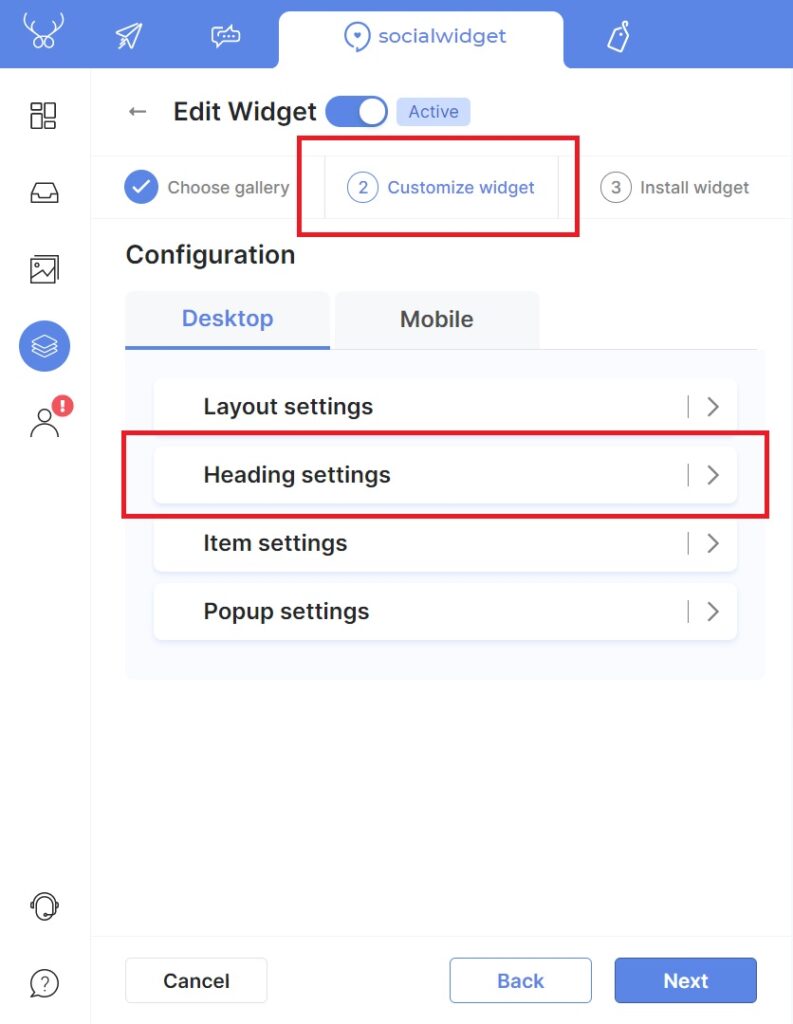 4. Choose which Gallery you want to display its account information. Please note that the Heading doesn't have to be matched with your medias below, which means you can edit these two sections separately to make the Widget stand out!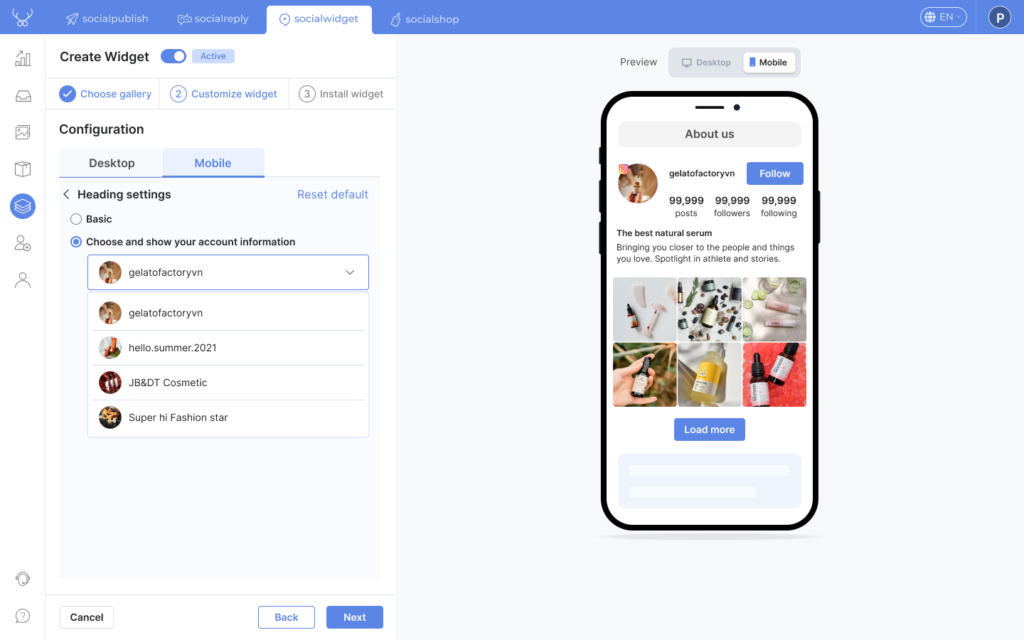 5. After that, enable the "Follow" button to increase CTR (click-through rate) for your Widget.
6. Click Next to choose the Widget embedding position on your site, then click Save to finish.
***Short notice: 
These fields from your Instagram heading can only be displayed if you are using a Business account:

Username, Biography, Posts, Followers

and

Following

.

For a Personal account, there will be only

Username

and

Posts

fields.
Other improvements from Socialwidget v2.4
#1. Dashboard is here!
We don't want you to miss out on any latest blog or help documents, that's why Socialwidget dashboard is now available to update 24/7 for you!
Besides articles and tutorial guides, you'll get the chance to be featured as one of our precious users in the Success Customers section.
#2. High-converted Widget templates for your Shopify store
Need some ideas for a high-converted Instagram feed?
👉 Take a look at our store-demo library for inspiration, you'll be amazed.
Scroll down from your Dashboard > click in Our Success Customer section > choose Live Preview on the templates that you want to see.
#3. Display number of items in shopping cart
When your customers shop and add any items to their cart, a number of total items count will show up in the shopping cart icon from their navigation bar.
This allows customers to have an overview of their total purchase without leaving the widget, which might sometimes cause annoyance.
Though the function can effectively increase the shopping experience, it only works on limited store themes including: Simple, Debut, Supply and Minimal.
#4. 'Invalid token' warning sign
Since our last updates, you can easily fix errors about missing or invalid tokens by going to Socialwidget > Accounts > Reconnect.
From this version, we've added a little warning icon to the 'Accounts' section on your navigation bar, making it easier for you to promptly be aware of the issues and fix them.
In brief
We believe that this version of Socialwidget can get your brand upfront for more discoverability in the eCommerce world, and therefore improve your customer shopping experience to the max.
Ready to craft the most seamless Widget ever with your Instagram account? Try Socialwidget version 2.4 now, and please let us know via support@socialhead.io if you have any concerns about the app.