In this version of Socialwidget V2.8, we promise to fill up your widget with creativeness! 
Since Instagram widget allows you to create a whole shopfront that attracts lots of conversion, sales and followers, now it's time to make it even stand out in a crowd. Let's find out how the new 'Creative Feed' can boost your visibility in a flash.
Double conversion with Creative Feed
Whether you're looking for a new way to showcase your best items, or just simply want the widget to be more unique, stylish and eye-catching on your website, Creative Feed can help you out.
Well-designed templates help deliver more branded messages. 
Yes, these creative feeds look exactly like a professional ready-made landing page for your websites, but without any coding or designing skills required.
All you need is to fill in the content, because every other component was handled by us.
Different styles to suit your any goals.
You can either stick with minimal widgets, or choose a Creative Feed for a special purpose. We have prepared multi-style widget layouts for different business types, just re-adjust your images' order to make sure the feed performs best on your website theme.
Easier to catch visitors' attention than just regular feed
In the ocean of photo-showing feeds, Creative Feed – with special components such as text blocks, lovely color palette and well-designed widget layouts – is sure to help catch any attention at first glance.
Ready to win some visitors' hearts?
How to craft a high-engaging Creative Feed with Socialwidget?
First, go to Widgets > Create Widget > choose Creative Feed. Please note that this function will not be available on Free-plan accounts.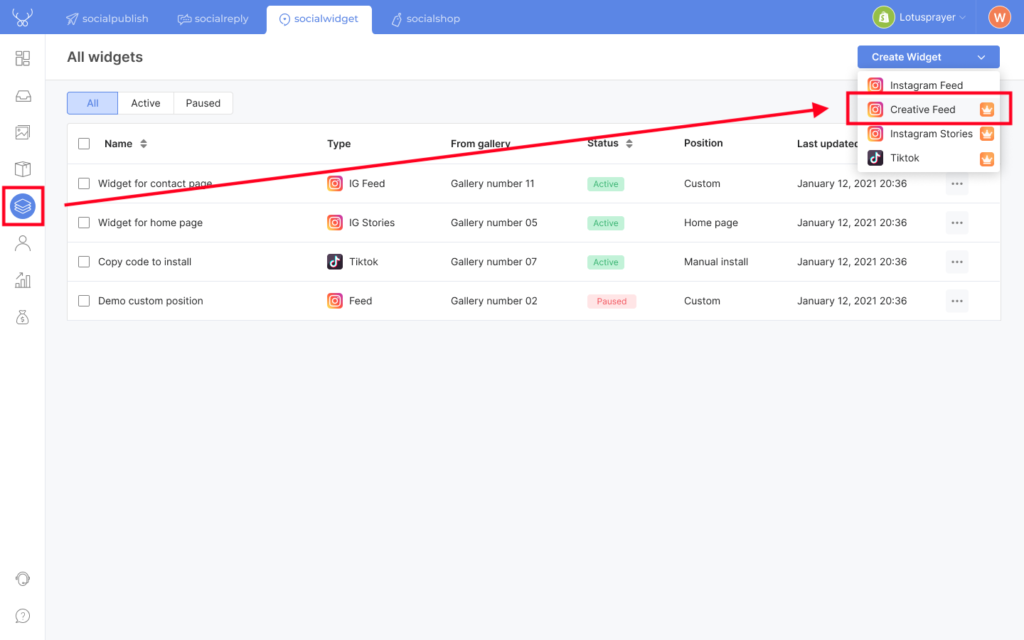 After that, you've been taken to the setting page. Here, we've prepared 6 templates that could go well with most website themes and styles. And not only those, but we're also developing even more wonderful templates in the near future just for you!
#1. 'Moment mosaic' template
This layout can simply go well with any business type. With a classical text block surrounded by images, customers would find your messages immediately when looking at the widget center.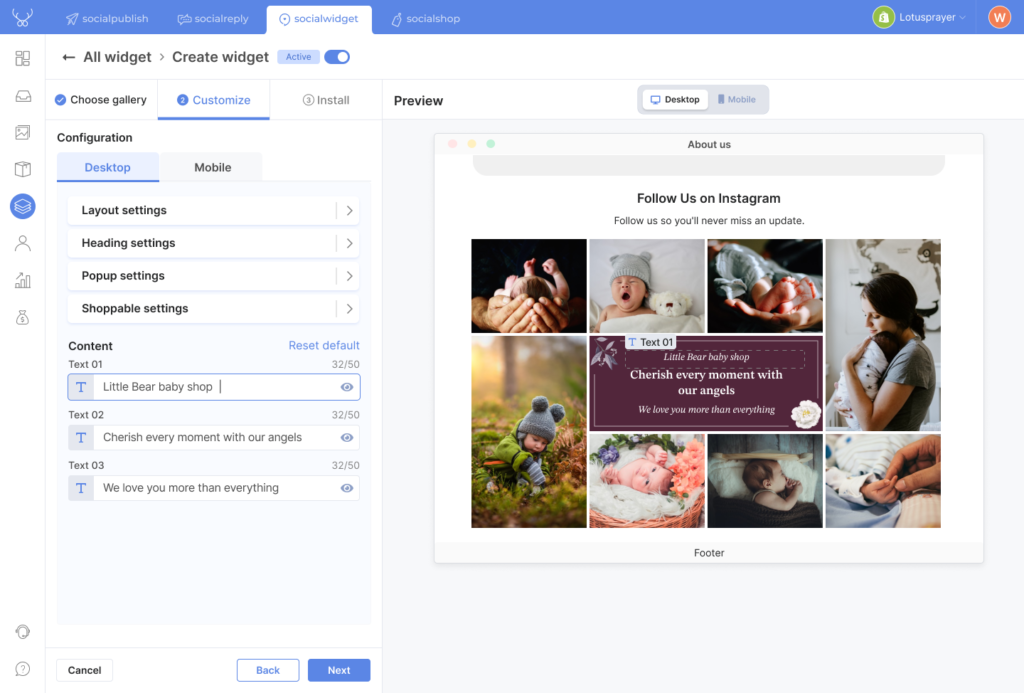 All content could be edited with a character limitation to ensure your text always displays at best. Some content suggestions from us:
Your store name/ Instagram address

Brand slogans or taglines

Current promotions such as "10% off" or "free shipping",…

Inspirational quotes that relate to your brand.

Call-to-actions to convince customers like "Click to discover more wonderful images!"
So whether you're selling kid clothes or accessories, you can give this template a try.
#2. 'Close-up' template
A small content section has shown up in the bottom left corner to balance your photo feed. Together with a powerful and modern color palette, this template is surely a perfect match for any fitness, sportswear or gym store.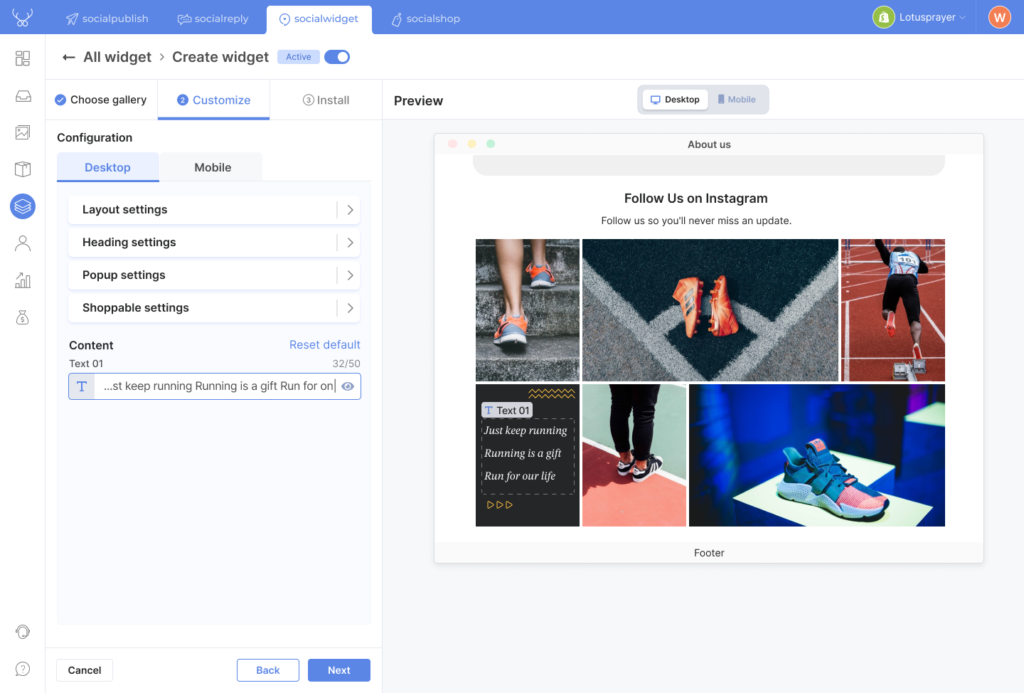 Via this template, you can:
Introduce a new collection

Add cool or funny taglines 

Run marketing campaigns for selected collections/ items

Showcase a product Bundles/ Combos together to boost more sales!
#3. 'Polaroid' template
Looking for something more unique and vintage? Try 'Polaroid' out. 
With a white-brown color theme and subtle designing style, this template will look the best on an aesthetic vintage site or for anyone who is selling niche items.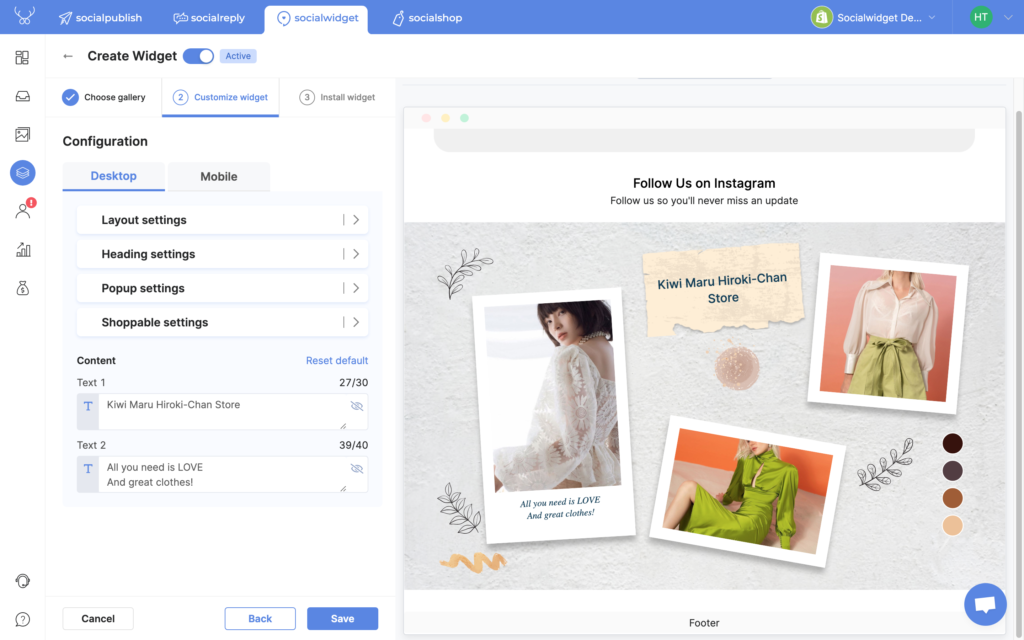 Since the template is soft and minimalistic, we believe you might want to try these types of content:
Inspirational and relevant quotes

Soft call-to-actions, avoid hard and heavy ones like "Buy it!" or "Check now or regret later!"

Type in customer feedback in a double quotation mark "".
#4. 'Spotlight' template
Simple is the best. Sometimes you only need to highlight one single photo of the day, so this template is definitely for you.
Just choose your best "wow" photo and apply this template in, we'll make sure to make it stand out enough for everyone to stop by and engage.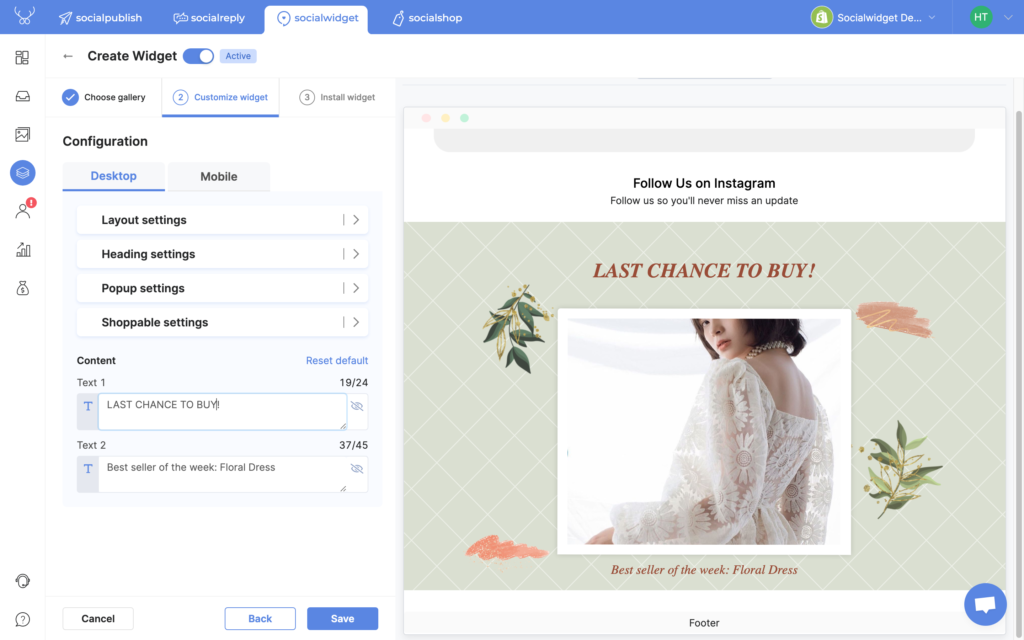 You can renew the photo everyday to serve different purposes, just be creative: 
Display your best-selling items

Introduce new pieces

Showcase hot products that are nearly out of stock (like mine above).

Highlight customers' feedback.
#5. 'Adventure' template
Another innovative and modern style layout for anyone selling tech gadgets, digital electronic kinds of stuff, outdoor gears or camping equipment, etc…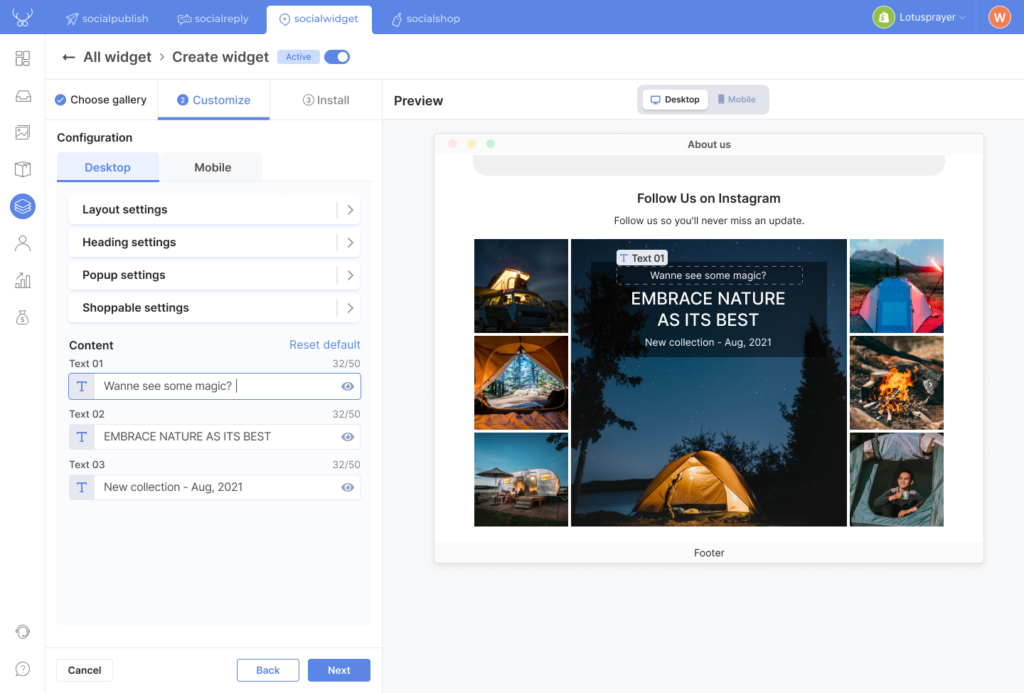 With a centralized content block, you can catch customers' attention right away to your messages, so perhaps these can work:
Your taglines/ slogans/ quotations

Collection introduction

Highlight top-selling products

Showcase different aspects of an item

Display various customer reviews at the same time

Create product bundles to boost cross-selling.
#6. 'Dreamy' template
Here comes the most adorable template! Just like its name, 'Dreamy' contains a sweet appeal with a pinkish color palette, which can go well with girl fashion, women's clothing stores or any cute merch.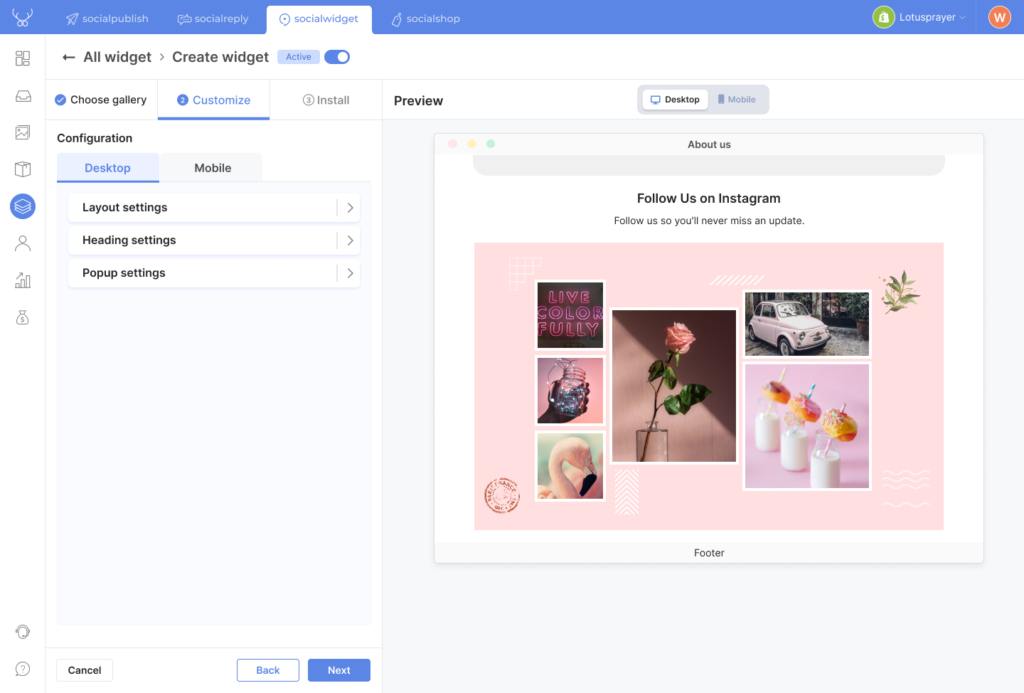 Since the layout is just cute and simple, all you have to do is pick the best photos and arrange them well. 
How to use Creative Feeds like a pro?
Enable auto-update for Creative Feeds
We'll make sure to renew your Feeds as scheduled. In order to do this, just go to Media Source > choose your Source > toggle Auto sync from "Off" to "On" >  select your syncing schedule > Save.
Arrange Creative Feed widget images
Please note that the images will be displayed exactly like their orders from Gallery embedded. So if you want to change something, a hack is to go to Gallery > choose your Gallery > use 'Pin' feature to bring any photo to the top. Also, only single images will be chosen to display on your Creative Feed widget, videos or carousel will not include.
Choose different layouts for desktop and mobile version
Yes, you can easily customize different Creative Feed templates for desktop and mobile screens. While choosing your Creative Feed widget template, switch to the 'Mobile' tab and select another template as you want.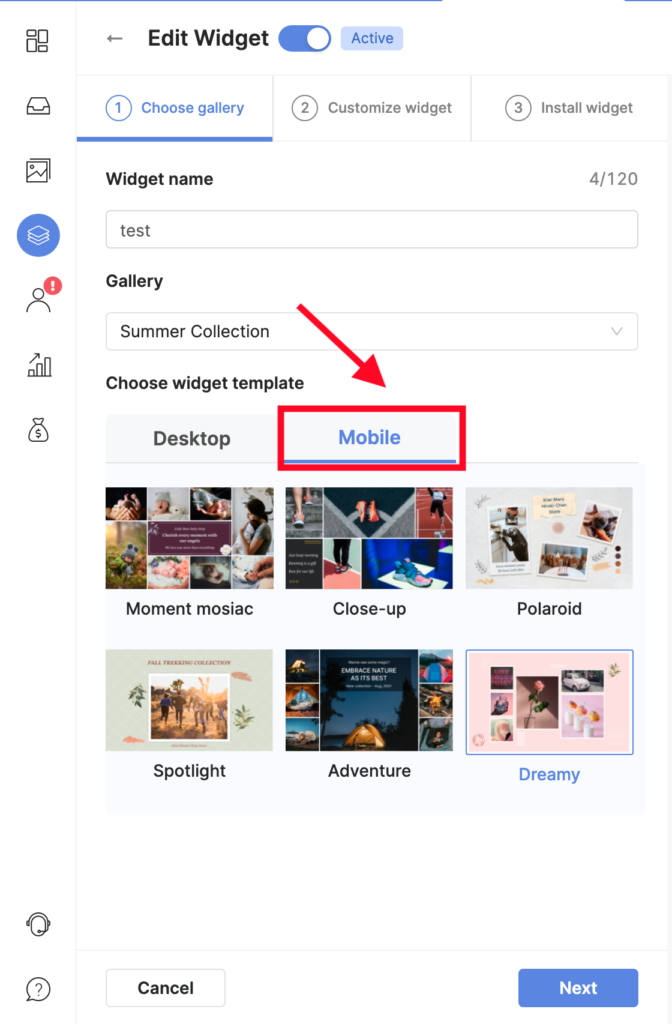 Item hover settings will be turned off
Except for that one, every other setting will all be similar to other widget styles: Instagram Feed, Stories Feed and TikTok Feed.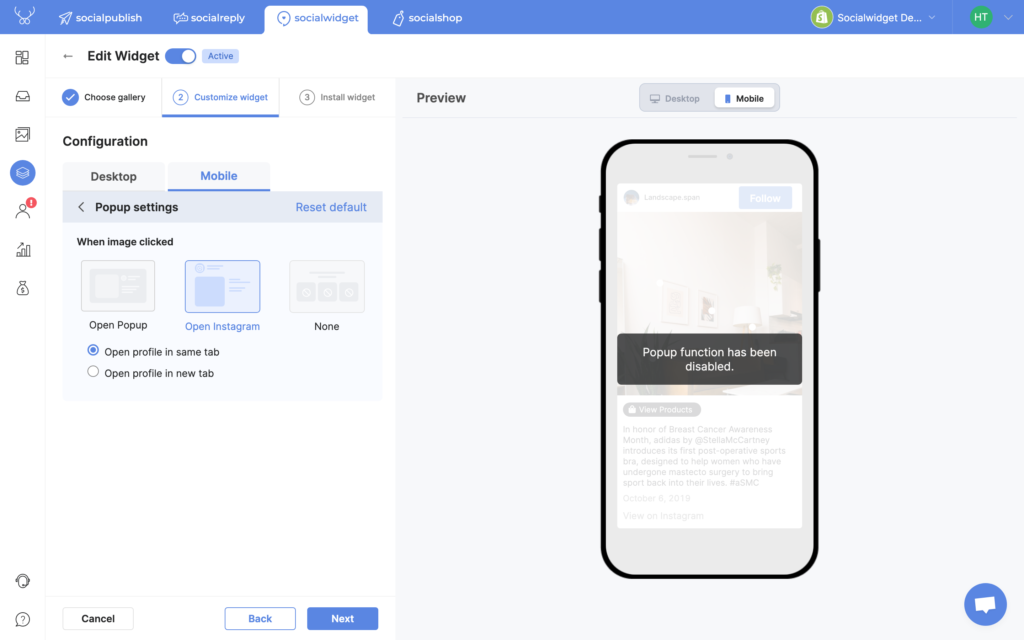 The new 'Shoppable settings' is here!
Since the shoppable feature is one of the key elements of any widget, we've decided to pull out all the shopping functions separately in the 'Shoppable settings' tab.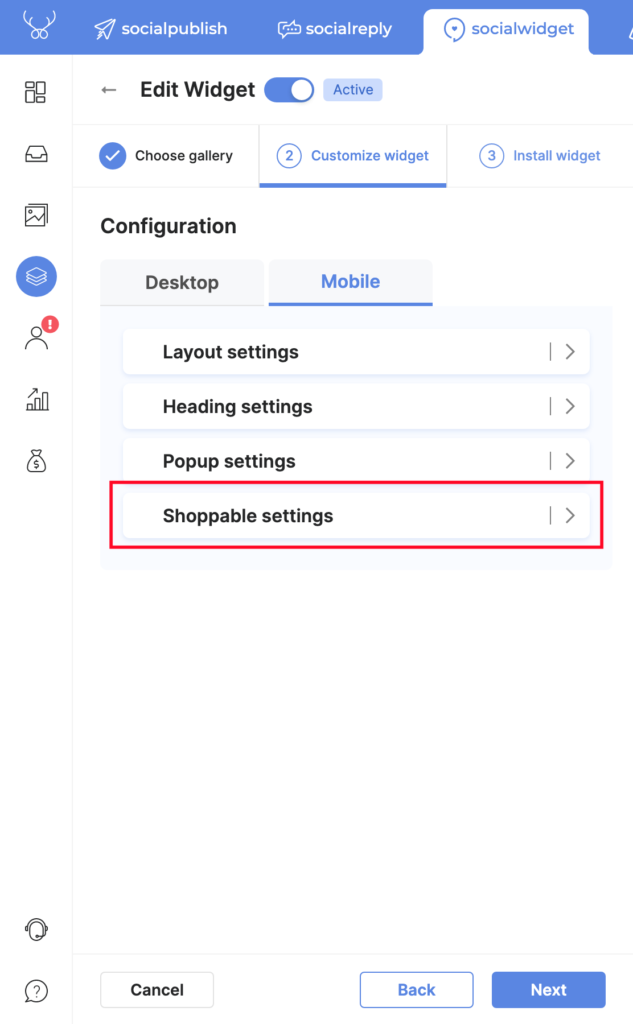 In here, you can easily edit settings for:
Show icon cart item:

Display a little icon cart in photos that have tagged products. This function is now available for Instagram feed widget and TikTok widget.

Hotspot color/ hover color:

Pick any color for the little dots where your product tags show up, also color and opacity for your tags too!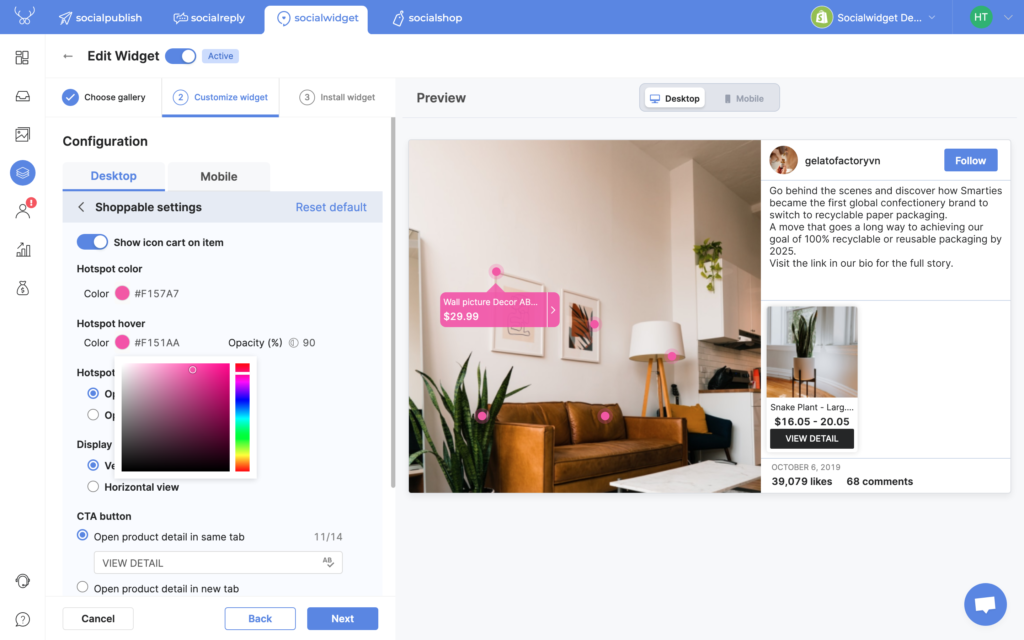 Hotspot link

: Choose where you want to open your product tags, same tab or another new tab.

Display product item

: Choose a vertical or horizontal view for your product detail box.

CTA buttons:

We've enabled you to customize your one-of-a-kind button ever by editing content, button color and button text color. How pretty!
Popup settings optimization
Besides the amazing shoppable settings, we've bringing new functions to your popup settings:
Enable "View on Instagram"

: Make it easier for customers to click through your Instagram post.

Also, you can choose to open that post in the same tab or a new tab.
Compatible with Shopify Online Store 2.0 theme 
Since Shopify is soon to release the Online Store 2.0 Theme, we've worked hard to guarantee that all your widgets will be compatible and run smoothly no matter what. If there are any issues, please let us know via Live-chat or email our Customer Support team at any time.
Ready to be creative? Try Socialwidget V2.8 now!