Want to expand your business to a foreign market where people don't speak English? You're ambitious! But how to translate well-curated Instagram widgets into another language?
As dedicated as we are, we got you covered with Socialwidget V2.9. In this version, we're going to empower you to auto-translate your widgets while keep improving on available functions simultaneously. 
Amped up to see How multilingual widgets can convert you tons of sales?
Why translating Widgets into Multiple Languages? 
We know that you're happy to grow your business with Socialwidget in English-speaking areas. But don't forget that 75% of the world population doesn't speak English.
And by adding multilingual widgets to your site, you'll enjoy these huge benefits: 
Increase Conversion Rates

:

72.4% of customers prefer to purchase on an eCommerce website that displays all information in their own language. Of course, that includes your well-curated shoppable widgets!

Embrace Store Consistency

: unless you want to sabotage your professional image, ensure everything on your website is in the same language. Nobody wants to browse the website in Japanese then comes across an English widget even though it looks cool

Improve Customer Experience

: When you have a consistent store with beautiful & properly translated widgets, you can improve user experience and thereby retain them more easily
Now that you know how beneficial multilingual widgets can be, let us show you how easy-peasy it is to display your widget in another language with Socialwidget V2.9! 
Improve Sales Performance with Multilingual Widgets in-a-flash!
Language Setting and access permission
Because we need to access your Shopify data to fuel this awesome feature, when you open the app, a pop-up as below will appear: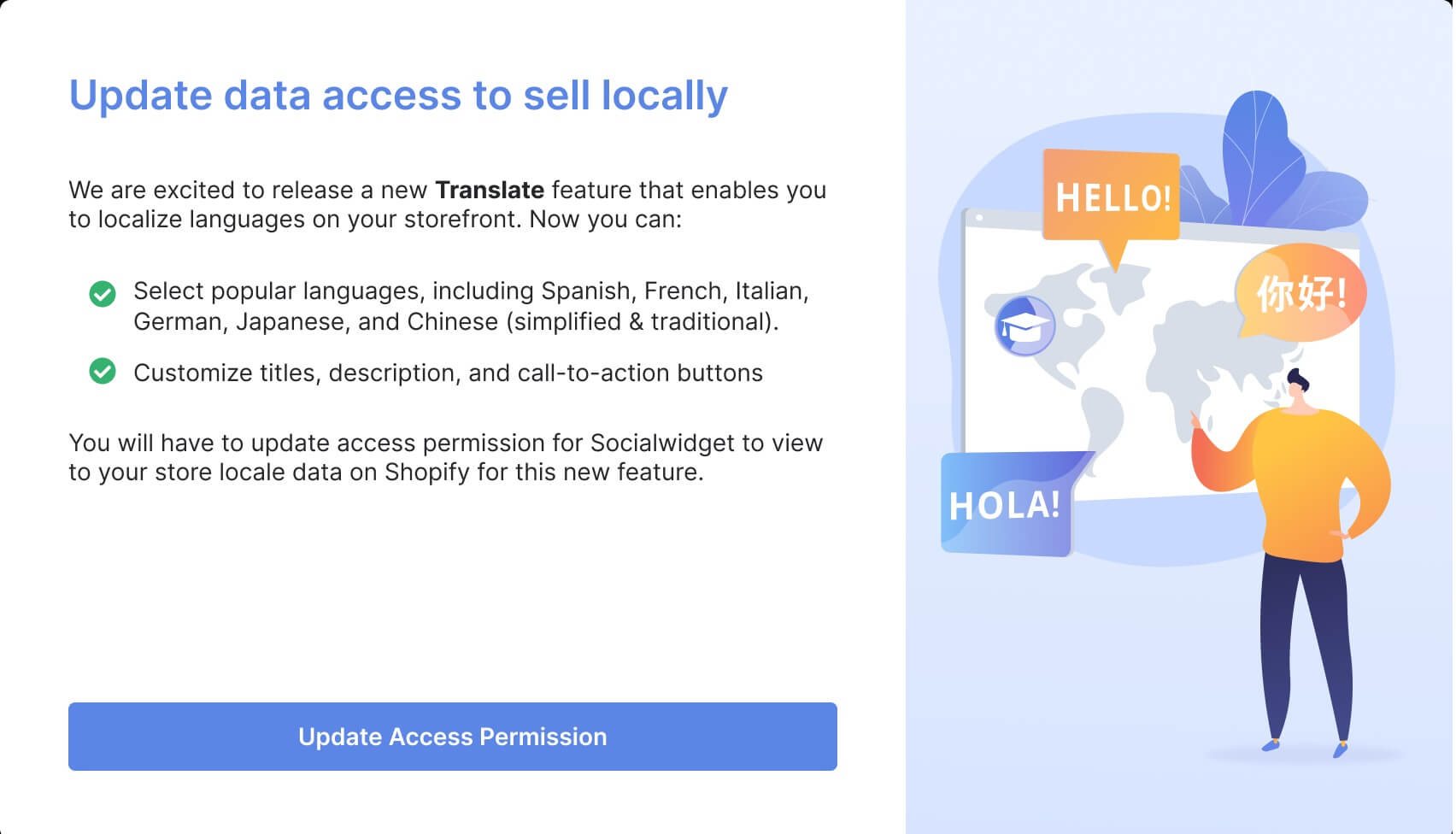 Click on Update Access Permissions to get started.
Socialwidget V2.9 only supports automatically translating widgets into 8 popular languages below. If your translated language isn't one of them (e.g: Afghanistan or Egyptian), your widget will still be displayed in English. And you have to translate it manually if you want to. 
[fr] France

[de] Germany

[es] Spanish

[it] Italian

[ja] Japanese

[vi] Vietnamese

[zh-CN] Chinese (Simplified)

[zh-TW] Chinese (Traditional)
The 8 languages above are the most widely used, they should satisfy most of our merchants. 
However, our dedicated team will read your feedback then add further amendments to the list as usual. Thus, we'll expand the list on the way to assist your business more efficiently.
NOTE: We only support automatically translating your widgets to one of the 8 languages above only when that language is listed in your Shopify store's language settings.
If you haven't set it already, here's how to do it in a minute:
Log in to your Shopify store

Click on '

Settings'

at the bottom left corner of your dashboard

Navigate to '

Store Language' 

In the '

Translated Language

' section, click '

Add

' and choose the language you want to translate

 

Finally, hit

Publish

and you're done
Let's now jump straight into How to Translate your Widgets with Socialwidget V2.9 right now!
Translate your widgets in a few clicks!
Firstly, navigate to Widget > Create Widget > Select ANY Widget type you want. 
Yes, you didn't hear it wrong! The translation is available with all widgets including the Creative Feed in the last version).
Afterward, choose the gallery you want to import media > Click at Language Setting.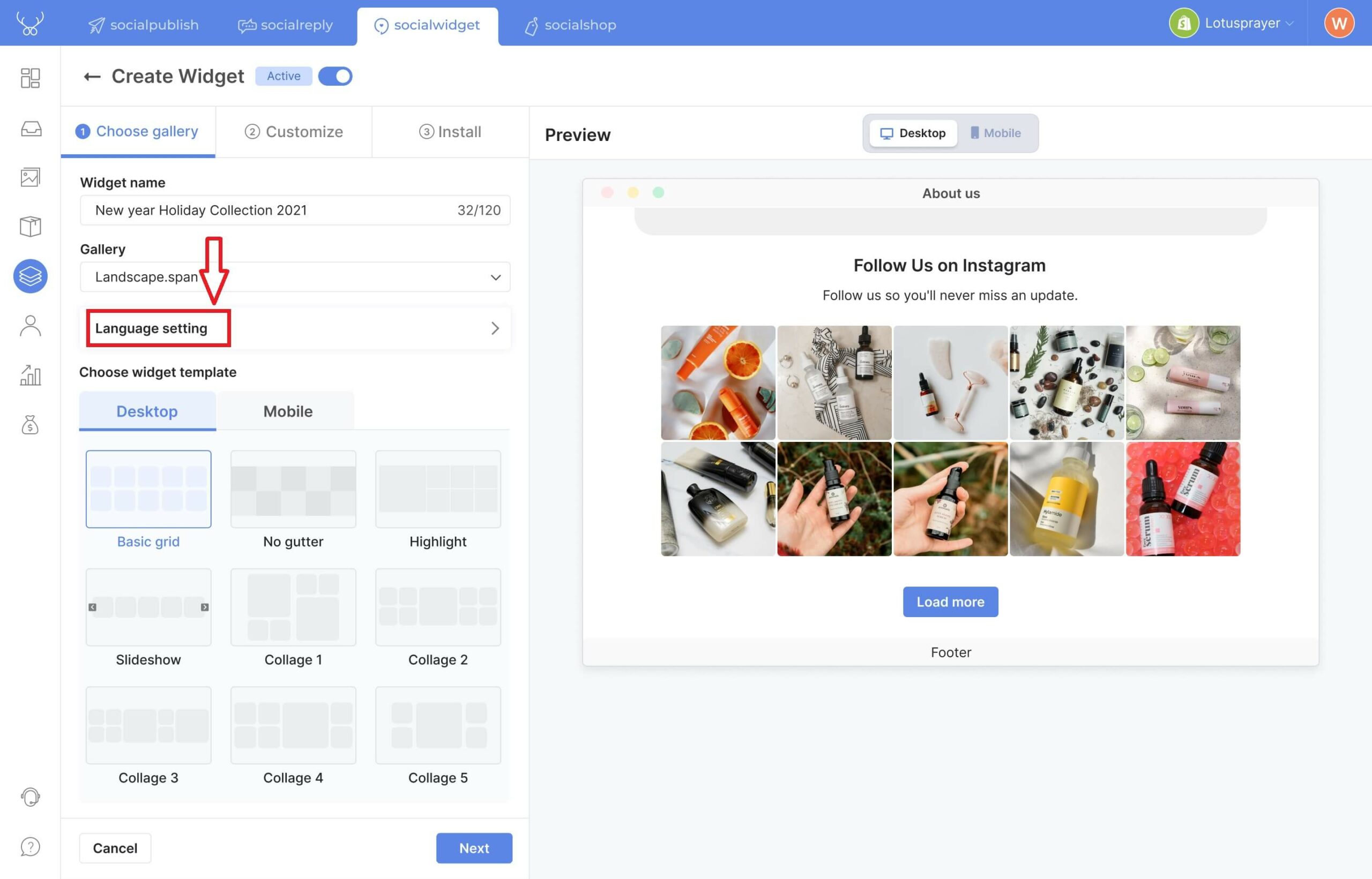 Click at the drop-down list and choose the language you want to translate. Immediately, we will translate all your widget's fixed content* automatically.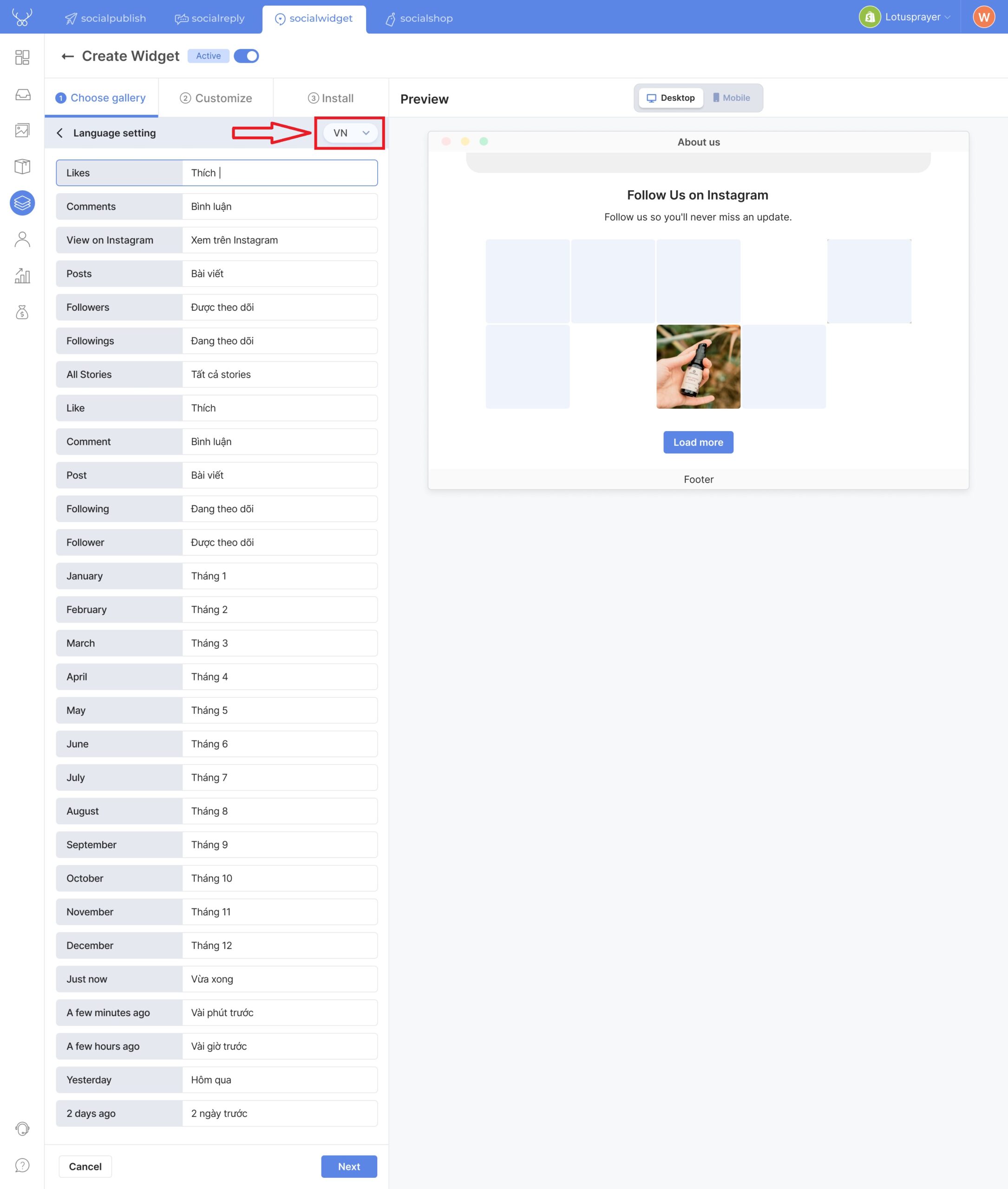 Want to customize the translating results? Simply click on an element you want to edit and make any alterations that you want!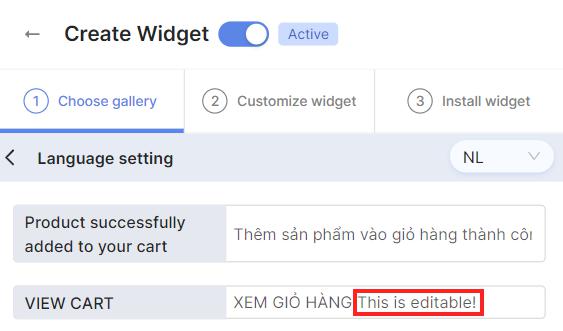 *NOTE: By fixed content, we do not yet support automatically translating with:
Widget's heading and description 

Instagram and TikTok bio (if you chose to show account's information)

Caption from picture/ video you import from Instagram/ TikTok 

CTA buttons
Let us visualize a bit! The ones in green are the content that can be automatically translated while the ones in red require some manual work!  
When someone clicks on one of your widget items, the pop-up will appear like this. If you enable caption in Item Settings, remember that the caption for each of your photos/videos in the widget is not auto-translated.
The same with Instagram bio, when you choose to show your account's information in Heading Settings:
Other Improvements Socialwidget V2.9 brings about! 
Apart from the widget language translation, we also improve on several existing functions to bring you a better experience "playing around" with your widgets.
Make your Widgets Fun and Engaging by Adding Emojis to In-line Editor
Gen-Z and millennials together hold the key to future eCommerce and the fact is: they're emoji enthusiasts. 
It's quite understandable! Emojis are meant to be cheerful, engaging, and portray our emotions so efficiently that sometimes words cannot.
That's why Socialwidget V2.9 now allows you to add any emoji you want to the in-line editor.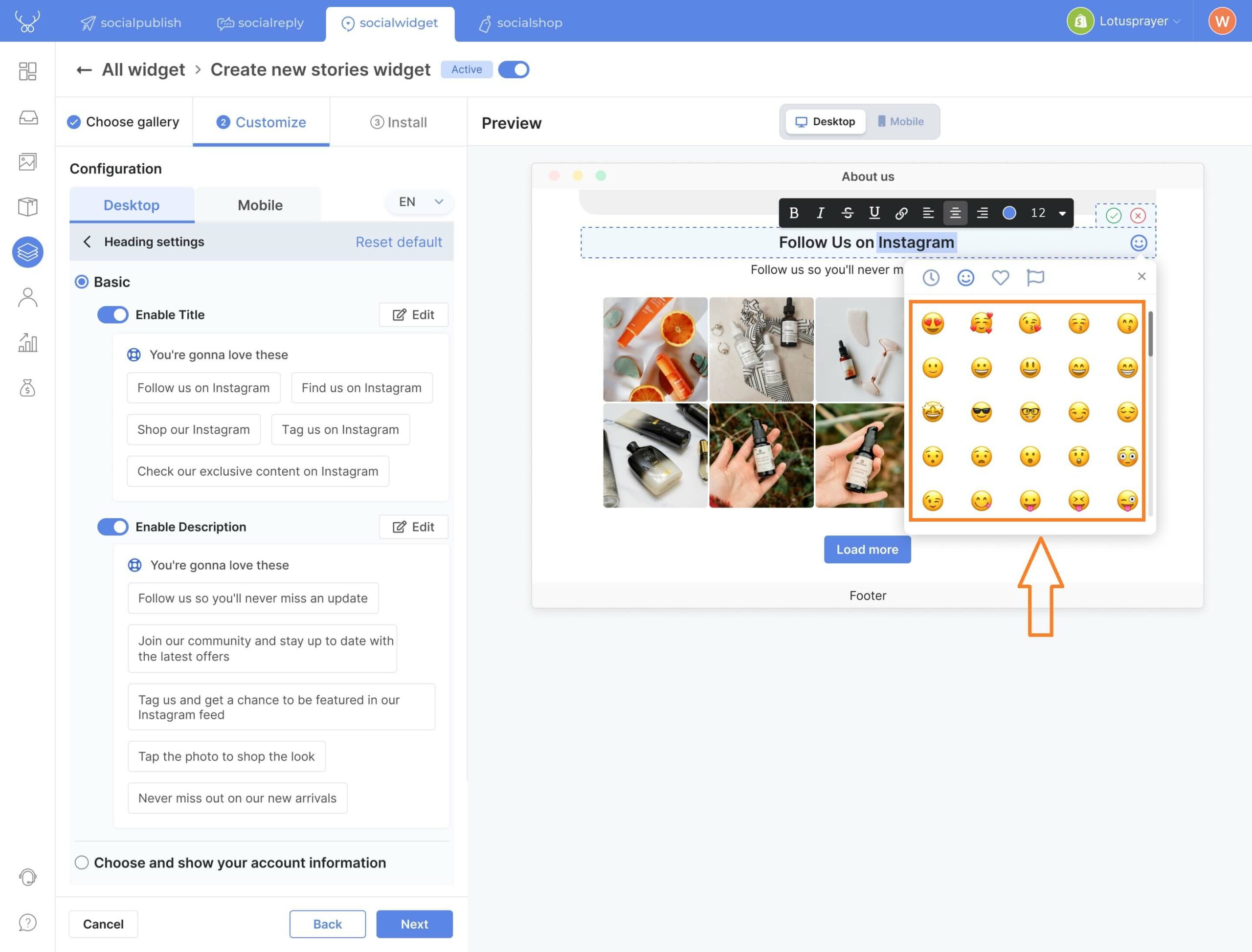 Halloween is coming in a month! How about adding the iconic pumpkin 🎃, ghost 👻, and spider web 🕸️ emoji to spice up your widget?
Adjust Widget Background Color & Opacity to Match Store Theme
Besides adding the color with Hex-code color, we now support merchants to adjust the opacity of the background color also. 
In the Customize Widget step > Layout settings > Scroll down and click on the color code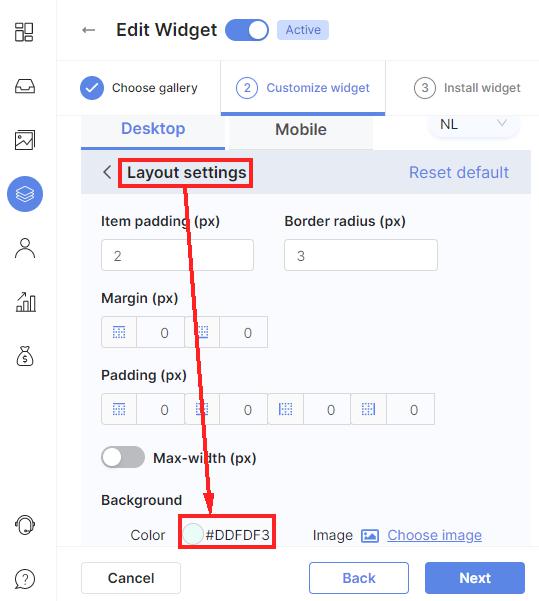 Then the Hex Color Picker will appear as below. From here, you can adjust the two horizontal scroll bars, or type in the exact color code and opacity.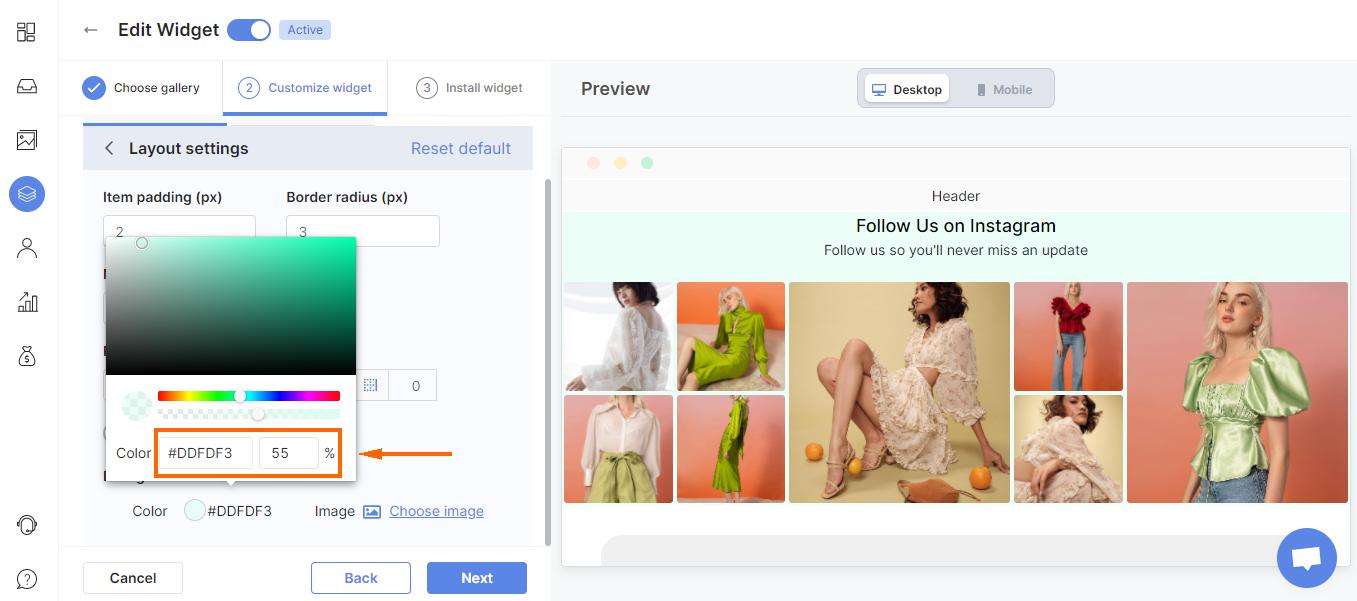 NOTE: If you want a transparent background so that it can fit your store theme, adjust the opacity to 0%.
Switch from Instagram Personal Account to Instagram Business Account Without Losing your Widgets!
When using our app, we highly suggest connecting your Instagram Business instead of your personal account (as we can assist you more with the Business one). 
Thus, in this latest Socialwidget V2.9, we made the switching process easier than ever before. You can switch from Instagram Personal to Business account without losing any widgets you've created.
From your dashboard > Accounts > Click at the Instagram Personal Account > Tap Switch to Business.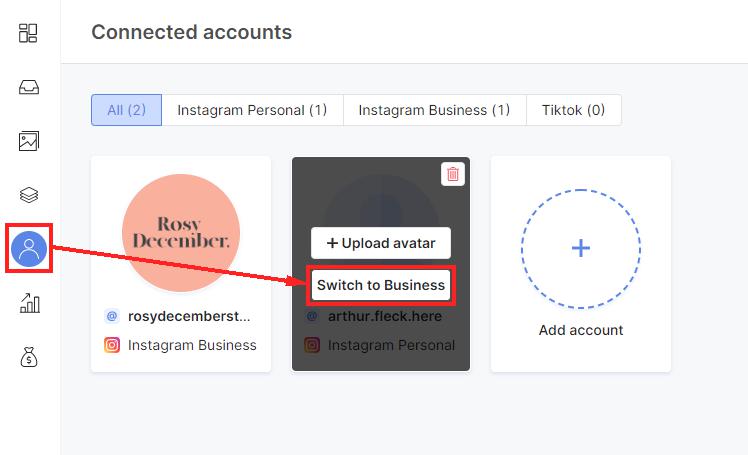 A pop-up will appear, simply click on Confirm to switch on business account in a second.
Adding avatars to your Profiles
The avatar displayed on your widget doesn't necessarily have to be identical to your Instagram avatar!
That's why in this version, we also support merchants to upload their avatar to display on their widget.
From your dashboard > Accounts > Pick the account you want to change avatar > Select the image you want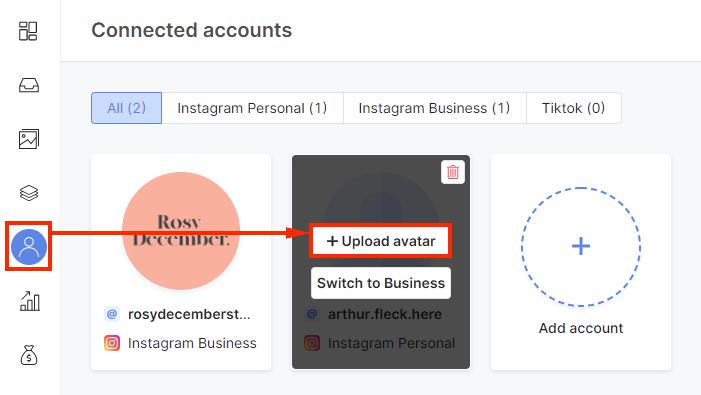 NOTE: If you want to switch back to your Instagram avatar, delete the avatar you just upload and we'll auto-update the avatar from your Instagram account.
Try Socialwidget V2.9 Today!
That's pretty much all the important updates we're offering you in Socialwidget V2.9. Should you have any further questions or concerns, do not hesitate to reach our Customer Support team via support@socialhead.io
Are you ready to use multilingual widgets to convert more sales with Socialwidget V2.9?