Although it is easier to go viral on TikTok than on other platforms thanks to its unique algorithm, relying solely on organic traffic will obviously limit your chances of conversion. 
The sad news is, TikTok Shop is not complete in features and TikTok is one of the most expensive social channels to run ads on.
You're afraid of losing money for nothing? Don't worry, OnePixel has got your back! 
In our newest version 1.3, we support tracking TikTok pixels, helping you to target your ads to the right people and at the right time.
Let's see what awaits you in the new version!
Why is OnePixel your Must-have this year?
All-in-one pixel tracking app
Are you installing too many apps just to keep track of your pixels coming from different social channels that you're running your advertising on? 
Now with OnePixel only, no more channel-hopping and time-wasting, we are now supporting tracking Facebook & TikTok pixels but our vision doesn't stop there. 
We're working on Pinterest, Google Ads conversion, and many more to come, so stay tuned!
Support Conversion API/ Server-side API
Conversion API is designed to create a direct and reliable connection between your website events and offline conversions from your server, website, CRM, or Facebook. This helps empower ad personalization and optimization. 
How will conversion API benefit you? Simply put, with conversion API, you'll be able to show your ads to people who are more likely to be interested in your ads without having to worry about IOS 14.5 restrictions or ad blocker extensions. 
Easy onboarding with no coding knowledge required
With OnePixel, you'll be able to install pixels to your storefront within a few clicks. Instead of manually copying and pasting the HTML code to your Shopify theme editor. 
Just connect your TikTok business account to the app and follow the onboarding instructions and you're all set. 
Track all the events that matter to your business
Whichever actions the visitors take on your product details page, you will receive a report from your OnePixel dashboard. From View Content to Add to Cart, Initiate Checkout and Place an order, having comprehensive data about your customer's buying journey will grant you a huge advantage over your competitors.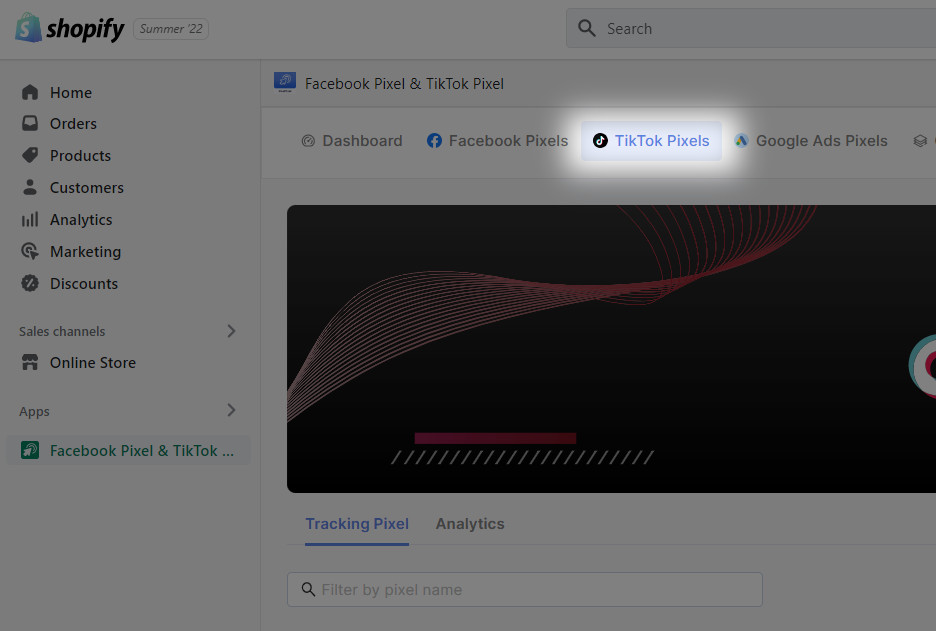 What is waiting for you in OnePixel V1.3?
More intuitive dashboard
Now that we have supported TikTok and more channels to come in the future, we have upgraded our dashboard and made it even more intuitive and user-friendly!
You can see all the supporting social channels on the left side of the dashboard. Most of the space is where the newest updates, videos, and growth hacks are located.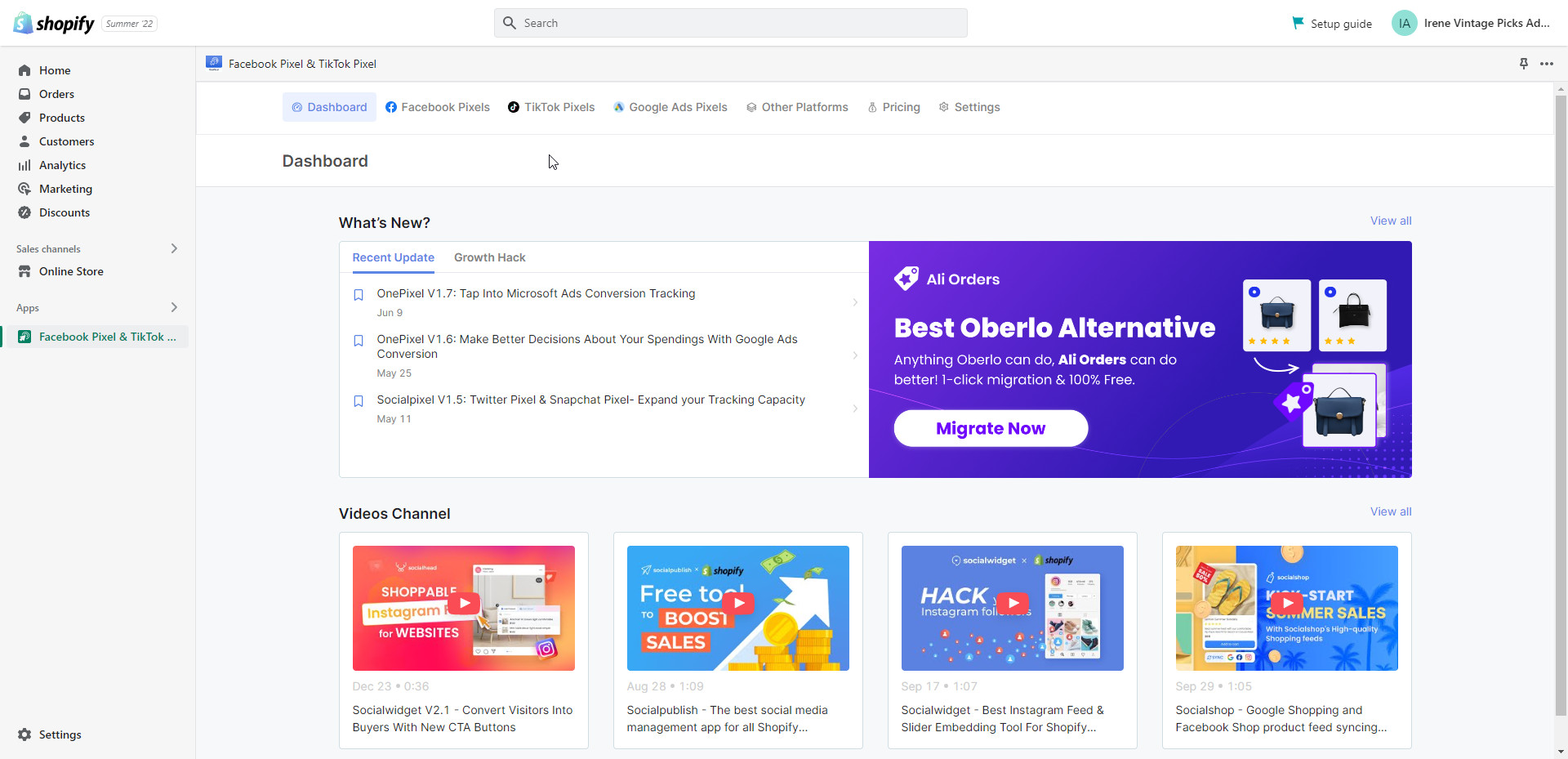 Expand your reach to TikTok audience has never been easier
Be the first to dominate TikTok Shop! It's time to increase your chance of converting on this enormous platform with precise pixel tracking. 
Here's how easy it is to set up your TikTok pixel tracking with OnePixel:
#1. Connect to & verify your TikTok account
If you're new to our app, register an account for FREE on app.socialhead.io and install OnePixel to get started.
Once you get inside the app, navigate to the TikTok section, from here you can connect the app to your TikTok account. You can either choose to connect automatically or manually. 
Please note: You have to use a TikTok business account to connect to our app. If you don't have it yet, create a new one and continue.
If you choose the auto connect method, you will be asked to authenticated your TikTok business account. You MUST tick all the boxes to successfully verify your account. If you don't follow all the steps required, a popup will appear saying that your effort to connect to TikTok has failed and
At this point, you will see a popup asking you to authenticate your TikTok business account. You MUST tick all the boxes to successfully verify the account. The purpose of this step is to give our app permission to get data from your TikTok ads manager.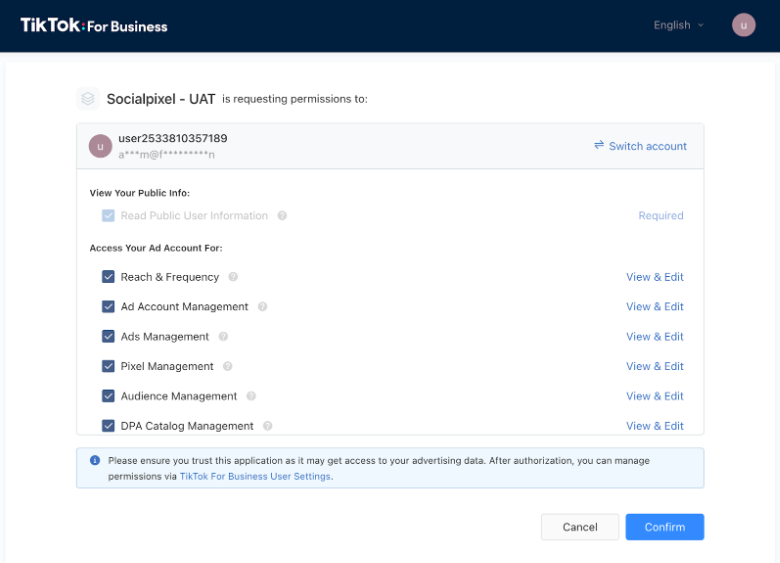 Once you've read and ticked all the terms, hit "Confirm" to continue. 
Now it's time to get onboard with OnePixel, sit tight!
#2. Simple onboarding with 3 steps
The onboarding session is basically the same as Facebook. At this step, you're supposed to choose your TikTok account, set up your main pixel from a selected ad account, and remove TikTok pixel to avoid duplicate data. 
Tick the box "Mark as Done" and hit "Next" to proceed.
And that's how easy it is to get started!
Here comes the part we're all waiting for, add the Pixels you wish to track!
#3. Add new pixels
Pick TikTok Pixels > Then select Add New Pixel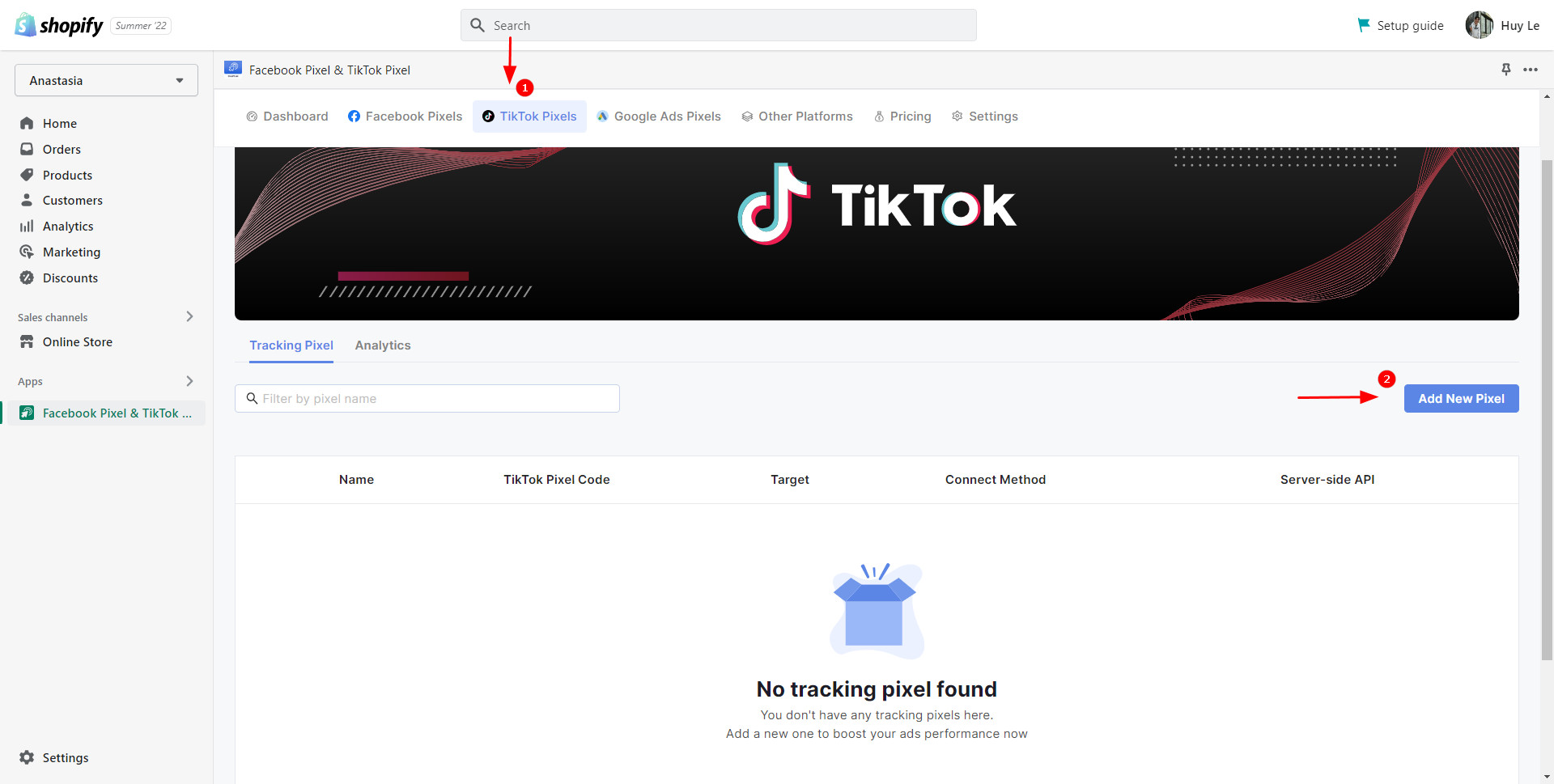 You can either input the pixel yourself or let OnePixel do the job. For manual input, you can copy your pixel code and paste the code to the box and click "Save". 
If you want to add TikTok Pixel automatically, choose Auto-input Pixel tab > Select Connect TikTok Account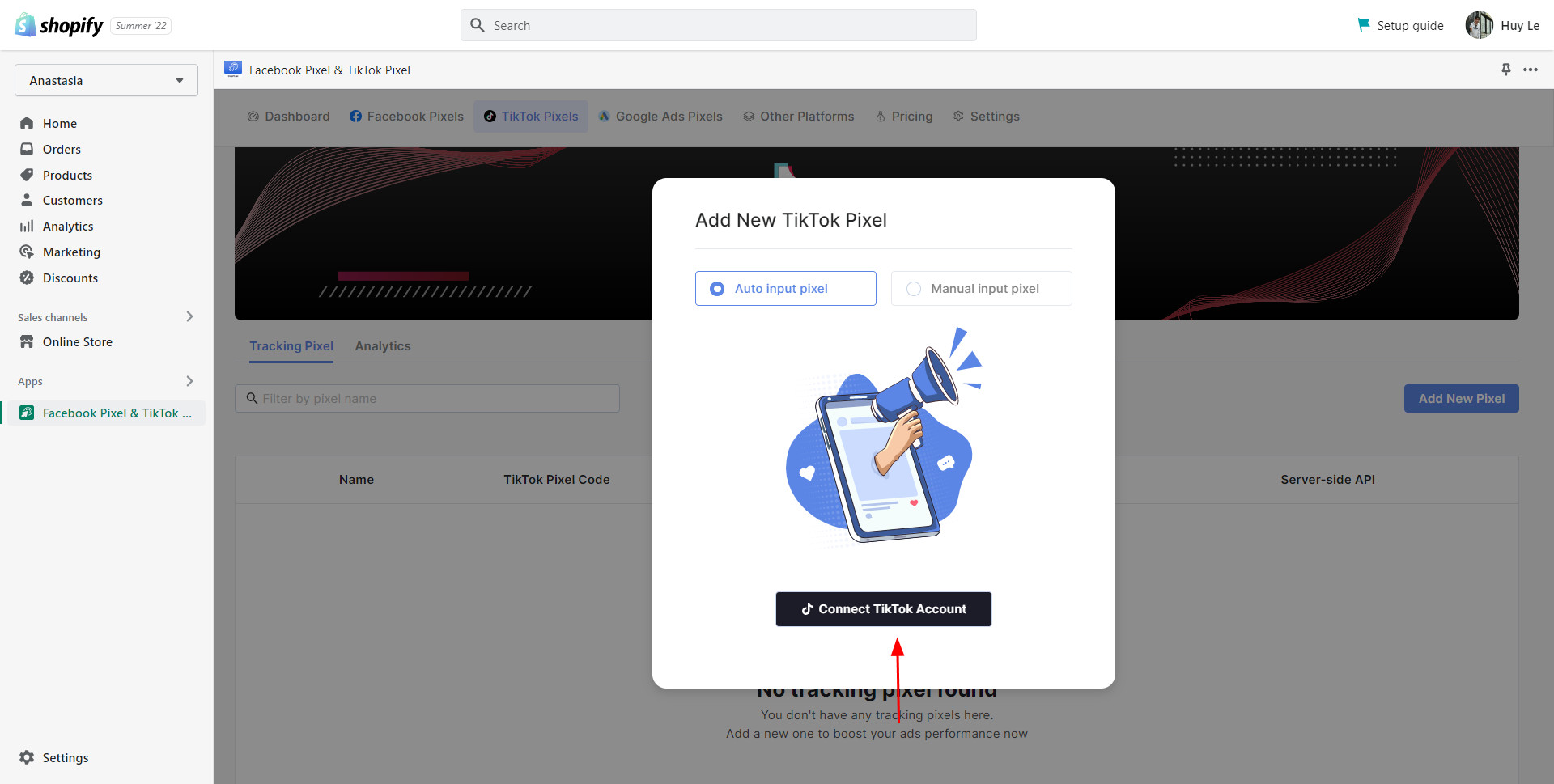 After connecting and verifying your TikTok Account, all you need to do is Select Ad account and the pixel you want to add along with where you want to collect pixels from. Your target could be:
Entire page

Collections 

Or tag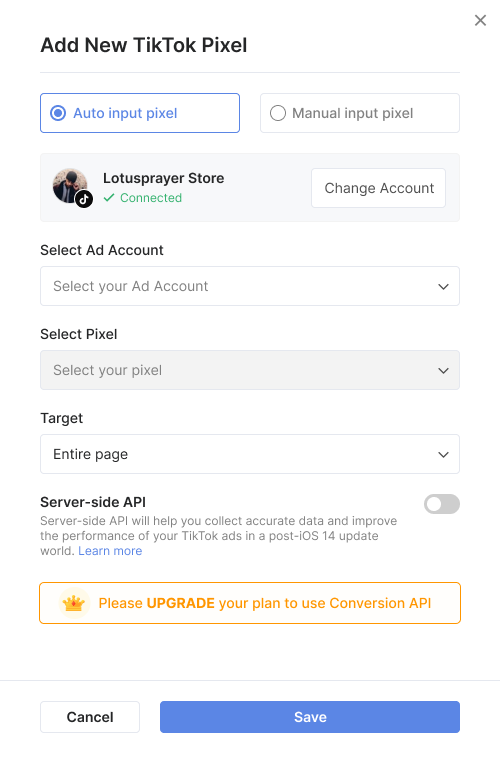 IMPORTANT NOTE: Don't forget to turn on your Server-side API tracking option (if you are not on the free plan). 
By enabling this feature, you'll gain access to much more in-depth and accurate pixel tracking. Say goodbye to limitations of IOS 14.5 or ad blocker extensions, it's time to rock your TikTok ads with dynamic campaigns. 
Once you've done, hit "Save". From now you can freely edit or remove your pixels based on purposes of usage.
#4. Keep an eye on your pixel report
All the data about the collected events will appear right in the Analytics tab of our app.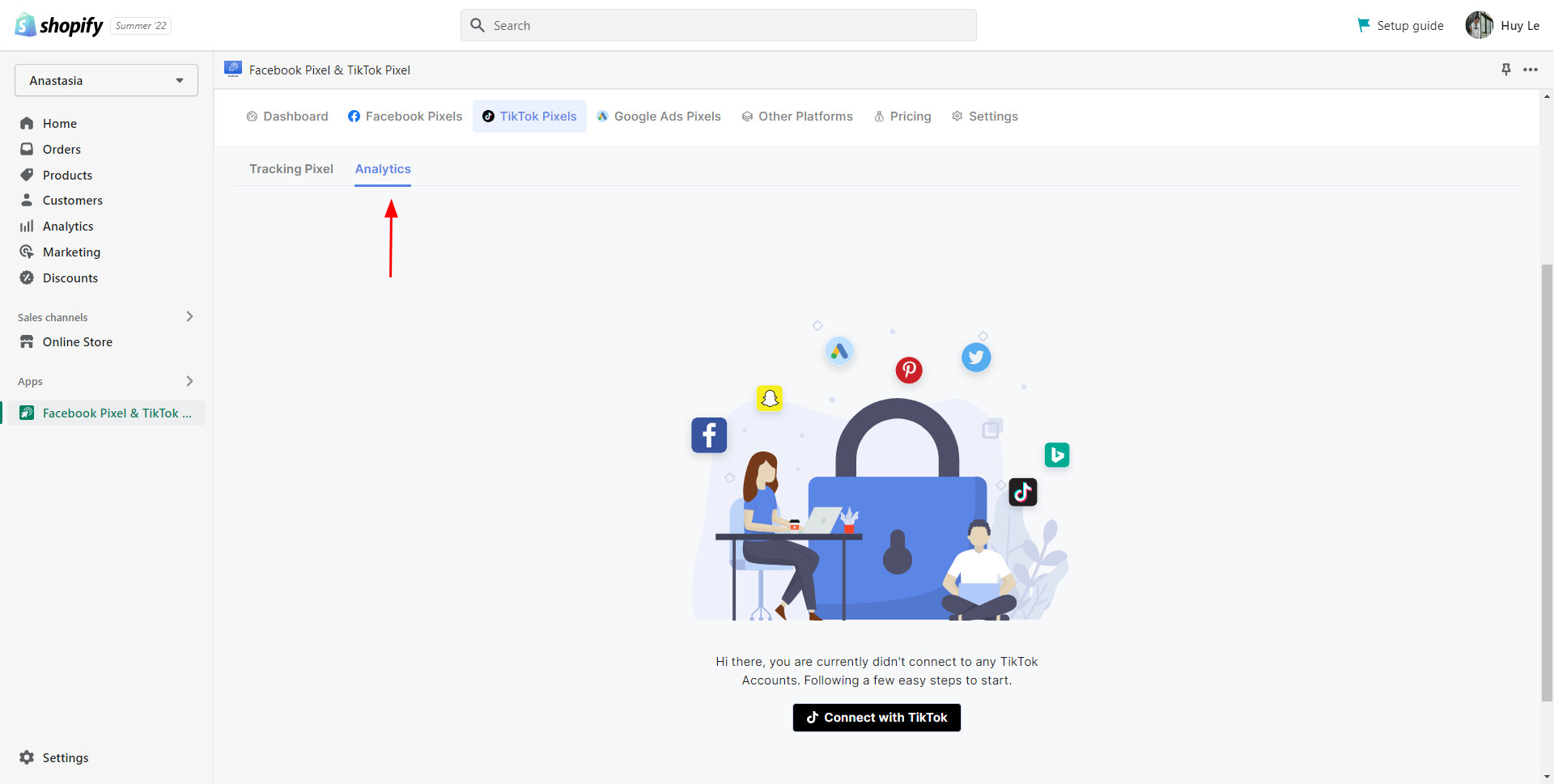 You can change the date and time range to see which actions the users are taking on your pages.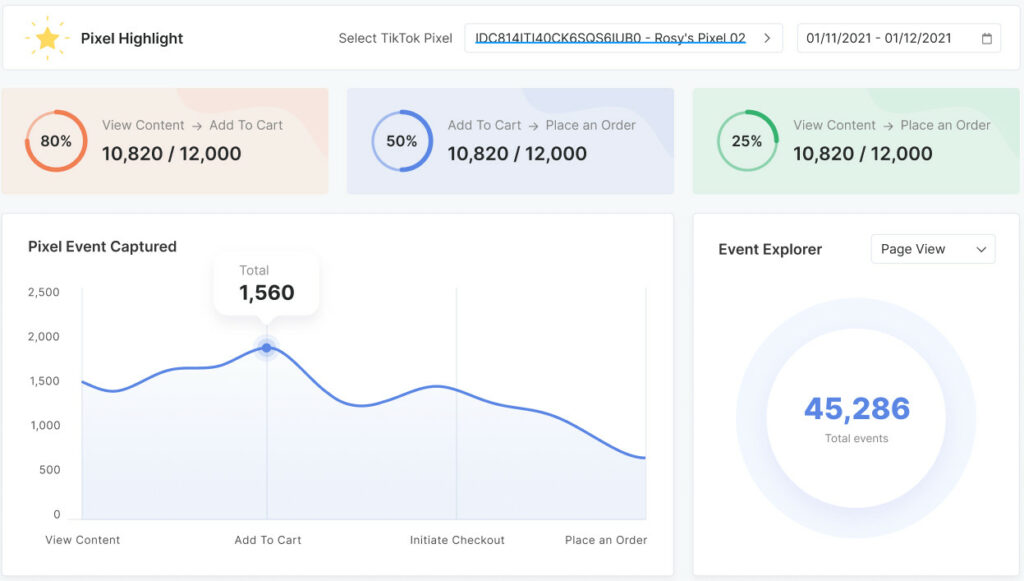 However, unlike Facebook, TikTok only allows us to see reports in a 30-day range. Don't get me wrong, you can choose any 30 days, not necessarily the last 30 days from the current date.
❗To our current users, there will be downtime during the releasing process. When you visit the app, a message will appear saying the app is under maintenance. But don't worry, all of your scripts are working as normal.
Rock your TikTok sales this year with OnePixel V1.3 right now!