Facebook Messenger Rooms are coming to every part of the world. By providing an easy and seamless way to have group calls, brands and businesses can bring their customers together during the pandemic. 
What are Facebook Messenger Rooms?
Similar to Zoom, this is a feature that allows many people to have video calls with each other at the same time. Facebook's users can create Messenger Rooms to host virtual meetings wherever they are.
This is a great tool that can bring people together during social distancing caused by Covid-19. You can also consider it like having a conference call but with less formality.
Moreover, Messenger Rooms allows users to conference with 50 people at the same time with no time limit on calls. 
When setting up a new Messenger Room call, your friends and followers will see a pop-up notification on their homepage. And upon seeing this notification, they can immediately join the call.
Additionally, you can also have the option to invite your Instagram followers and contacts on WhatsApp to your call. That is the reason why this is a great way to bring your community together. 
However, the great thing about Messenger Rooms is that you don't need to have a Facebook or Instagram account to use it. Imagine the possibilities and how much you can keep your community engaged! 
How can Facebook Messenger Rooms benefit businesses?
Similar to other virtual meetings or video calls, this feature can help create better a relationship between brands and customers. Furthermore, like how we talked about privacy in Facebook Messenger for business, a Messenger Room can also provide the same thing.
Additionally, Messenger Rooms have one huge benefit when compared to other virtual call apps. Unlike the others, which require you to install a separate app, the Room feature was built right into the Facebook Messenger app. This means that you can create rooms and invite people to join effortlessly without any additional downloading. Plus, you can also invite non-members to join your Messenger Rooms.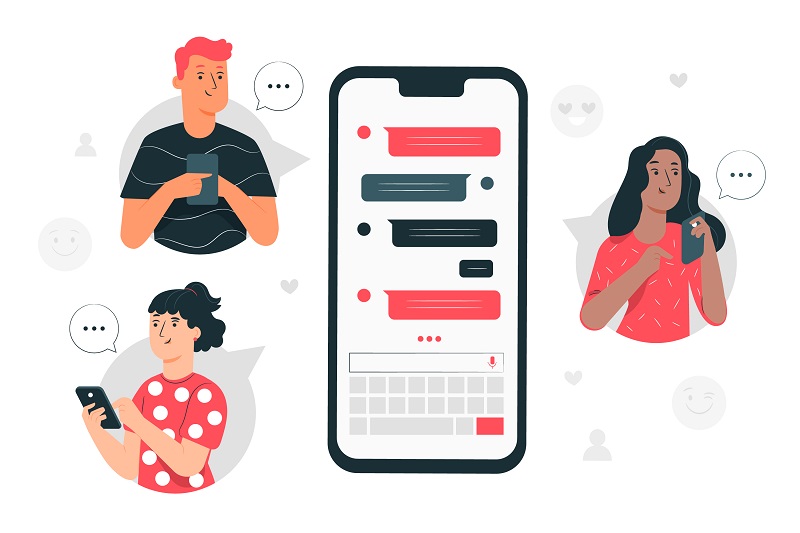 Another great benefit of Facebook Messenger Rooms is that you can make them go live on your account. This will allow anyone who is following you to get notified about your business and joins your live broadcast. With this feature, you can even create Facebook Live events to attract more users to join the show.
On the other hand, if you are open and friendly to your customers, you can also offer them time-limited vouchers. These offers will surely keep a customer engaged and interested without letting others know about them and get jealous.
How to create Messenger Rooms for your brand?
Facebook Messenger Rooms are being rolled out globally, and you can get access to this tool by updating your Facebook and Messenger apps. You can log into your Facebook account and see whether this feature has been rolled out to your region or not.
If Messenger Rooms are ready for your business, you can follow these steps to set them up.
Set up a Facebook Messenger Room on desktop
Step 1: Start from your News Feed.
You can go to your News Feed channel and see a new section called Rooms. From there, You can click the "Create Room" button in that bar.

Then, there will be a pop-up window on your desktop. On this window, you will see the options to set up your Room.
Step 2: Adjust your Messenger Rooms settings.
At this step, you can decide how your Room would look like and when it will start.
Room's Name:
Facebook has already prepared some options for you to define your Room's activity such as "Hanging Out", "Keep Me Company", and more. However, you can always click the + button and customize the activity to your likings.
Start time:
Before you can hit "Create Room", you'll need to decide a start time for your Messenger Room.
You can set the time to whenever you want to connect your friends and followers. However, if you want to start right away, you can click "Reset to Now" to set back to the present time. 
Step 3: Create Room and Invite People.
Once you have completed every setting, you can now start your Room.
At this point, you can invite your friends and users on the platform to your room before joining yourself. There will be a list of people you want to invite, or you can use the Room's URL to share with your friends.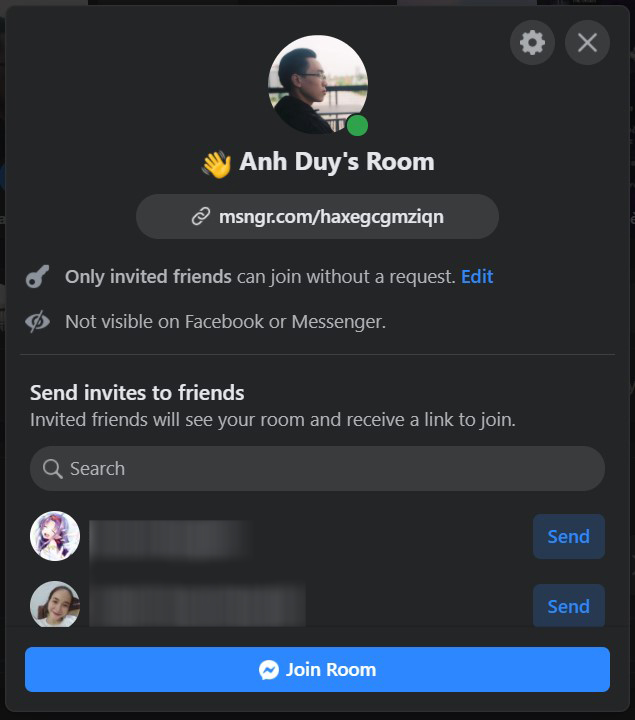 Nonetheless, you should keep in mind that Messenger Rooms allow 50 people to join at the same time. Therefore, don't go too wild and invite everyone on your friend list.
Another great benefit of using Facebooking Messenger Rooms is that you can connect it with Facebook Live Events. This feature will allow you to charge an attendance fee for those who want to join your events. 
So, if you are running a small business relying on in-person services, the benefits of these features combined can help you create revenue during Covid-19.
Set up your Rooms on the Messenger app
You can create Messenger Rooms quickly and easily within the app. All you have to do is follow these steps:
Update your Messenger app to the latest version and open it.

From "Chats", tap the "Create Room" button on the upper left side of the screen.
At this point, it will take some time to ready your Room, depending on your network connection. Besides, you can also decide to invite your friends or copy the URL to share your Room. Then, you can either tap "Schedule" to set the start time of your Room or "Start Room" right away.
However, unlike creating on a desktop, you can only edit the settings after you have started the room. In other words, you are still in the preparation phase for your Messenger Room. 
From the "Chats" screen, you can see your Room beside the Create button.

Once you tap it, you can see the three-dot on the right side of the screen.

This will lead you to your Messenger Room's settings. In this section, you can edit your room's name, who to invite, and end the room when you finish using it.
Create Rooms on Instagram
Amazing right? You can set up and join a Messenger Room for Instagram as well!
An easy way to video chat with up to 50 of your favorite people? Yes please 🙋‍♀️

Starting today, you can create @messenger Rooms on Instagram and invite anyone to join 👇 pic.twitter.com/VKYtJjniEt

— Instagram (@instagram) May 21, 2020
Besides, there is no login required to join a room. All it needs is the unique URL from Messenger Room after creating it. Therefore, anyone with this link is able to join.
Here is how to create rooms on Instagram:
Go to your Instagram Direct Messages tab on the top right corner and tap the video call icon.

Choose "Create a Room". Then, you can invite your friends or copy the link to your Room (similar to creating one on Messenger).
And that's it. It is quick and easy to bring your friends and community together with the help of this outstanding feature.
Final words
There is no doubt that Facebook Messenger Rooms will surely bring lots of benefits to brands and businesses during the pandemic. And of course, the tool will need some more upgrades so that online store owners can use it at its full potential.
Nevertheless, we can always be prepared ourselves for each of its new functionalities in the future. Growing and creating revenue for your business can be less frustrating than you might think.