Facebook Shop is a new Facebook tool for making social commerce more feasible. Additionally, it helps small e-businesses to grow effectively and overcome difficulties during the pandemic.
With Facebook Shops, merchants have an easy and free way to generate revenue from one of the largest social media platforms in the world. 
Are you interested now? If so, stay with us to learn more about what to know and prepare for social commerce on Facebook. 
What is Facebook Shop?
Facebook Shops are virtual stores on your Facebook page and Instagram account. This feature from Facebook allows customers to discover, share, or even buy products from your online store without having to leave the platform.
Although the idea of shopping online has started a while, the outbreak of Covid-19 opened a new way for all businesses.
During the pandemic, most of us have to stay indoors, which makes it hard for store owners to stay open and stay in business. Fortunately, Facebook Shops have arrived as a great alternative and solution for brands, especially small retailers, to overcome the situation. 
Here are the features to help online merchants sell on Facebook Shop easily: 
You can create a much more native shopping experience. It also means that your products are more discoverable directly from your Business Page.

Additionally, merchants will have the ability to customize design elements such as color and font, making their shops match their brands.

You can also set up 1 shop to show up on Facebook, Instagram, WhatsApp, and Messenger. 
As you can see, customers can have almost the same shopping experience online with Facebook Shop. And more importantly, store owners can even gain more potential customers as anyone on the social media platform can visit your shop and find more about your products. 
Why do you need to use Facebook Shop?
Needless to say, Facebook Shop offers great possibilities for all businesses to grow online. Therefore, you and your brand should also come to this platform for a chance to compete with other huge brands or co. 
Engage tons of new and potential customers from anywhere
If you are running a small business, it will be hard to compete against some well-known brands. Therefore, you should expand your shop to other platforms as well, especially social media. For that, Facebook will make a perfect place to expand your business.
As a matter of fact, there are more than 2.6 billion active Facebook users every month. Additionally, they usually spend more than 40 minutes per day on this social network. And a good amount of that time goes to Facebook shopping.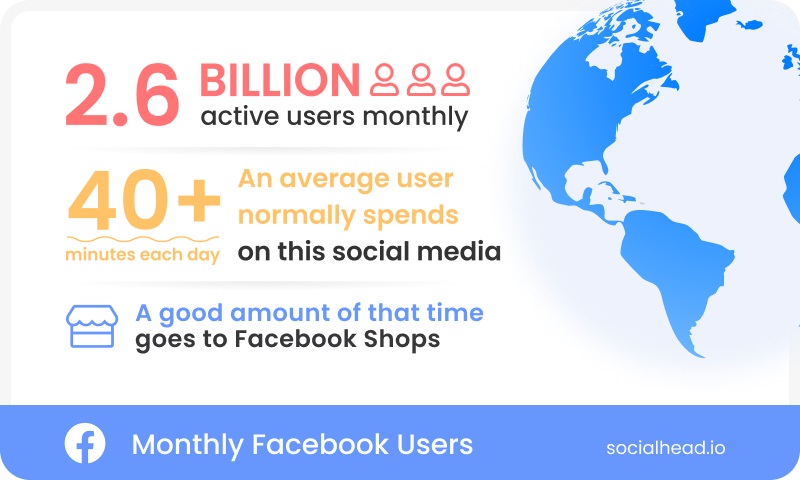 Therefore, it will be a waste if you take such an advantage to drive more sales for your online store. By creating a Facebook Shop, you can have a higher chance to increase Facebook engagement rate and visitors coming to your business.
Make your business cost-effective
Another big reason why you should use Facebook Shops is that it can help run your business more effectively.   
More importantly, you can build a Facebook Shop even without having an online store or using an eCommerce platform. In other words, you can create your business and start selling directly on Facebook with almost no compromises.
Moreover, you can showcase your products, answer customer questions, and collect payments. And the best part is, you can do all of this from your Facebook Shop. 
Additionally, you can sync products to your Facebook Shop if you have an online store and use an eCommerce platform such as Shopify. This also means that your Facebook shop will update automatically when you make any changes in Shopify.
As a result, Facebook Shops can optimize and simplify all the processes while running your online store, making your business cost-effective. And by creating a shop online, you won't have to worry about the premise expenses. 
Benefits when using a Facebook Shop
There are reasons why many brands and businesses have already signed up for Facebook Shop. Besides its features, Facebook also provides great benefits for you to grow your eCommerce business.
For now, you can clearly find these 3 main benefits of having a Facebook Shop. 
Boost sales by tagging your products in Facebook posts
After setting up a Facebook Shop, you can start tagging the products which are featured in your images.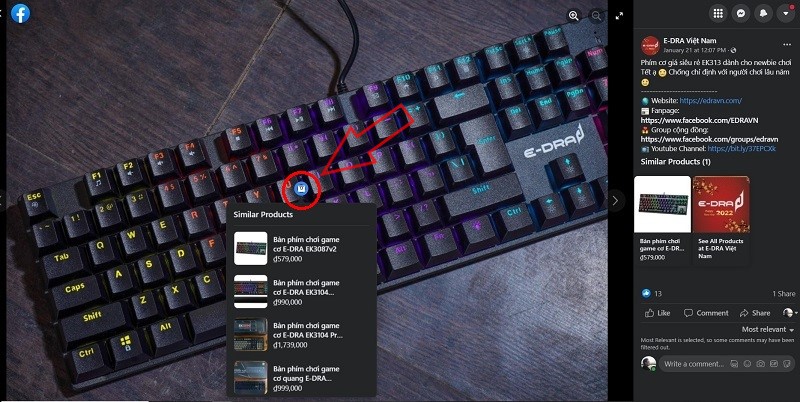 With this feature, you can ensure that everyone can be aware of your available products while viewing your posts. Moreover, you can see tag icons in each product image, displaying product information.
Furthermore, what makes this feature special is that you can tag your products quickly and easily. Therefore, you don't have to worry when starting your shop on Facebook.
See your Facebook's social engagement
As mentioned above, there are billions of users on Facebook monthly, and most of them spend nearly an hour on the platform. Therefore, you can use Facebook Shops or add a Facebook Shop tab to analyze how users engage with your business.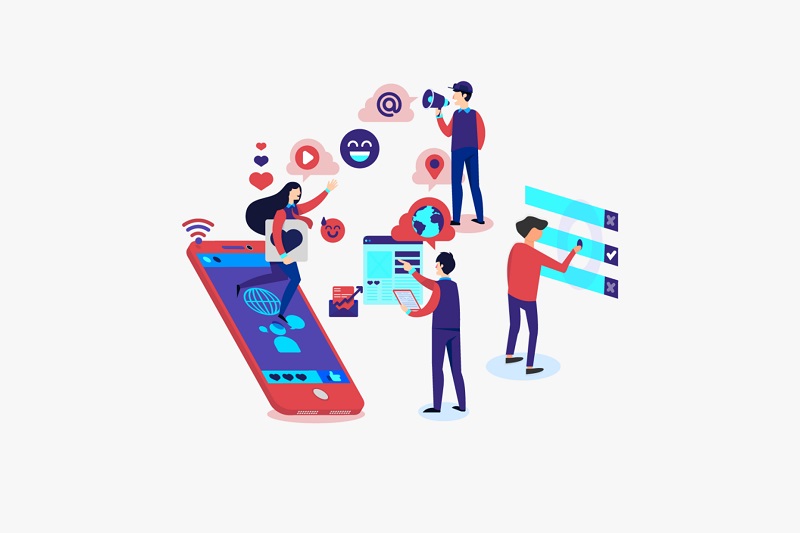 With Facebook Shop, customers can interact with your posts, share them with friends, save them for later, or comment to ask questions (or share their thoughts). As a result, these actions will help you to build and spread your brand image to new customers.
Besides, these engagements are considered a great form of social proof. This also means creating more credibility for your shop. 
Using a Facebook Shop helps reduce friction during the sales process
It is important to remember that you want to make it easy for customers to make purchases as easy as possible. In other words, the more steps it takes, the more distractions customers get before confirming a purchase.
And this is not just a myth or theory. According to Shopify, there are 4 main reasons why users want to abandon their carts, even when they are ready to checkout. Those reasons include being forced to create an account, security concerns, unexpected shipping costs, and complicated checkout processes. Consequently, online store owners would be worried sick if this continues.
However, Facebook Shops will help improve just that. By simplifying the process, customers will no longer feel anxious or get frustrated with repeated confirmations.
Additionally, customers can view your products while chatting with friends at the same time. More importantly, they can do all that in the same window, meaning no more switching tabs back and forth. They can simply add products to their cart and check out on the same platform.
How to create a Facebook Shop for your online business
Before you can start creating your shop on Facebook, there are a few things you need to be applicable for it. 
Make sure to fulfill the Facebook Shop requirements
It is free for all businesses to create a Facebook Shop and start a business on this platform. However, you will need to fulfill some requirements before setting up a shop for your brand.
Here are the things you need to fulfill:
Follow Facebook's

commerce policies

.

You have to be a

Business Manager

admin.

You are required to have a Facebook

Commerce Manager

account.

You have to set up your shop from a laptop or desktop.
In addition, there is one more thing you need to keep in mind. You can also opt to be an admin of an Instagram Business Page instead of Facebook. Therefore, you are not required to have a Facebook Business account to begin your Facebook Shop.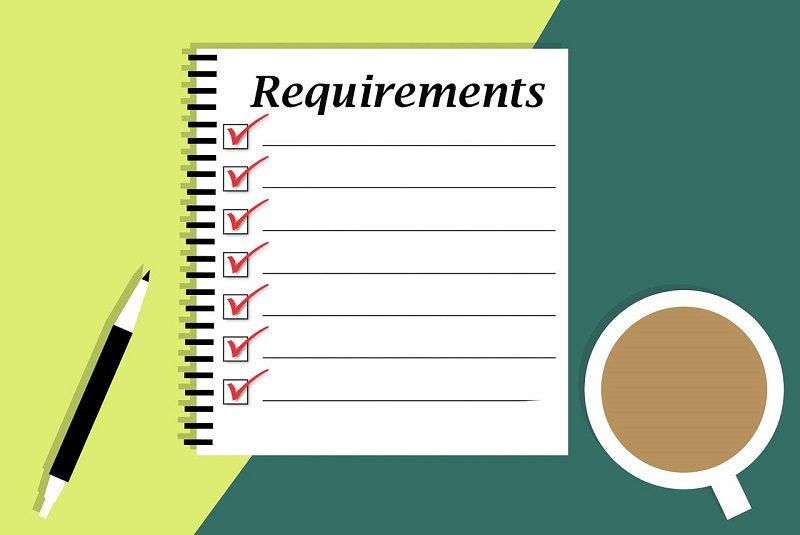 Once you have fulfilled these requirements, you can carry on to set up your shop. 
Create your Facebook Shop for business
       1. Access Facebook Shops via Facebook Commerce Manager
Firstly, you will need to go to the Facebook Commerce Manager page and click Get Started. At this point, you will see some questions relating to your business, including "Choose how you want customers to make purchases."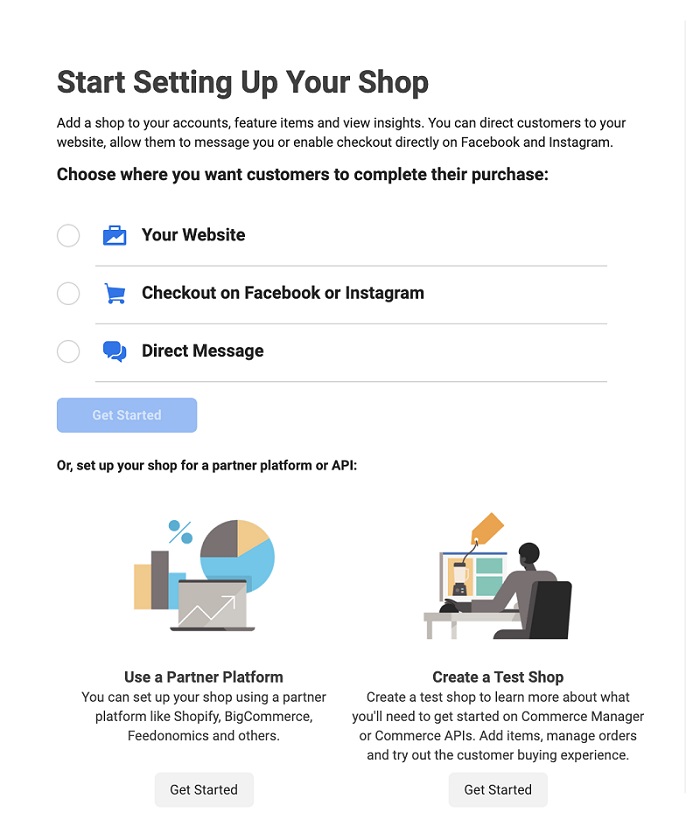 Moreover, you can use your eCommerce website or existing API to link and direct your customers. This is where your customers can purchase your products. Besides, you can also let them directly buy items via Facebook, Instagram, Messenger, or even Direct Messages.
       2. Add your business information
At this step, Facebook will ask some questions to complete your business information. Those questions include category, location, preferred contact information, and more.
This process will help you finalize the overall description of your business.
       3. Add your business products and shipping information
As you continue the creating process, you will be asked to add your products one by one. Or, you can simply add them through a product listing form or in bulk with a spreadsheet list. After that, you can start adding or updating product descriptions, images, and shipping information.
Although Facebook will prompt you to fulfill this process, you can always add, remove, or edit your product listings later.
       4. Add your banking and tax information
If you already have an eCommerce store, you can use its banking information from the linking process. On the other hand, if you are new to the eCommerce business, you will have to give information about your bank account to receive your purchase revenue. 
Additionally, you are required to give your company's tax information agree to the Facebook Shops policies.
       5. Starting customizing your Facebook Shop
Once you have finished all the technical steps, you can now free your creativity and design your store. Moreover, Facebook offers you some basic adjustments to the layout and style of your shop. And you can also get to see a mobile preview screen on the right.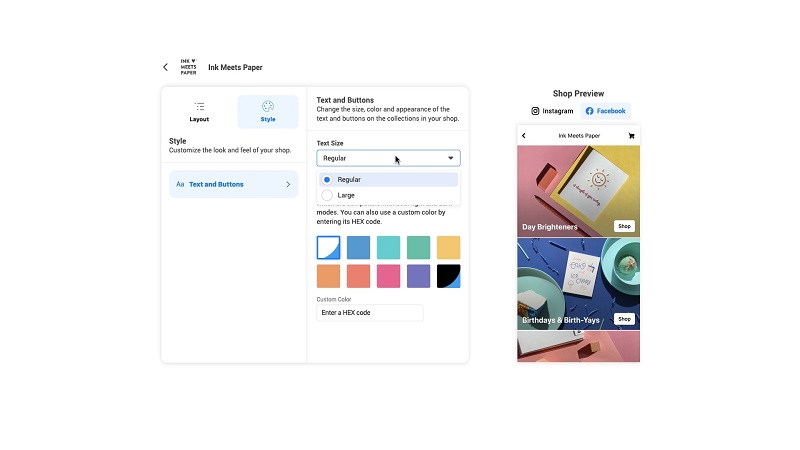 6. You can edit products or add them to Collections
Don't worry if you made a mistake or two while adding products to your Facebook Shop. As we mentioned earlier, you can always come back to edit or remove product listings, even after you have launched your store.
Furthermore, you can group your products with the same theme as "Collections". To do that, you can just simply click "Layout" on the Shops customization page. After that, you can continue and click "Add Collection" under Featured Collections.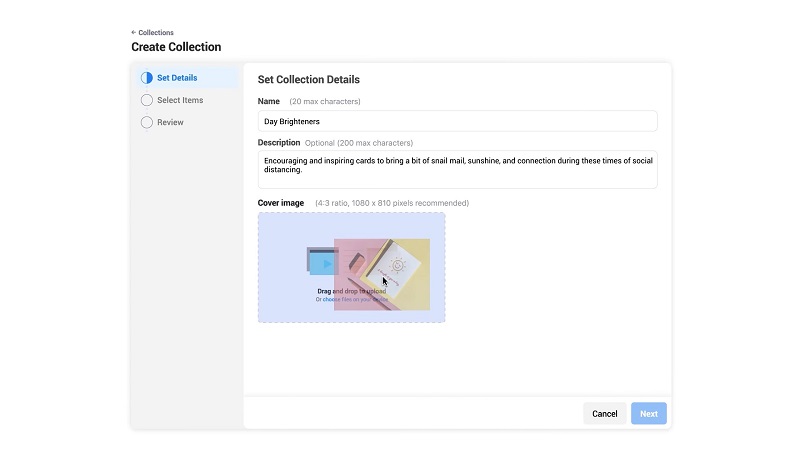 After creating a Collection, you can easily add products to it from the Collection page. Or, you can add to collections by editing product listings as well.
       7. It's time to launch your shop 
If you are happy with how your shop is ready for business, you can now publish it. And don't forget to share it on Facebook, Instagram, and any other social media platforms.
This whole process is straightforward. And that's why the Ink Meets Paper company finds that selling online can make a big difference for all sizes of businesses.
Things that brands should remember for Facebook Shop
Even when you have finalized everything and set up your shop completely, your work isn't finished yet. If you want to be successful in this eCommerce business, you will remember a few things while running your Facebook Shop.
Promote your shop 
If you are new to the business, there will be chances that audiences don't know about your products or brand. As a result, they won't find your shop on Facebook. 
Therefore, you should make your brand and products more appealing and reachable. That is also why it's important to promote your Facebook Shop, products, and brand to find your way to the customers.
Moreover, you can also use Facebook Ads to promote your brand easily and effectively. You might have to spend quite some time getting used to it, but it would be worth your effort.
You can also take advantage of live streaming services, or Facebook Live, to engage more customers and their friends. 
Prepare yourself (and your business) for high demand
By creating great product listings, you can make more people come to your store and purchase items. However, if you cannot respond quickly enough to demand, you can lose that customer for good. 
Therefore, you should prepare yourself to fulfill orders and customer demands. For improving customer service, you can also utilize Facebook Messenger to deal with customers' requests or issues.
Keeping your brand consistency is important
We all know how important it is to build more brand awareness, making customers recognize your business easily. Therefore, you should keep the consistency of your Facebook Shop and your brand aesthetic.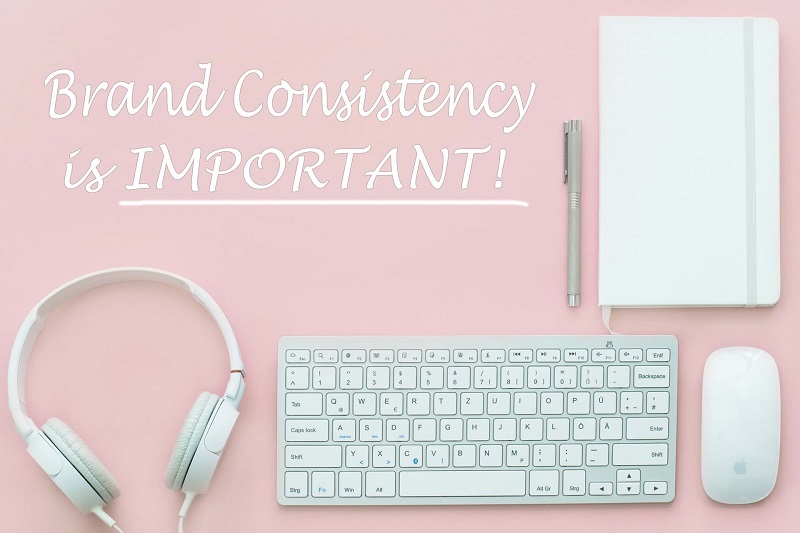 Moreover, if you can keep a professional look or style in your store, customers will surely have more trust in your brand. As a result, they are more likely to give you their payment information and confirm a purchase.
Final thoughts
Facebook Shop is a great way for any brand to grow up or scale their business. And if you are a small eCommerce business or a newbie, you can use this feature to get more customer engagement.