With the situations of social distancing and Covid-19, Facebook Live Events can be a game-changer for many businesses and creators. Brands and businesses can charge a fee for attending their online Facebook Events.
What are Facebook Live Events?
Facebook Events help you let your followers or community know about your coming events and organize social gatherings. These events require a name, network, host (or co-host) name, event type, starting time, location, and a guest list.
However, as the Covid-19 challenges are occurring worldwide, starting Facebook Live Events can be the safest bet. Therefore, you can use Facebook Live to make these online events possible. 
Live Events on Facebook are now more accessible than ever!
In April 2020, a brand new feature was announced to the Facebook platform to bring communities together better during the pandemic – Messenger Rooms! 
Similar to Zoom calls or Google Meetings, Messenger Rooms are a simple way to host virtual events. This brings opportunities for your followers and community to meet each other online during the Covid-19 situation. 
When you schedule a Facebook Event, this group call on Messenger Rooms can be used for different purposes. From a lecture hall to a cookery class, the options are endless!
Additionally, there are great benefits, such as anyone can join Messenger Rooms even without having a Facebook account. And, you can also invite up to 50 people to your room.
Facebook Page owners can create and host an online event on the platform. Additionally, they can also set a price and collect the payment for their event in just one place.
You can charge a fee for access to your Live Events on Facebook
One of the greatest advantages of using Events with Messenger Rooms is that they allow you to host paid online events. 
For many businesses, the pandemic and social distancing have put a hold on events and group meetings. As a result, this created lots of difficulties for businesses, putting many of them on the verge of bankruptcy.
However, these new features from Facebook have helped businesses find ways to connect people while being apart. This would also mean that businesses and creators can make money online.
Similar to selling tickets to your event, Facebook Events at the moment can help you charge attendees to join your Messenger Rooms. Therefore, if you are a small business that depends on face-to-face communication, you will surely get more sales with these new features.
How to host Facebook Live Events for your business Page
There are some simple steps to create a Live Event for your business. Here is what you need to follow:
From your Facebook Page, click the "Event" button.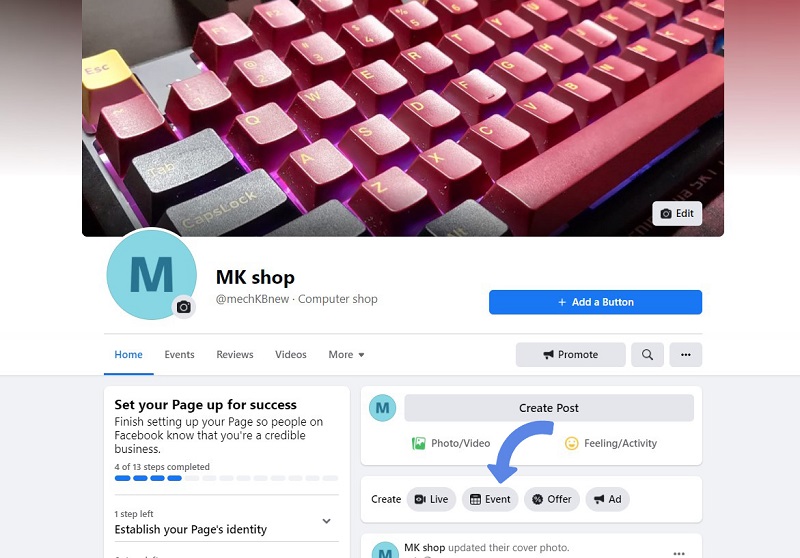 Here, you will see 2 options for your event. You can either choose "Online" for making calls and live broadcasts or choose "In person" for a more 'personal' live event.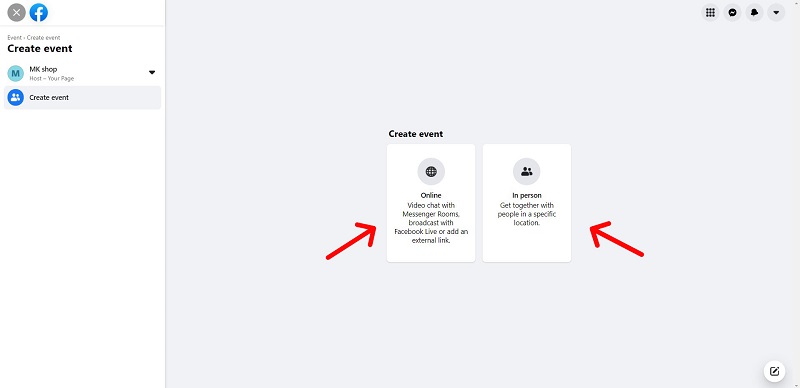 After that, you will be taken to the Event details page. Here, you can change the name and description of your event. Moreover, you can also set the date and time when your event will go live.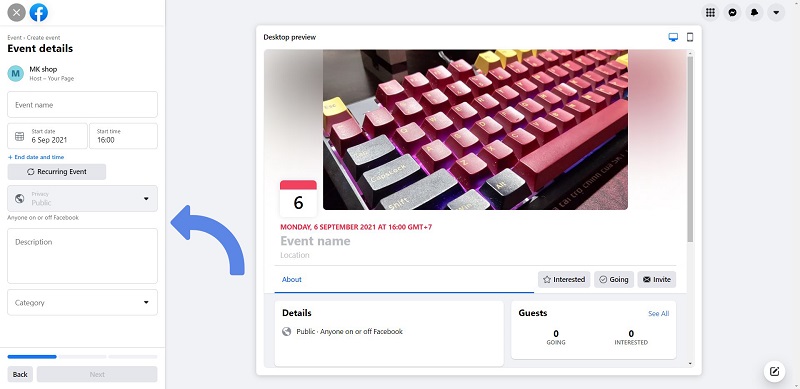 Besides the event details, you can see the preview for both desktop and mobile so that you can know what to adjust in advance.
Once you have filled in all the details, you can click Next to move on.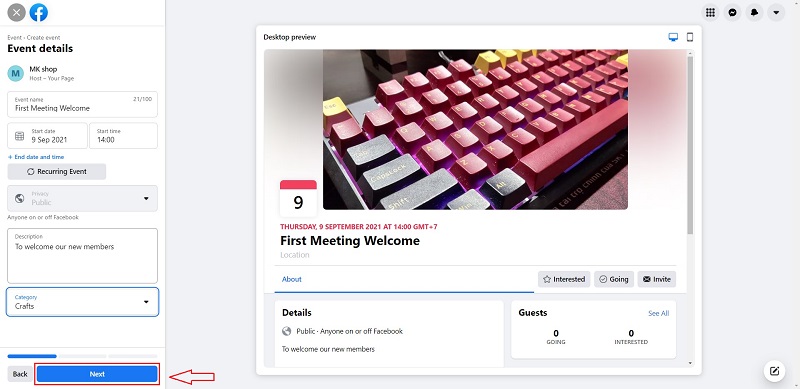 On this page, there is an option for choosing a physical location for people to join your event. However, you can skip this step and click Next if you only plan to go online.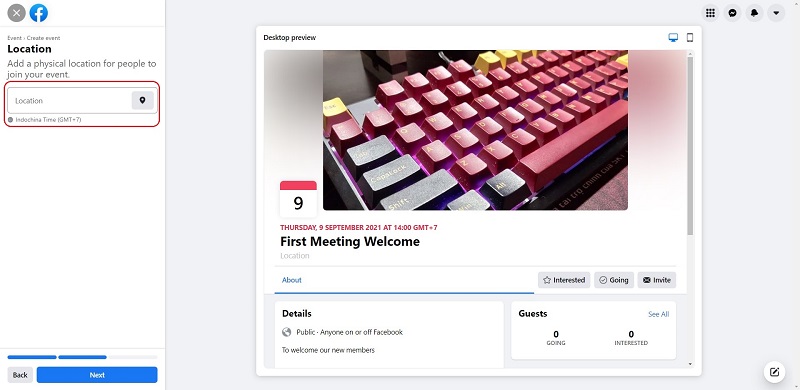 This is the final step of the process. You will be able to double-check for any final adjustment before publishing. Additionally, there is an Event settings option that allows you to decide how your event runs while on-air.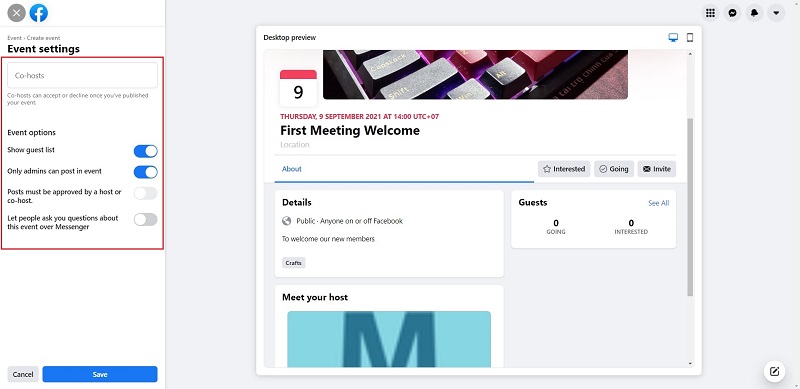 Then, if you are happy with everything, you can just hit "Publish Event."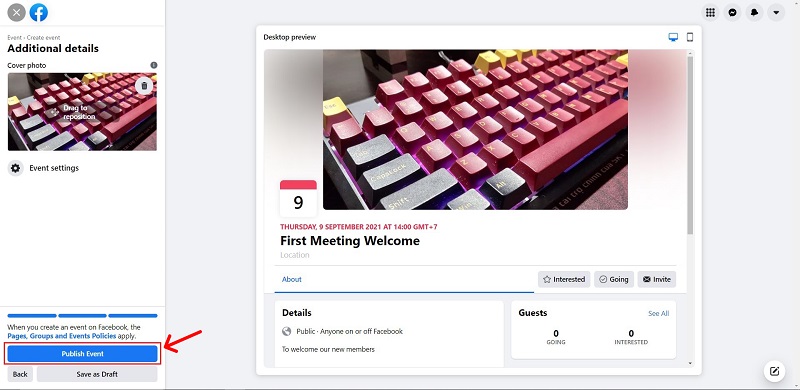 And that's it! Now, your Facebook Event is ready to go live. However, remember to check your broadcast video quality to maintain the performance of the event.
Which business can take advantage of Facebook Live Events?
Being online events, there is almost no limitation to what kind of business can use this feature. However, the best way to utilize it is that your business relies on providing in-person services.
Let's say, you are running a business with a fitness club, but it has been closed since the Covid-19 outbreak. It would be a nightmare to see all your business operations need to stop. This would mean that you are not making any revenue for your business to survive.
However, there is a light at the end of the tunnel with online events from Facebook. You can still organize and host an online fitness training course as a personal trainer. Additionally, you can invite friends of yours to join your event and attract more people on this platform. 
Especially, you can host these paid online events for free. According to Facebook, they will not collect any fee for your paid online events until 2023. Therefore, this is a great opportunity to make some money online and maintain your business during social distancing.
More importantly, it doesn't stop at just the fitness business. As mentioned above, any in-person services, such as cooking classes, dance clubs, online tutorings, and more. Your business can be saved despite all of the difficulties brought by the pandemic.
You can start your first online events for free to attract more new followers on the Facebook platform. Then, you can raise a small fee and start taking things during the event more seriously. In this way, the attendees won't find your fee-charging annoying or inappropriate.
Final Verdict
Facebook Live Events is a great and easy way to bring a community closer. With this tool, you can send reminders to your followers whenever you have something interesting you want to share.
Moreover, this feature allows small businesses and creators to charge their online events, making money on Facebook easier during the pandemic.