With a staggering 86.6% of Instagrammers use Instagram Stories, this feature will possibly bring you huge benefits if you leverage it appropriately. 
That's why in this basic tutorial, we'll walk you through every single thing you need to know about Instagram Stories.
What is Instagram Stories?
Technically, Instagram Stories allow you to post pictures or videos that vanish after 24 hours. You can mix and match these photos and videos with various filters, stickers, and original sounds before you share them with your followers.
The big fat plus about Instagram Stories is that you need no fancy editing skills to get started. All you have to prepare yourself for all the fun ahead? A smartphone. Period!
Thanks to its versatility and low-cost entry, brands could and should handle Instagram Stories properly to promote their businesses.
"How long are Instagram stories?

Instagram Stories have a time limit of 5 and 15 seconds for photos and videos respectively since users view and play them.

If your video exceeds 15 seconds, Instagram will split them into 15-second segments that play after one another.
How to use Instagram Stories?
Viewing
When you open Instagram on your smartphone or tablet, stories from the users you are following will appear on the top of your screen. 
Now click on the stories that grab your attention! Right away, you're on full-screen to watch stories of your favorite accounts. 
Here are some motions to get you started:
Tap on the right or left screen edge to view the next or back story

Swipe left or right to jump into other users' stories

Press in the middle of the screen and keep it still to pause
If you run out of stories to watch or just simply don't want to watch them anymore, swipe down so that you can go back to the main feed.
Choosing who can view your stories: you can set rules on who can view your stories in the stories settings section. You can choose to exclude some users or create a "Close friends" list and share your stories with only those people if you wish.
Replying
Now suppose that you come across a cool story and you want to engage more with that account. Tap on "Send Message", there will be 8 fixed quick reactions for you to choose from. If you're keen on text, type your words down then hit "Send". Want to send a witty gif? Click "GIF" instead of texting and search for the gif you want then tap on it.
However, it's noteworthy that you don't need to reply to anyone's stories. Excessive messages can sometimes be considered spammy.
How to post Instagram Stories?
To create an Instagram Story, navigate to the Add icon at the top left-hand corner of the screen, or swipe right on the left edge of your screen.
Once the camera is open, take a picture or record a video or you could select the images in your album by tapping on the square icon at the bottom right corner of your screen.
After you've added a picture or video, you can use various filters as well as add text and stickers to make your video or picture look much more lively.
How to use Instagram Stories stickers?
Stickers are an indispensable part of the Instagram Stories experience. They allow you to spice up your stories and helps you to add more context to your photos and videos. Also, businesses on Instagram can now add shoppable stickers to their stories to convert more sales.
Moving, resizing, and removing: you can locate your stickers anywhere on your screen by simply dragging them with 1 finger. To make them larger or smaller, expand or pinch them with 2 fingers. To remove a sticker, drag them into the X check box at the bottom of the screen.
How to add a location sticker?
To add a specific location to your Stories, tap the stickers icon (the third one from the right), choose the "Location" option, type in the exact geographic location where your picture was taken then tap on the location you want to add.
To change the color of the sticker into rainbow ombre as I did above, simply tap on the sticker and it will change into another color automatically.
How to add a hashtag sticker?
To include hashtags on your stories, select the hashtag option then type in the hashtag you want to add. Instagram will give you some relevant suggestions, you can pick one or create a totally new hashtag. 
TIP: Instagram hashtags can sometimes do more harm than good! Check out winning tips on how to use Instagram hashtag properly right HERE!
How to add a poll sticker
Poll stickers are a good tool for you to stimulate natural conversation with your followers to keep them engaged. 
To create a poll sticker, choose the effect icon, select the Poll option and you are ready! 
You could use the poll default, Yes and No, or customize it as your preference like the way I did above.
To check who has viewed and voted, swipe up and you'll see the result. You could choose to share this result with your followers by hitting the "Share Results" button.
How to add a countdown sticker
Countdown sticker is also a brilliant way to draw your audience's attention to a big upcoming event. 
To add countdown stickers to your stories: 
Click on effect icon > Choose the countdown option > Name your countdown > Set the exact date and time > Share to your stories
As a business, you could also use countdown stickers to run a FOMO campaign. For instance, name your countdown sticker "exclusive items 50% sales off 3 hours LEFT" then set the countdown to 3 hours.
Reuse countdown stickers: the countdown sticker will stay in your sticker tray to be re-used in future stories till the countdown period ends
Other stickers option
Apart from the stickers we mentioned above, you can also mix and match your stories and make them much more vivid with other options:
Temperature

: add the exact temperature in your area

Time

: add the time when the picture or video was shoot

@mention

: you could also add other users to your stories 

Question

: add your audience a question in a witty way to keep them engage and build a closer connection with your followers

Emoji Slider

: you can add this emoji to see reactions from your followers for a particular thing. This is a good way for brands to boost more engagement with their customers 

Product sticker:

this sticker option is exclusive to the countries where

Instagram Shopping

is available. It allows you to add a link to your product so that when someone views your stories, they can make a purchase right in-app 
Instagram Stories Highlights
Instagram Stories vanish after 24 hours but the so-called "Instagram Highlights" will stick around forever unless you remove them.
To create an Instagram Highlight, open your current stories, tap the "Highlight" icon at the bottom left corner of your screen. You can add your stories to the existing highlights or create a new one. 
Additionally, if your stories have vanished, you can go find them in the Instagram Archive and pick the stories you want to bring back to life.
Instagram Stories Ideas for your business
If you are a normal user who has a presence on Instagram just for mere entertainment purposes, you can post stories whenever you feel like it.
However, things are not that simple for business Instagrammers. To be a pro at Instagram Stories requires you to define an appropriate strategy and embrace proper Instagram Stories ideas.
Here's how you can up your Stories game!
Build more personal connections with your followers
Don't try to make your photo look like a flawless magazine cover or make your video look like a Hollywood movie teaser. Instagram Stories are petty much like the backstage of your Instagram where you build a 1:1 relationship with each of your followers.
Thus, you should use your authentic images or videos (of course in good quality), add funny stickers, and trending original sounds and ask your followers questions. By doing that, your stories will blend in their stories queue like a hilarious piece of content from their friends.
According to our observation, plenty of brands have a Q&A Instagram Highlight to build engagement with their customers.
Utilize Instagram Stories Ads 
Do you know that there are 4 million businesses using Instagram Stories ads monthly? This figure is staggering, yet not surprising considering the huge beneficial aspects Instagram Stories Ads bring about.
Since ads on Stories give brands a golden opportunity to create full-screen experiences to engage with their target audience. Plus, these ads run in between users' stories, they blend in like content from a friend; thus, appearing to be more trustworthy. 
Out of 1 billion active users, 40% of them are loyal to the Story feature. That's why apart from running in-feed ads, never neglect Instagram Stories to grow your audience.
Create Instagram Stories AR Filters
First thing first, let us elucidate real quick what Instagram Stories AR Filters are! To put it simply, Augmented Reality (AR) Filters are computer-generated virtual effects that are used to layer over normal pictures or videos displayed by smartphone cameras.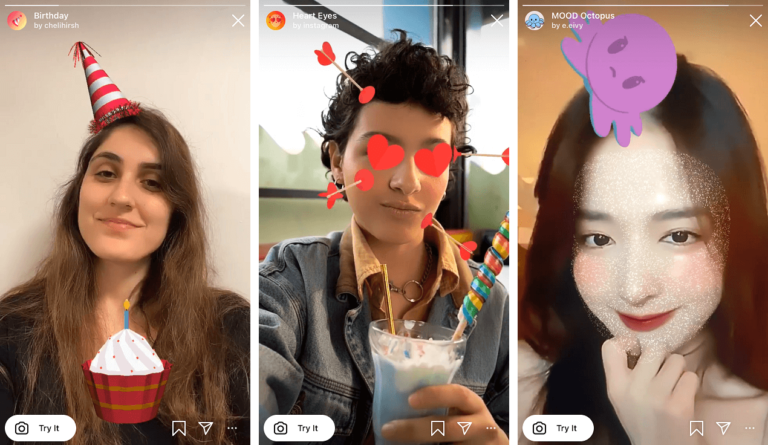 Instagram Stories Augmented Reality Filters are a revolutionary marketing tactic that you should plan on right now! Why is that? That's because when you create your Instagram Stories AR Filters, your brand name will get attached to those filters. And when those filters go viral, your brand name goes viral too!
Hold on! That sounds tempting but How? Here are some quick tips:
Create a filter for your products so that people can try the products on their selfies
Go for a fun & engaging filter
Create a filter related to hot current events
Post One to Seven Stories per day
According to several studies, the optimal frequency of your stories posting shall be from one to seven each day to keep a high completion rate. For your info, the completion rate is the number of stories that are watched from the first to the last story frame within 24 hours.
Apparently, if you post from 1-7 stories per day, more than 70% of your followers will watch every single story of you.
Nevertheless, there are still a lot of Instagram brands that post more than 7 stories per day and can still manage to receive a high completion rate. So if your content is top-notch and out-of-the-box, it's alright to post more than the recommended number above.
Post Stories at optimal times
Instagram Stories appear on the top of the newsfeed, however, they only stay there for 24 hours. Thus, it's important to select the optimal times so that your stories have the largest reach.
Though there are no fixed perfect hours for posting on Instagram, on average, the ideal hours to publish your stories are 4H-6H; 12H-14H, and 20H-22H.
Instagram Stories analytics
Now that you've posted a whole bunch of engaging Instagram Stories, the question is how to improve your stories?
Well, as the saying goes, you cannot improve on what you don't measure, so remember to take a look at your Instagram analytics to know whether they're high-performing or not!
Check who's seen your stories
If you want to have a quick glance at some basic analytics of your Instagram Stories, swipe up and you can check how many people have viewed your stories and who they are.
If your stories have vanished, check them immediately by navigating to Instagram Archive. However, be noticed that the viewer list and viewer count are not accessible in the Archive after 48 hours.
Creator Studio Insights
If you are not satisfied yet with the basic info above, you can now connect your Instagram accounts to Facebook Creator Studio to take a closer look at the Instagram stats. It will give you more in-depth statistics about your 
Navigate to Creator Studio, pick your Instagram account then open the Content Library tab. This section will give you more in-depth insights about your Instagram posts ranging from IGTV, Instagram Reels, and of course, Instagram Stories.
Now you can view data such as impressions, replies, and clicks per post for every single story of yours.
Conclusion
In all and all, Instagram Stories are a super versatile tool for any marketers in their game to conquer the Instagram marketing strategy thanks to the platform's diverse effects, stickers, original sounds and so many on. Thus, we might assume you'd love to read our completed guideline on Instagram Stories for business.