The latest version of Socialshop V2.0 & Socialhead Account is coming on December 22nd, 2020. 
This update will continue our one and only mission to empower SMBs and support them to grow sales better across channels.
As always, in each Socialshop new version, we offer our valued merchants several new features that surely support you a lot in your social commerce businesses on social selling channels.
Let's check out what's new and what benefits you can gain.
We introduce Socialhead Account to you. This is an account that will centralize all your  Shopify stores under one control across our 4 apps.
For new users, you are asked to create a Socialhead Account for the first time when you use our apps.
For our current users, you are requested to create a Socialhead Account right after we finish updating Socialshop V2.0.
To create a Socialhead Account, all you need is an active email/ Facebook/ Google account. Once you successfully create your Socialhead Account, you are able to activate it right away.
Socialhead Account allows you to switch Shopify stores easily and fast just by clicks when using Socialpublish, Socialreply, and Socialwidget.
This will enable you to fully use our apps for all your multiple stores without jumping in and out like before.
Socialshop V2.0: Multi Stores In One Place Only
Add & manage multiple Shopify stores
In Socialshop V2.0, merchants can not only add multiple Shopify stores but also manage all of them in Source Management. 
By adding multiple stores, you can import or filter products from different sources and sync them to Facebook shop & Google Shopping seamlessly.
This feature proves supper convenient and helpful for those merchants who are having more than one Shopify store. 
To add stores, you go to the Source Management in Socialshop and follow instructions.  
New Dashboard
Socialshop V2.0 will have a brand new dashboard with three useful sections for merchants.
What's new? 
Merchants now can stay up-to-date with the latest social commerce information, tips, and product updates from Socialhead right in Socialshop. 
Video Channel
All the latest videos including tips, tutorials, etc from Socialhead will be updated in Socialshop V2.0 in this section.
Tutorials & Support Guides
Merchants especially new ones have no more difficulties in understanding and using Socialshop anymore since we already have a very detailed and clear Tutorials & Support Guides section.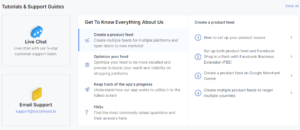 With this, merchants will get to know our app better and apply the functions more efficiently to their businesses. 
If you have any questions or difficulties, please contact our proactive support team via Live-chat or support@socialhead.io. For more information about common questions or problems, you can visit our FAQs.
Please note! Our 4 apps will be under maintenance within 2 hours from 10:00 AM to 12:00 AM on December 22nd, 2020. 
Get Socialshop V2.0 for FREE on Shopify App Store or on the Socialhead Platform.
Don't forget to follow us on Facebook, Instagram, Twitter, Linkedin & Youtube.