In 2021, visual is surely one of the main factors to boost conversion rates for your store. Indeed, high-quality product images can drive up to 3 TIMES engagements compared to poor ones, which later, can bring in more sales and revenues to your business. 
Knowing the idea, we're bringing Feed Image Optimization feature in Socialshop version 3.2, to help improve your store's Visual Shopping Experiences and grow more sales opportunities just by clicks. Now let's dive in!
The importance of Visuals to your business
While doing offline shopping, customers can easily see the items in real life, touch them, and look closely into every aspect to make sure they make the right buying decision. 
Though customers won't be able to touch things while shopping online, they will always find more information through your images provided. So if you want to convert more buyers, optimizing product photos is a MUST.
Images allow customers to "virtually-try-on" products.

High-quality visuals help your products stand out from the competitions.

Nice photos catch your customers' attention easier than just text.

Maintain a consistent visual standard across all your product catalog to increase brand awareness.
…
There are more benefits of improving your product images on shopping channels, and Socialshop can help you do it in clicks!
Convert every customer with Feed Image Optimization
#1. How to start using Feed Image Optimization from Socialshop
To start crafting high-converted Feed Images, simply go to Socialshop > Feed Image Optimization > Create.
After that, a window will show up. Here, you can name your Batch (batch names are changeable) and choose the feed that you want to optimize the product images in it.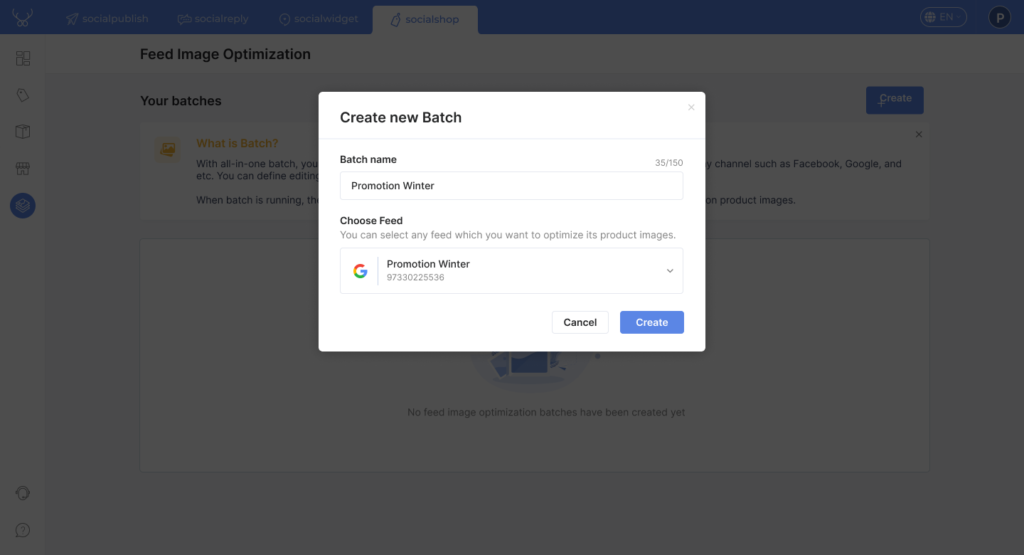 Please be noted that your selected feed is currently active and you didn't disable it on your Feed Center.
#2. Include products for Feed Image Optimization
After choosing the feed, you'll be taken to the setting page. In order to specify your modifications and make sure your feed images target more precisely on marketplaces, you can include your products manually or by conditions.
After finishing all your settings, click Save.
#3. Schedule feed images updating time.
Socialshop allows you to set up your image-editing time period across shopping channels. Just simply choose your wanted Start Date and End Date for once, then later your feed images will be updated all-automatically.

However please be informed that each schedule can only apply to each batch. This is to help you target different image batches to different audience types. After that, click Save to go to the next process.
#4. Add actions to edit your image batch
We enable you to use various image editing tools in the quickest and easiest way possible, even if you have just little to zero design skills. Just choose your actions and start clicking!
Crop:

Choose to crop your images with a fixed or custom ratio. Then select your ideal orientation and focus point for the crop. Please note that you can move the cropped area by mouse on your right window.
Resize:

Re-adjust your image sizes by different methods: percentage scale, width, height or an exact number. Also, you can choose a background color for transparent areas after resizing.
 

Add pic:

You can add a picture on top of your feed images, perhaps a logo pic just like mine. Then easily set up the opacity, repeated style, span and position for that picture. Multiple pics are possible.
Add tag:

A colorful Sale Tag can draw more attention on marketplaces. Just choose your templates, then edit tag content, size, opacity and position.
Add text

: Content on your images is also a great way to attract customers. Socialshop lets you adjust text content, font, color, style, alignment, size, opacity and position to be more stand out.
Frame:

First choose your frame template, then tap into it to start editing frame-fitting mode and the contents.
#5. Preview your batch on different channels.
After designing your own batch, click Save to see how well it will be displayed on shopping channels. We've prepared multiple channel-feed options, to make sure your image editings look best in every place.
Try Socialshop version 3.2 right today!
Before crafting your best feed image batches, be sure to have a look at Images specifications from Google Shopping and Facebook Shops, to avoid violating any rules from the platform. 
If you have any concerns about the features as well as pricing plans, please contact our Customer Support team via in app live-chat or email support@socialhead.io. And for better conversions, Socialshop is always here to help!