How many times did your product feeds get disapproved statuses from sales channels? How to improve your product advertising performance to convert better? 
We got your back from now on! 
Meet Socialshop V3.4, where you can easily optimize your product feeds for the best selling results on Shopping Channels. 
In this version, we're bringing data-specific recommendations to your feeds, which also helps simplify your products' submitting process and avoid data field errors to the max. Let's find out in this article.
Why optimize your Product Feed Data?
Product advertising is sure to be costly. Though you might still reach your audience goals, why not just tailor your data for a bit more to increase ads effectiveness?
Sales channels like Google Shopping or Facebook Shops, will show your adverts more frequently, if your product data related to users' search.
Which is true. In the context when Shopping Channels decide to show your products in customers' search results, which means your fully optimized product data has shown the efficiency by itself. 
Product data feed is the core to your Shopping Ads success.
Your product feed is the key to everything. So it should be the first thing you should take care of before running your listing ads campaigns. After all, you can't run product ads without the product, isn't it?
Socialshop's Product Scoring increases your visibility.
Modifying product data might be difficult, but nowadays we have tools to cover all those technical steps. 
You can either jump in and out to Google data specifications to make sure your fields are correct, or just stay in Socialshop and use Product Scoring instead (which could save you nearly 70% of time hopping around).
For your best-performed shopping ads campaigns and search ranking displaying results, let's build a set of high-quality data fields with Socialshop.
How to enable Socialshop's Product Scoring?
First, go to your Feed Center >> click on the Feed that you want to optimize its products >> choose the 'Score' tab right next to 'Detail'.
In the 'Score' tab, we've pulled out all the required attributes based on each platform's rules. Please be aware that each platform will have different requirements as foundation:
For Facebook Shops

: Title, Description, Category, Type, Brand, Images fields are required.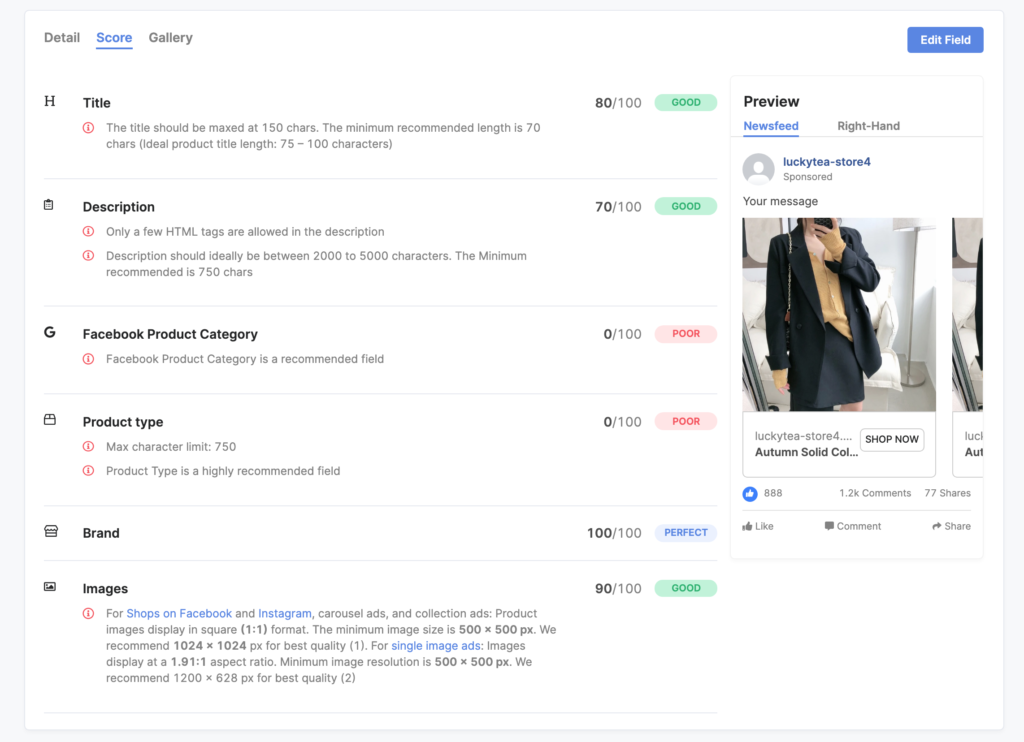 Google Shopping

: The platform requires basic fields of Title, Description, Category, Type, Brand, Images and GTIN.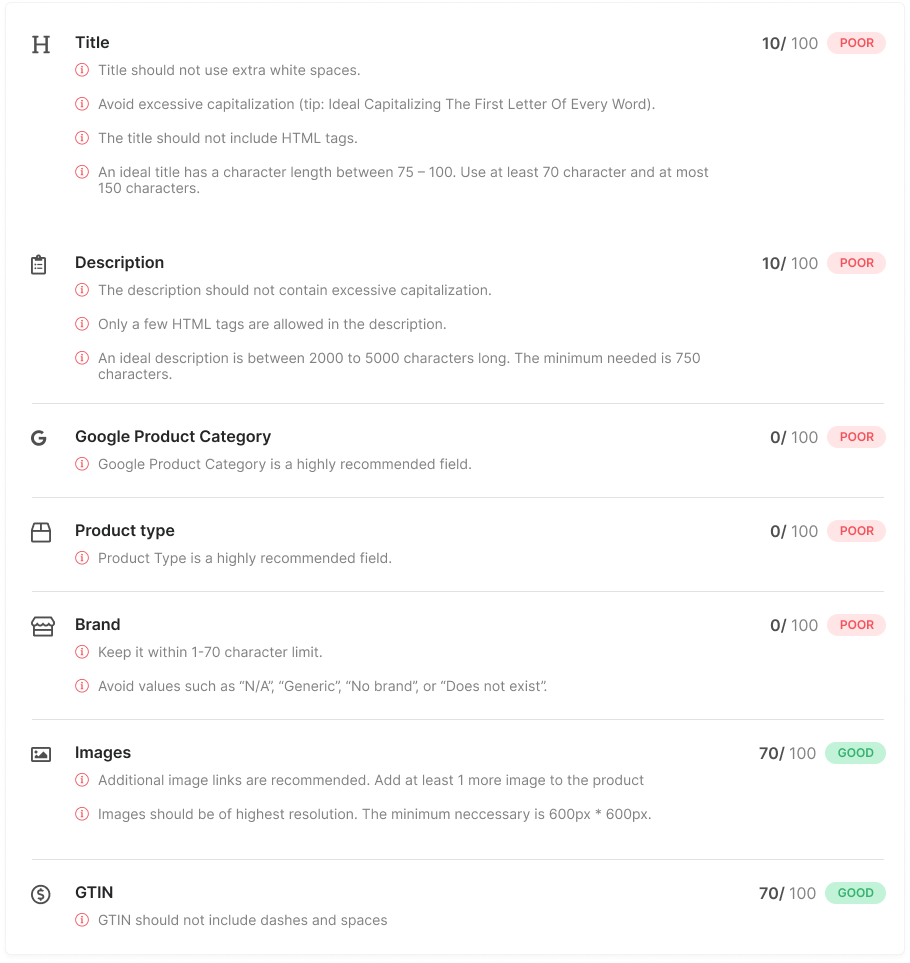 How Does Socialshop's Product Scoring Work?
We've assigned a score of 100 to each of your products. These scores are based on Google and Facebook's recommendations for your best product data qualities.
The better your product's score is, the more likely it is to show effectiveness on shopping channels' ads. 
How To Real-time Edit Product Data For Better Score?
From your 'Score' tab, click Edit Field. A list of your attributes' scores will show up here. 
From each field, you can choose to View full analysis to see a list of specific recommendations that we've detected for your higher quality product data. 
While modifying your content, the score will start to adjust immediately in real-time. After you're done editing, click Save and Socialshop will auto update these fields back to the sales channel.  
Will This Affect Your Shopify Listing?
All the edited fields will only be available on the target channels, they won't affect your original attributes from Shopify.
You can always reset all the values back to your current Shopify fields at any time.
Can We Trust This Whole Scoring Thing?
As we've talked about in the previous parts, these scores and suggestions are based on data fields specifications from each marketplace, so they're definitely trustable and can also help with SEO.
However, please note that:
Our system can only detect

formatting

errors, not responsible for proofreading, grammar or spelling mistakes.

Depending on the channel's specifications, some of your media will be marked at

'Fail'

, this won't represent your current images' quality.

"Should I Keep Improving The Score Even Though The Product Has Been Approved?"
A higher score means a higher chance for your product to show up on more search results. 
If you want to increase your advertising effectiveness, you might want to provide more accurate and relevant data. Only a few adjustments to reach more audiences and sales, so why not?
Furthermore, we also enable you to see a preview of your products in different advertising formats, to guarantee your best displaying results on each channel.
Localization is here to help you target the masses!
From this version of Socialshop, you can build a set of "country + currency" to convert customers easier on different markets.
In order to do this, just go to Feed Center >> click in a Feed >> choose 'Localization' tab >> scroll down to see the 'Convert currency' section. 
For Facebook Feeds
Multi-currency and multi-country are available for feeds on Facebook Shops. You can create different sets according to your needs. 
Accurate currency conversion for your product feeds will help customers find and purchase your items easier. 
Please note that you can only apply 1 currency code per country, also all the settings will be auto-updated on your next syncing schedule. 
For Google Shopping Feeds
Unlike Facebook Shops, Google Shopping only allows you to set 1 language and 1 currency per feed.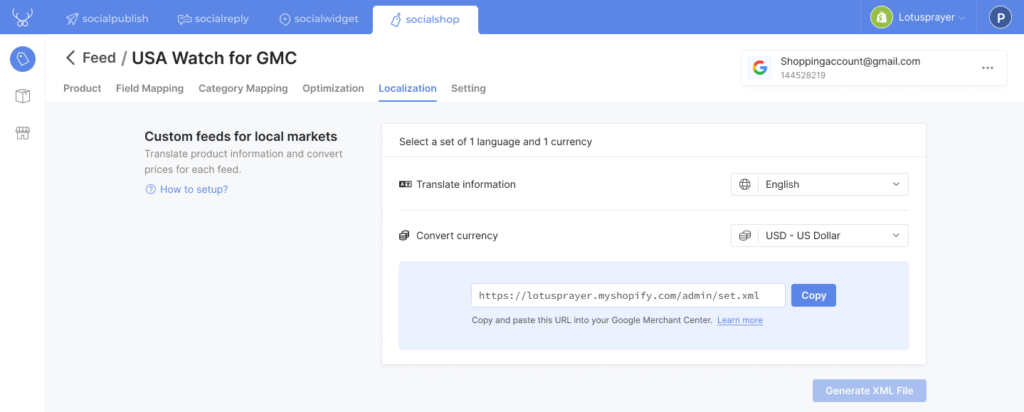 After selecting your language and currency, a market-ready XML file URL will be generated. You can paste this URL into your Google Merchant Center feed. 
Get Socialshop V3.4 for your best ads performance.
For sure there will be other ways to improve your advertising conversion or increase visibility on shopping channels. But still, the most basic and important thing that needs to be optimized is always your product data.
Get Socialshop right today, try the function, and let us know if you have any concerns via Live-chat or email. You know that we will always be there for your needs.