In a retail outlet, your customers can see a shirt with their naked eyes and touch it with their bare hands before making a purchase. Sadly, when shopping online, all they can experience is looking at your product images via cold smartphone screens. Therein, feed image visuals are of utmost importance!
We genuinely get that and have been working non-stopping so you can display the greatest image feeds to convert more sales. Thus, we're now proud to release Socialshop V3.5. In this version, we improve on our feed image optimization with a small but powerful update- the 'Affine Clamp' technology to let you resize product images like a PRO!
Why Resizing Feed Images with Affine Clamp?
Facebook and Google product image specifications are tricky. When merchants crop their feed images, some important features of the product can be left out- which ruins the product' appeal and thereby decreases conversion rate. 
Struggling with the same issue? We got you covered with the Affine Clamp effect, which clamps the edge of your original images then extends outwards to fill in remaining space.

See how cool it is? With this small update, you can make these huge improvements on your feed images:
Resize your images in a single click to meet

Facebook

and

Google

product image specifications without cropping or distorting them

Blur your image background without a soft, black fringe along the edges

Embrace image size consistency for your Facebook Shop & Google Shopping

Enjoy high-converting feed images
How to perfect your Feed Images with Socialshop's Affine Clamp?
Let us show you how easy it is to get hands-on experience with the Socialshop's built-in Affine Clamp effects to resize your image like a pro!
#Step 1: Create batch
Firstly, log in to your account, on the main dashboard, navigate to 'Feed Image Optimization' > hit Create.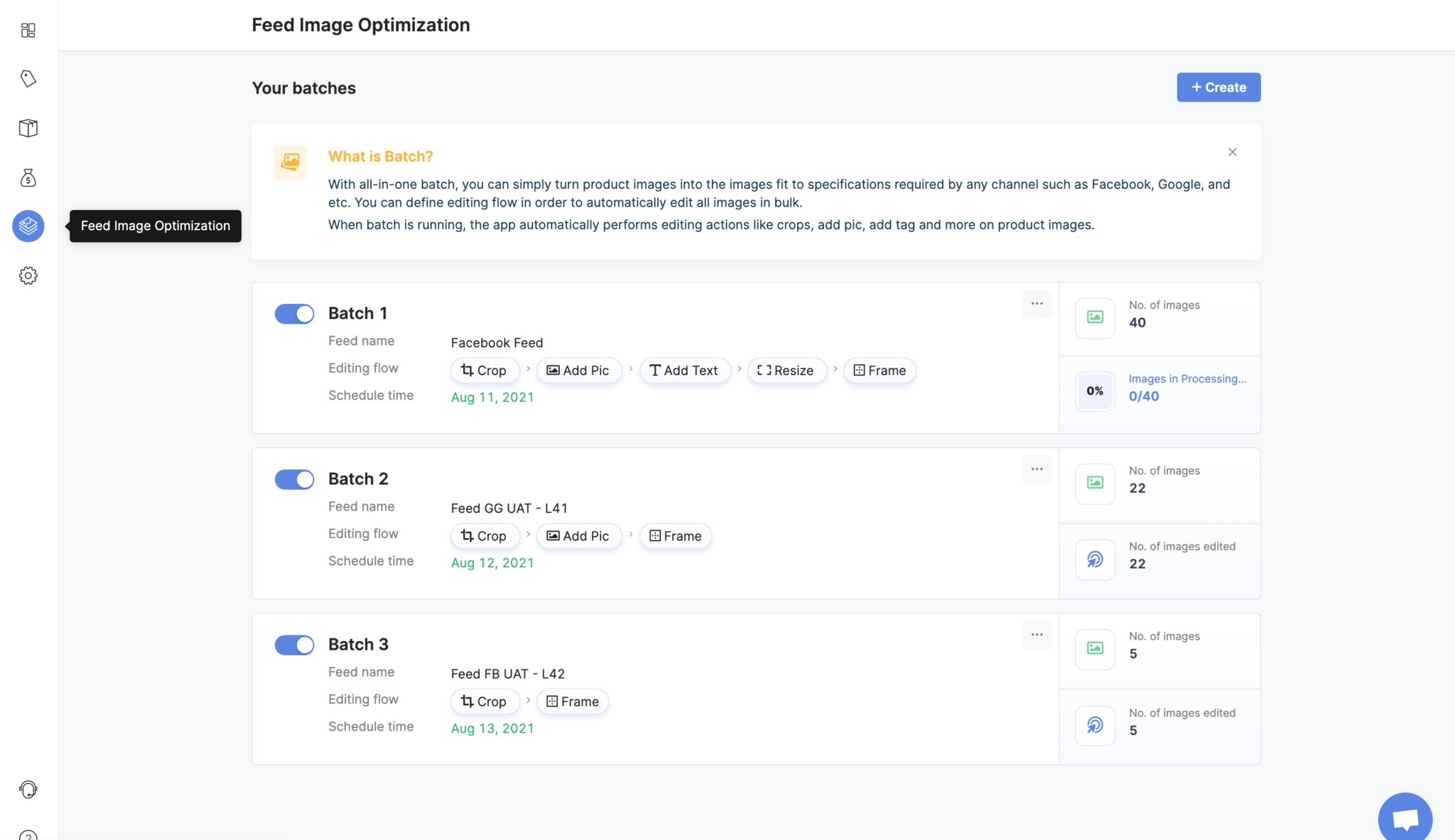 As a pop-up like below appears on screen, enter a batch name and select the feed you want to optimize product images in it.
#Step 2: Filter the product feed
If you want to optimize all the product feed images in your selected feed then you can skip this step. But if you only want to optimize only some specific ones, you can always select them manually or by rules.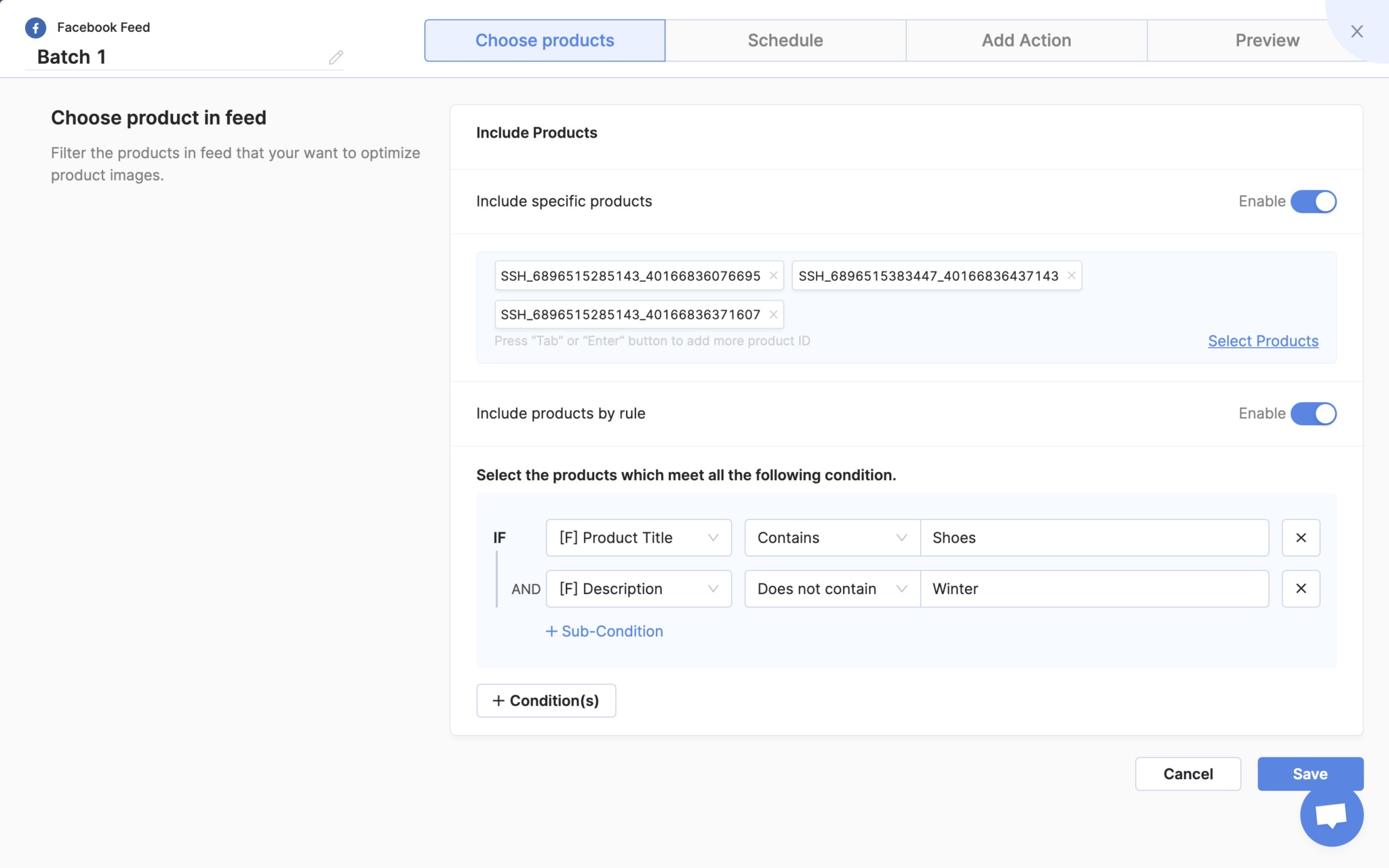 After you're satisfied with your carefully-picked product feed, don't forget to hit Save.
#Step 3: Schedule 
Next, go set up a schedule for your product images to be updated automatically. 

Hit Next to jump straight into today's main course!
#Step 4: Resize your feed images with Affine Clamp Effects
Now that you're on the 'Add action' stage, navigate to Resize. Therein, select resize by 'Exact Size' option > type in the exact width and height you want to resize your product images.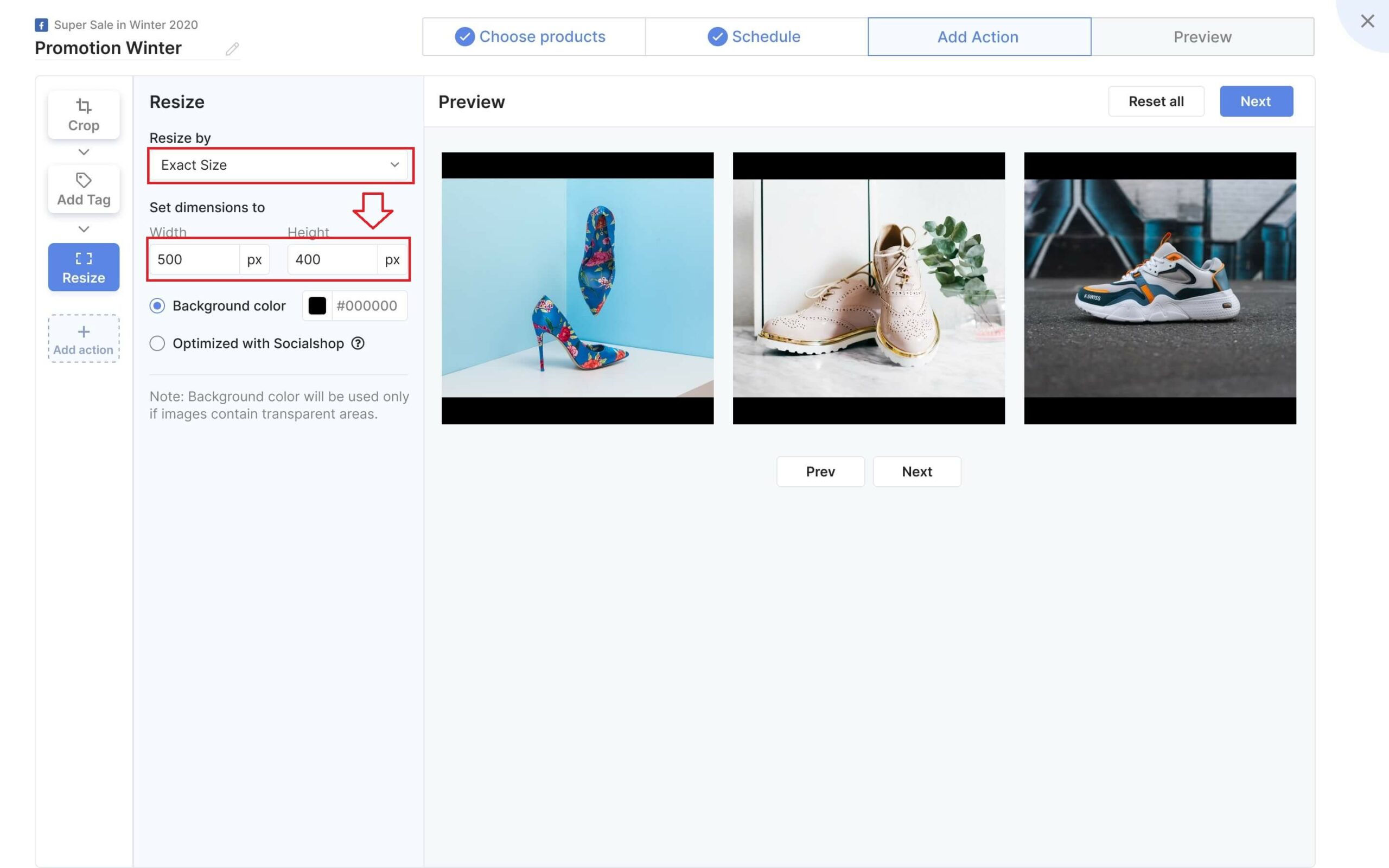 Select 'Optimized with Socialshop' to apply the Affine Clamp effect on your feed images: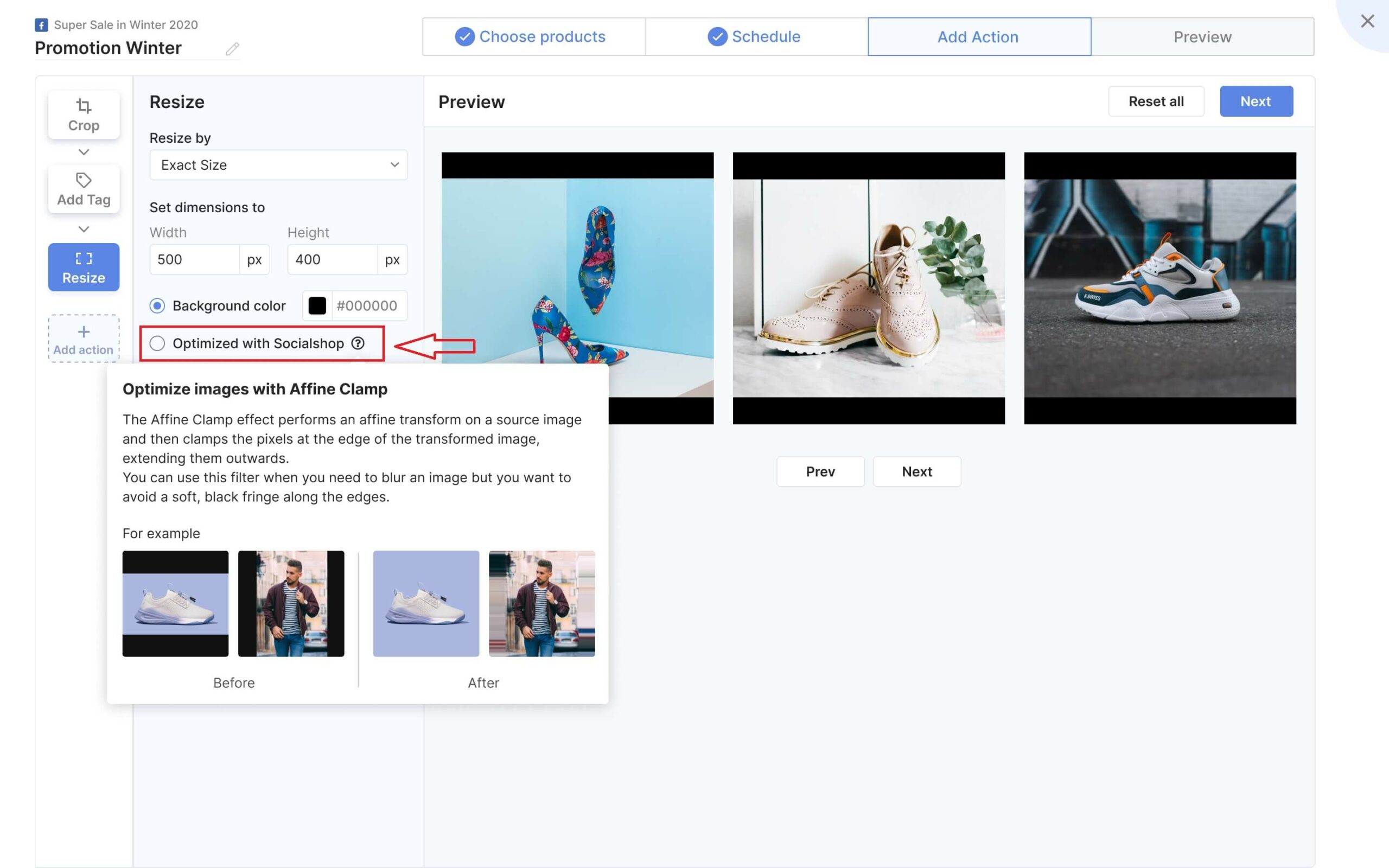 Here comes the result. All your product feed images have got their edges extended outward to fit in the exact 500 x 400 dimension you put in aforementioned.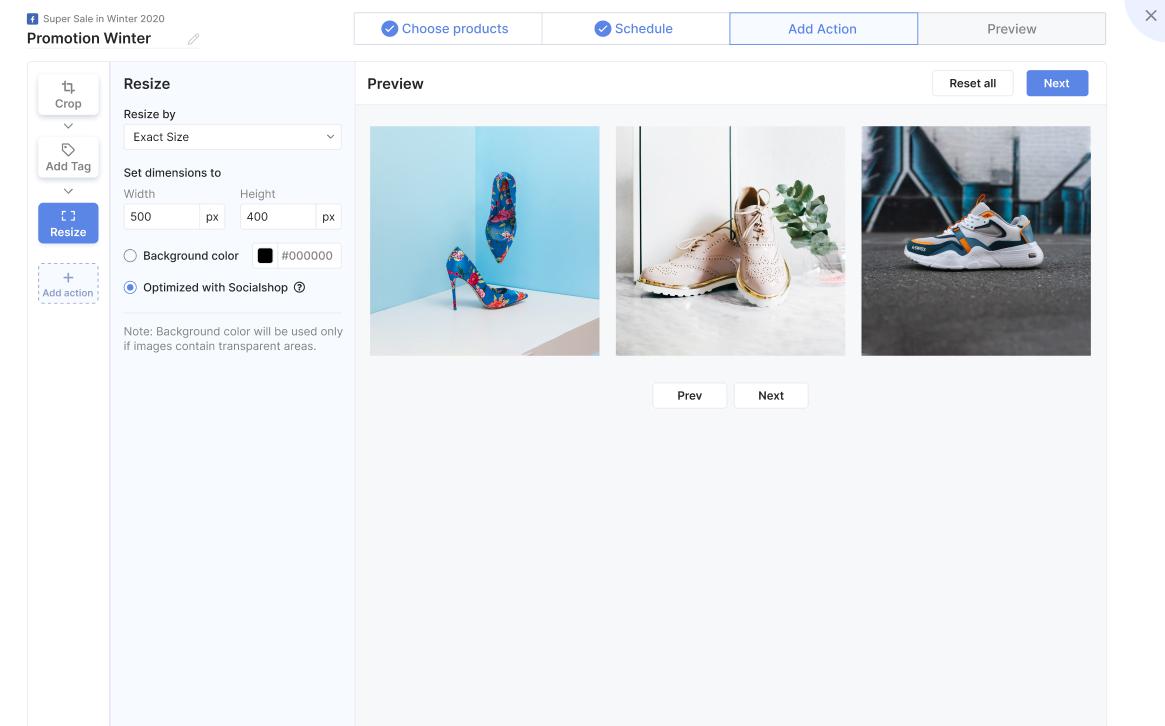 Try Socialshop V3.5 for Higher Conversion Today!
Well, apparently that's everything we're going to offer you on this latest version. Should you have any concerns regarding our features or pricing plans, do not hesitate to reach our devoted customer support team via support@socialhead.io.