You've heard of Shopify and are now wondering whether it's the right eCommerce website builder you're looking for? Well, you're on the right article! In this Shopify review, especially Shopify Pros and Cons, we're going to walk you through everything you need to know about Shopify- from its pricing plans, and interface to its themes & apps and its 10 core features.
What is Shopify?
Shopify is a well-known website builder platform that now accommodates +1 million merchants. 
Shopify was initially built to serve small-to-medium-sized businesses. But after years of constant development and improvement, Shopify now caters to businesses of all shapes and sizes, from family businesses who just want to add a 'Buy' button on their blog to enterprises who aim to expand their empire to foreign shores. 
It's not by accident that it gained such massive popularity. However, that doesn't prove Shopify's a one-size-fits-all solution. 
In this Shopify review article, we'll show you all the pros and cons of Shopify so that you can weigh them and come up with your final verdict.
How does Shopify work?
Before diving into more details, we want you to know the concept of Shopify first.
To put it simply, Shopify is an eCommerce web hosting and you pay a monthly fee to use it. And this fee varies depending on which plan you subscribe to (we'll discuss it shortly). 
For a specific plan you subscribe to, you'll gain access to the admin dashboard and an eCommerce toolset. You can then add products, launch, run, and optimize your online store from scratch.
Who do we recommend Shopify for?
We don't want to waste your time so keep reading our Shopify Review if you either:
Want to build your own eCommerce website but are not have a technical know-how

Need an eCommerce web hosting with great sale features

Just want to test out the water (Shopify offers a 14-day free trial without credit card info)

Want to multi-sell on other sales channels like Facebook, Instagram, Amazon, eBay, Walmart, etc.

Don't mind investing in apps to boost your sales

Want to launch your drop-shipping business 
Still can't decide whether Shopify is a Yup or Nope for you? It's okay, perhaps you'd love to know more about Shopify's main features and all the costs associated with it before making your decision. 
So here we go! Let's get straight to the point with all the bits and pieces you need to know about Shopify!
Shopify pricing review
To decide whether to buy something, it is its price we're going to look at first. That's why the very first part of this Shopify review will be all about how much Shopify may cost.
The good news is Shopify has various pricing plans that cater to businesses of all shapes and sizes. So you don't have to worry about such a thing as overpaying.
First thing first, Shopify offers a 14-day Free trial without taking credit card information. That means with just an email, you can test out the water with your free account for 2 weeks before picking one of the plains below:
Shopify pricing summary
Shopify Lite

– $9 per month 

Basic Shopify

– $29 per month.

Shopify

– $79 per month.

Advanced Shopify

– $299 per month 

Shopify Plus

– custom pricing 
💡 According to Shopify Pricing Strategy, you'll
save 10%
if you choose to
pay annually
and up to
20% bi-annually
.
Shopify has 3 main pricing plans- Basic Shopify, Shopify, and Advanced Shopify. These consist of the core eCommerce features Shopify is now offering such as adding unlimited products, cart recovery tools, email marketing, social selling and so many more! 
In addition to that, you have 2 other options to choose from:
Shopify Lite

allows you to set up your product catalog to sell on your previously built website with a 'Buy' button instead of building everything from scratch

Shopify Plus

, by contrast, is a plan particularly designed for enterprise-level stores with exclusive features, integrations, multi-currencies, and top-notch customer support
❗ Want to build a more functional store? You then have to factor in
application costs
. Or if you want to sell in-person with
Shopify point-of-sale
, prepare to spend some more! (we'll discuss these two later).
Key differences between each Shopify plan
The Shopify pricing plans above all offer core eCommerce features you need to launch your business. You can add unlimited products to sell, win back customers with cart recovery or expand your sales channels to social media, and many more.
However, there are reasons that one is willing to pay for Advanced Shopify which costs ten times higher than Basic Shopify and three times higher than Shopify. 
Here are the key differences between Shopify pricing plans we summarised from the video above for you:
A separate store:

: with Shopify Lite, you don't have a brand-new website with a shopping cart. Instead, Shopify Lite integrates with your previously built website and allows you to add the 'Buy button' on that website

Staff accounts:

the higher plan you pay, the more staff accounts you can add to your Shopify administration dashboard and Shopify POS 

Payment & Transaction fees:

these fees get lower with higher tiers (we'll talk in detail right below)

Inventory Locations

: assign your inventory to your existing retail stores, warehouses, or wherever you store your products. Of course, the higher plan you pay, the more locations you can assign 

Shipping Discount:

the more expensive the plan is, the higher discount you receive from DHL Express, UPS, or USPS

Reports

: you have to upgrade to Shopify for the standard report and Advanced Shopify for in-depth analytics

Global selling:

as you go up the pricing ladder, you'll unlock more global selling features such as setting country-specific domains or customizing product prices for different nations
👉 Want to dive deeper? Check our blog on Shopify Fees and All of Its Expenses You Need to Know for better reference and understanding.
Shopify payment and transaction fees 
Remember to factor in the payment and transaction fees you have to pay anytime a sale is triggered.
The higher your pricing tier is, the lower these fees are for you. Here is a sneak peek of these fees that are currently applied to Shopify's 3 main pricing plans:
 Basic Shopify
($29/month)
Shopify
($79/month)
Advanced Shopify
($299/month)
 Shopify online credit card  rates

 2.9% + 30¢ USD per transaction

 2.6% + 30¢ USD per transaction

 2.4% + 30¢ USD per transaction

 Shopify In-person credit  card rates

 2.7% + 0¢ USD per transaction

 2.5% + 0¢ USD per transaction

 2.4% + 0¢ USD per transaction

 Transaction fee if not using  Shopify Payments

 2.0% per transaction

 1.0% per transaction

 0.5% per transaction
There are two ways to accept payments. The first one is using Shopify Payments, which is the least expensive way. 
💡 Shopify Payments is the payment default for your store while
Shop Pay
is an accelerated check-out solution to speed up your customers' checkout process.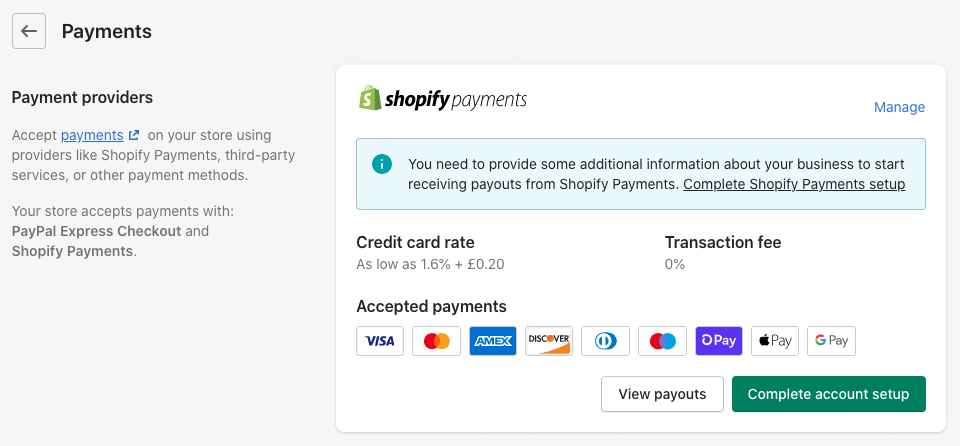 This is because, with Shopify's in-house payment gateway, you can get rid of the transaction fee. However, you still have the online credit card rates to pay for anytime a sale is triggered, 
Want to use another payment gateway other than Shopify Payments? Bear in mind that you will have to pay an extra additional fee from 2.0% to 0.5% per transaction.
Unfortunately, Shopify Payments is only available in the specific territories below: 
Australia

Austria

Belgium

Canada

Denmark

Germany

Hong Kong SAR

Ireland

Italy

Japan

Netherlands

New Zealand

Singapore

Spain

Sweden

United Kingdom

United States (unavailable in the US, except for Puerto Rico)
That means if you reside in another place other than these areas below, you must bear an additional transaction fee! 
Furthermore, see the in-person credit card rate? This is the fee you're expected to pay when you process offline payment at your brick and mortar store (we'll discuss this later)
Now that we've just finished talking about Shopify pricing plans, let's take a closer look at Shopify interface, themes, and its core features.
Shopify's interface review
Since the plurality of online store owners is not tech-savvy, the first thing we want to look at in this Shopify review is Shopify's UI design. 
Well, the learning curve still exists if you want to go extra in mining Shopify's advanced configuration with custom CSS. But compared to other web builders, Shopify's interface is surprisingly simple and users can maneuver anything smoothly from their admin dashboard.
Compared to Shopify alternatives such as BigCommerce, WooCommerce, or WordPress and Magneto, Shopify's interface is much more intuitive and straightforward. 
You have a navigation bar on the left-hand side and the main screen on the right to edit and customize everything from your products, sales, marketing features to discounts and applications. 
In fact, nobody wants to waste their already limited resources overcoming technical hassles or cashing out for pricey developers. Therefore, a beginner-friendly interface is Shopify's big fat plus. 
Shopify themes review
Online business is so crowded with millions of websites out there. Thus, it's not exaggerating to say that your visual storefront is the most important asset on the Internet since it is the first thing your customers see and form their first impression of your business.
A messy, clumsily-designed website will scare your potential customers away. So in this Shopify review, we'll let you know whether Shopify themes are beautiful, mobile-responsive and how many free themes you'll get. 
Where to find Shopify themes? 
Shopify categorizes all the themes from free to paid ones into different industries so that merchants could find the one best suits their needs and budget. 
Unless you're high-maintenance, the 10 free themes Shopify offers should be more than enough since they are sleek, versatile, and more importantly, super responsive on all devices. 
Here's how a free theme offered by Shopify looks like on mobile screens:
If you want to gain more control over your store's look and feel, it's a no-brainer to invest in one of Shopify paid themes in the Shopify Theme Store.
What we truly love when browsing themes on the Shopify Themes is that they offer such a powerful filter so that you can pick out the ones designed to tailor specifically to your needs. 
This includes browsing themes by:
Price

– free or paid

Catalog size

– large or small

Industry

– electronics, F&B, pet supplies, toys, beauty, etc.

Layout

– minimal or content-rich
Or you can also find your Shopify's dream themes on other reliable sources such as Themeforest or Templatemonster.
You can rest assured when finding a theme from the sources we recommend above since most of them are well-documented and easy to configure with great support from theme developers.
👀 Maybe you'd love to explore more about:
Customizing Shopify themes
The Shopify themes in the sources we recommend above should be cool enough. But if you want to get more control over your theme look and feel, you need to edit your texts, rearrange visual elements, add products, etc. 
Now let's take a closer look at each part of your theme editing layout! 
See a drop-down menu on the top middle position? This is where you can choose which page to customize, from the homepage, collection page, product page to blog, etc. 
The Shopify theme editing interface is divided into two main parts, right below is the navigation sidebar, where you can navigate to all the sections and blocks to edit text, add your branded logo, add your image, or video, etc. 
For instance, this is how I can edit the image, heading, text, etc of a visual element on my homepage.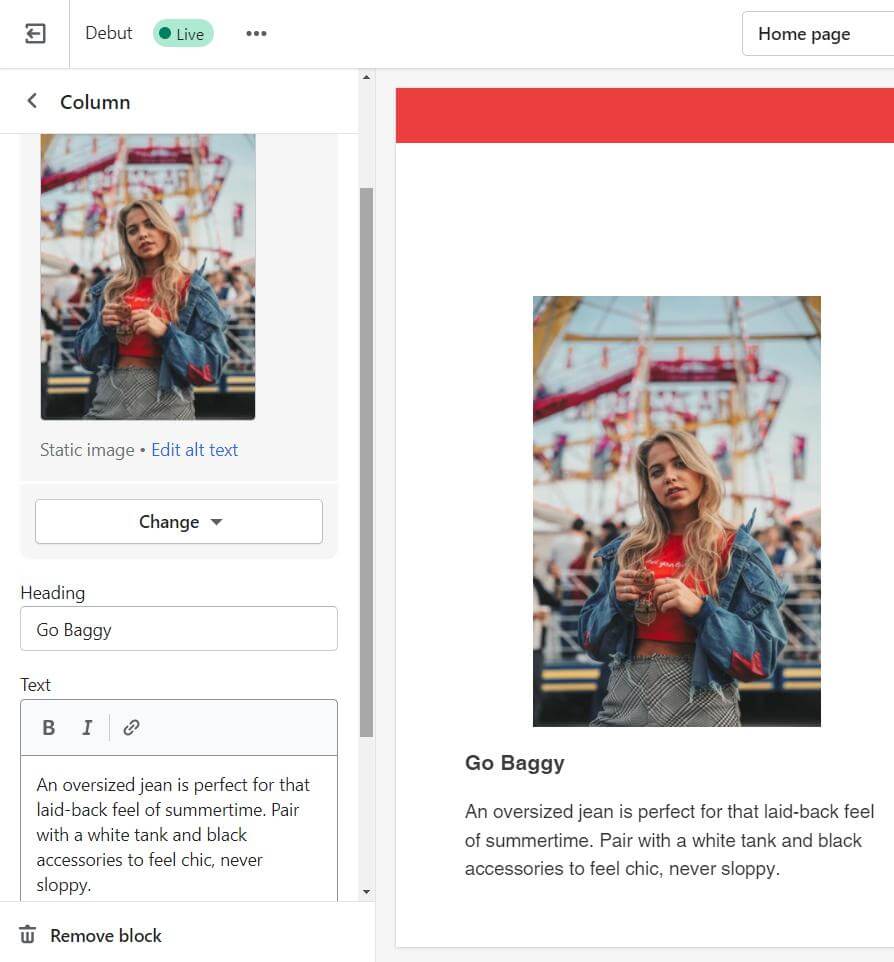 The main screen in the middle is where you can preview how your visual store actually looks like when your customers land on it.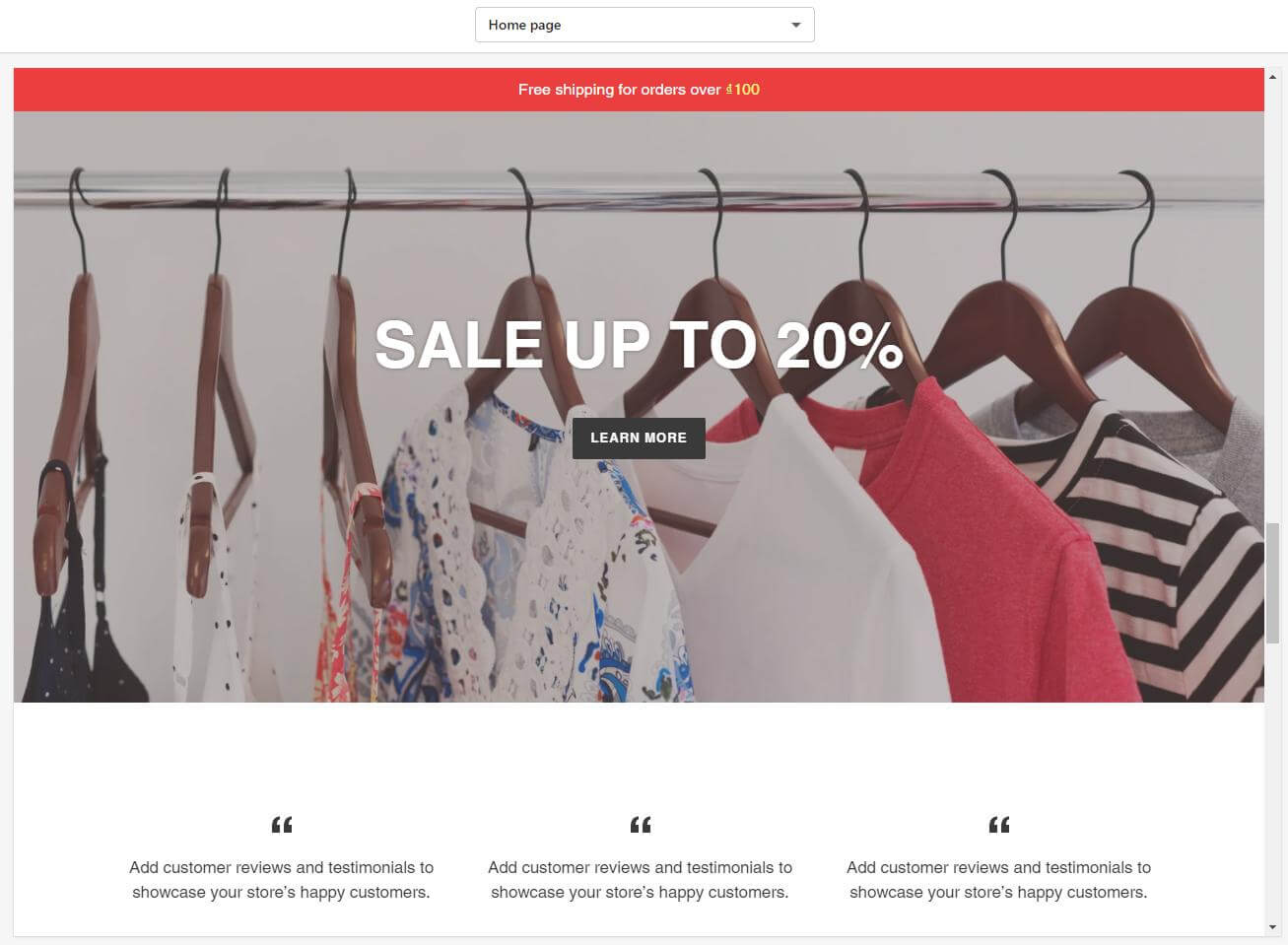 👉 We suggest adding products first then customizing visual elements later. This is because, at the end of the day, it is the products that you have to accentuate.
❗ It's important to note that your theme and products are managed separately. We'll show you in detail how to add and manage your products below.
Shopify Review- All the Main Features
Now let's dive deep into the 10 core features you'll have with Shopify. 
Because for this Shopify review, we want to give as many details as possible so it's going to be a bit long. (but you won't get an empty-handed reading from top-to-toe, we promise!)
In a hurry? Jump straight into the Shopify pros and cons we've summarized for you!
Shopify eCommerce Features Review
Since Shopify is an eCommerce web hosting platform by nature, let's evaluate all the essential eCommerce features Shopify provides you with! 
We'll review how you can keep track of your products, how you can calculate taxes and manage to ship your items to your customers, and expand your empire to other sales channels!
Here are all Shopify eCommerce features we want to show you in this Shopify review: 
Add and manage products 
You can add products to your store manually on the admin dashboard or do so by using a CSV file. The latter is helpful if you want to add a large product catalog all at once, which also means merchants from other platforms can migrate to Shopify more easily. 
Shopify allows you to add unlimited products to your store, and here's a sneak peek of how it actually looks: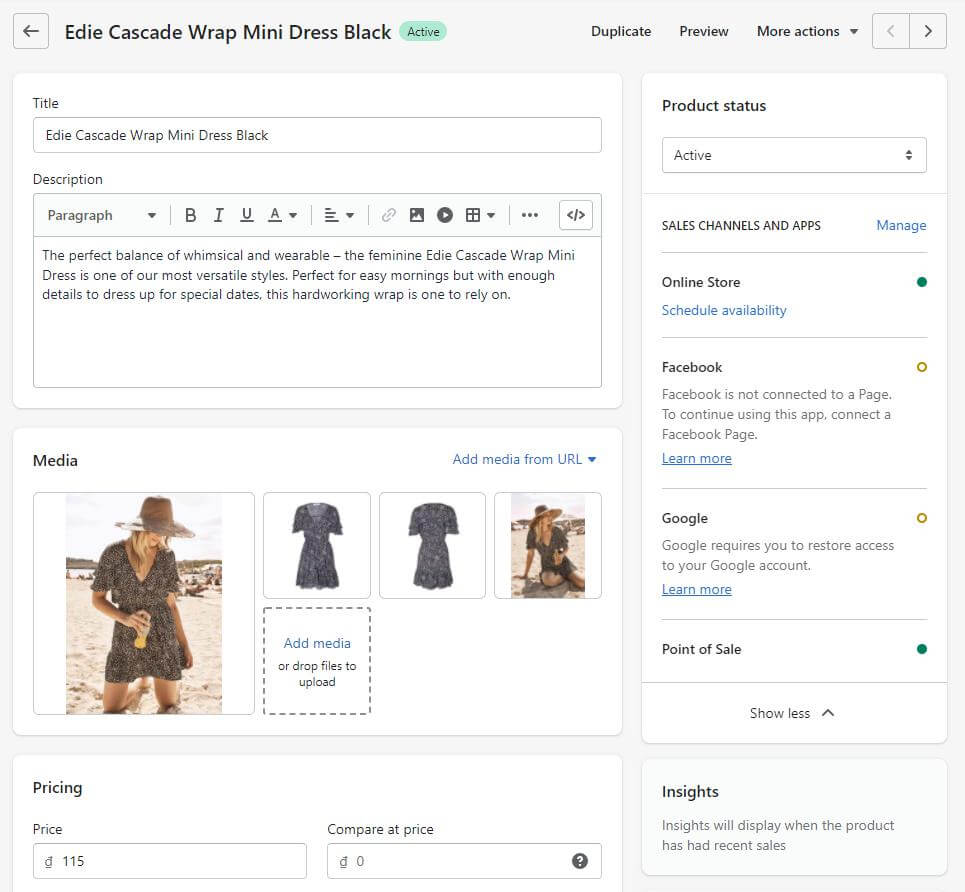 As you can see, you can fill in and edit your product information intuitively from title to description, media, prices, etc. You can also choose to assign your product to a collection, which we'll discuss right below.
NOTE: Hey, remember to specify each of your products' weights if you want to set shipping rates based on the order's weight (we'll discuss Shopify shipping later).You can choose to display weight by kg, g, lb, or oz
Now let's talk about variants (you can skip this part if all of your products don't have any variants). 
Simply tick the box 'This product has options' then fill in the option name and values like below: 
Easy-peasy, right? But if you have a large product catalog, you must know that:
You can only add

a maximum of 3 Options

(e.g: color, size, and material)

One product

cannot have more than 100 combinations
👉 Pick a random T-shirt. If each option (size, color, material) of that T-shirt has 5 values, then the shirt has 5 x 5 x 5 = 125 variants, which exceeds Shopify's cap at 100 combinations.
To add more options or have more combinations, you have to either upgrade to Shopify Plus or add a paid app, which will add up extra costs. 
However, except for stores with too sophisticated product catalogs, these limitations are really not that big of a deal for most merchants. 
For digital and service products 
For merchants who sell digital products (e.g: music, images or learning courses, etc.), navigate to the shipping section and uncheck the option 'This is a physical product'.
However, to sell digital products, you need to use a digital download app to provide a download link for your customers. You can either choose to install the Digital Downloads app developed by Shopify or other third-party solutions. 
Product categorization
Unless you're a one-single product store or have quite a small number of products, it is okay to locate them on your homepage or anywhere you want. 
However, if you have many products, you need to categorize them logically to make it easier for online shoppers to find their way to the item they want to purchase. 
For instance, if you're selling apparel items then you may love to create different collections for men, women, unisex and children, etc.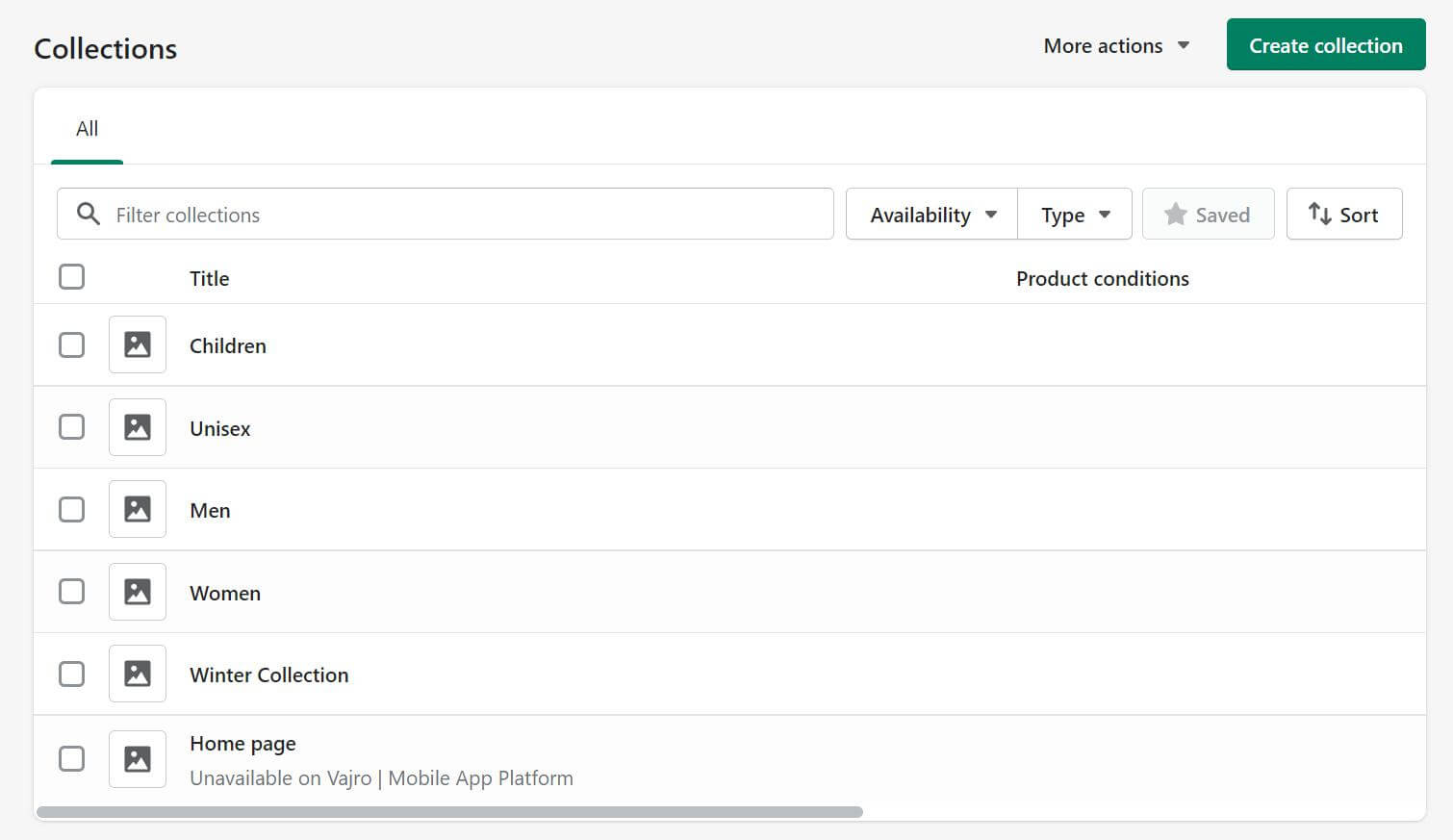 What is awesome about Shopify collections is that you can assign your products to a collection manually or automatically. For example, you can assign all the clothing items whose titles contain 'wool' and 'fur' into 'Winter Collection'.
Though assigning your products to Shopify collections is easy-peasy, to add a drop-down menu with sub-categories, you'll have to tweak the code in your theme settings, which goes against Shopify's core strength- its ease of use. 
Shipping products
When it comes to shipping your products, Shopify lets you manage your shipping options quite flexibly. 
If you're shipping your products to more than one country, you can totally create different shipping zones. Then for each zone, you'll have two ways to manage your shipping rates- set up your own or use a carrier/ app.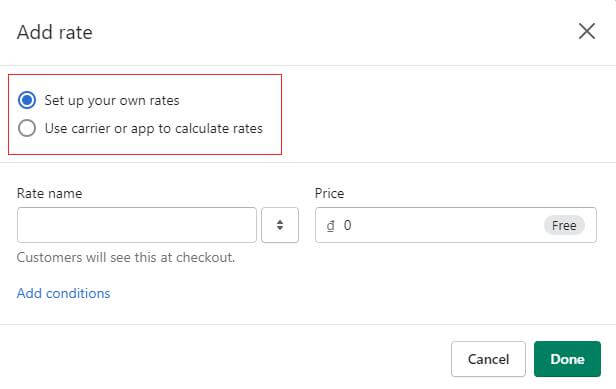 👉
Set up your own rates
After adding all the countries you're going to ship your products to, it's as easy as a piece of cake to set shipping rules based on order price and weights.
You can set free shipping for orders that meet your minimum requirements. For instance, you can offer free shipping for your domestic market if the order reaches your required order value.
👉
Use carrier or app to calculate rates
However, Shopify shipping's full potential is its live shipping rates. Technically, the system will connect your store with carriers and provide accurate shipping fees at the checkout page.
In order to show customers live shipping rates, you either have two options: 
OPTION 1: If you reside in the United States, Canada, Australia, or the United Kingdom, you can access the 'Shopify Shipping', which will let you:
Display calculated shipping rates instead of flat rates to your customers

Enjoy a lower shipping label cost

Print shipping labels 
Shopify Shipping is available on all plans, and the discounts provided can be quite generous on the higher-level Shopify plans.
Shopify Shipping is now available on all plans, and clearly, the discount gets sweeter as you move up in the pricing ladder with the discount for Shopify and Advanced Shopify up to 88%.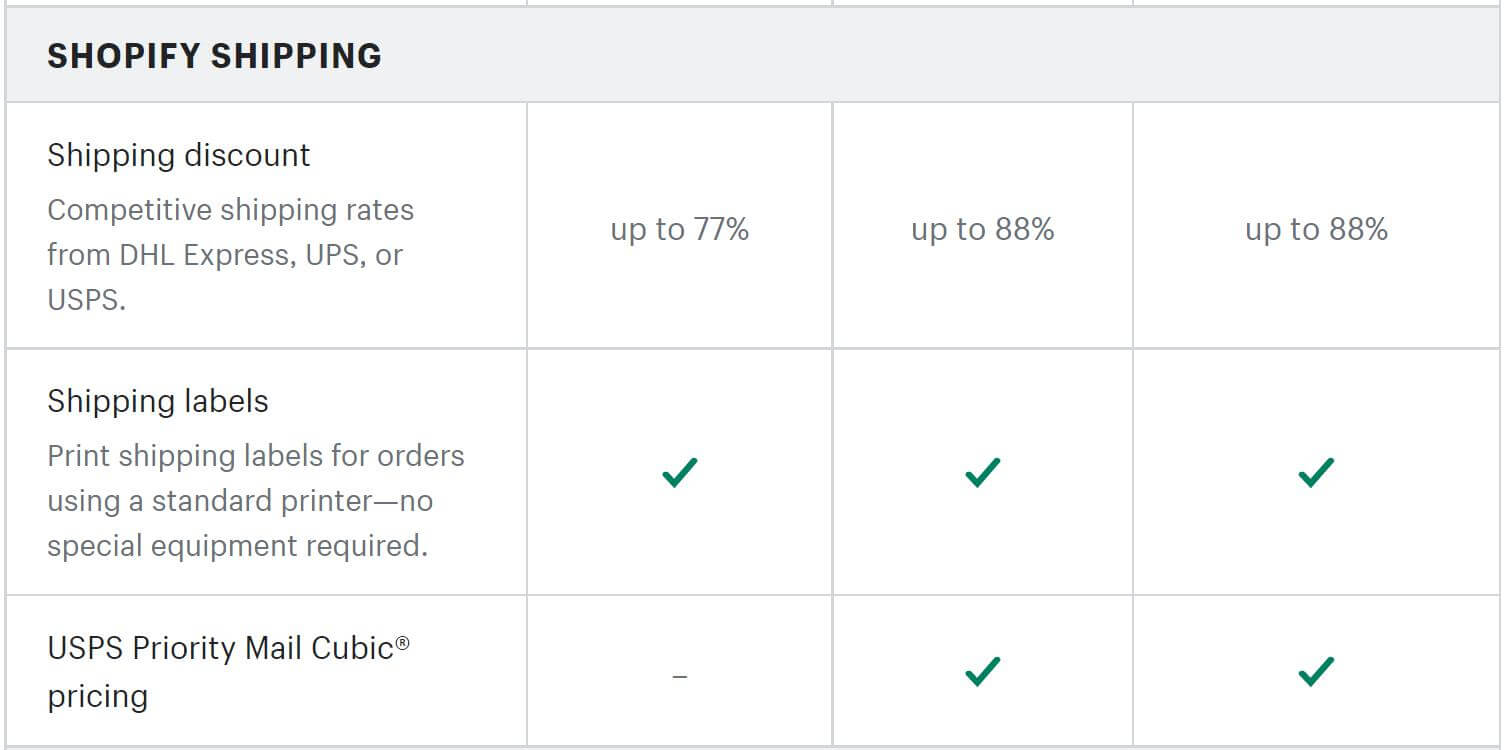 OPTION 2: Unfortunately, when you are not based in the 4 mentioned regions (US, UK, Australia, and Canada), you have no other choice but to rely on third-party carrier-calculated shipping rates. 
However, it is important to note that to use third-party carrier-calculated shipping rates, you have to either:
Request from Shopify support team and pay an additional fee of $20 per month

Pay annually for your Shopify plan

Upgrade to Advanced Shopify or Shopify Plus
If you don't feel comfortable with any of the 3 options above, perhaps you'd love to get a shipping app to add live-shipping rates for your customers.
👀 Maybe you'd love to explore more about:
Shopify dropshipping 
Dropshipping is a method to fulfill customer orders which do not require the seller to keep the item he sells in stock at his store. Instead, he buys the goods from a third-party supplier and ships them to the customer, allowing the seller to earn profit without directly handling the products himself.
That's why this business model is perfect for those who want to launch their own online stores without much initial upfront costs. To do that, a lot of start-ups looking for an effective eCommerce website hosting platform like Shopify.
Therefore, in this Shopify review, we'll tell you whether drop-shipping with Shopify is the right choice or not.
Quick answer: yes! When it comes to dropshipping, Shopify is definitely a top-of-choice solution.
Although it hasn't yet come with built-in drop shipping features, you can find a wide range of Shopify dropshipping apps on the Shopify App Store to launch your dropshipping business.
With various well-renowned dropshipping apps such as Oberlo, Sprocket, you can pick any products you want to dropship from a lot of suppliers with competitive prices. 
[ Oberlo Shutdown: Bad News for Dropshippers on Shopify? ]
Taxes calculation
Automatic Tax Calculation
Regardless of what niche your business is in or what you're selling, as a store owner, you have to pay taxes. However, tax practice varies with different countries and jurisdictions.
If you want to sell globally, you have to reflect the tax rates for each country in your sale price, which can be quite time-consuming.
But if you're lucky enough to reside in one of the countries below, Shopify will help apply tax rates automatically for different areas, which saves you a huge deal of time. 
Australia

Canada

European Union

New Zealand

Norway

Switzerland

United Kingdom

United States
Shopify automatic tax calculation is cool. But with those who sell digital products, the fun only begins with how Shopify gets abide by the EU's VAT MOSS (VAT Mini One Stop Shop) excellently.
VAT MOSS is an obligation that sellers of digital products to European customers add VAT to each product and the VAT rate varies from country to country.
Unlike its competitors, Shopify automatically calculates and applies the right digital tax rate so you don't have to worry about setting them up manually. 
Multi-channel selling 
Supposing now that you have a well-curated, highly-functional Shopify store, what's next? Well, expanding your business empire to other channels is always an ambitious & wise move!
And that's when Shopify should receive a shoutout for its supporting merchants to expand their sales to various other sales channels. To name a few, you can:
The awesome thing about it is that you can manage all your sales channels in one single tractable and easy-to-use dashboard.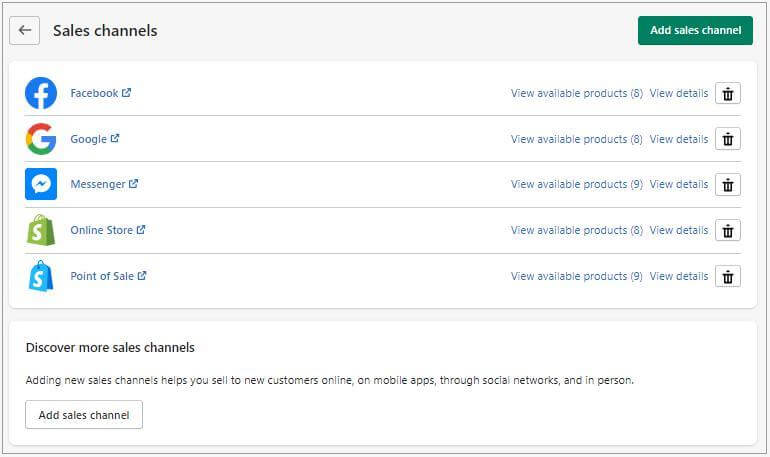 👉 If you're crazy about selling on social media, we bet you'd love to read more about our article on Social Media Marketing Strategy for Shopify Store.
Shopify Marketing Features Review
Needless to say, you need to implement your marketing strategy if you really want to survive and thrive in this fiercely competitive eCommerce game! 
Therefore, we're now going to show you the core marketing features you'll have when paying a Shopify monthly subscription in this Shopify review. 
Shopify discount codes & gift cards
Regarding discount code generating, Shopify nails it! You can create a wide range of discount codes, ranging from percentage to a fixed amount or BOGO (Buy one get one) and Free shipping. 
You can choose to apply your discount code to all products or just some specific collections and products. In addition, Shopify also lets you choose the group of customers whom you want to give the discount.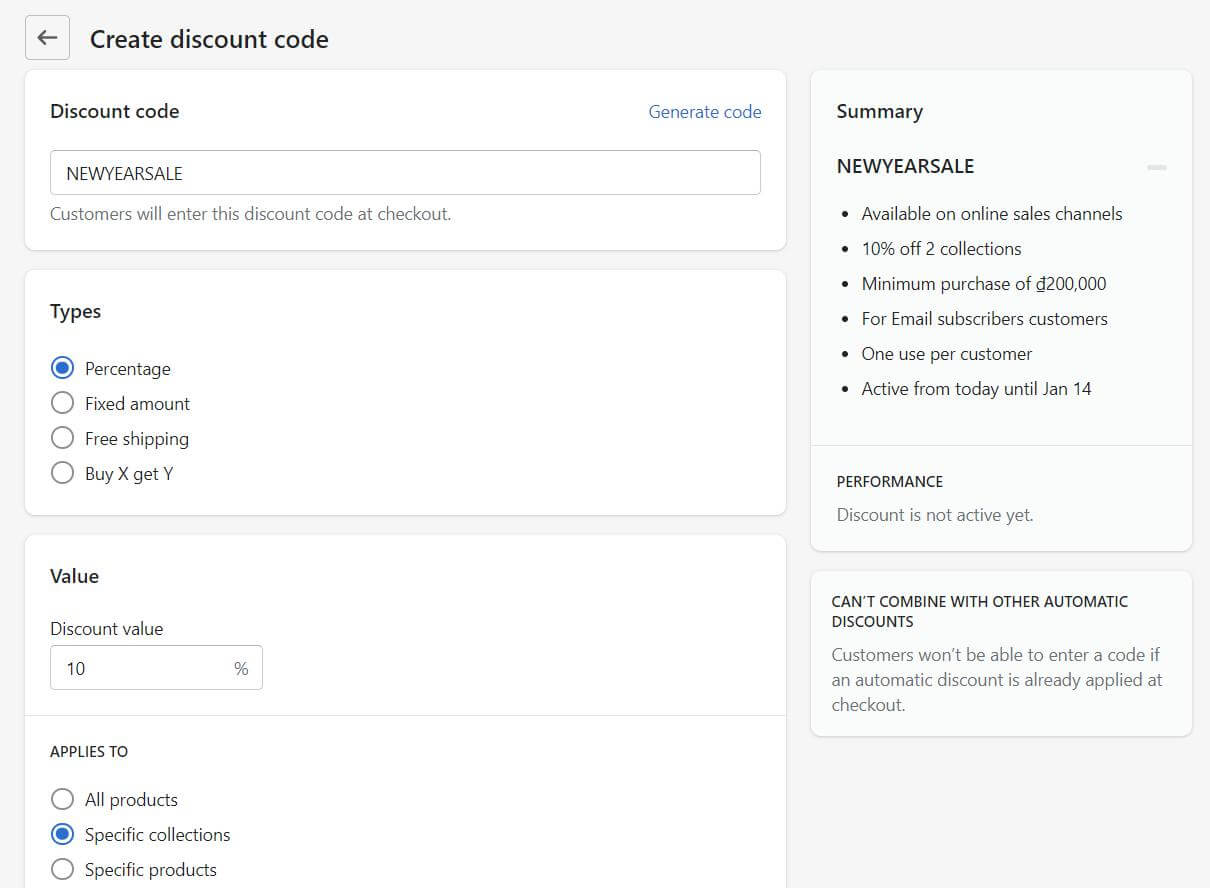 The discount code content layout is intuitive with the editing happening on the main screen while on the right corner of your screen, you can see your discount summary in a bullet list.
What's cool is that Shopify now enables merchants to promote gift cards for your store. However, the gift card you can create with Shopify is quite simple. 
Unfortunately, Shopify doesn't support a loyalty program– an important marketing tactic many merchants use to retain customers and increase AOV (average order value). 
👉 So if you want to create your own unique branded gift cards & enable customers to collect points for each of their purchases, perhaps you'd love to take a look at the best Shopify gift card apps we compiled for you. 
Shopify cart recovery
The truth hurts- you can only convert 1 out of 10 visitors landing on your website! But do not treat the 9 other visitors the same! That's because, among all the visitors that you cannot convert, you are most likely to win back the cart abandoners. 
These cart abandoners, though may give up on their carts for several reasons, the 'add-to-cart' action makes them the most prospecting customers with the highest buying intention. 
Fortunately, Shopify supports cart recovery features, which allows you to see all the visitors' information who abandoned their cart at the checkout step. From there, you can choose to send cart recovery emails to anyone who abandoned checkout or just email subscribers who abandoned checkout.

However, it might sound off-putting that Shopify's email recovery is not so well-polished and you can't set triggers to send email smartly. But what's cool is it is included in all Shopify plans even with the Basic Shopify at $29 per month. 
👉 Sending an email will certainly help win back some cart abandoners, but we suggest checking out our article on Best Tips to Reduce Cart Abandonment for your Shopify store to minimize cart abandonment in the first place! 
Shopify email marketing
Do you know more than 4% of site visitors from email will buy something, compared to less than 2.5% from search engines and 0,6% from social networking sites?
Email marketing is old, but gold! Thus, it's vital to know whether Shopify scores at the email marketing functionality it supports.
The sad thing is that Shopify hasn't yet supported a built-in email marketing solution, so if you are an 'email-enthusiast' merchant, then you have to get an app to do so.
You can get Shopify Email, which is developed by Shopify themselves, which gives you access to some email templates such as best selling products, newsletter, cart recovery, etc.
The big fat plus of Shopify Email? 
You can manage your email, orders, themes customization, etc- all in one single place

The pricing is quite reasonable. On a monthly basis, you can send up to 2,500 emails for free. Then, it is $1 USD for every extra 1,000 emails.
However, Shopify Email only offers basic email tools, to spice up your email marketing game with more robust automation and customization options, check out these best Shopify Email Marketing Apps. 
Does Shopify POS support well selling in person?
The Shopify POS (point-of-sale) app is one of Shopify's strongest points when being put into comparison with other website builder platforms.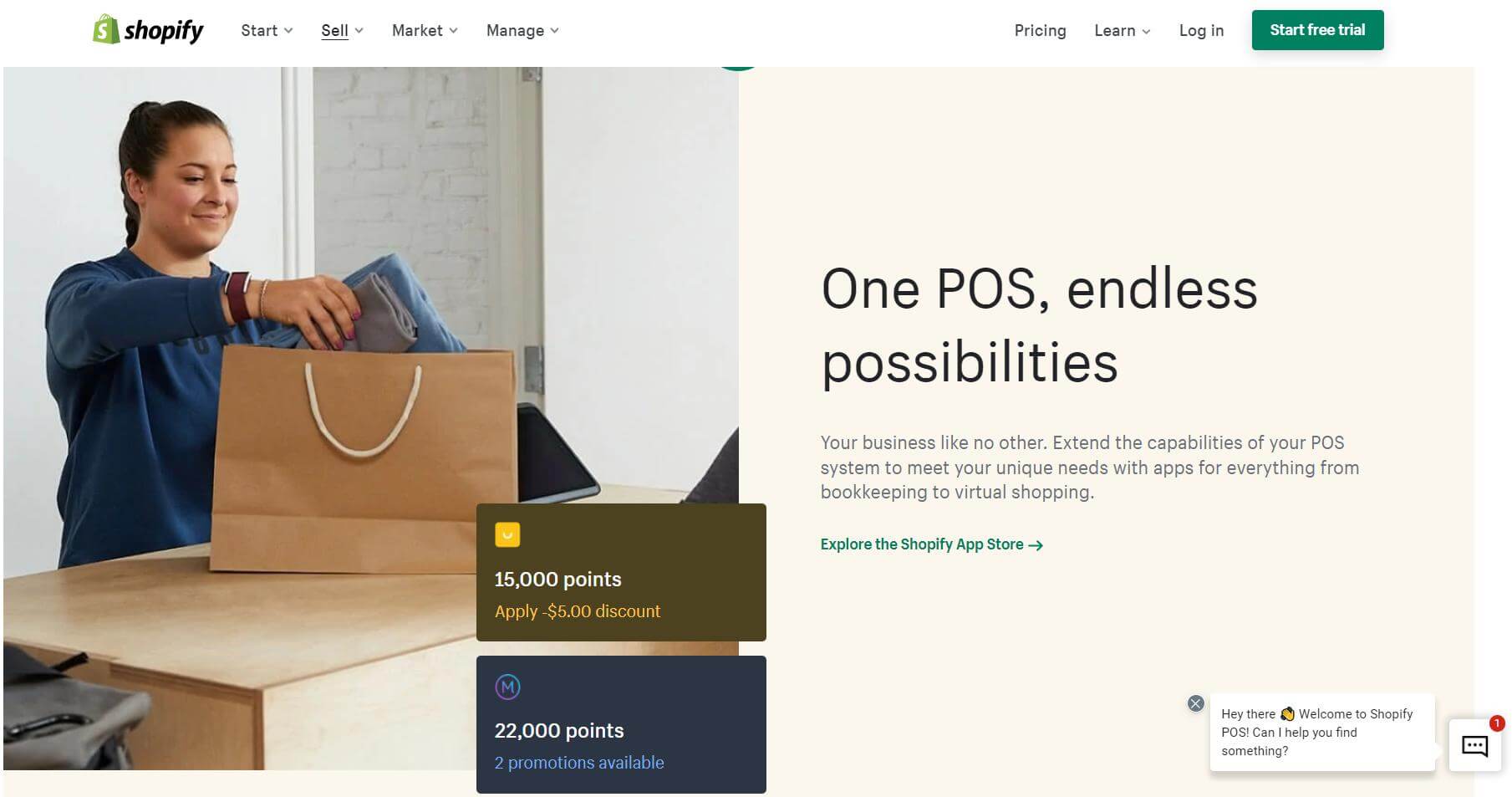 That said if you already have a brick and mortar store and now want to expand your business to the online realm, and vice versa. Then, Shopify should be your top priority.
This is because Shopify POS is built to sync with your online store in real-time so that you can sell any product on your online site at your physical location seamlessly.
In the simplest way, here's how Shopify POS works!
Customer select items at your brick and mortar store

You then select the same items on the app

You use the customer's credit card to process payment

Give your customers a receipt
However, for larger stores, doing the 4 steps above manually is time-consuming, that's why you need Shopify POS hardware! 
And depending on your physical business type, you may need a different set of hardware. Here are what you might need in accordance with your business type:
A pop-up shop

– a device with iOS 12.2 above + card reader

A retail store

– everything in the pop-up shop + a receipt printer

Multiple stores/ a warehouse

– everything in retail store + cash drawer + barcode scanner
Check the Shopify POS hardware guideline to ensure that your hardwares is supported by Shopify. Otherwise, you cannot integrate these hardwares into your Shopify store.
It should be noted that to unlock Shopify's POS features, you have to pay a monthly fee to use Shopify POS Pro, which costs an extra $79/month (free for Shopify Plus users).
Although Shopify POS Lite included in 3 main pricing plans is enough, invest in the Pro version if you want to embrace 'buy online, pick offline', assign staff roles, attribute sales to staff for commission calculating and so many more.
👉 To get a deeper insight into Shopify POS, its fees (software, hardware, transaction fees), and full features, check out our article on Shopify POS – Everything You Need To Know About.
Does Shopify support multiple currencies & multi-lingual stores?
Multi-currencies 
Do you know that a staggering 76% of online shoppers look for websites that price products in their local currencies?
Therefore, if you're selling internationally, the question here is whether Shopify supports displaying and allowing checkout in local currencies?
The answer? It's a yes, BUT only if you use Shopify Payments. (or else you have to use a third-party application)
And although Shopify supports automatic currency converter, this savage feature is only available for Shopify Plus users (which costs at least $2000/month).
For users of other plans, your customers need to use a country selector to manually choose their preferred location or currency. 
Another unpleasant thing is that you will have to upgrade to Shopify plan or higher to set the currency exchange rates manually.
Well, apparently Shopify multi-currencies features are quite limited with lower pricing plans. That's why a lot of merchants deviate to a multi-currency converter app such as Transcy. 
Multi-lingual stores
Apart from accepting payments in multiple currencies, Shopify also lets you sell in multiple languages. 
Except for the Shopify Lite plan, with the 4 other plans from Basic Shopify to Shopify Plus, you can sell up to 20 translated versions of your store.
When you enable the multi-language feature, a language folder is added to your domain. So you'll have your store in myshop.com/vi, myshop.com/it, etc.

If you're on the 'Shopify' plan or higher, you can also set country-specific domains to optimize international SEO. — myshop.fr, myshop.ja, etc. — to host foreign-language versions of your store.
Are apps on Shopify App Store high-quality?
Let's check out another crucial aspect of Shopify in this Shopify review – its app store ecosystem. Talking about the number of apps to optimize your online store, Shopify is second-to-none.
In fact, Shopify App Store is now a homeland for more than 6,600 apps. If you already know what type of apps to install (e.g: email marketing, dropshipping, landing page builder, etc.) then this is too good to be true. 
Shopify's abundance of apps is a double-edged sword- you can get any app with any feature you can think of to facilitate your store. But be wise and selective or else the app costs will add up and you'll end up overspending.
TIP: You can know whether to trust an app on the app store by looking at the ratings. But are they trustworthy? Well, 100%! Shopify is extremely strict regarding these ratings. Any app that attempts to manipulate this figure will be banned for 14 days or permanently.
👉 That's why anytime you want to invest in an app, check out our Best Shopify Apps first! We compile the most worth-investing Shopify apps that will fulfil any of your demands and budgets.  
Is Shopify good for SEO?
Shopify SEO features are a pivotal aspect we're going to examine in this Shopify review.
SEO, which stands for Search Engine Optimization, is a marketing strategy to earn your website a higher rank on search engines such as Google (mainly), Bing, StartPage, Yandex, etc.
Pick a stunning theme, add a bunch of good-value products and set everything up neatly. But if your website's SEO performance is bad, your efforts will go in vain! 
Nah, don't worry about it! If you choose to launch your business with Shopify, that scenario is much less likely to happen. That's because overall, Shopify offers a wide variety of powerful SEO tools compared to other website builder platforms. 
In particular, you can customize a lot of SEO parameters with ease, this includes the page title, meta description, image alt text, etc.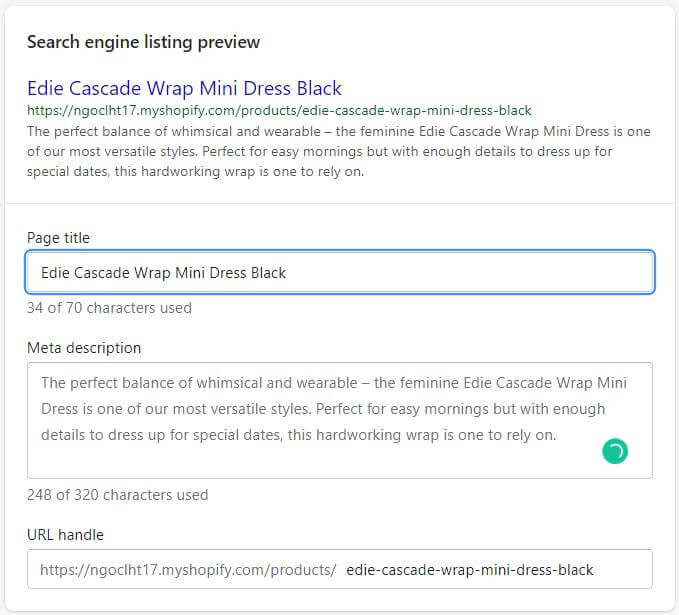 Similar to its competitors such as BigCommerce, Wix, or Squarespace, Shopify offers all plan users a free SSL certificate, allowing you to host your store on a secure https:// connection. (security is the top priority Google uses as ranking signals)
In addition to that, Shopify lets you fully tweak the robots.txt file. In more detail, you can allow or disallow certain URLs from being crawled, add crawl-delay rules for certain crawlers, add extra sitemap URLs or block certain crawlers.
All in all, Shopify's SEO features are intuitive and good enough for most store owners. But there are still some minor drawbacks:
Shopify

URL structure is not fully customizable

. A piece of simple evidence is that product pages will always include '/products/' in the URL and this is fixed

It's hard to create sub-categories with Shopify (as mentioned above, you have to be tech know-how)
Put all things into consideration, if you aim for an SEO-friendly eCommerce website, Shopify is a no-brainer.
Can I blog with Shopify?
With some businesses, blogging is a sharp tool they use to increase brand visibility, educate customers, increase their SEO performance on Google and so many more! 
That's why in this Shopify review, we'll reveal whether Shopify's blogging features help you create your desired blog page and blog posts or not.
As of writing this article, Shopify's blogging features are still quite limited but this should be just enough if blogging is not your business's ultimate marketing tactic.  
However, if your main focus is selling, rather than blogging, Shopify's blog feature should be perfectly fine for your demands.
In particular, you can:
Add multiple media (e.g: images, videos, GIFs, etc.)

Create an excerpt for your blog post (a summary of the post to appear on your page)

Assign tags

Set multiple authors 
However, it is noteworthy that you cannot add products to your blog, which might sound off-putting for a lot of merchants. Also, you can't add relevant posts to increase time on-site either. 
Well, at the end of the day, Shopify is all about eCommerce features, so there is no surprise when Shopify's blogging interface is quite plain and simple compared to WordPress or Weebly. 
👉 Check out this complete guide to Shopify Blog to know How to blog on Shopify & Pro Tips to enhance your blog posts.
PRO TIP: Get one of these best Shopify blog apps to optimize your Shopify Blog to the fullest! 
How in-depth are Shopify's reports & analytics?
Selling wholeheartedly? Never skip a day to optimize your store's SEO? Crafting and sending emails every single day?
That's cool! But you can only move forward and onward if you take some time to look back at how your store is actually performing. 
Thus, Shopify's reports and analytics is another important feature we want to discuss in this Shopify review. 
Unfortunately, Shopify doesn't give all its users the same analytics and reports. The higher the plan you pay, the more detailed and useful the report you'll get.
As you can see from the detailed table brought to you by Shopify, you have to use at least the Shopify plan, which costs $79 per month to have some useful analytics (e.g: the sales, profit and order reports, etc.)
So in order to get access to in-depth analytics of how your business performs, which are the best-selling products, etc., you may need to upgrade to Shopify or get an analytics & profit tracker app like TrueProfit.
How helpful Shopify customer support is?
Despite the fact that Shopify's interface is user-friendly and easy to use, during your journey of growing and scaling your business, you might face some technical hassles (or many!).
At those times, you definitely need support ASAP. So in this Shopify review, Shopify Customer Support is an aspect worth looking at! We'll tell you whether they're dedicated and well-trained enough and whether you can approach them easily or not.
Shopify offers help via various channels, which you can read more about in our article on how to get Shopify Customer Support in the most convenient way possible. 
In particular, you can reach Shopify for help via:
24/7 Live Chat support
24/7 Phone Call Support
Email Support
Help Center
Shopify Tutorial Sources

(webinars, courses, blogs, forum & community)
If you use Shopify Plus, you'll also get exclusive access to Shopify Merchant Success Program, which guarantees merchants instant support. In more detail, the program includes: 
A '

Launch  Engineer

' who will assist you to set up everything such as migrating or integrating your existing website into Shopify. 

A '

Success Manager

', who lives up to his name, guides merchants based on Shopify Merchant Growth Model

Exclusive training videos

, live workshops, and business tools that come in a wide range of topics on Shopify Plus Academy

A

Facebook Group for Shopify Plus users

– where you can learn from other +8,000 other Plus-ers.
Given the fact that 24/7 support is available even with the cheapest plan, Shopify's Customer Support is superb and sublime. 
Shopify security and data backup
Online scam is persisting in every corner of the world. Hence, last but not least, in this Shopify review, we're going to discuss Shopify's security and its data backup.
One of the perks you have while using Shopify instead of other self-hosted platforms like WordPress is that your Shopify store is automatically secure without you having to lift a finger.
In addition, protecting customers' payment data is also not something you should worry about. All the stores powered by Shopify are PCI compliant by default, which means you can keep your business data and customer payment info confidential.
However, you may want to back up your data in case of desperate times. And this can sometimes get time-consuming since Shopify recommends its users to export CSV files regularly to back up their store information.
Since this is quite time-consuming, you may need to use an app, which, unfortunately, will cost some extra money.
All the Shopify Pros and Cons
Now that we've just gone through all the features Shopify offers, it's wrapping up time! Here are the Shopify pros and cons:
 Pros 
 Cons

Ease of use:

Shopify's interface is beginner-friendly, which allows you to manage all important settings without coding required 

It is a wise choice for dropshipping

. Shopify doesn't have a built-in feature to support drop-shipping but the drop-shipping apps you can find in the app store are top-notch (Oberlo, Sprocket, Alihunter, etc.)

Multi-channel selling:

With Shopify, you can expand your business to huge sale channels like Facebook, Instagram (built-in features) and others like Amazon, eBay (via apps).

Shopify Themes are good.

They are stunning, versatile and mobile-friendly even with the free themes

Multi-lingual selling:

You can use any Shopify plan (except the Lite) to create different versions of your store in different languages

Automatic tax calculation

makes it much easier and convenient for merchants

It is great for those who want to sell in person as well

. Shopify POS app is integrated seamlessly with Shopify so you can keep track of your stock, staff and orders 

Shopify Email App

is quite economical. You can send up to 2500 emails per month for free

Cart recovery is included in all plans, including Shopify Lite ($9/month)

This feature is only available with the higher pricing plans on other website builders. 

Customer Support is various

. You can reach out for support on multiple channels, 24/7 via phone & live chat even with Basic users

Shopify charges extra transaction fees if you don't use Shopify Payments.

Sadly, Shopify Payments is only available in some specific territories 

Product variants are limited

. It is great you can add up to 100 variants per product but the attributes are limited to 3 options

Selling in multiple currencies is limited.

You have to use Shopify Payments and to enable currency auto-converting, you have to be on Shopify Plus or use an app

Shopify Blogging is too basic.

If blogging is important to you besides selling, the blog feature is quite off-putting

Shopify's real-time shipping calculated rates can get expensive

if you do not live in a region where Shopify Shipping is available

Shopify reports and analytics

are limited to Basic Shopify users. If you're a data-driven merchant, this is such a bad sign

Backing up your store data with Shopify.

This

requires

you to export CSV files regularly. So you have to use an app

Over-reliance on apps:

bad thing is to run your Shopify store smoothly, you may need help from many apps, which will exceed the estimated costs you plan out
Shopify Pros and Cons Conclusion – Is Shopify your Ideal eCommerce Solution?
Briefly, though Shopify still has some flaws, it is incredible for its beginner-friendly interface, free theme templates accompanied by its diverse apps, great customer support and so many more!
We hope this Shopify Review 'from A-Z' and Shopify pros and cons can help you to decide whether this platform is the right choice for your business.
If you'd rather buy a Shopify store than build and run your own business from scratch, check out our complete guide on how to buy a business properly on Exchange Marketplace.